Photograph by Aaron Kovalchik.
Can Eckhaus Latta Conquer Cinema?
The costume designer for "Automatic at Sea" tells us what Eckhaus Latta brings to life on the big screen.
Photograph by Aaron Kovalchik.
Close your eyes, think "Eckhaus Latta," and you see slubby knits, earth tones, downtown Manhattan, maybe Los Angeles, friends wearing their friends' gently elegant clothes—and now, Werner Herzog saying, "unusual and courageous."
Matthew Lessner's visually striking film Automatic at Sea, which was released on digital earlier this month—on iTunes, Amazon, and Vimeo on Demand—features a number of garments by Mike Eckhaus and Zoe Latta as part of a wardrobe scrappily and stylishly assembled by Krissie Torgerson. It tells the creepy tale of a young woman vacationing on a friend's family's private New England island, and it was also the subject of those kind words from Herzog quoted above.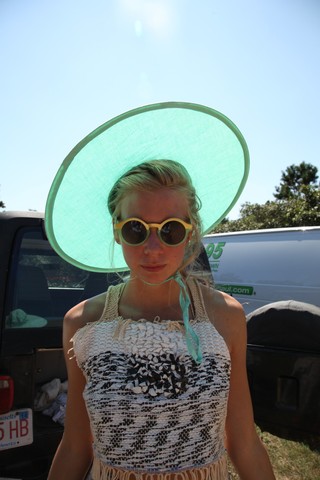 Eckhaus Latta is a leader in the wave of clothing that artfully draws from the everyday wardrobes of stylish and sometimes gently fictionalized friends and casual idols, rather than the grandly conceived (and often impossible) "Woman" of designers past. So it goes that it might be an unusual choice for film, where designers usually appear to conjure something romantic and extravagant: Raf Simons giving Tilda Swinton a cool, clean bristle in A Bigger Splash, Fendi's peerless vintage coat for the peerlessly vintage Margot Tenenbaum in The Royal Tenenbaums, or Rodarte's gruesome beauty in Black Swan.
But Eckhaus Latta's mellow unplaceability actually made it just the right fit for the screen, says Torgerson. "There was like no really specific time or timeframe for the film—there's no continuity of time, and it was sort of multidimensional," she said in a recent phone interview. "So we could go with cooler, weirder brands, and I wanted to use brands that were sort of newer because I like to support the children."
After the last two words, she cackles—Eckhaus and Latta aren't exactly children, but fashion world darlings who've earned it—though their brand was truly in its infancy when Torgerson pulled from the designers; the pieces all come from the Spring/Summer 2013 and Autumn/Winter 2014 collections (their second and third), which were focused heavily on the knits that established their aesthetic. That knitwear was terrific visually for film. "The textures of those collections were really cool," Torgerson said. "This was one of their first collections, so it was when they were doing a lot more knits and wovens, so I used a lot of the more woven pieces because I liked them…. [The line] is so textural. It adds a nice depth to things; it's not so flat and boring." She rounded out the wardrobe mix with pieces from other young New York designers, such as Sandra Backlund and Jack Henry New York.
How different people wear and style clothing—the personality that emerges beneath the same kinds of garments on different bodies—has been central to Eckhaus Latta's design ethos, which also lent itself well to Torgerson's philosophy for her first outing as a costume designer for a feature-length film. "I was trying to figure out things that they would actually wear and sort of bringing their own personality into it," she said. "Especially when it's real people, when you get too far removed from how people are, then it's not realistic.... Even if you're a character, it's somehow based on you, or you find yourself in it."
As for what other brand she'd love to focus on in another film project, Torgerson is looking to Paris's Y/Project: "I really love them. It's so surrealist, but it's so rad and wearable!" Fit for a film version of the opera adaptation of Luis Buñuel's The Exterminating Angel, perhaps?