"Me Bar Stool," 2015, by Sarah Lucas. Courtesy Sadie Coles HQ.
Sarah Lucas Doesn't Indulge Dicks, She Methodically Deals With Them!
The first US survey of the highly influential British artist has a thing or two to teach younger female artists.
"Me Bar Stool," 2015, by Sarah Lucas. Courtesy Sadie Coles HQ.
For someone who makes her way through the world sculpting dicks, vag, and all sorts of visual metaphors for penetration and excrement, Sarah Lucas seems like a real mensch. Though she's not as well known across the pond as fellow YBA-ers like Damien Hirst or Tracey Emin—the former known for high-priced and portentous spectacles and the latter for an output that can oscillate wildly between glorious and wretched—the first survey of Lucas's work in the US shows how she nimbly matured from being a young, raring to go, '90s-era lightning rod into a slow-burn force of intensity. Young American Artists, take note!
Spanning three floors of the New Museum, the top layer of the Sarah Lucas oeuvre cake features mostly newer sculptural installations of crushed cars—some embellished with neatly inlaid cigarettes—but tucked away near the exit on the same floor is an early video, Sausage Film (1990), that seems like the skeleton key to unlocking the arsenal of attitude this feminist foot soldier spreads liberally across her entire output. Lucas, in a scenario that could easily be sardonic but is played deadpan, sits at a little table in Rome while her then-partner Gary Hume serves up a plate of one very long, bluish-gray sausage for her non-delectation. She tucks in with no relish, just methodical duty. The sausage is taken away and replaced with a yellow banana—even more phallic objects! She peels it gingerly with a knife and fork, halves, and dices the mealy interior. The absence of any pleasure in this operation is nerve-wracking, unless you're also the sort of person who knows that dicks are merely things to be dealt with, as opposed to indulged. She picks her teeth with a pointed carving knife post-meal, and washes it down with a glass of water. End scene, me shook, and what a loss she wasn't tapped to direct Sausage Party!
The phallus is, for Lucas's work, what the female nude was to male artists trained in academic Western painting—a trope to be riffed on endlessly for anyone's expressive agenda. She coyly toys with and wryly patronizes the penis's loaded potential and its implied universality as a symbol. The cock verily leaps out across her inimitable sculptures, photography, and collages, perhaps most memorably in Wichser Schicksal (Wanker Destiny) (1999) featuring the very-on-the-nose mechanical sculpture of a tense forearm mechanically rocking up and down via a motor in the universal motion self-stimulation of a penis. The instant recognition that the piece counts on is itself a parody of how obvious, laughable—and sadly, endless—sex really is, as opposed to the mystique and reverence with which women in particular are meant to maneuver around it with.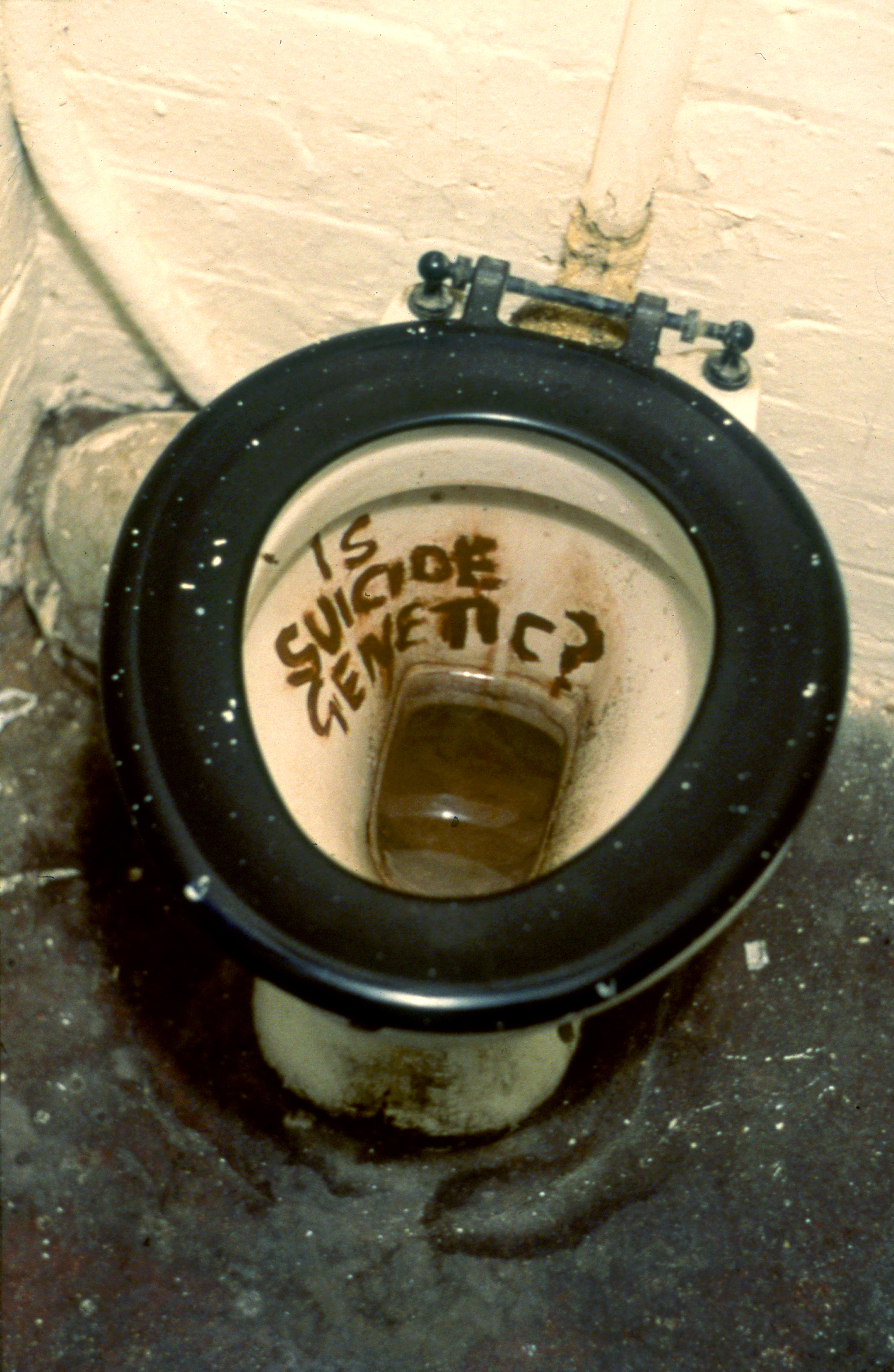 Other memorable pieces installed on the second floor dazzle in their masterful grasp of excrement as an ever-replenishing source of inspiration. In an installation anchored by a photograph depicting an old toilet painted with, and titled as, the phrase Is Suicide Genetic? (1996), along with another photo ( The Human Toilet II [1996]), and Octopus (1993)—featuring a deep umber-colored creature made from newspaper and hair stuffed into women's tights and reclining on an ancient radiator—it becomes clear that few other artists own the hues of shit brown like Sarah Lucas.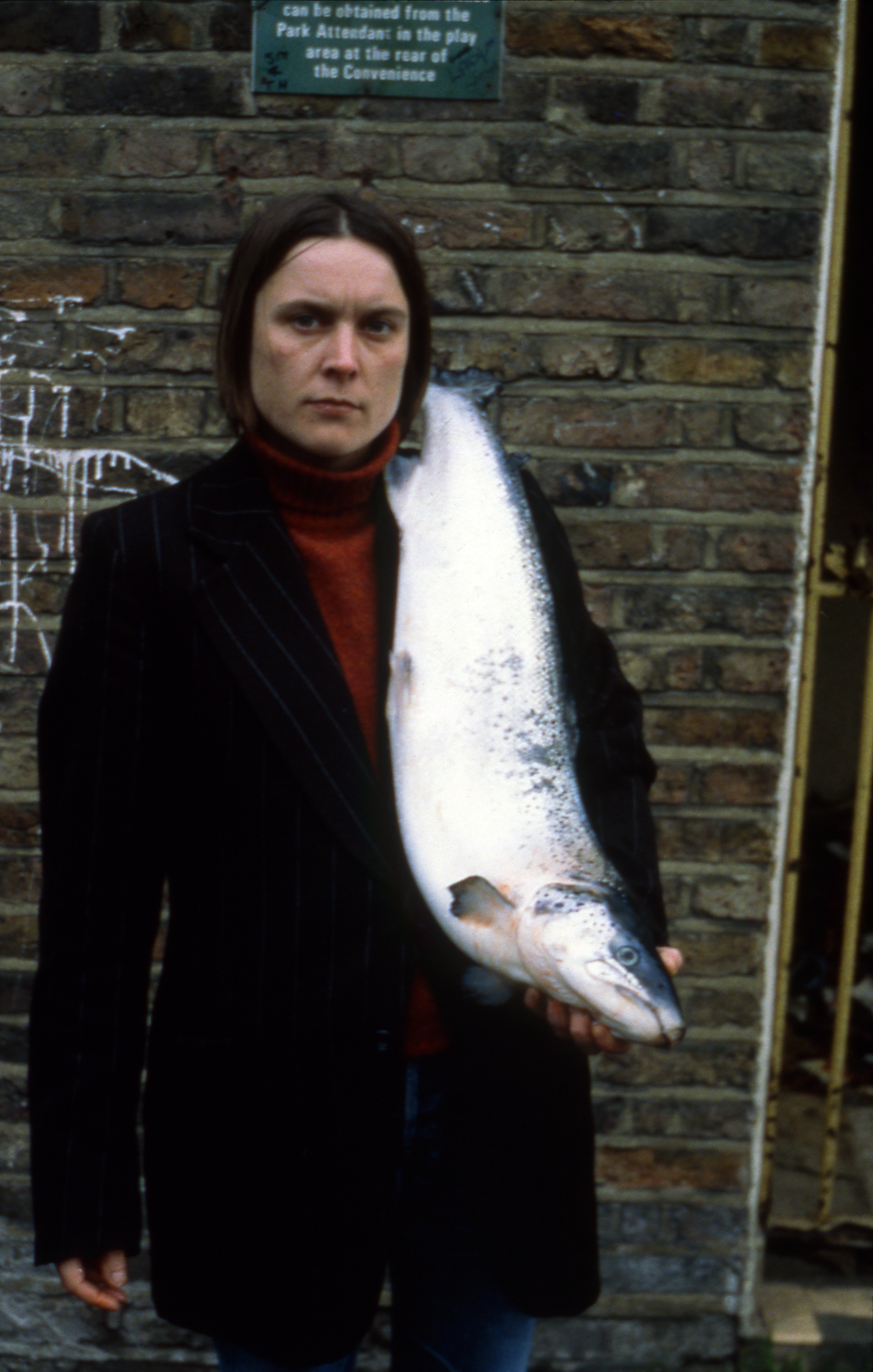 She has also cornered the market on embryonic imagery as well, as in a 1992 piece where she sprinkled a fried egg motif into a pathetically femme tableau of face, tits, and cunt—limp kebab meat wrapped in a pita signals a not-so precious take on vag here. Nearby, an entire wall is coated in yolk and shell residue as the result of a performance from two weeks ago where women were expressly invited to hurl eggs—though men could have at it as well—but the real joy of working with this material is best displayed in a newer video, Egg Massage (2015), where her partner Julian Simmons gets slathered in the stuff atop a table at Lucas's gallerist Sadie Coles and photographer Juergen Teller's home.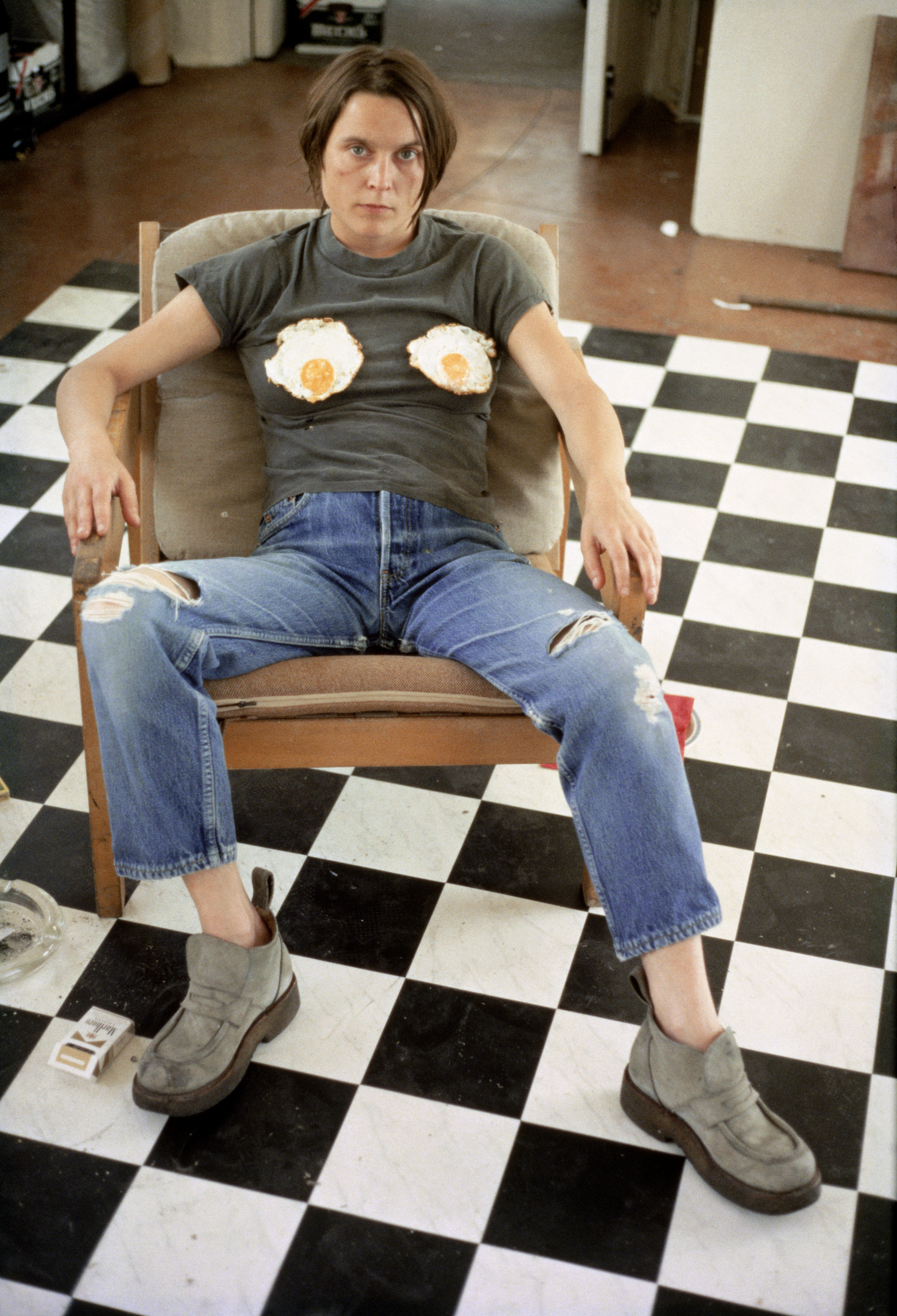 Six white plaster-casted ovoid shapes, carved with letters spelling out "FUTURE" are tucked into an egg carton for a piece from 1995 set in a display case among other small-scale pieces by the artist. Lucas's keen humor, her avid consistency, and steady excavation of the absurdity of her imagery make it clear that this is a woman who sticks to her guns. One might think of a younger generation of female artists working today whose mode evinces a similar delight in bodily forms and absurd figuration, such as Elizabeth Jaeger or Anna Uddenberg—the latter's impossibly pliant, selfie-stick-wielding or baby stroller-wedded femmes made a splash at the DIS-curated Berlin Biennale in 2016—but it's only in a long view of an artist who been working through a thing or two for years that you realize one has to have guns in order to be able to stick to them. Or, like our favorite classical Canadian pianist Glenn Gould once said, "The purpose of art is not the release of a momentary ejection of adrenaline but is, rather, the gradual, lifelong construction of a state of wonder and serenity." Dear Sarah, I'm yours in yolk.
Sarah Lucas: Au Naturel opens September 26 at the New Museum and will be on view through January 20, 2019.