Andrew Roth, Philip E. Aarons, and Claire Lehmann, ed.s, Artists Who Make Books, (London and New York: Phaidon, 2017)
Why Do Artists Make Books?
The artists' book has been called a forum for "the perfect solo show." Phaidon's weighty new volume on the subject is an undeniably attractive starting point in itself, but comes with some frustrating omissions.
Andrew Roth, Philip E. Aarons, and Claire Lehmann, ed.s, Artists Who Make Books, (London and New York: Phaidon, 2017)
Some of us are art lovers; some, bibliophiles. For those who dwell in the overlap, artists' books seem to hit a sweet spot. But what's the point of books seemingly made for every other reason than to be read? Well, you can do lots more with books besides read them. One of the unfortunate side-effects of reading, in fact, is that you tend to forget that the book you're reading is an object as well as a portal to other selves, other times, other worlds. It's as an object, for example, that a book becomes a useful tool for the practice of deportment: You can't read it and balance it on your head at the same time. As a tool for the practice of what one might call cognitive deportment, on the other hand, a book can be both read and appreciated as object: It can be touched, held, looked at, even fetishized.
Artists' books are subject to any and all of these uses, but the last is among the primary ones. If ever anyone wanted proof that the strange halo of significance that Walter Benjamin dubbed aura is undiminished by mechanical reproduction, the book would be primary evidence—as Benjamin, an avid collector of printed matter, should have known. Collecting, he observed, can be "a passion bordering on mania." And while it is normally impossible for any corpus of painting to be united in its totality, books do offer up that tantalizing prospect: One can dream of collecting all the publications of a particular artist, movement, or school.

It may seem odd to put the accent on collectors when discussing a book whose title calls attention to artists as makers. But most artists I know are collectors—and often of books or printed ephemera. For this reason, artists who make books (which is also the title of a handsome new book edited by Andrew Roth, Philip E. Aarons, and Claire Lehmann—conveniently enough, for my purposes, a dealer, a collector, and an artist respectively) should be understand as comparable to those writers whose foolproof method of acquiring books is to write them, as Benjamin observes, "because they are dissatisfied with the books which they could buy but do not like."
But handsome though it is, there are reasons to be dissatisfied with Artists Who Make Books. There are special problems with trying to make a book about other books, at least when the goal is to create something more than a catalogue enumerating bibliographical data. Seeing a few shots of spreads in a book you can't leaf through yourself is a little like being given some pictures of a meal that someone else has eaten. It's frustrating.
Still, the book makes an important point, and does so—as if it were itself an artist's book—through its mere appearance, which suggests, by the copiousness of the material it describes, the vastness of the corpus it samples. To leaf through Artists Who Make Books is to convince oneself of the ubiquitous presence of books in the oeuvres of so many artists from the 1960s through the present—to realize that books have become one of the typical forms in which contemporary artists express their thought. If the emphasis is, understandably, on the artists of the generation that pioneered this development—from Alighiero Boetti and Marcel Broodthaers to Andy Warhol and Lawrence Weiner by way of On Kawara, Sol LeWitt, Dieter Roth, and Ed Ruscha—it affords attention to practitioners in mid-career as well: Tauba Auerbach, Paul Chan, Wade Guyton, and Josh Smith, to name a few.
Of these artists, Chan is the one whose efforts as a maker of books are probably the most challenging, for he is the only one in this selection who doesn't produce what are normally known as artists' books. The category is summed up here in an interview with the legendary publisher and bookseller Walther König, who explains, "I feel very strongly that an artist's book should be an autonomous artwork—a book by an artist as auteur" and therefore, ideally, without such apparatus as an introduction. That's exactly what Chan doesn't do as publisher of Badlands Unlimited, the imprint he founded in 2010. Chan, in fact, doesn't even call himself a book maker: "Whether I do it on the page or on the screen, I may be first and foremost a file maker. And these files, as we know, can manifest in different physical, conceptual, and aesthetic forms. And so as a file maker, the question then becomes, what is most fitting for the file?" The books or files he makes—many of them available solely as e-books—are more often by others than by himself (for instance, Badlands has a line of erotica by women artists), but this is just to say that his medium is publishing, rather than the book as such. By contrast, Auerbach's Diagonal Press exists as an outlet for her own books, which adhere closely to König's ideal. Rather than being carriers of text, her books are typically a kind of abstract chromatic sculpture—it's hard to imagine them existing in digital form. Many of the conceptual artists who König supported early on imagined their books making an end run around the art market, but because their works were made in small runs—König remarks that they would sometimes say the edition was 3000 "because they weren't interested in the rarity of small editions," but it was usually more like 300—their market value is now high. Auerbach's books are unsigned and in unlimited editions for the same reason; time will tell whether the market will outwit her too.

As mentioned, one of the virtues of Artists Who Make Books is how its multiplicity gestures toward the even more extensive multiplicity that it doesn't have room for. Of course, that can also be one of its frustrations. For instance, König cites Günter Brus as "a great bookmaker"—so why isn't he included? I wonder about the absence, as well, of Buzz Spector, who has not only devoted much of his effort to making books but has also written critically about artists' books, for instance in the essays in his 1996 collection The Book Maker's Desire. Another assiduous maker of books missing here is Thomas Scheibitz, for whom "the artist's book is an example of the perfect solo show."

And then again, what about the artist who over a period of half a century has been making what some of us consider one of the greatest bookworks of all? I'm talking about Tom Phillips, who in an afterword to the recent publication of A Humument: A Treated Victorian Novel: Final Edition, explains that it "started life around noon on 5 November 1966 at a propitious place. Austin's Furniture Repository stood on Peckham Rye, where William Blake saw his first angels and which Van Gogh must have passed on his way to Lewisham . . . . R.B. Kitaj and I prowled the huge warehouse in search of bargains. Arriving at the racks of dusty books left over from house clearances, I boasted that the first one I found that cost threepence I would make serve a serious long-term project."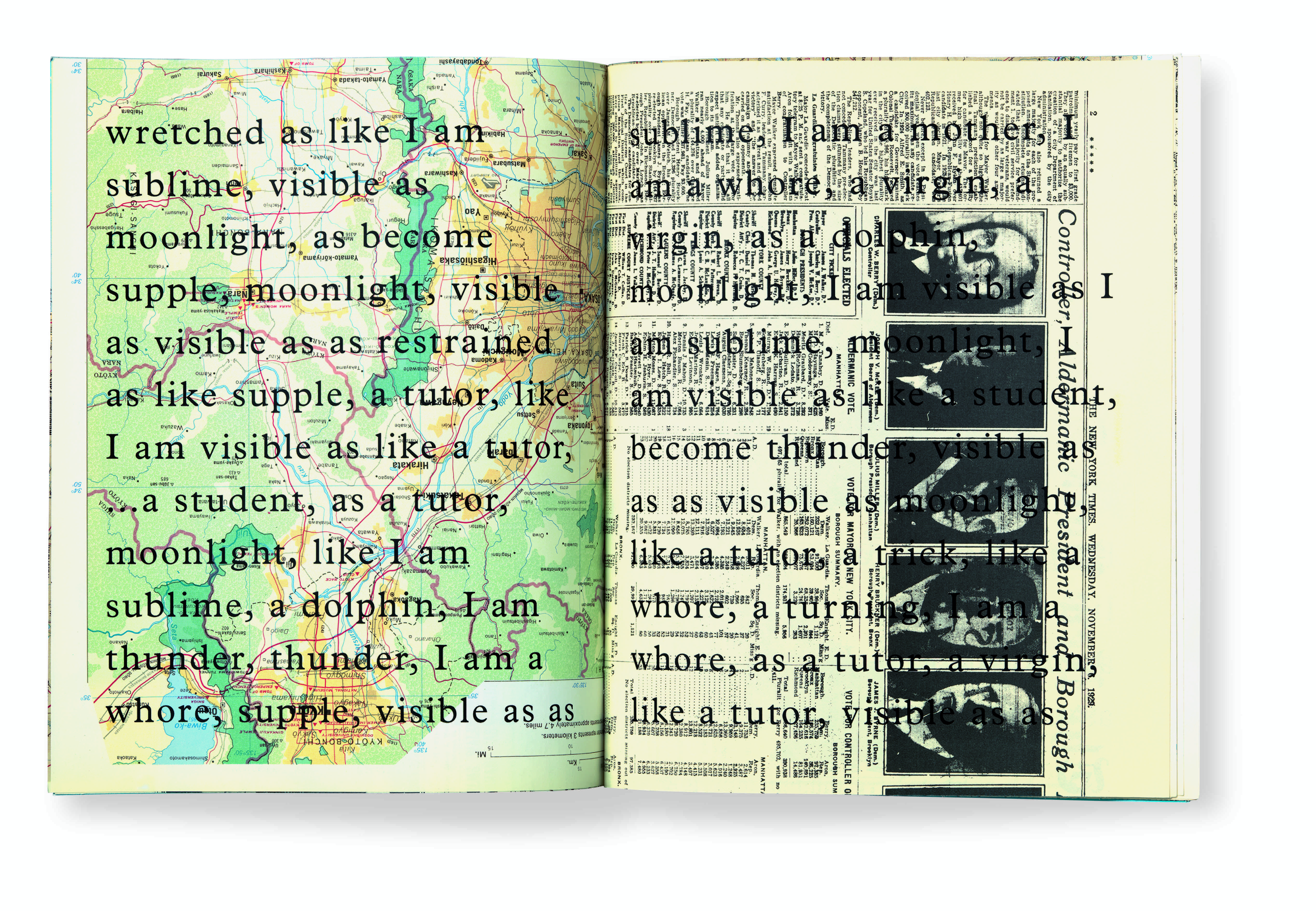 This was no idle boast. Phillips has been working and reworking, "treating" and mistreating the eventual object of his attention, an otherwise forgotten late nineteenth- century opus with the generically naturalist title A Human Document, ever since—until now, when he's finally declared his work final. A Humument is two seemingly antithetical things at once: a work of erasure, of subtraction (in that each of Phillips's pages retains from W.H. Mallock's Victorian prose just a scattered handful of words, a numinous cubist poetry) but also (since he erases the text by covering it with colors, patterns, images) one of richly unfolding elaboration and ornamentation, an immense catalogue of pictorial possibilities that can be studied page by page but also conveys a skeletal narrative of Phillips's own invention, should one choose to read it sequentially. A homemade epic, really. And like every good epic it opens with an invocation, though as a properly modernist epic it offers an invocation to its own art form: "I sing a book of the art that was / of mind art / though I have to hide to reveal. / now read on."
Barry Schwabsky is an American critic and poet.
Artists Who Make Books will be published by Phaidon on October 23.
The sixth edition of Tom Phillips's A Humument was published by Thames & Hudson on January 10.