Heather Dewey-Hagborg and Chelsea E. Manning, Probably Chelsea, 2017. Thirty 3D prints, dimensions variable. Edition 1/3. Photo: Paola Abreu Pita, courtesy

Fridman

Gallery and the artists
A DNA Portrait Artist Imagined New Identities for Chelsea Manning
What does it mean to remake one's appearance after years in the digital wilderness? Few are better placed to answer than Chelsea Elizabeth Manning, whose collaboration with DNA portraitist Heather Dewey-Hagborg mines the politics of the personal.
Heather Dewey-Hagborg and Chelsea E. Manning, Probably Chelsea, 2017. Thirty 3D prints, dimensions variable. Edition 1/3. Photo: Paola Abreu Pita, courtesy Fridman Gallery and the artists
When the New York Times Magazine's black-and-white cover shot of Chelsea Manning by fashion photographers Inez van Lamsweerde and Vinoodh Matadin appeared in June 2017, it was the first new image of the whistleblower to have been circulated publicly in years. Manning was seated against a blank background wearing a feminine pantsuit and heels, her blonde hair cut in a fashionable pixie. The headline? "Becoming Chelsea Manning." The profile begins in May 2017, eight days after Manning's release from prison following a late-term decision by President Obama to commute a thirty-five-year sentence to time served.
Ms. Manning hadn't given an in-person interview since her 2010 arrest, and her visual image in the public mind had, until this summer, been based on dated photographs: there were the images of Manning as a 22-year-old male soldier being led to trial, and a black-and-white selfie of her in a long blonde wig, taken in Washington, D.C. while she was on leave. Manning sent that photograph to a supervisor in the army, coming out as a transgender woman. The shot came to stand for what she went through in the shadows of the American military prison system, away from the public eye. After her sentencing in 2013, Manning announced through her lawyers that she was female and would like to be addressed by female pronouns. She changed her name legally via the Kansas District Court to Chelsea Elizabeth and fought to receive gender transition treatment.
While in prison, Manning was not allowed visits from anyone she did not name in a list compiled before her imprisonment, and never from journalists. She could not give interviews in person (though she did conduct a couple by mail) or be photographed. To most, then, her appearance during that time was a mystery, as was her transition; only her actions were public. In an age in which we are exposed to countless images online, here was someone in the public eye, going through a process both visible and declarative, whose self-image remained totally under wraps. It's almost impossible to speculate what this would mean for anyone's sense of self, not to mention that of a high-profile prisoner, in and out of solitary confinement, a digital native barred from full participation in that world.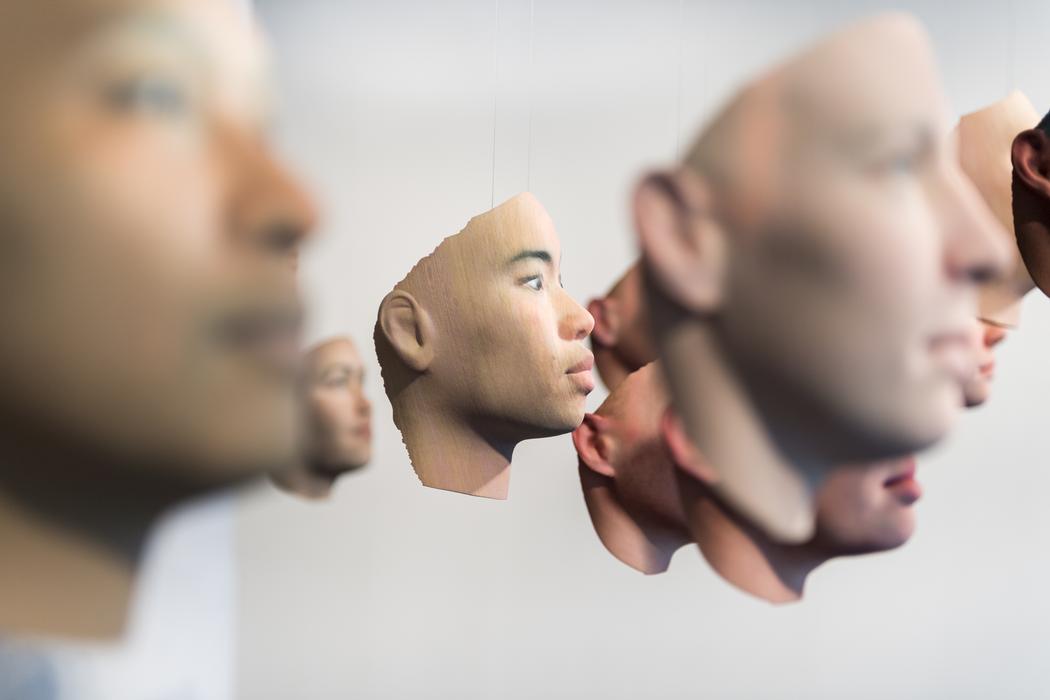 In 2015, when Paper magazine ran a conversation between Manning and a group of artists and activists (web activist Jacob Appelbaum, art and design duo Metahaven, and artists Matt Dryhurst and Holly Herndon), they came across exactly this problem: How do you illustrate an article whose subject is prohibited from being photographed? The magazine's solution was to reach out to Heather Dewey-Hagborg to make a DNA portrait of Manning. Dewey-Hagborg is an artist whose work uses biotechnology to political ends, and the DNA portraiture technique first appeared in her 2012–13 project, Stranger Visions. This work saw her collect hair, gum, and cigarette butts from New York City streets, extract DNA information from them, and employ custom software to translate that data into a 3D facial image. This she printed and displayed, alongside details of the object in question, as a series of masks.
Stranger Visions is, according to Dewey-Hagborg, an attempt to see how much is discoverable about us from the stuff we leave behind. The masks are also meant to explain what is at stake: how much can be reconstructed from minimal DNA information, how ignorant we are of the implications thereof, and how such techniques and knowledge might be used against us in the future. Dewey-Hagborg's new portraits of Manning, however, are both a form of awareness raising, and a form of recognition. In a brief text that accompanies "A Becoming Resemblance," the pair's current exhibition at Fridman Gallery in New York, she explains: "I first got to know Chelsea Manning by reading her DNA. Before we ever exchanged a letter or text message she mailed me her cheek swabs and hair clippings, and I extracted her DNA, sequenced pieces of it and analyzed them to create her portrait."
For the Paper portrait, Dewey-Hagborg made just one image. In the exhibition at Fridman Gallery, however, she and Manning present Probably Chelsea (2017), a collaboration that takes the form of a set of thirty different 3D-printed masks suspended from the ceiling on clear filaments. The masks have a haunting quality, an uncanny feel redolent of courtroom illustrations, in which resemblance is somehow assured but also always contested. The two collaborators got to know each other around a project that asks whether we can ever really know anyone, but they do have quite a bit in common. The artist created visuals of the kind of mechanisms of control that Manning was trying to break away from, while Manning made sacrifices in the name of transparency as a possible catalyst for change (her leaks have led to a much greater public understanding of the stakes of American warfare, especially in the Middle East, and especially as pertains to the death tally of the war and the diplomatic efforts around it). Then there's another complex question they have both had to deal with: the connection between DNA, gender, and image. For the Paper portrait, Dewey-Hagborg decided to exclude the gender parameter from of the DNA visualizing process. This wasn't a way to avoid a problem, but rather a means to communicate that not everything is pre-assigned, that decisions can be made visible too. It's another element of what is actually a rather sweet, hopeful message in the direct connection that Dewey-Hagborg makes between DNA sequencing and image: we all share an incredibly close biological foundation. We are far more similar than we are different.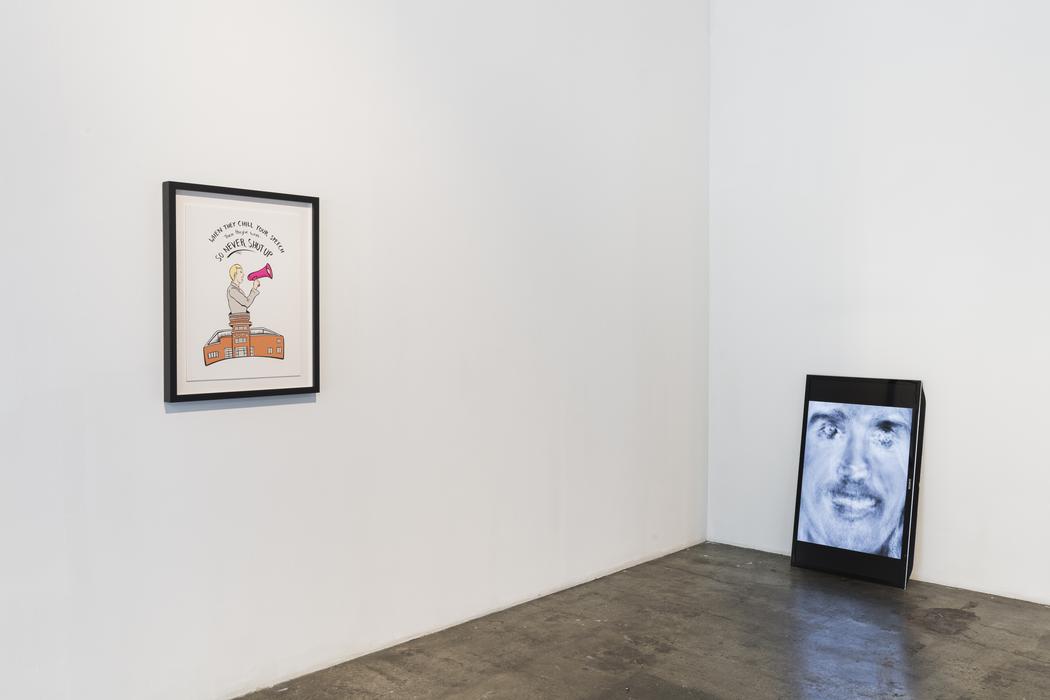 Next to the Probably Chelsea installation at Fridman is a mural, Two Hundred Nucleotides of Chelsea Manning's Mitochondrial DNA Sequence Written at Her Height (5'2") (2017). This, again, represents the battle for a physical presence in the world, one shaped according to Manning's body in space (the titles of the works serve, of course, as explanations). On the other wall is a page from Suppressed Images, a comic strip co-written by Dewey-Hagborg and Manning and illustrated by Shoili Kanungo. It's a drawing of a large Manning emerging from the roof of a prison building, shouting through a megaphone the words "When they chill your speech then they've won—so never shut up." The comic recounts its authors' acquaintance and shared project, and anticipates Manning's real future. Penned in 2015, it was published in The New Inquiry the morning before Obama's announcement of her commutation.
Manning and Dewey-Hagborg's stories unfold in countless magazines, websites, and articles. What started as a problem of visualization becomes a question about the role of art in creating an image. Visibility is a sign of power and thus making images is a primary tool of political art. Though the messages in "A Becoming Resemblance" can be a bit simplistic, the context in which these works are made—the political and the personal, and the way resistance is formed through the primary thing that artists do, making images—means these works are not only topical, but also a useful and important example. Manning now has a very public image that—bar a stalkerish article or two "spotting" her in the streets of Manhattan—she can control. Her recent New York Times and ABC interviews were first steps in building a mediated image, but there's also the more lighthearted, everyday stuff: Instagram posts of food, a portrait posted the day after her release (tag: "Okay, so here I am everyone!! #HelloWorld"), a recent selfie in front of the White House ("the new ground zero of the war on trans people"), and a Twitter feed that's also in direct resistance to those trolling her—she responds, and often does so with rainbow emojis and #wegotthis hashtags. To build a self-image via social media is to participate in a specific economy of the internet—one that's controlled by huge corporations and tracked by national governments—but it's still the way a huge majority of us participate online. Why should Manning be any different?
"Based on this fragment of DNA alone it is easy to imagine all kinds of possible stories for Chelsea," writes Dewey-Hagborg as she analyzes a subsequence that is inherited almost in full from mother to child, and which is thus used to study ancestry. How do we tell stories when none are permitted? This collaboration is now both a documented account of a specific past and a monument to agency. As Dewey-Hagborg reminds us, images of the self are a complex thing that may be used against us. But as Manning reminds us daily, the right to one's self-image is also a necessity.
"Heather Dewey-Hagborg & Chelsea Manning: A Becoming Resemblance" is on view at Fridman Gallery, New York, through September 5, 2017.
Orit Gat is a writer living in New York whose work on contemporary art and digital culture has appeared in a variety of publications.