Photograph by Richard Bord for Getty Images.
All the Princess Diana References in Virgil Abloh's Off-White Collection
From tabloid clutches to a vintage print blouse, decoding Virgil Abloh's new muse.
Photograph by Richard Bord for Getty Images.
Designers are in an age of reference fetish. It's no longer uptown meets downtown, skater girl goes to a ball—fashion designers from Gucci to Raf Simons to Supreme to Vaquera are sending viewers on scavenger hunts of inspiration, allusions, and muses. Perhaps this is a reaction to increasing weariness of appropriation, or perhaps it's the natural order when every image ever, from 17th century portraits to mid-2000s paparazzi photos, is available with a few keystrokes.
Virgil Abloh, designer of the label Off-White (among a zillion other things), is one such creative mind obsessed with references, labels, and the suggestion of layers of meaning. He announced earlier this summer that his Spring/Summer 2018 Collection would be inspired by Princess Diana, who died 20 years ago this past August and whose visage has reemerged as an icon of media savvy and intuitive, timeless style. When it came to the media, Diana was both the hunter and hunted, the most photographed woman in the world with the limpest grasp on a private life. Once she realized the attention was unavoidable, she took advantage of the spotlight, using it to call attention to humanitarian causes and to give sympathetic interviews that cast the Palace as unfeeling and out of touch.
But she also used her clothing to telegraph her moods and mentality at an unprecedented level, from the Warm & Wonderful sheep-print sweater she wore at a polo match in the early 80s (rows and rows of white sheep—and one black), when she was already feeling chilly vibes from the Palace; to the super-sexy Christina Strambolian cocktail dress she wore out the same night Prince Charles spilled about his affair with Camilla on TV in 1994; to the spandex and sweatshirts she wore to the gym (a head for business, and a bod for sin!). In this way, as well as in her prescient playfulness with streetwear, athletic clothing, and sneakers, she is a natural muse for the masstige avant-garde.
Abloh did deference to the People's Princess with a slew of references and nods, but it was difficult to gauge how much he was channeling Diana's style superpowers. Was Abloh engaging seriously with Diana's ability to communicate through clothing, or is his gift more an ability to point a lightning bolt at the zeitgeist? Some of the references were so literal—a clutch that looked like a present recalled a paparazzi photo of Diana carrying a present—while other elements, like mummy-ish tulle, made you wonder if bringing metaphor into the equation was not at all the point. Were the People magazine and LIFE magazine clutches a commentary on how Diana used the media as an accessory in her public image campaign, or are the bags just a manifestation of Abloh's obsession with labeling? (It was the British tabloids that she was really entangled with, after all—not those American publications.) Are the plastic-wrapped heels (made in collaboration with Jimmy Choo) meant as a fun-house mirror of a glass slipper, the pre-packaged fiction of her fairytale exposed? Or does Abloh just like playing with plastic?
Abloh did not seem interested in Diana from the perspective of pure silhouette: Diana was highly skilled at choosing streamlined clothing that flattered her figure, and even in the '80s, in which excess in embellishment, texture, and silhouette lead fashion design, Diana used them only when they nipped in her waist, lengthened her torso, or showed off her legs. It's part of why images of her remain so iconic today: rare is the Diana photograph which looks truly dated. But Abloh went in for fountains of tulle, asymmetrical ruffles, '50s debutante ball skirts, and slouchy silks. Abloh is a man of obsessions, but tailoring of the Diana school—simple, precise, and comfortable—is not one of them.
But perhaps that's beside the point. Herewith, a nearly look-by-look breakdown of what Abloh's Princess Diana reference points may be. (We'll assume you're following along with a full slideshow of the show.)
The mutton-sleeve jackets in Looks 1 and 35 recall Diana's taste for bomber jackets, such as the red bomber she wore in the early '80s with jeans and cowboy boots (another Diana signature), or the Philadelphia Eagles bomber she wore in the '90s, occasionally over a little black dress (there's a great story about Philadelphia Mainline goddess Grace Kelly introducing Diana to Eagles fandom, by the way).
Looks 2-4 have a strong sportswear influence, and some of Diana's most iconic paparazzi photos are of her going to and coming from the gym, in spandex shorts and oversized sweatshirts. (Post-divorce and newly committed to working out, Diana practically invented the revenge body.) Perhaps the length of the shorts here are a nod to that; perhaps they aren't. I can tell you that she never wore a crop top, but the necklines of Look 3 and 4 resemble that of the black velvet Victor Edelstein she wore to dance with John Travolta in 1985, as well as the black Christina Stambolian dress she wore to the Serpentine in 1994 (called the "revenge dress" because she wore it the night Prince Charles went on TV to confess his affair with Camilla). (Additionally: love the croakies, and don't care that Diana would not and did not wear them.)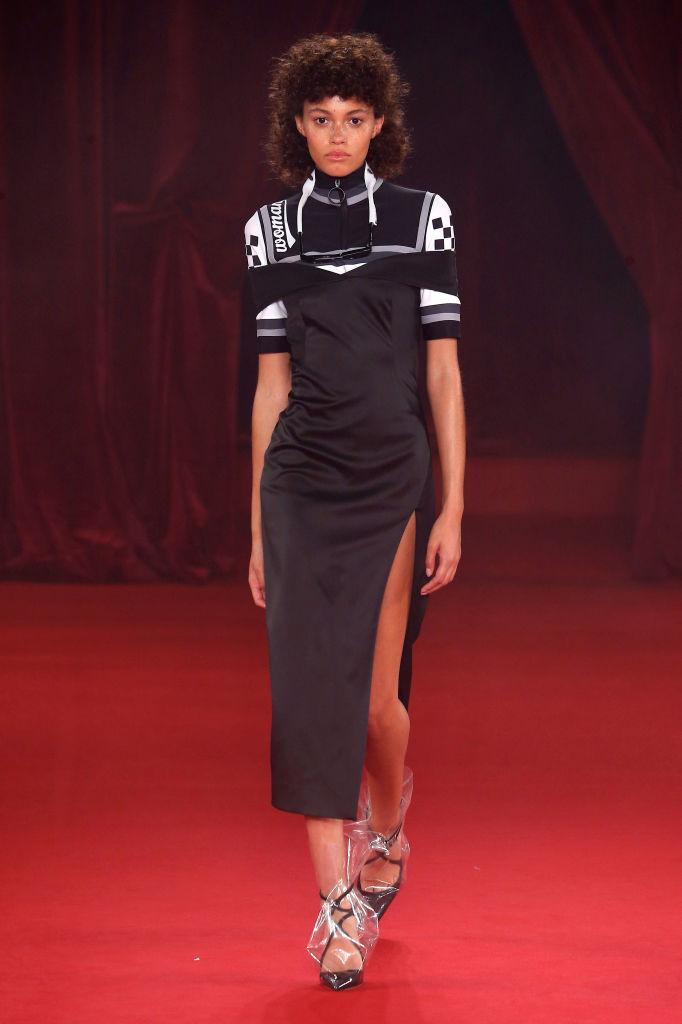 Again, the shoulder line of Look 6 recalls that sporty taste for bomber jackets, and here we see the introduction of the present handbag, a nod to a 1994 paparazzi photo of her visiting her new-born nephew at St. Mary's Hospital. (The elephant-print tie and belt appear later in the show, sans gift bag and elephant-studded blazer), in Look 32.)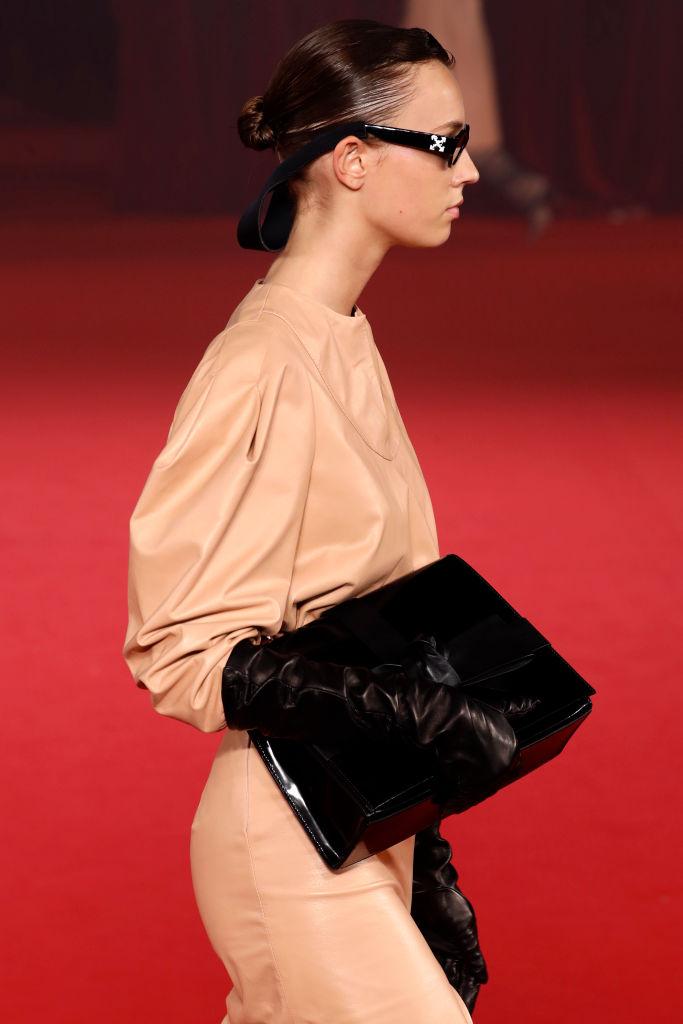 Look 7 includes a pie-crust collar and an off-the shoulder blouse; Diana often wore shirts with this type of collar in her early "Sloane Ranger" days, when she made the fussy, neo-Victorian look the look for posh young Londoners. (If you haven't read The Sloane Ranger Handbook—do.) Perhaps her most iconic pie-crust blouse moment was Lord Snowdon's 1981 portrait for Vogue UK; it was designed by Emanuel, the label that would later make her wedding dress.
That brings us to this spray of one-shouldered peach tulle in Look 8; perhaps its over-eager silhouette is a comment on the caricature-like nature of her "fairytale wedding" and perhaps it's not. Perhaps the outrageous hoopskirt of Look 9 (shown again in dove gray in Look 28), which swooped on the runway like a woozy teacup, is an expression of that Victor Edelstein dress in motion as Travolta spun Diana.
Looks 12-16 clearly take note from a blouse with a Memphis Group-esque black and white print, which Diana wore to watch Charles play polo in 1983. (The designer of the blouse is unknown, but the print and silhouette resemble other garments by Diana favorite Jasper Conran.) Looks 14 and 16, in fact, are almost an exact copy of the blouse. (Look 14 also includes the People magazine clutch.)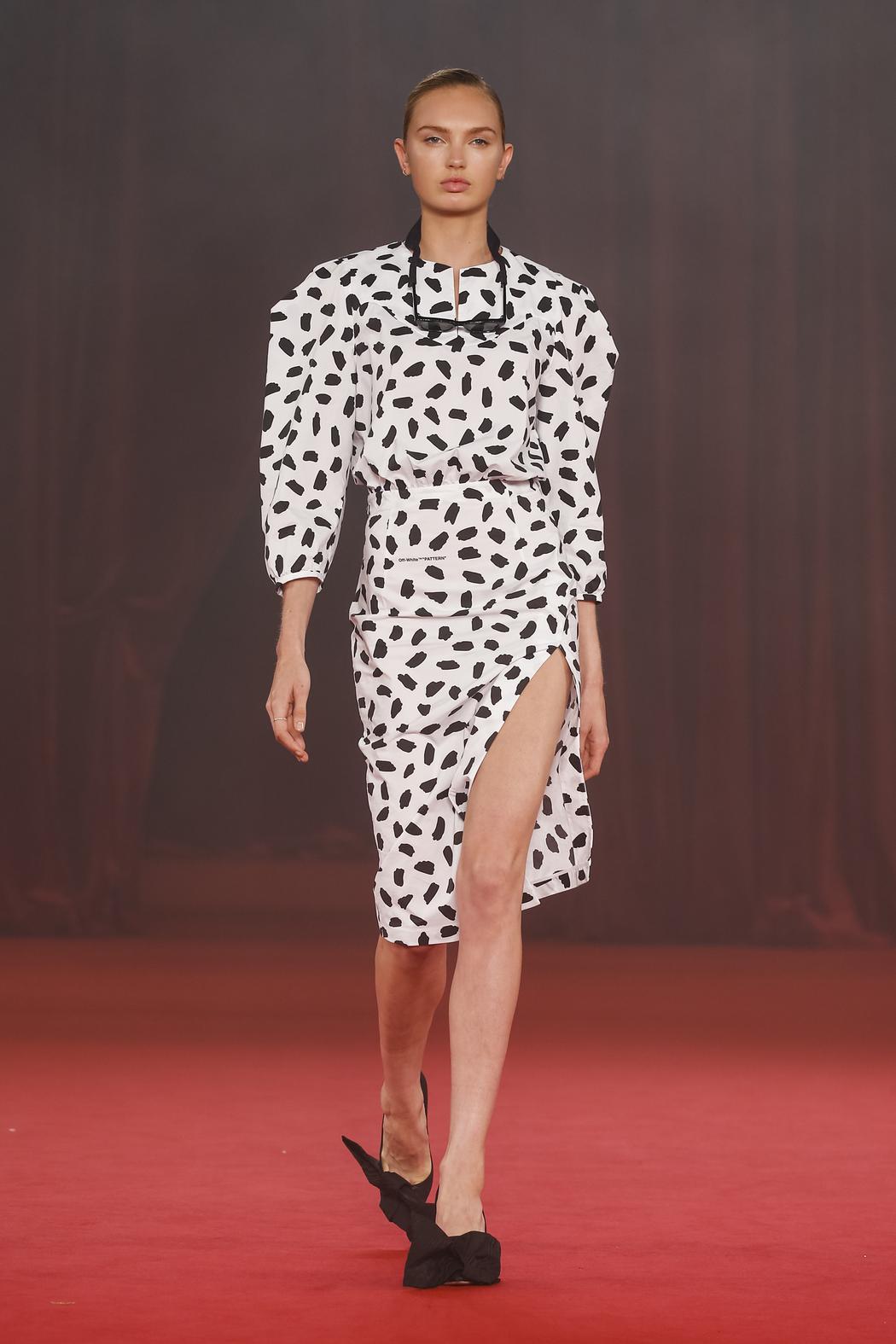 The floral prints of Looks 17-20 are similarly direct; 17 in particular echoes to the one-sleeved pastel floral Catherine Walker she wore during a visit to Brazil in 1991.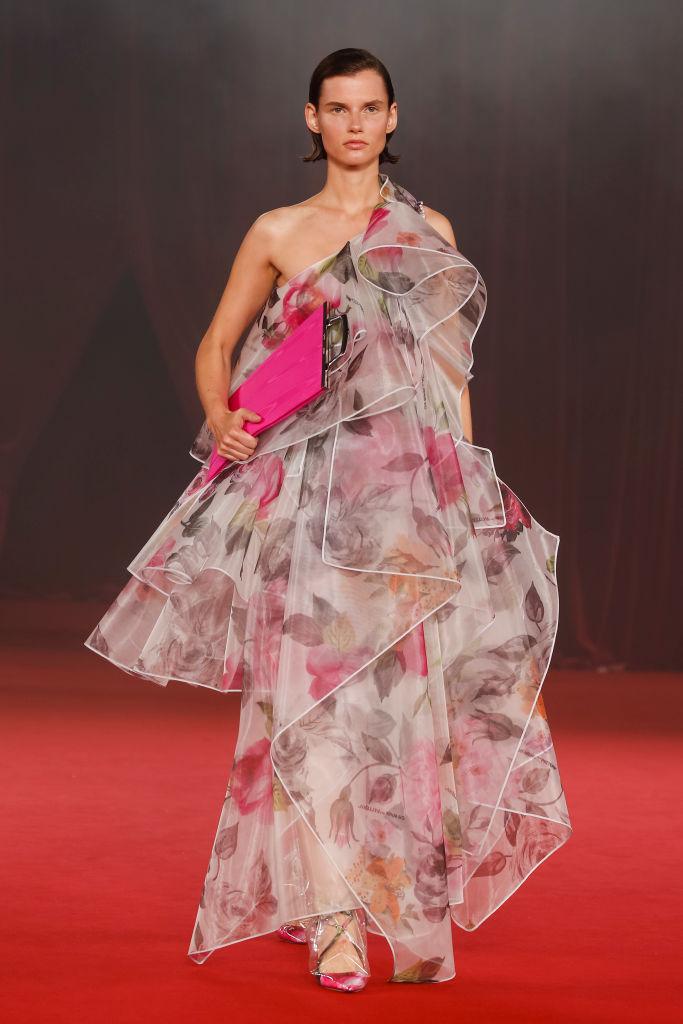 Looks 21 and 22 pair shocking pink moire silk capri pants with a cropped white blouse and tiers of dove gray tulle; she loved pink capris!
Looks 23 and 31—powder pink and powder blue skirt suits, respectively, worn with sneakers but with heels in hand—recall two suits designed in the mid-90s by Diana's friend Gianni Versace (rumors have floated recently that Abloh may succeed Donatella, if that's any coincidence).
Look 24's metallic, floral-print silk short suit in a citrus grapefruit palette doesn't seem to resonate with any specific Diana looks, but those cowboy boots seem like something she'd pair with jeans, an oversized pink blazer, and a baseball cap.
Look 26 (and 27) is a very direct reference to a 1985 polka dot dress (whose designer is unknown, but is again, perhaps, Jasper Conran) Diana wore on a trip to Italy in 1985.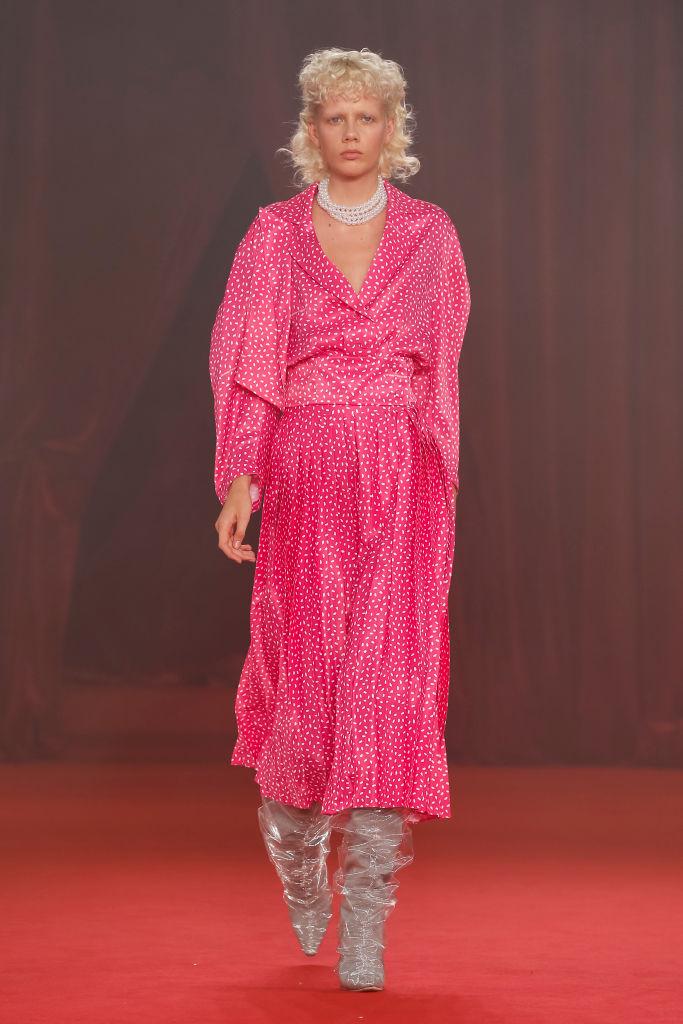 The sea-blue mummy tulle of Looks 29 and 30 could be a reference to her infamous Dodi Fayed paparazzi yacht pics, or they could be an homage to this. It's in the eye of the beholder, I suppose!
Look 33 has the vibe of Diana dropping Prince William off in Switzerland in head-to-toe denim in the early '90s.
Perhaps 36 recalls the very flattering crossed bodice of the pale blue Catherine Walker Diana wore to the 1987 Cannes Film Festival.
And finally: Naomi Campbell in a white ruffled tuxedo jacket with spandex shorts. Naomi, of course, needs no reference.