Photograph by Peter White for Getty Images
Dries, Rick Owens, Nina Ricci, & Undercover: Can We Appreciate Beauty in a Politically Fraught World?
Four designers at Paris Fashion Week demonstrate what it means to be "moved" by the beauty of a fashion show.
Photograph by Peter White for Getty Images
Only a few days into Paris Fashion Week, everyone was already saying, "I'm exhausted." Paris can feel like an endless parade of rushing in traffic and waiting outside and then waiting inside, followed by 15 minutes of beauty. (Freudian!)
In the midst of all that, you really want to feel something. It's why the sexiest line in the garage rock classic "Wild Thing" goes, "You move me."
Rick Owens, Dries Van Noten, Undercover, and, in a sweet surprise, Nina Ricci, offered shows of the move me school. On Thursday, Owens sat the fashion industry around a large pool at the Palais de Tokyo, placed black ponchos neatly on each seat, and showed a beautiful group of obfuscated chitons and twisted micro-accordion pleats with very good chunky Teva-like sandals. Then the fountain shot on and up, spraying everyone (even the third row—finally some love for the cheap seats!) as models ensconced in big pillowy bulges covered in a stretched web of jersey moved through the heavy mist. Maniac laughter played over the loudspeaker. A few front-row attendees moved, but most of us were just, you know, moved. There's a reason those waterpark rollercoaster rides always have such a long line.
The day before, it was Dries Van Noten who raised the emotional quotient. Over a tender cover of The Ronettes' "Be My Baby" by DM Stith, Van Noten showed what he called a "visual overload" of Surrealist prints (including a lip print borrowed from his recent Dalí-meets-Monroe menswear collection), rich jacquards, surf's up pastels, clouds, stripes, dazzling starfish, sequined octopus tentacles, spangles and dangles of rhinestone—you name it. In a video interview shared by the house, Van Noten said, "We always say that fashion is a reflection of what's happening in the world, but I think such strange things are happening in the world for the moment that this season I said, let's escape with fashion. Let's make a very optimistic, happy collection."
For aesthetes, the question over the past year has been whether engaging with beauty is to ignore the social and political atrocities plaguing the world. But a show like Van Noten's reminds you that beauty and craft are not frivolous things. They require time and attention and care, and to appreciate that is a kind of gentleness of the spirit, something that is also needed now more than ever. There is a reason why so many people have shared Jenny Holzer's truism on Instagram over the last year: "It is in your self-interest to find a way to be very tender."
On Friday, Nina Ricci set up a tent in front of Napoleon's tomb and sent fringe swishing, hackles and feather boas pulsing, epaulettes swinging, and silks billowing, in dove gray and melon and lavender. Looking at the clothing again, I wonder whether much of the emotional sweep I felt was in the music—Beethoven's Symphony No. 7, a spell of unadulterated splendor—and the setting, complemented by the balmy day. But the shoulders were great here, between the epaulettes and the marvelous drape on the sleeves of the military jackets, plus a pointy bat-shoulder on a few coats and capes. It's good to look at something and just think, "I want to wear that!"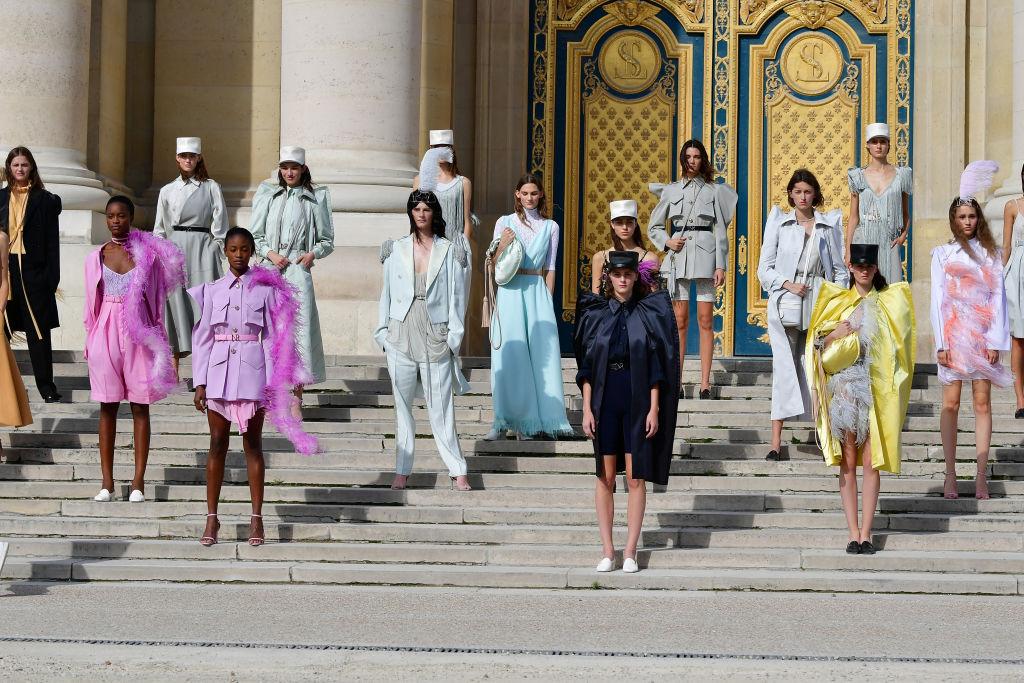 After all that beauty, it felt like the right time to get weird. Enter Undercover. Models held hands and moved in pairs from spotlight to spotlight, spinning like old wind-up toys. As it turned out, each of the garments was reversible, with each pair of models wearing the pieces one way or the other. Designer Jun Takahashi—nicknamed Jonio, after Johnny Rotten, because in his earlier years he was the lead singer of a punk cover band called the Tokyo Sex Pistols—is a maestro with a theme, whether it's the art-garage band Television, Miles Davis, Star Wars, Hieronymus Bosch, or, in this collection, Cindy Sherman. He often prints the images that inspire him on a garment, but that directness is something supernatural, such that he's known for best-selling, graphic-driven streetwear and appreciated for his high fashion fantasias.
This collection seemed like a sublimation of that commercial reality: a jersey Cindy Sherman tube dress turns inside-out into a cocktail frock beaded with a pattern of the dreaded witch offering up the juicy poison apple; an oversized peach leather jacket with Sherman's name scribbled on the back, like the wearer's motorcycle gang name, turns into a lemon cardigan with "Cindy" doodled on the breast, like a boyfriend's moniker. Especially delightful was a lovely pale pink tea dress with baroque scrolls, putti, and vegetable-clad gods framing a one of Sherman's celebrated film stills. It was pretty and cool, but it was also something else fashion designers do rarely and Takahashi does well: it was funny.