Photograph courtesy of the V&A Museum.
Why Are We Obsessed with Female Artists' Clothing, but Not Men's?
A new exhibition on Frida Kahlo, and one last year on Georgia O'Keefe, raises questions of why we do not examine male artists in the same way.
Photograph courtesy of the V&A Museum.
Frida Kahlo is one of the most identifiable artists of the 20th century, for her exuberant style as well as her paintings. A new exhibition at the Victoria and Albert Museum in London, "Frida Kahlo Making Her Self Up," honors her personal possessions, from bright indigenous garments, to pre-Columbian necklaces she strung herself, to hand-painted medical accoutrement. These have never been shown outside of Mexico, since their discovery in 2004—they were sealed off for half a century by her husband, Diego Rivera, following her death in 1954.
Kahlo wore Mexican garments including blouse-y printed tunics (huipiles), traditional Mexican shawls (rebozos), elastic waistband skirts with lace flounces (enaguas edged with holanes), and a ceremonial headdress worn by women from the Isthmus of Tehuantepec (resplandor). Her beauty paraphernalia, also on view, includes the ebony eyebrow pencil used to emphasize her unibrow, and the Everything's Rosy Revlon lipstick she used to press lip imprints onto letters. Juxtaposing these items with self-portraits and photographs, the hybridity of art and intimate items charts the way Kahlo's possessions were deployed to construct her sense of self within and without the frame.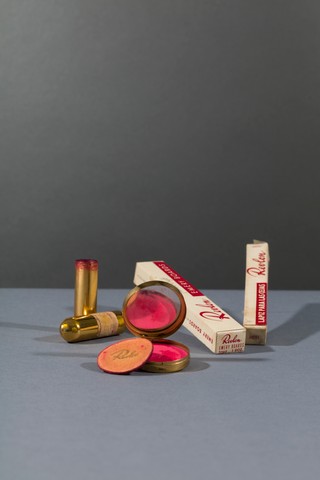 How can, or should, an artist's personal style contribute to our understanding of what they create? While Pablo Picasso, Takashi Murakami and Keith Haring have frequently been hailed for their style, no one has investigated the particulars of how they formulated their universe through clothing. Jean-Michel Basquiat, for all the attention paid to both his art and celebrity persona, has yet to be the subject of an exhibition despite painting his Armani suits, or the fact that he walked in a Comme des Garçons show.
Women artists are still examined using a different set of criteria—their universe is seen, societally and institutionally, as more personally informed. While this can be a way to dismiss them, it can also be an empowering way to seize on a greater understanding of female selfhood. For the centuries of art history in which women were little more than muses, one-dimensional objects of the male gaze, looking closely at women artists not only for their work but offset by important totems and personal choices in their lives contextualizes them as complete and proactive creators. Exhibitions such as this unpack the way an artist exerts control: over her own creative universe, and more broadly, over the way she wishes the world to regard her through the self-possessed orchestration of her look.
What comes between a woman's body and the world around it is always loaded, and many women artists powerfully integrate themselves directly into their work using clothing as a heightened insignia. In the V&A exhibition, Kahlo's singular aesthetic was one way she dealt with disability. The physical injuries she suffered in a bus accident when she was 18 followed her for the rest of her life: Over the course of two decades, she had foot operations, spinal operations, and pregnancies terminated due to medical complications. She had to wear a medical corset for much of her life. She hand-painted them with religious and communist symbolism, and by making them decorative, appropriated them as an extension of her selfhood. In 1953, Kahlo's right leg was amputated below the knee—and she fashioned a necessary medical appendage into avant-garde footwear. Her prosthetic leg was sheathed in a red leather boot with appliquéd silk embroidery and decorative bells.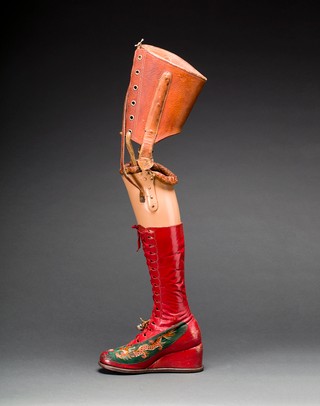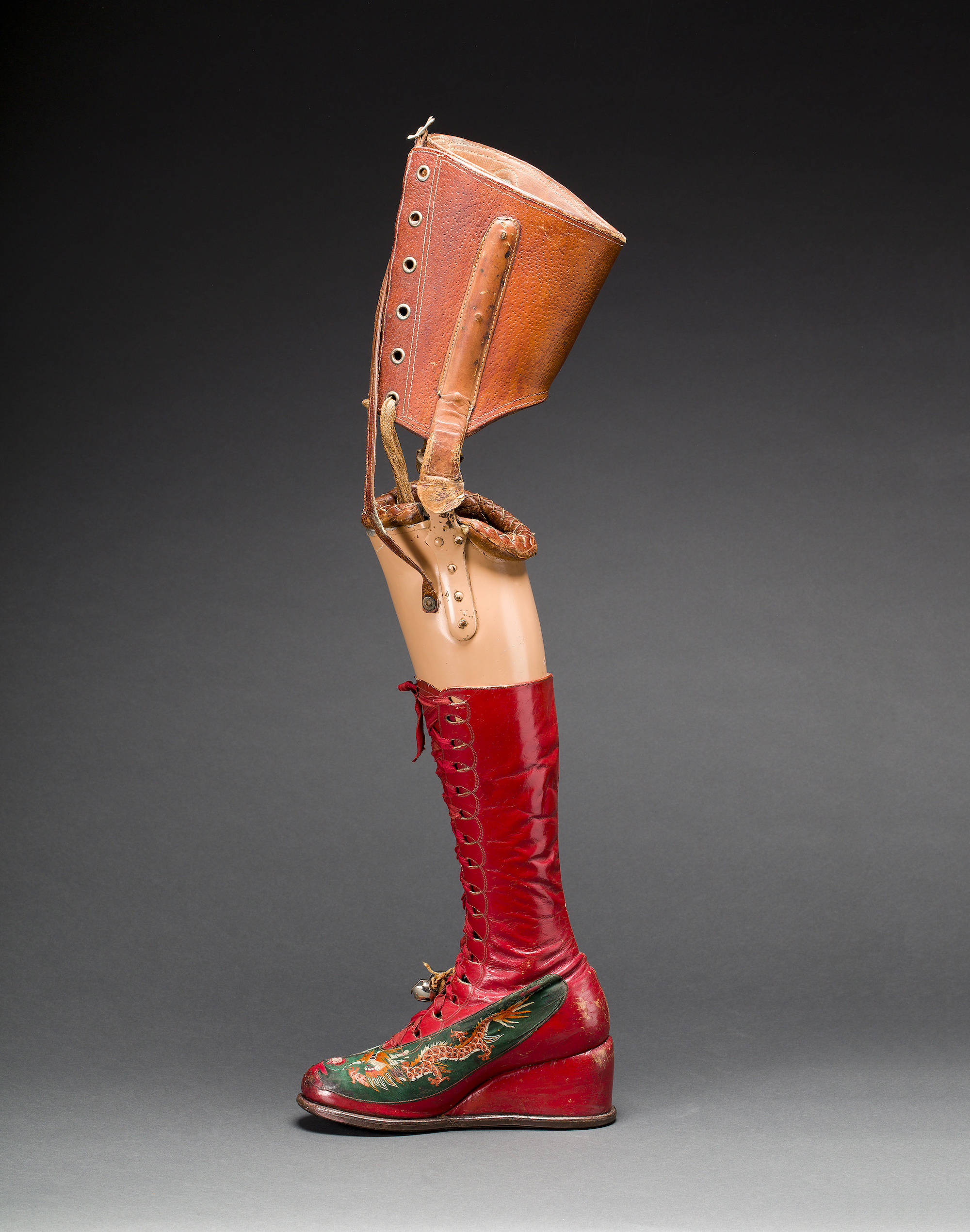 Kahlo was not the only artist to translate painful personal experiences into something artistically meaningful. In Douleur Exquise, Sophie Calle parses the emotional aftermath of being stood up abroad by a lover in lieu of an official break-up. Within her wider narrative, she references the sartorial: one panel of her ensemble of photographs and texts mentions her outfit (black silk pants and two layered Yamamoto shirts, which are also draped upon a chair next to the red telephone on which she intercepted the news that her lover wasn't coming). The clothing is at once part of the art, and a fragmentary symbol of the excruciating experience she has chosen to share with viewers. Yoko Ono, whose infamous 1964 performance "Cut Piece"—in which strangers in the audience cut her clothes directly off her body—showcases a different kind of vulnerability. Using garments, she highlighted the fragile boundaries between self and other.
There are plenty of artists, female or otherwise, whose look you probably couldn't conjure or even identify—fashion is not necessary to understand an artist's work. But it's an immersive introduction, a compelling way to think about the women who create—and even a corrective measure given how women have been flattened and forced into passivity throughout most of art history. Personal possessions are no less substantial than the canon. Indeed, this angle merits institutional seriousness—this genre of exhibition is powerful precisely because, positioned in a museum setting, personal details are given artistic weight. Even if it is a skewed approach, given that male artists are not considered through this lens, this type of exhibition contains a richness, a thrilling sense of access, rather than frivolity.
Frida Kahlo: Making Her Self Up runs until November 4, 2018.