Photograph by Estrop for Getty Images.
How Demna Gvasalia's Giant Puffers Were an Awesome Homage to Cristobal Balenciaga
Cristobal Balenciaga was the original Absolute Unit!
Photograph by Estrop for Getty Images.
At Sunday's Balenciaga show, designer Demna Gvasalia's puffers on top of jackets on top of shirts on top of more shirts looked like an absurdist ode to layered dressing, a chic new churn in the designer's streetwear wheelhouse. (Genius memes immediately appeared declaring Joey on Friends, wearing all of Chandler's clothing as revenge for hiding all his underwear, as a Balenciaga ad.) But a careful inspection of the outwear reveals a strong presence of Cristobal Balenciaga's DNA. Show notes stated that as many as nine (!) layers made up some of the looks, but most were single actually pieces that could be detached and worn multiple ways, a feat of construction very much in the school of Balenciaga, who loved these sort of sewing puzzles; he famously constructed a coat with just one seam.

Balenciaga was a masterful tailor, but rather than fitting clothing close to the body, as many of his contemporaries did, he actually preferred to sculpt fabric so that it sat at a slight remove from the wearer (think: the distance at which you keep your new boyfriend when the divorce from your evil first husband is almost finalized). Multiple layers, of course, move clothing further and further away from the figure, so you can see the echo of, say, Balenciaga's 1966 yellow windowpane coat, a classic example of the Balenciaga fit, in the staunch plaid outwear that appeared mid-show: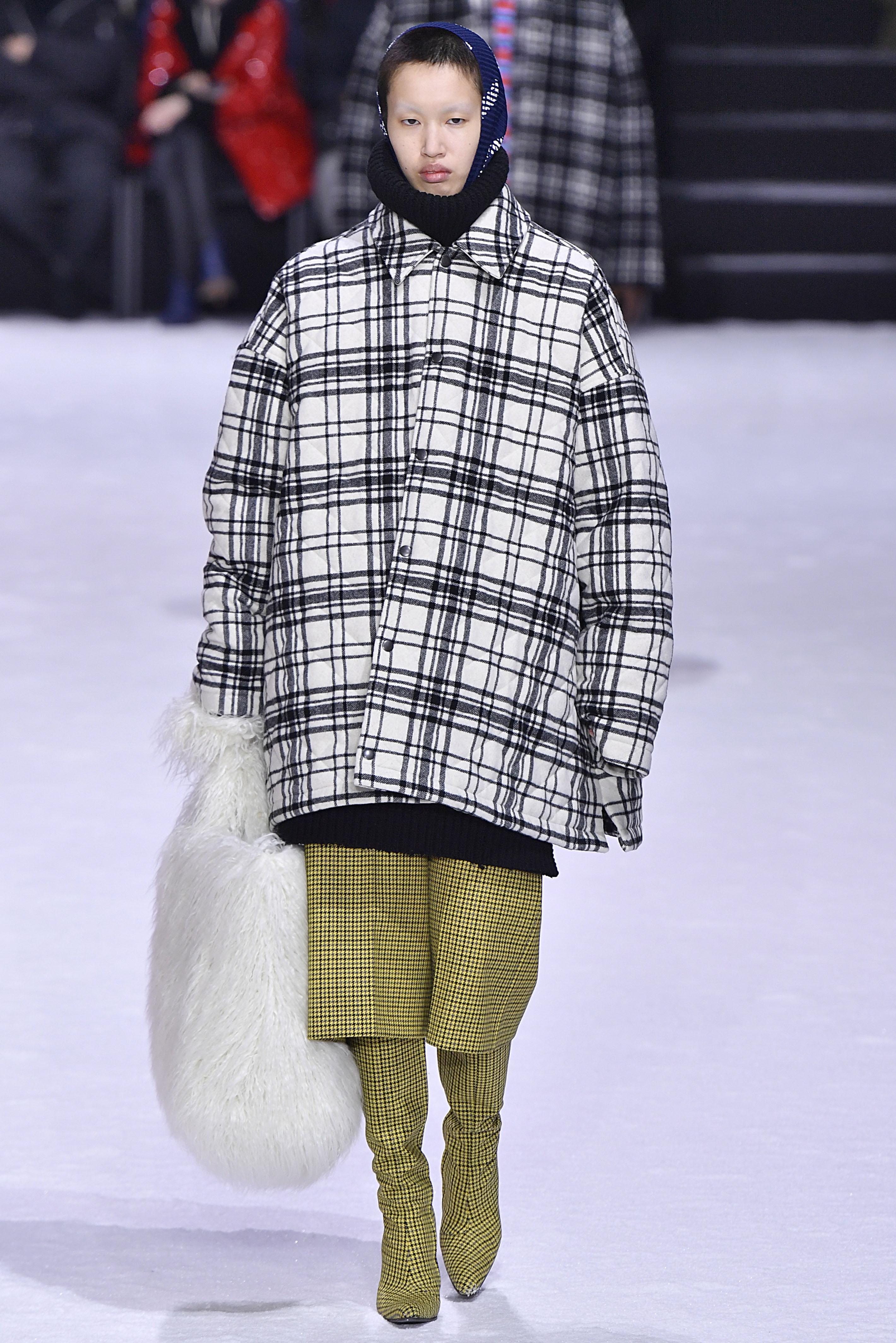 More specifically, Balenciaga was a master of coats, and a fetishist for sleeves. He could make folds look natural the way Bernini could make static marble appear to have all the elastic give of skin. Look at the folds on the sleeve of Balenciaga's iconic mantle coat, from 1950, which looks as organic as a Shar-Pei but is the product of an extremely precise draping process: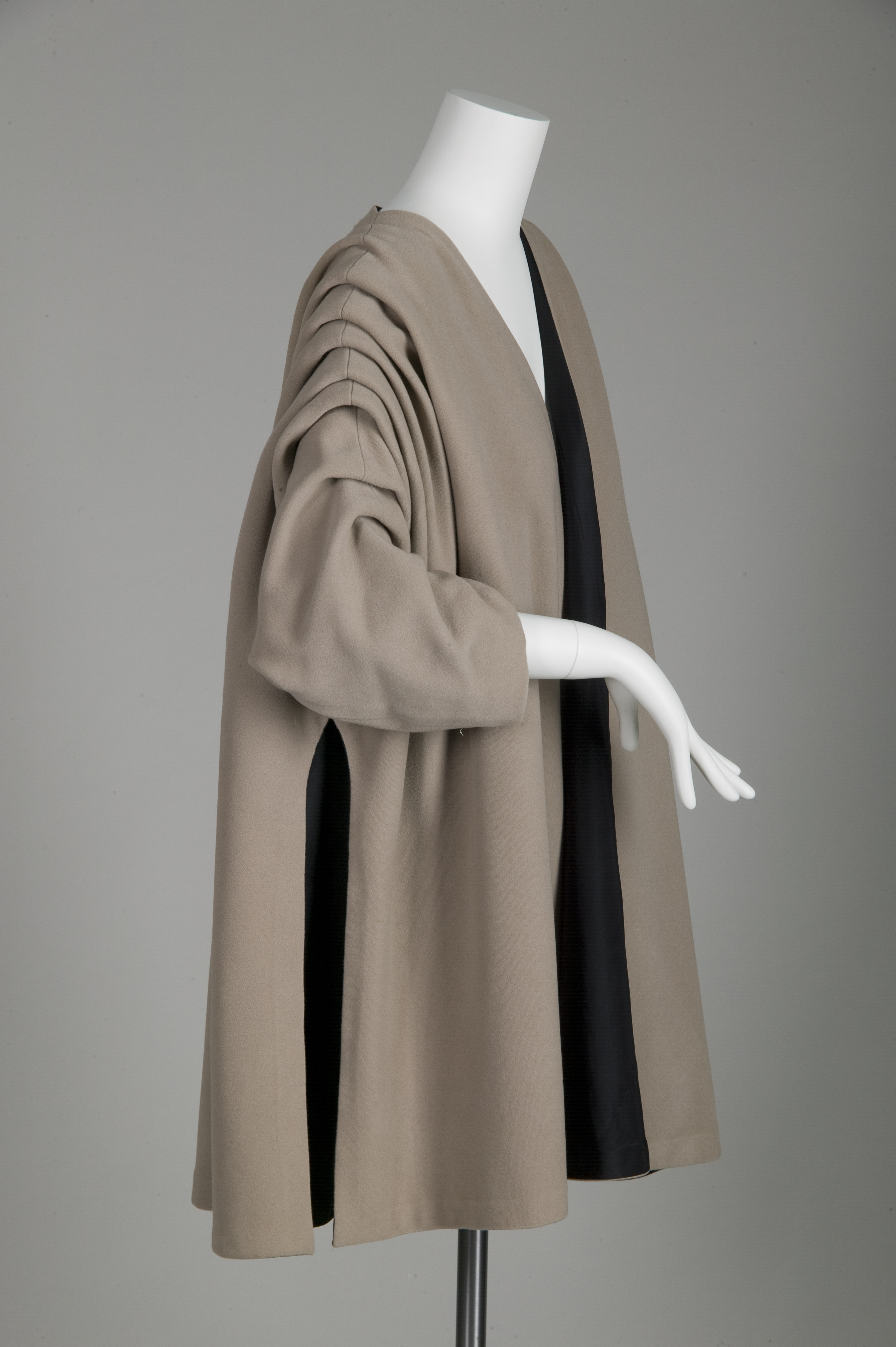 Now look at Gvasalia's big coats. They look like a lot of a lot, but they're extremely exacting. The sleeves, in particular, have all the technical glory of Balenciaga's melon sleeves.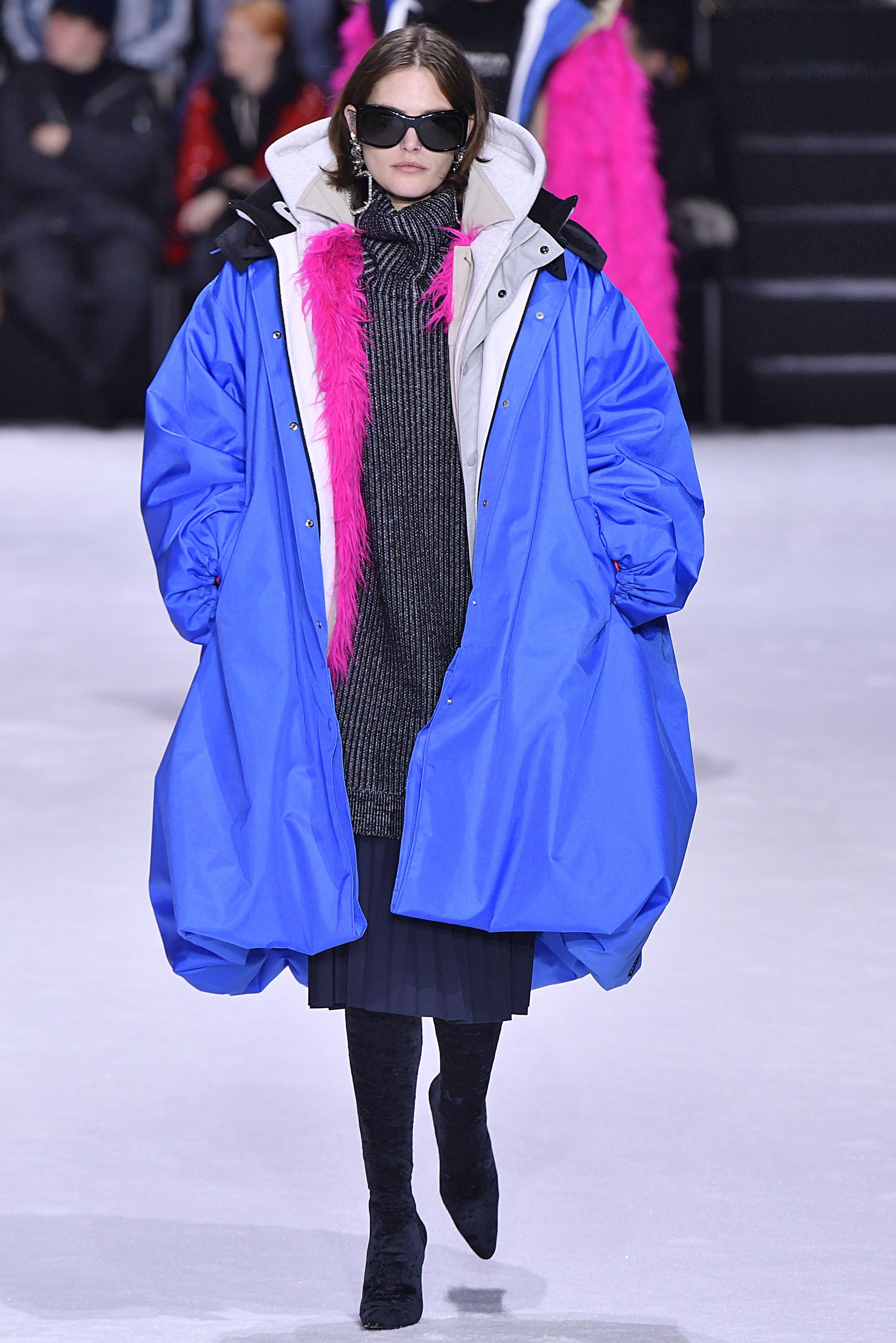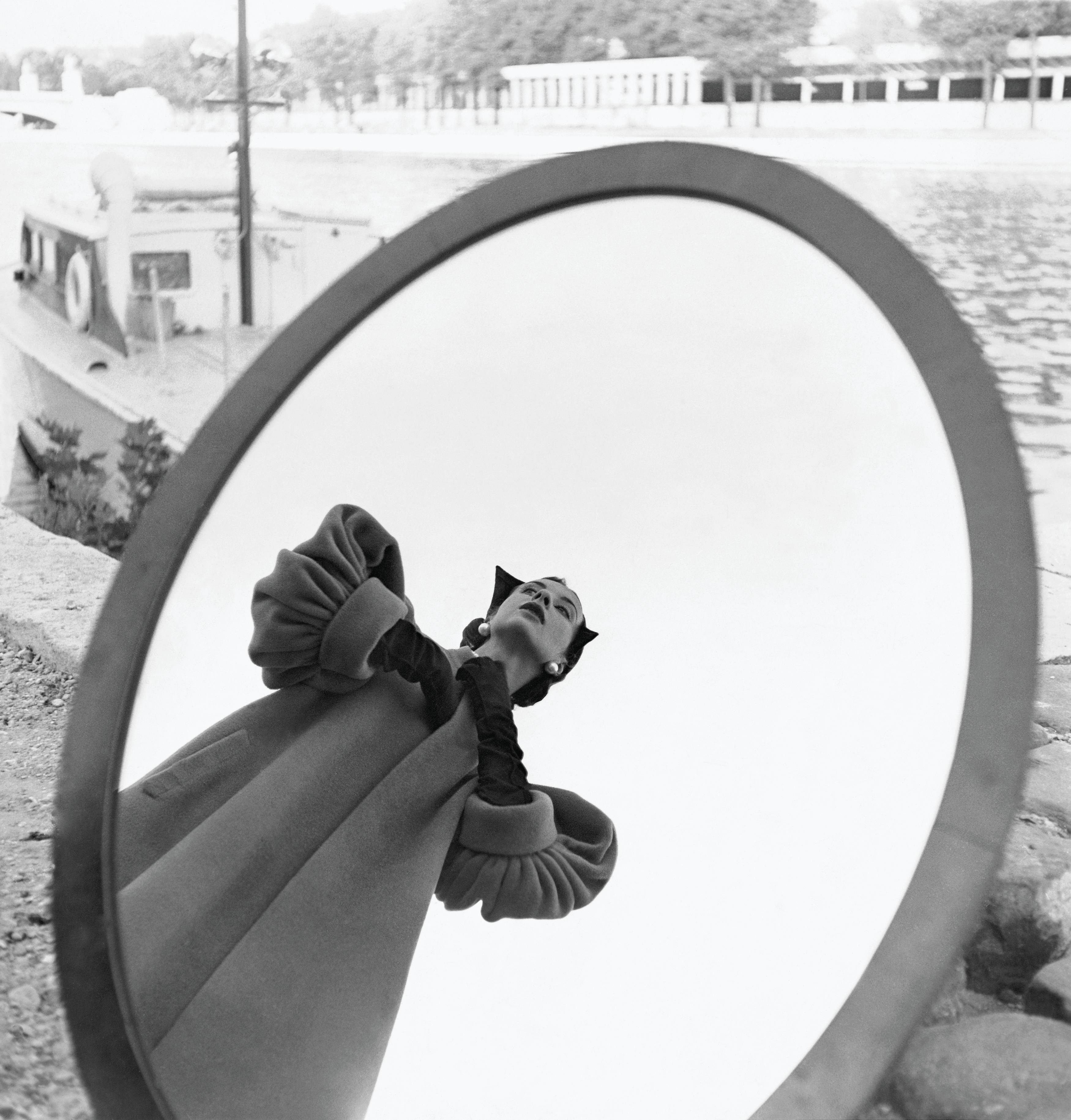 Those petals of collars also recall Balenciaga's oversized double collars, which you can see on this red velvet evening coat.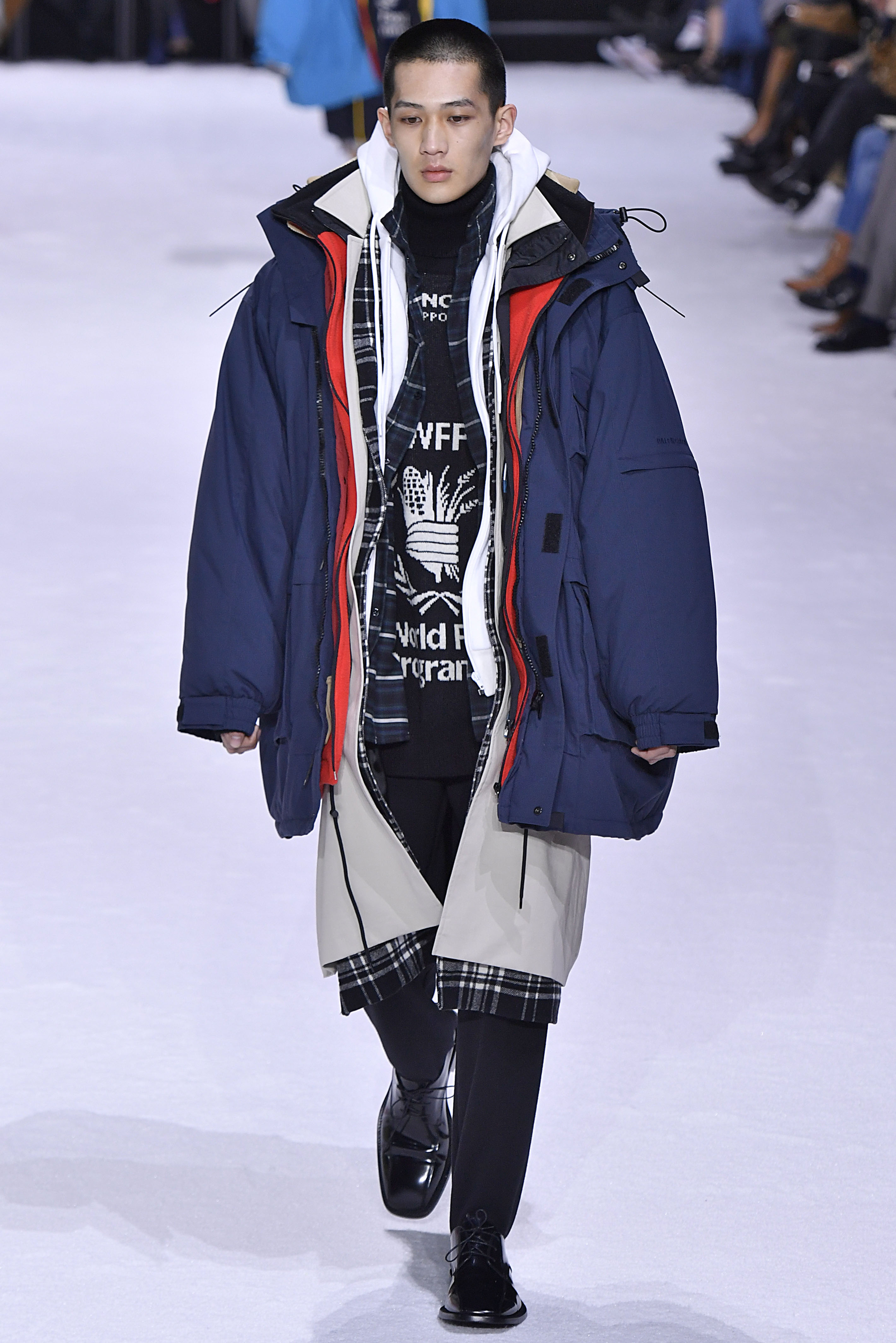 Looking back at Balenciaga's coats and drape work, Gvasalia's outwear is almost a streetwear trompe-l'œil—it looks like the latest in smart and trendy designer performance outerwear that borrows fabric and streamlined design from heritage brands like The North Face, but it's actually a triumph of construction. It's a subtler, more sophisticated version of Gvasalia's Fall 2016 coats, which yanked the puffer off the shoulders to give it a classic Balenciaga neckline. Jokes were shooting around Twitter that Balenciaga was giving the "absolute unit" look—a lad culture meme coopted by the editors of GQ Style to describe comically oversized clothing. Oversized it certainly is, but it's also perfect in its proportions; such is the genius of the Balenciaga ethos. Cristobal Balenciaga was the original absolute unit.