Wayne Thiebaud, Nine Jelly Apples (1964). Photography by Tony De Camillo. © Wayne Thiebaud/Licensed by VAGA, New York, NY.
Sober Tripping with Wayne Thiebaud's Candies
America's top painter of sweets and delicacies is the only psychedelic I need.
Wayne Thiebaud, Nine Jelly Apples (1964). Photography by Tony De Camillo. © Wayne Thiebaud/Licensed by VAGA, New York, NY.
The difference between a display and a still life would seem to be a question of intent: a bakery window or deli exposition is a waiting room for treats, hovering between ready and gone, while the painting or drawing holds out pause for delectation. For the past fifty-odd years, Wayne Thiebaud has been turning displays of cake slices, candy sticks, and jelly apples into still lifes, translating their promise into quiet thrills we can live with.
And there is so much room to pause and thrill (I swear it's better than Netflix and chill) at a newly opened exhibition of seventy years' worth of the artist's drawings at the Morgan Library & Museum. Though his earliest renderings of American delicatessen counters, evidenced by a drawing from 1961 here, had a scabrous quality—like if Thiebaud's hero Franz Kline had been given creative control of a catering company—the artist soon developed his own flair for rendering the cake to icing ratio in ink, pastel, and watercolor. Though Thiebaud is better known for his oil paintings, the drawings here show no slouching in the department of exacting detail. Nine Jelly Apples (1964) is a rush, showing an array of exactly what the title says, and leaving one startled when they realize they've been left slack-jawed, worshipping candied fruit. That's so like us—humans I mean—to take something simple and gloss it until it seems like a grand prize.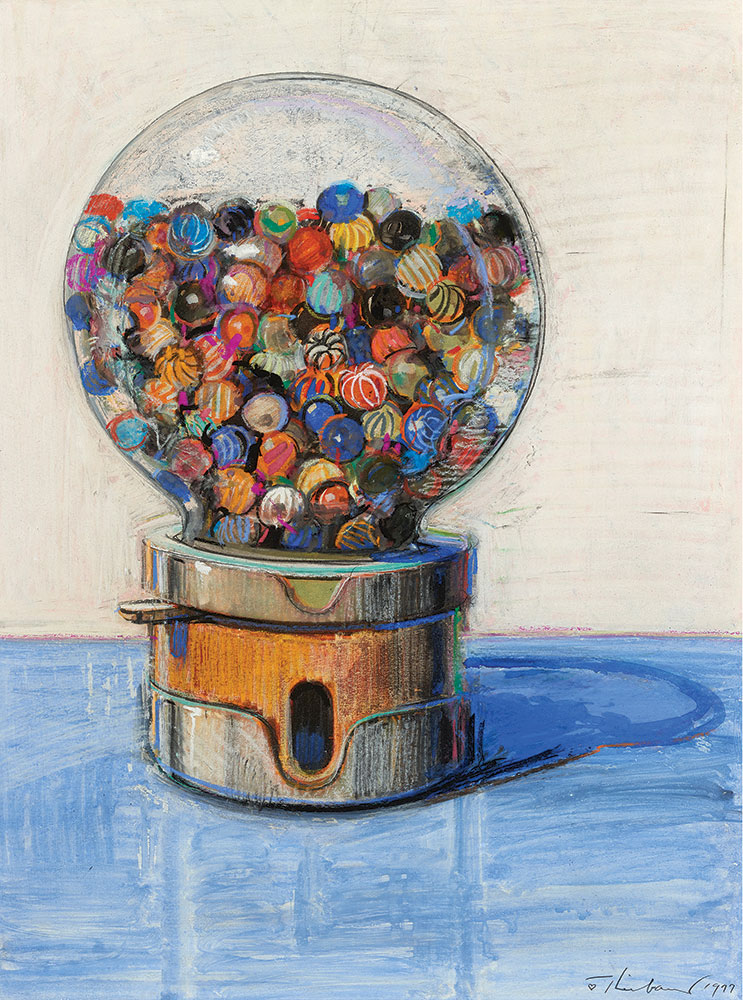 The big daddy of Pop art, Andrew Warhola, gave us car crashes, fourteen times in a row, positing that death plus death, plus death, etc., equals—yes—death. The shock and awe becomes a tide that just keeps receding. I guess it depends on your temperament whether the pile up gets easier or harder to take over time. A portrait of a gumball machine is also pretty Pop, and so is painting a salt shaker, but because Thiebaud painstakingly renders and isolates his subjects as solo vessels for Candy Ball Machine (1977) and Salt Shaker (1979) they start to get all active in their stillness. If Pop art looked like a sexy version of a daily grind—a joyful flattening (because who needs context when you've got speed…of circulation and production)—and rode in on self-satisfied morbidity, then Thiebaud was adjacent to this development in art, also devoting himself to the common, readily available thing. But the difference is that he made it sing—not for its supper, but supper as song. We can learn a lot of things from the flowers, as well as from the commercials, but Thiebaud's salt shaker and candy get portentous with their own promise. Pop can sit still, paused, and be more alive for it.
Wayne Thiebaud, Draftsman is on view at the Morgan Library & Museum through September 23, 2018.