Poster for Laura Parnes's Tour Without End, 2018. From left: Jim Fletcher, Kate Valk, Shannon Funchess, Neon Music, Alexandra Drewchin, Mathew Asti, Lizzi Bougatsos.
This New Music Doc Is like Spinal Tap By Way of the Enlightenment
Laura Parnes's film follows a community of NYC musicians and artists staying the course in an era of Trump and tragedy.
Poster for Laura Parnes's Tour Without End, 2018. From left: Jim Fletcher, Kate Valk, Shannon Funchess, Neon Music, Alexandra Drewchin, Mathew Asti, Lizzi Bougatsos.
The music documentary is the little genre that could, but it tends to get carried away with pathos and triumph, or bathe in nostalgia, and there is no lack of "looks back" and time capsules at this point for both young and old to sink their teeth into. These films often glamorize the life of the artist, or life on the road, and though a little romance is no bad thing sometimes, getting all hyperbolic isn't necessarily helpful. Better to ground the artist in their time, in all its glory and banality.
In the artist Laura Parnes's latest feature length video, Tour Without End—which screens tonight at the Kitchen—semi-scripted scenes play out between a range of contemporary musicians, some more known than others, but all devoted artists who have been plugging away for some time. Rather than sex, drugs, and rock and roll, though, we get frank conversations between people feeling their way towards what they might finally end up believing, intimacy as a form of healing, and the pall of tension that the last national election cycle cast over the US.
Shot from 2014 to 2018 at over fifteen DIY music spaces in and around New York City—including the now shuttered Shea Stadium and the Silent Barn in Brooklyn—the featured players include Lizzi Bougatsos of Gang Gang Dance; the Wooster Group's Kate Valk and Jim Fletcher of the New York City Players theater group; Kathleen Hanna and her latest band The Julie Ruin; JD Samson; Brontez Purnell of The Younger Lovers; and writers Gary Indiana and Eileen Myles, among many others.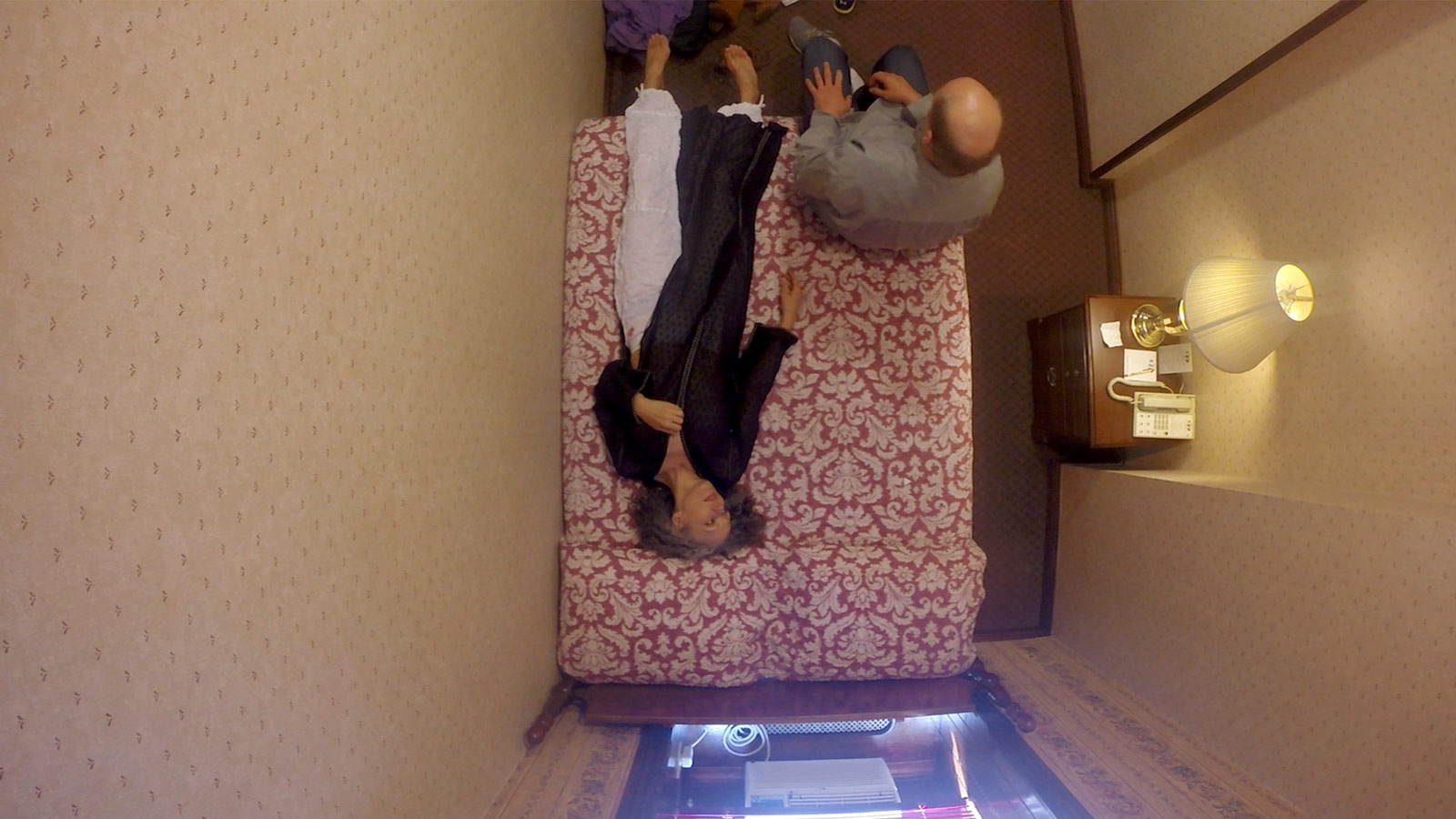 Music isn't even the primary focus here though—relationships and community are. Instead of flirtation or annoying lovers' quarrels, we get people talking about each other, to each other, as if they've finally seen something of them, a view that undoubtedly takes time and patience. During an extended voiceover following a scene of them in bed together, Fletcher says to Valk: "I feel like you're more advanced than I am, so I like to see what happens as you go further along." Valk considers how different they are: "If I'm helping you, I'm good, I exist, and I have that feeling of approval that you just don't need…you're hooked into pleasure." He then articulates about her what might be one of the loveliest compliments I've ever heard: "You have a natural buoyancy…you're always on the surface like foam, sea foam…it might not be happiness, but it causes happiness, it welcomes it."
Rather than follow a linear narrative, the movie perambulates along, with memorable cameos from a guy mansplaining the attention economy to the nonplussed (as well as pissed off) Bougatsos and her partner, and the one and only Gary Indiana demanding "amends" from Valk and Fletcher before the picture cuts to him grooving at what looks to be (I hope) a backyard BBQ, and smooching Valk. Another highlight comes when Purnell recounts the time he called up Patti Smith to inquire about an explanation for her 1978 tune "Rock N Roll N-----," and, failing to come with anything compelling in the way of a defense, she instead gives him $50,000 to go on tour. That'll do, Patti.
The atavistic tenor of American politics can't help but creep in, and Parnes doesn't shy away from it, but nor does she produce some kneejerk "the arts, more than ever!" angle of plea. Bougatsos wanders around the 2016 Republican National Convention in Cleveland, where young black boys carried signs with Philando Castile, Trayvon Martin, and Alton Sterling's names while women held a pro-choice counter-demonstration. The positing of artists as agents of change (because the people in actual positions of power in society have failed so miserably) is something of a fallacy, mostly serving to assuage the conscience of cultural institutions, and here we more realistically see brilliant artists and writers witnessing, weaving, and working their way through the trouble. As Eileen Myles puts it to Valk: "This desire to see blood comes up…I feel like I'm not noble, I think to love somebody is noble, but…can I love anybody at this point in time?" Cholera has nothing on fascism.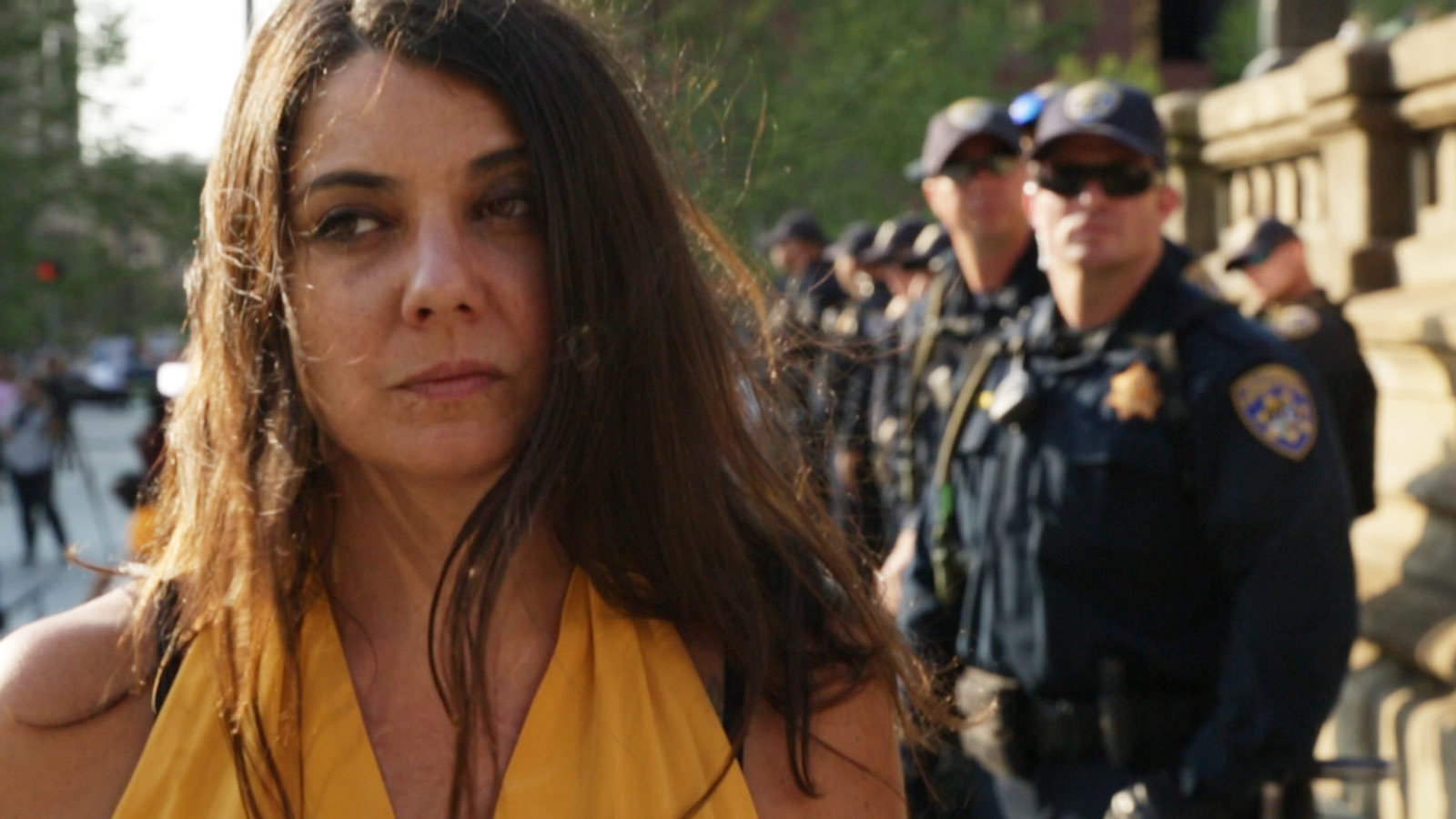 Laura Parnes's Tour Without End screens tonight at the Kitchen along with performances from BB TAY VEE, Macy Rodman, and JD Samson with Michael O'Neill, Roddy Bottum, Caitlin Frame, and Lee Free.