Photograph by Micaiah Carter, courtesy of Deray Mckesson.
DeRay Mckesson Used a Plastic Jacket to Educate Gala Attendees about Police Violence
Mckesson and creative director Franc Fernandez spoke to GARAGE about how Mckesson's look addressed the kinds of issues the red carpet has broached with mixed results.
Photograph by Micaiah Carter, courtesy of Deray Mckesson.
Tina Lawson's Wearable Art Gala last month was the scene of many important fashion looks—it's where Blue Ivy bid $19,000 on a Sidney Poitier portrait, after all. Three weeks later, on Friday morning, DeRay Mckesson posted on Instagram a photograph his outfit from the gala, which went largely unnoticed that night, but made another, more powerful kind of statement about police violence, about the racialized criminalization of drug use, and about income inequality.

Over his signature Patagonia vest and a pair of complementary nylon pants by Phlemuns, Mckesson wore a see-through La Roxx jacket, which stylist Franc Fernandez printed with four statistics below two Jean-Michel Basquiat-style crowns: "One in three killed by strangers are killed by police;" "Police arrest more people for weed than for all the violent crimes combined;" "America's 100 richest have as much wealth as black population;" and "White high school dropouts have more wealth than black college graduates."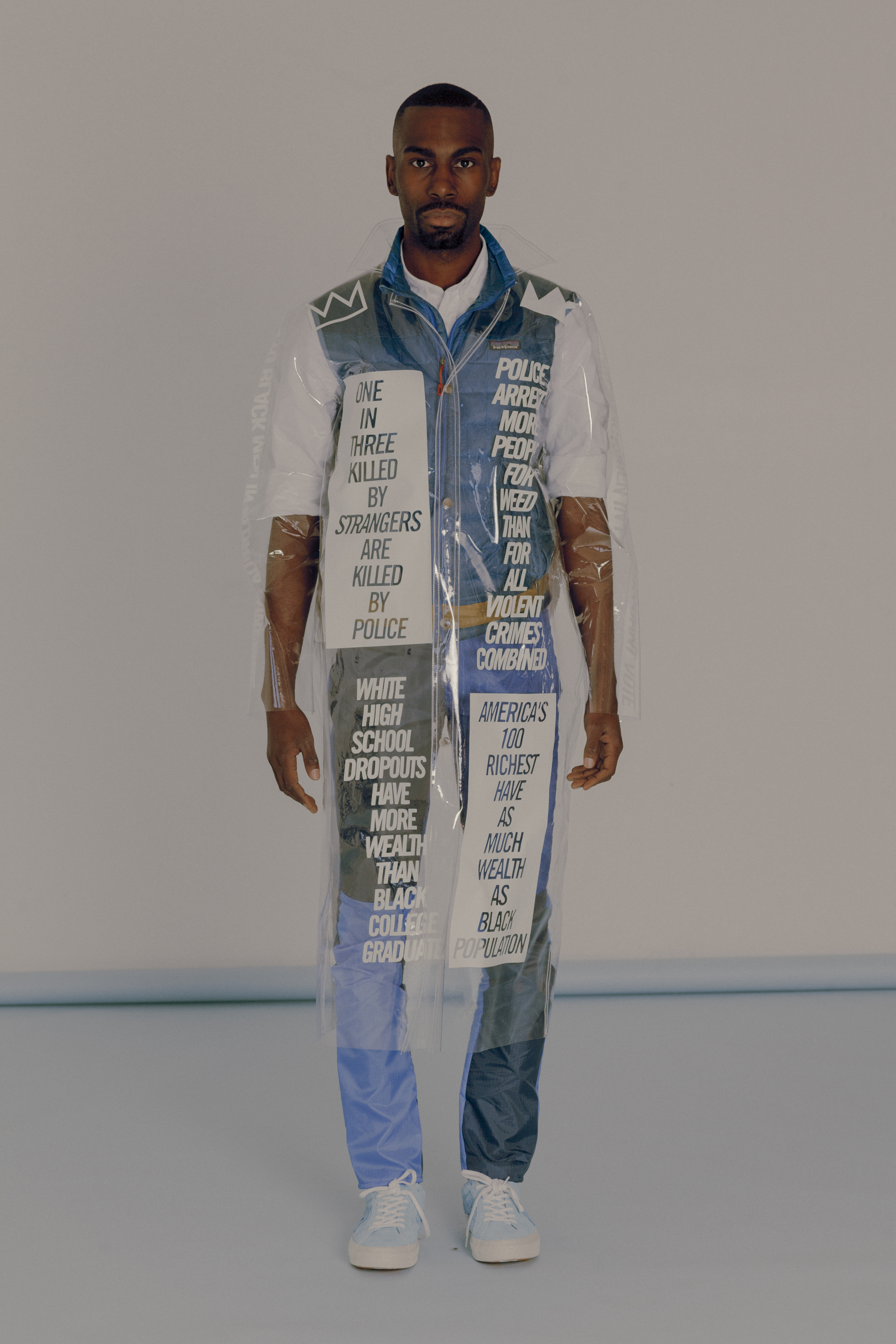 "We're always trying to take the work with us wherever we go," McKesson said in a phone interview on Friday. "What is interesting is that there are so many things about mass incarceration, police violence, and the racial wealth gap that people just don't know. They haven't seen the information presented in a certain way. So we wanted to present things that were true, that were conversation starters, that would help people, whether they spoke to me or not, think about the problem differently."

Mckesson and Fernandez connected shortly after the election, and when Mckesson began attending more events through his work, and Fernandez suggested he make garments for him. Fernandez had created pieces with graphic messaging for Vic Mensa (and is the celebrated creative director behind Lady Gaga's meat dress), so using the medium in this way came naturally to him. "A lot of my inspiration comes from people like Jenny Holzer and Barbara Kruger—these are all artists that use words as art," said Fernandez in a Friday phone interview. "So there will either be some type of poetry or facts that call you out. I thought, this is a great opportunity to do more words on clothes."
Think about how many eyes are trained to the attendees of a Beyonce and Jay Z gathering: what more potent space to engage people with information that challenges or awakens them? Attempts to merge social awareness with the machinery of the red carpet are so often awkward—think of E!'s Golden Globes carpet—but Mckesson and Fernandez have found a way to use fashion as a platform for activism, rather than merely insisting the two coexist. Fashion, after all, is an essential part of self-expression and identity—a reflection of what you believe and what you stand for.
As for whether others can purchase the jacket, Fernandez says, "You should make these [garments yourself] because I don't feel good profiting off of terrible news. But you should make the pants. You should make this shirt." Dressing this way, Fernandez says, "is more accessible than it ever has been: you can have a t-shirt made online for next to nothing."
The clear plastic helped make the messages legible, but the transparent material had meaning, too. "It's this idea of openness, right?" Mckesson said. "And these are facts that are, a story about the America that we've allowed this America to be. And that's all of us."