From left: Donald Trump and 2017 ArtPrize Grand Prize Winner / 2-D Winner, Richard Schlatter's A. Lincoln, at Amway Grand Plaza. Photos courtesy of Getty Images (left) and ArtPrize (right)
This $500,000 Prize Rewards Artists Chosen By Trumpian "Populism"
Funded by Betsy DeVos's family, the ArtPrize project seeks to denigrate so-called cultural elites.
From left: Donald Trump and 2017 ArtPrize Grand Prize Winner / 2-D Winner, Richard Schlatter's A. Lincoln, at Amway Grand Plaza. Photos courtesy of Getty Images (left) and ArtPrize (right)
"It's the most transparent view of what people just like." So says Michael Townsend, an artist and member of the Tape Art Crew, hopefuls in the 2015 iteration of ArtPrize, a burgeoning populist art fair held annually in Grand Rapids, Michigan. Founded in 2009, ArtPrize initially distinguished itself from the Armory Shows of the world with its unsexy location, cash prizes totaling $500,000, lack of curatorial gatekeeping, and winners selected via the popular vote of mostly local attendees (it now has expert jury prizes along with crowd-chosen ones). The fair has been both commended and criticized for mingling fine art with spectacular kitsch, for encouraging a game-show mentality in its participants, and for the popular vote concept itself, which threatens to invalidate a centuries-old system of connoisseurship.

A veteran of ABC News and CNN, and the director of a documentary on modern-day slavery, Jody Hasset Sanchez was piqued by the fair's concept and the cultural issues it raised. She decided to bring a film crew to ArtPrize 7 (2015) and tracing the progress of four of that year's competitors. Titled More Art Upstairs after a sign at one of the fair's exhibition venues, the charming, well-wrought film was recently screened as part of this year's Doc NYC festival.

More Art Upstairs falls squarely in the tradition of narratives that follow individual contestants as they compete for cash or prizes: countless reality shows in the mode of Survivor, documentaries like Hands on a Hard Body (1997), and contest-based mockumentaries like Best in Show (2000). The four artists featured are sincere, well-meaning types of varying talent, some of whom have mild misgivings about the fair's reputation, but gamely do their best to win.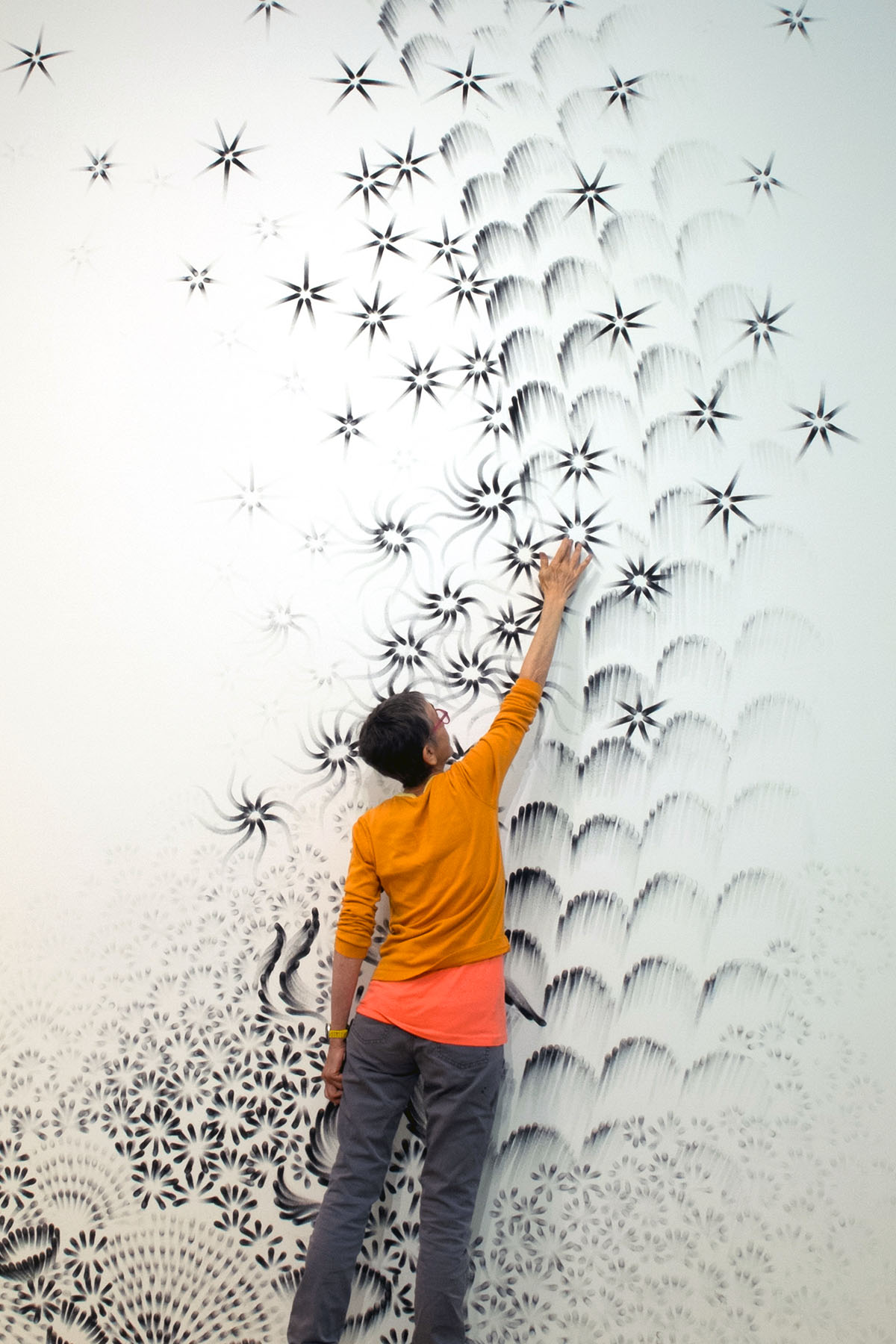 In the film, ArtPrize exhibitions director Kevin Buist characterizes the fair as a democratizing site where people can break out of their social-media bubbles. Buist also notes that the voting attendees tend to value work that evinces skill and time spent, regardless of aesthetic or other content. He cites the two 1970s banana-seat bicycle works that were featured in one year's contest; one consisted of modified found objects, the other was meticulously carved out of wood. Needless to say, the wood version trounced the "arty" effort in popular opinion.
Despite its numerous virtues, not least of which is its sensitive, balanced view of the competing artists and local attendees, and the seemingly unbridgeable cultural gulf between them, More Art Upstairs is one of the more remarkable examples in documentary filmmaking of missing the point. While there are several unavoidable mentions of the name DeVos—the DeVos Place Convention Center being one of ArtPrize's primary exhibition venues—the film elides the fact that ArtPrize was founded by Dick and Betsy DeVos's son Rick, and has been and continues to be financed by various of the family's foundations. Granted, the film covers ArtPrize 7, which took place before Betsy DeVos became one of Trump's more controversial cabinet picks, but surely in all of the film's discussions of art and commerce, elitism and populism, and fine art and kitsch, five minutes could have been devoted to the implications of a lucrative art prize being brought to you by the Amway fortune and a family whose agenda is oppositional to large swathes of the arts community. The elision is doubly bizarre considering that the links detailed here have been publicly known—and actively criticized—since the event's inception.

It's hard not to suspect a long-term agenda behind the ArtPrize project, one that seeks to denigrate so-called cultural elites (critics, gallerists, and "experts") and present a phony populism, all to make it easier to advance privatization, push corporate-friendly legislation, and strangle governmental relief for those left behind. "Here," the tycoons say to Grand Rapids's precariously employed citizens, "you can vote to transform the world's largest beanbag into a fine art piece worth $200,000. Just leave the bean counting to us." More Art Upstairs is not immune to this knee-jerk, agenda-driven anti-elitism; the heading to its synopsis reads, "Insular, irrelevant and overpriced. Today's cloistered art world. Isn't there a better way?" To which I would answer, possibly, but is a lowest-common-denominator alternative truly preferable?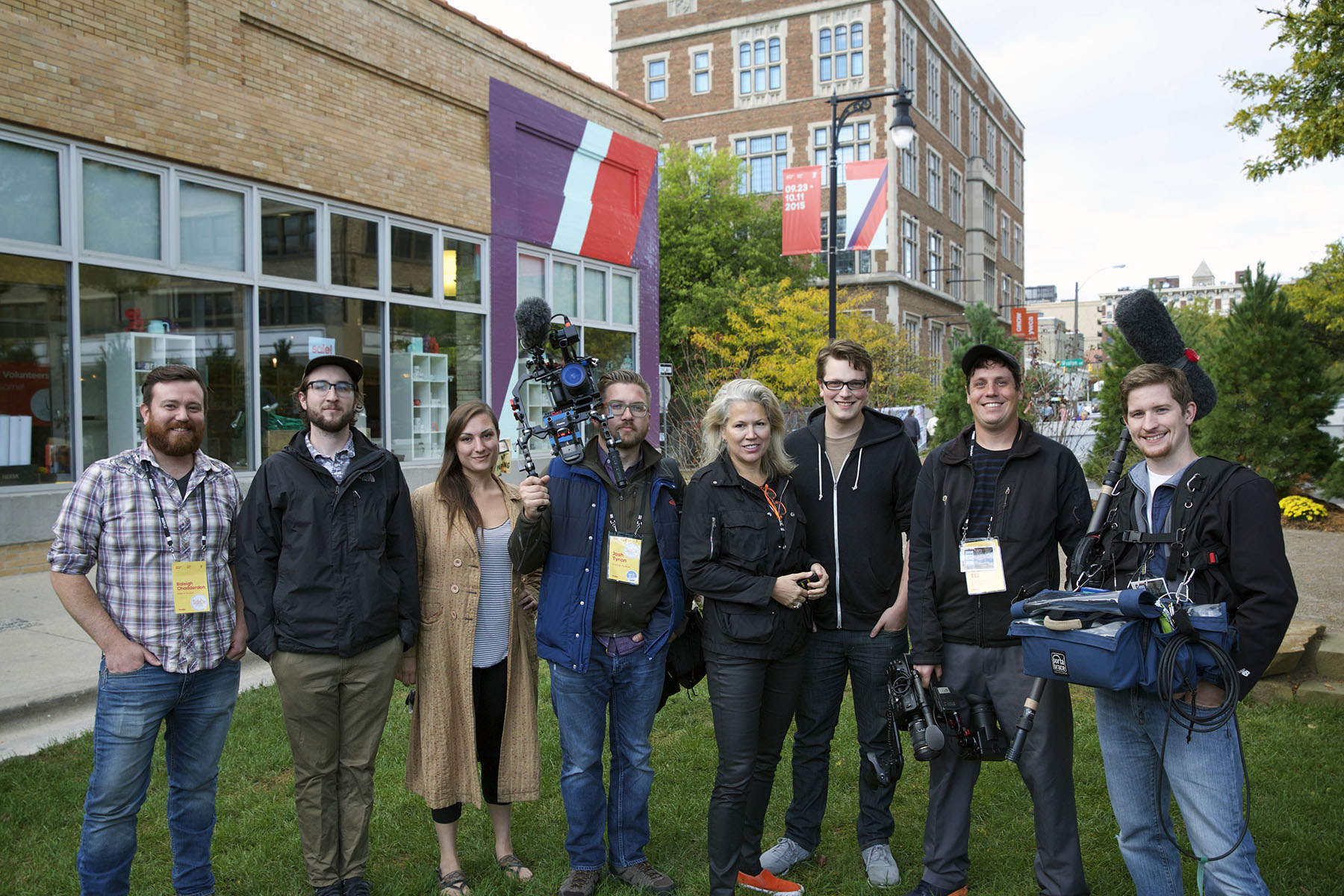 As the film make clear, ArtPrize has been a financial boon for Grand Rapids's economy (it brought $28 million to local businesses in 2016) and has successfully transformed a faltering Midwestern manufacturing town not previously known as a cultural mecca into one of the New York Times's "52 Places to Go in 2016." It's also made a number of artists more financially comfortable. Given all this, it might seem churlish to grouse about ArtPrize's founders and funders. But in our present troubled moment, ArtPrize must be considered part of a larger political program, one that stokes resentment to justify ignorance and inequality. More Art Upstairs is a well-made documentary about the internal dynamics of a peculiar art fair, and it's worth seeing on its own terms, but unfortunately it ignores the elephant in the room.

For screenings and other information, visit More Art Upstairs.
Correction: An earlier version of this story erroneously referred to Jody Hassett Sanchez as "he" rather than "she." Garage apologizes for the error.