Caleb Considine, Uzumaki/Jarritos, 2017, oil on canvas, 48.5 x 40.7 x 2.8 cm, Courtesy Galerie Buchholz, Berlin/Cologne/New York
By All Means, Judge a Book By Its Cover
What can stacks of books—in film, in visual art, on the subway—tell us about their reader?
Caleb Considine, Uzumaki/Jarritos, 2017, oil on canvas, 48.5 x 40.7 x 2.8 cm, Courtesy Galerie Buchholz, Berlin/Cologne/New York
There are few red flags as potent as spotting a copy of of Atlas Shrugged in the wild. Maybe it's on the bookshelf of a new friend or a would-be hookup; maybe it's on the desk of that one drone of a colleague, revealing their ardent libertarian side. And you've probably had the opposite experience too, of heart-eyeing at someone after clocking their taste in hardboiled noir or aristo-Russian despair. Whatever the case, judging people by their book covers remains a favorite pastime.
The same holds true of books in art. I don't mean Ariana Grande reading about American immigration law and policy in the "thank u, next" video, but rather, depictions of books in paintings. Dangerously Jenga-ed into coffee table stacks, leaning woozily on bookshelves, or—my favorite—grouped with pieces of stationery, bottles, or perhaps even empty takeout containers, in what has emerged as a new genre of still lifes. I love the way they function like literary versions of "what's in her handbag?" articles, capturing the essence of a person even when the figure is entirely absent from the frame.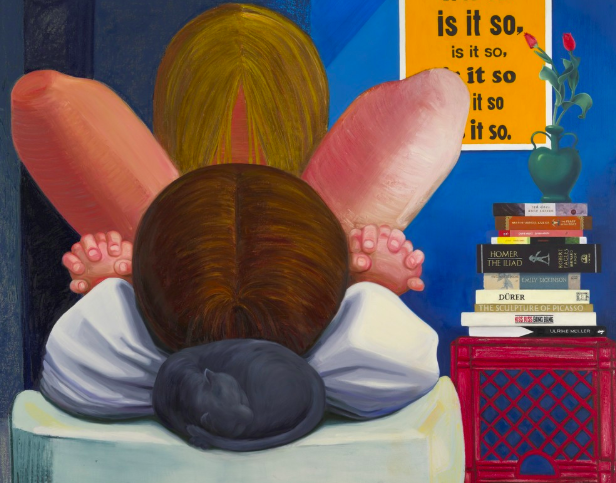 Let's take Nicole Eisenman's sexy tête-a-têtes, in which tender scenes of giving head or post-coital languor are framed by stacks of books. In Is it So (2014), the eye is drawn to the books stacked neatly on a red milk crate, vivid against an azure wall and a healthy houseplant. Some poetry from Anne Carson, Emily Dickinson, and Homer, some art books about Albrecht Dürer, Pablo Picasso, and Ulrike Müller. And in Night Studio, where two lovers lounge in the hot glow of a studio light against a wall that looks like a composition notebook, stacks of books (more painters, mostly) tell you as much about the characters as the green tea-flavored Vitamin Water and Czech pilsner beside them.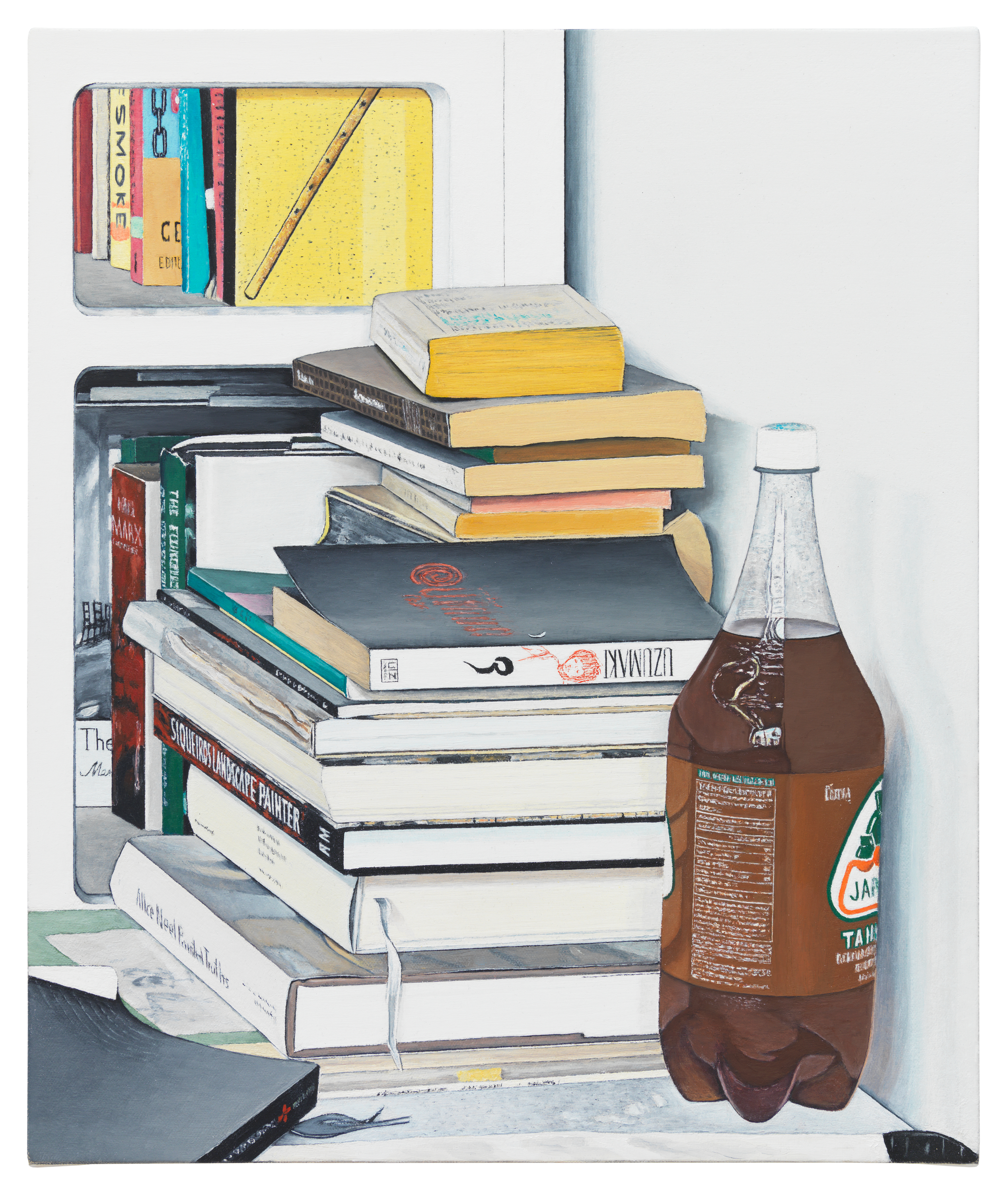 Consider Caleb Considine's Uzumaki/Jarritos (2017), and how precisely it captures a specific timbre of earnest fuckboi who feels all the more real for his absence. In the foreground is the titular bottle of Jarritos, tamarind flavor to be precise, which tells me this person probably has better dental care than I do. And just behind it is a horizontal stack of books topped with the Japanese horror manga Uzumaki, but also featuring monographs of American painter Alice Neel and Mexican socialist muralist David Alfaro Siqueiros's landscape paintings. In the back, a copy of what looks like Karl Marx's Capital affirms that this implied subject probably has a rose emoji in their Twitter bio.
Historically, books in art were generally used to signify wisdom or learning. The Hindu goddess Saraswati's domains include knowledge, music, and the higher arts. She wears white and sits on a lotus, with an adoring peacock preening behind her, and can be identified by the Vedas—or ancient scriptures—in her hand, along with a lute-like veena, rosary, and pot of water, all of which variously symbolize knowledge, dedication, and purity.
Were she around today, she definitely wouldn't commit the crime of shelving books backwards for a "cohesive, neutral" palette—that's as sure a sign of sociopathy as any stray Ayn Rand tome. Full disclosure: I just spent some time looking at pictures of this trend, and although I would be horrified to encounter it in person, I have to concede that it doesn't look terrible. Especially when there's a bunch of jaundiced old books in the mix, or when it's a bookcase-as-studio divider giving you full access on one side and a tranquil textured wall on the side that buffers your bed. I'm extremely conflicted. And there's also this Cleveland bookstore that turned all books by men backwards to highlight gender disparity in publishing for Women's History Month 2017.
Turns out, shelving books with the spines facing outwards is a relatively new thing, give or take a few hundred years. Before that, scrolls were jumbled into random piles, while in the Middle Ages, books were chained to individual desks so they couldn't be hogged by any individual monk, which was apparently an issue back then. Up until the early sixteenth century, bookshelves resembled their early 2018 counterparts, with volumes stacked backwards; individual titles could be found only by little tabs or designs drawn across their textblocks (the paper bits). Only in 1538, when the first spines were printed, did people begin to shelve books the way we do now: vertically, with their spines facing out. As symbolic shorthands go, that's a pretty efficient use of canvas real estate.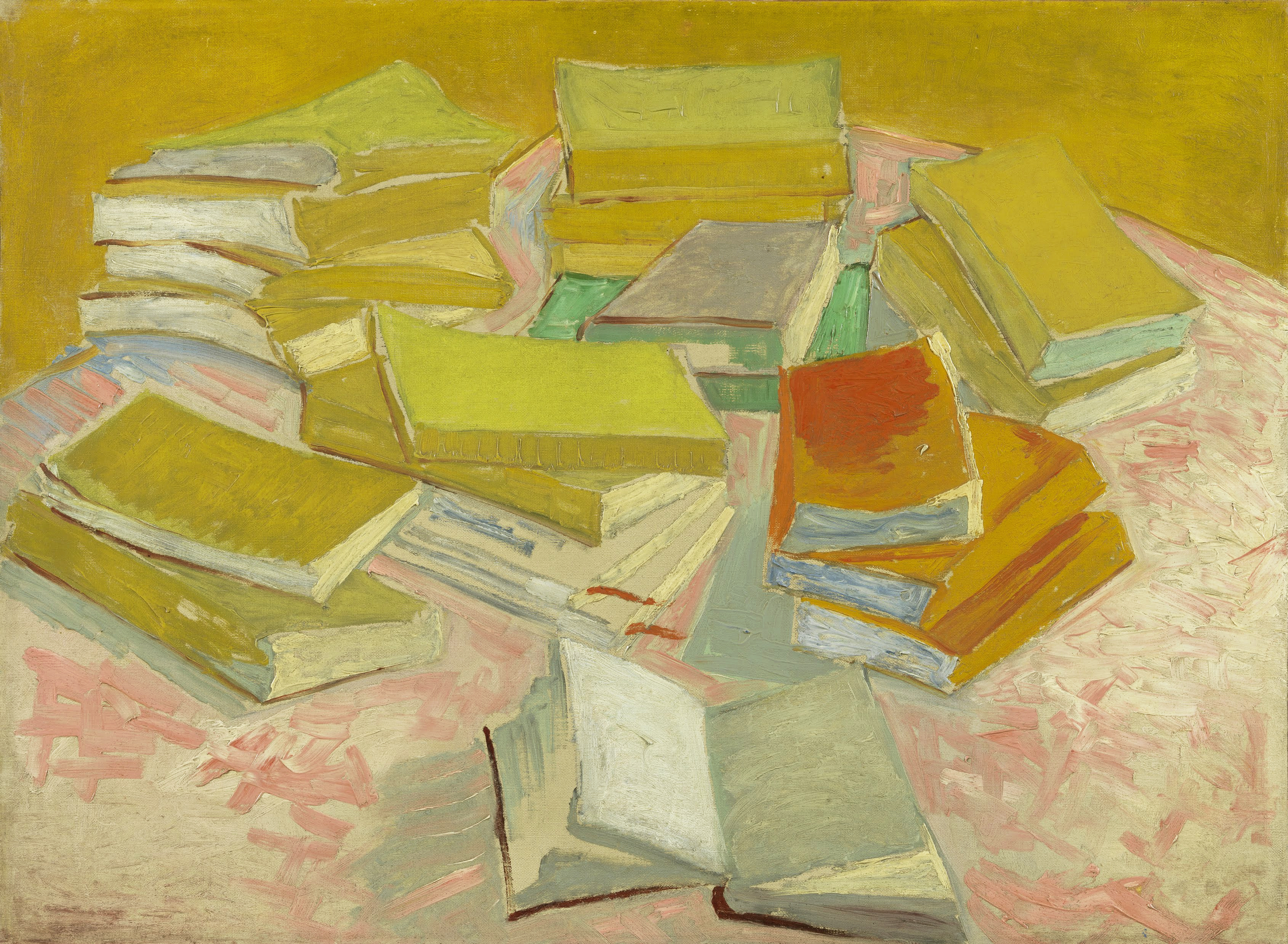 Without this development, we'd probably see far fewer books in art. They might appear, flopping spinelessly with blank covers, perhaps printed in disappearing ink, like Van Gogh's Piles of French Novels (1887) or the very similar Yellow Books, painted in the same year. But even today, there are sometimes instances in which the style is too loose, too painterly, to fully decipher the titles. That's the case with some of the book covers in Considine's painting, or Salman Toor's bookshelves, which feel suspiciously familiar but also frustratingly out of reach. Think about the way you can probably spot one of those orange and white Penguin Classics at twenty paces, and extend that to all the books you might have ever owned or lived with. Sometimes it might just be the unified series design that you recognize, like Verso's spare Radical Thinkers series, or Semiotext(e)'s iconic deployment of Bell Gothic font, but they'll haunt you all the same.