Katsu, Drone Tag 1, 2015. Courtesy of The Hole, New York
This Artist Used a Drone to Tag a Kendall Jenner Billboard
Katsu continues to make canny use of airborne assistants in his new show at The Hole.
Katsu, Drone Tag 1, 2015. Courtesy of The Hole, New York
In 2015, a graffiti artist vandalized a Calvin Klein billboard of Kendall Jenner in Times Square, but this wasn't your typical paint bomb—it was carried out in broad daylight by an airborne drone. The artist behind the assault was Brooklyn-based Katsu, who was less concerned with going after Jenner than with the novel strategy employed. "To be honest, I didn't even know who the girl was," he told me. "My primary focus is autonomous art making and the use of drones to question ideas of authorship and identity." This is also the premise of Memory Foam, Katsu's new solo show at New York's The Hole.

Among the works on view is a new series of drone paintings of flowers. "I have little control over the aesthetic with drone paintings," Katsu admitted, "but I retain the underlying authorship. The paintings are just these happy flower fields because shit is really bad right now; it was even hard to focus on doing this show in the current political climate." "I just thought I'll make a happy but also dystopic little art show to give people a brief moment of relief, followed by despair," he continued. "They'll see some nice flowers painted by the same technology that's going to take their jobs."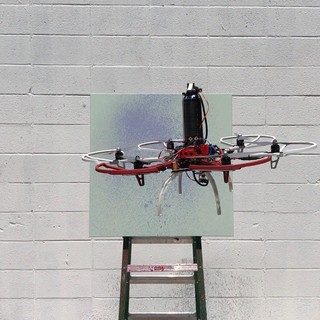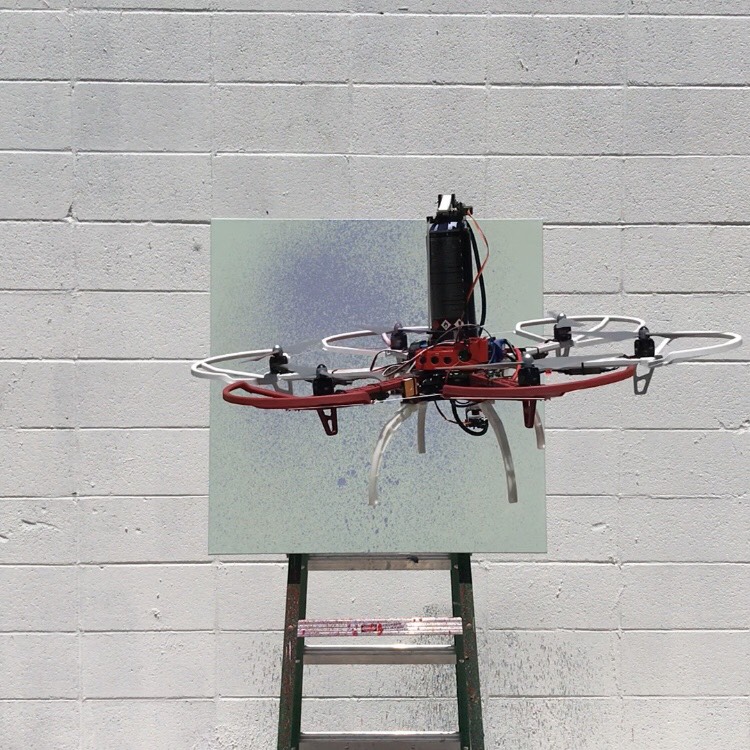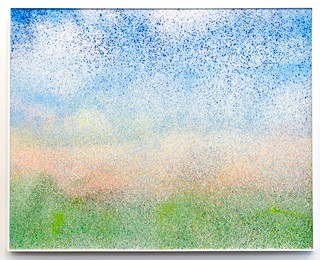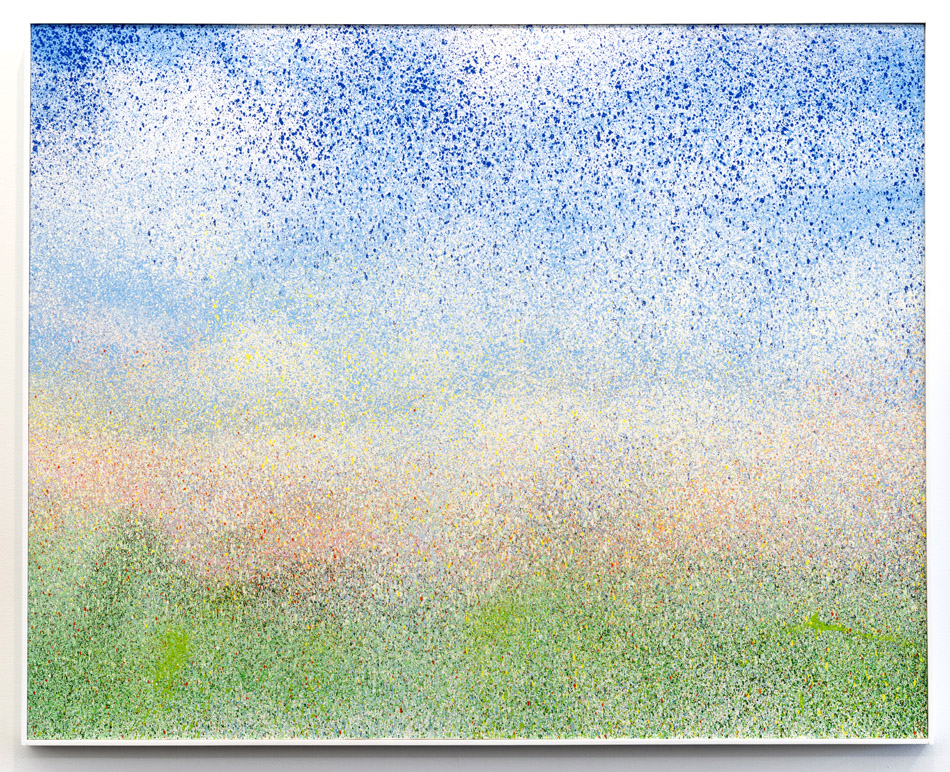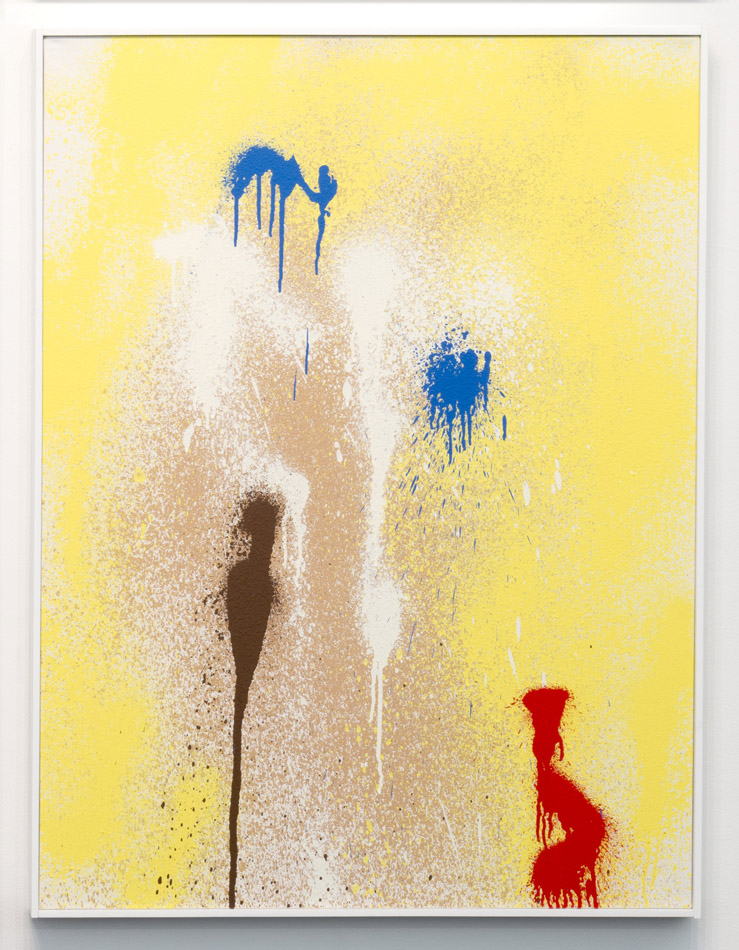 Katsu, who started out with graffiti in the '90s, is a pioneer of the drone painting form. His previous subjects have ranged from "dronescapes" to pointillist landscapes and post-Pop portraits (he's depicted Cookie Monster and Marilyn Monroe), and he's made over 200 paintings using the new technique. Another recent series, of smiley faces, nods to the hippie culture that underlies Silicon Valley's hi-tech focus. "The flowers are primarily about our automated future," he explained. "These paintings are post-human; they discuss the removal of humankind from the equation of life."

Also in the show at The Hole are five entries from a series of digital portraits of criminals made using AI technology. Katsu fed hundreds of 1950s criminal mugshots through Google's TensorFlow, a machine learning application, generating a set of eerily distorted bad-guy faces pieced together in something like the manner of an old-school identikit. "There are certain assumptions that people make about criminals and that's what this work is about. If you see a stranger walking towards you at night, you're going to try to assess if they're shady or not. That's something to look for in these portraits."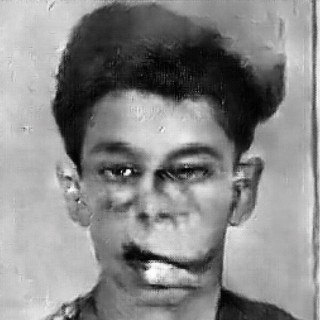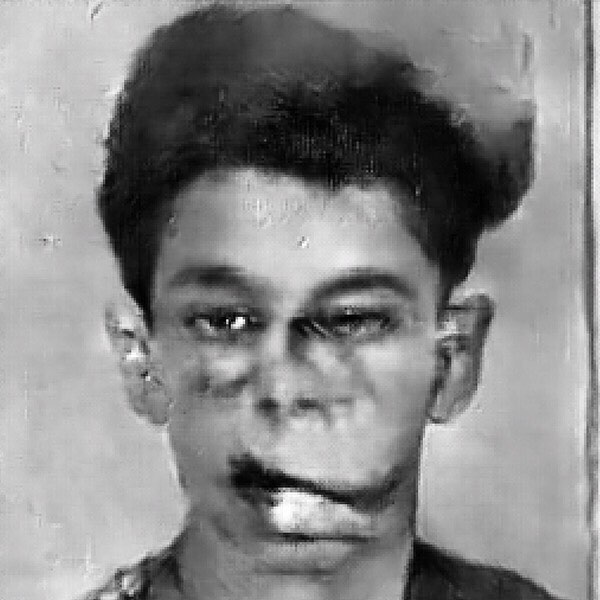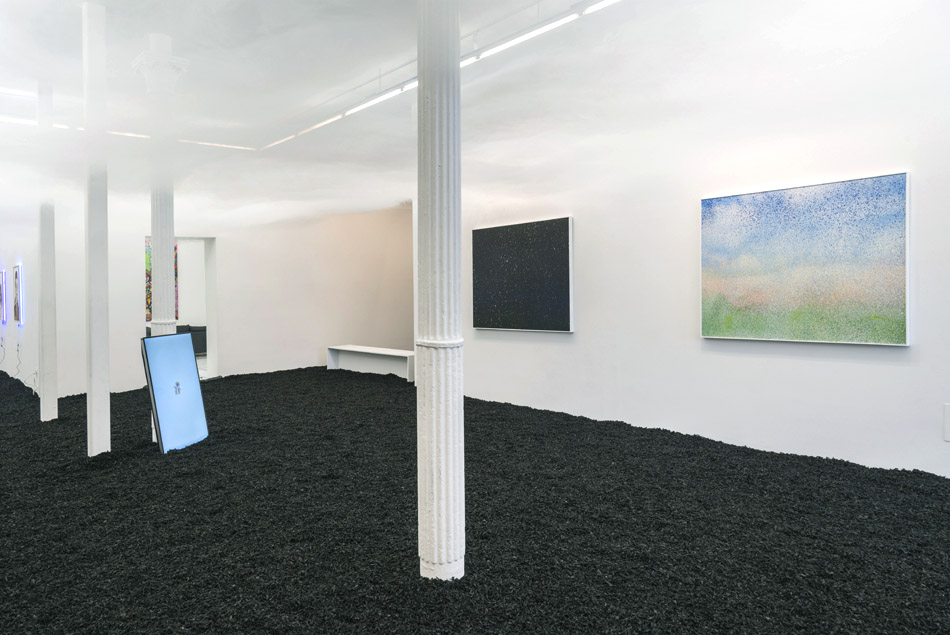 Katsu has also made an AI-assisted work titled Henry, featuring a camera set into the gallery wall. Named for High Earner Not Rich Yet, a term familiar from Silicon Valley startup culture, the work will identify gallery-goers' by specific characteristics. "It'll detect ethnicity and gender," confirmed Katsu. "It's a reflection on the use and misuse of AI, an of technology more broadly." Can racism be "learned" by an artificial intelligence? The artist thinks so. "We put a lot of our faith in these systems, but a trained AI system needs to be taught specific types of information. Our legal system is biased, and that flaw is being carried over into these new, supposedly 'super-intelligent' systems."

Another work makes use of a large wall-mounted camera lens with a Big Brother vibe, addressing the ubiquity of smartphone cameras. "The lens on your smartphone is a bizarre iconic jewel," Katsu said. "This little glass eye is the ultimate device Silicon Valley has lulled us into accepting; we're feeding their AI scanners." And the artist is long accustomed to dealing with surveillance, having often worked around authorities to realize unauthorized public works. "As the public realm becomes saturated with camera systems," he enthused, "graffiti drones are a practical means for graffiti writers to get around security."

Katsu: Memory Foam is on view at The Hole, New York, through January 29.