A Fashion Alignment Chart for London & Milan
Whomst is True Neutral? Whomst is Lawful Good? Whomst is ready to risk it all?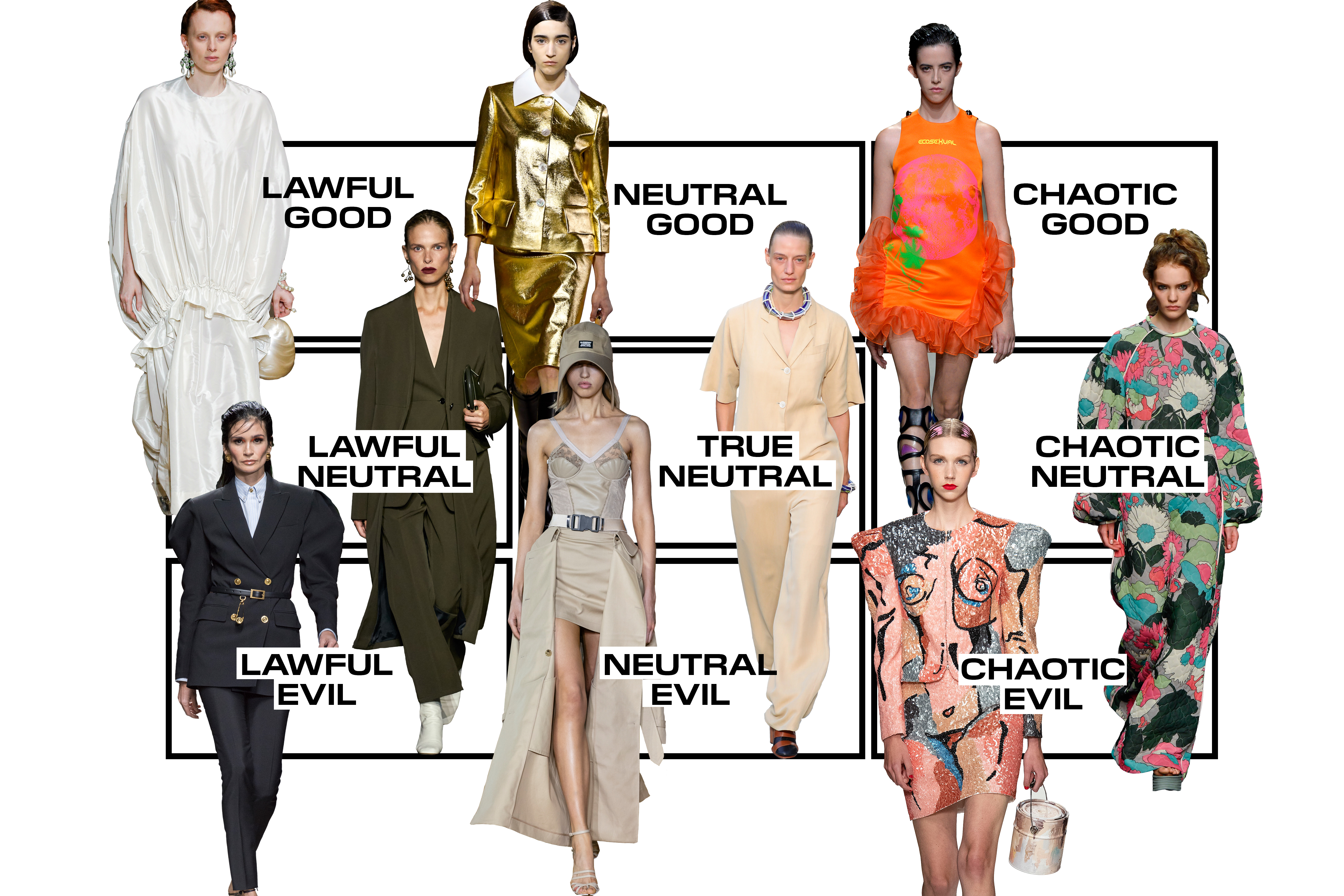 When everything feels increasingly out of sorts, a perfect way to make sense of it all is to make a chart. Categorize things. Give things my name. Out of chaos comes order. And out of London and Milan fashion weeks comes this character alignment chart for some of our most favorite looks.
Although a popular meme format now, it seems the alignment chart has its roots in the Dungeons & Dragons community, which if you think about it, is not unlike the fashion world? Think about it, you create your own character and then you take it on imaginary adventures, and then you and your party fight stuff and solve problems, which is basically doing a fashion shoot while trying to secure the one look all editors need to shoot at the same time, or also, like, actually going to fashion week and fighting the hordes outside the entrance only to get inside and find someone sitting on your seat. Same. Thing.
The chart defines three major characteristics: Lawful, neutral, and chaotic, then those are subdivided into degrees of good, neutral, and evil. Simone Rocha's white egg gown is of course our Lawful Good look. Karen Elson is basically a goddess in this gown that represents all that is beautiful and pure in the world. You can imagine her raising her right hand and then a light emanating from the center and she says something like "when you only saw two footprints on the sand, it was because my feet were killing me and I remembered I could levitate."
Jil Sander's mossy green three-piece-suit is Lawful Neutral. Luke and Lucie Meier have been quietly reinventing the label's minimalist vibe into something that feels less precious and more down to earth. Lawful Neutral looks believe in personal order and are reliable and honorable. Just like this trusty green suit that could take you from the office, to a restaurant, or to a club, because you love organized fun and wouldn't go anywhere where you didn't fit in while wearing your trusty green suit (that is why it is your trusty green suit!!!).

Lawful Evil looks are low key the worst because they're like, "I'm following the rules! I'm just following all the rules in a way that makes me look amazing but when you try it you'll probably look like a twerp!" Versace's mutton-sleeve suit is sleek, the kind of thing a powerful woman-villain wears and then kids are like "run me over!" When was the last time a mutton-sleeve was sleek? This is how the Lawful Evil energy infiltrates your life!

How is a gold leather suit neutral? Well, you can ask Miuccia Prada that question and I bet she'd agree with you. After all, the silhouette is a very prim and proper 1940's vibe. A Neutral Good look loves to follow rules, but will not stand to have its personal freedom taken away. And what is more a stance of personal freedom of expression than a gold leather outfit?
Ferragamo's beige jumpsuit is True Neutral because it is a beige jumpsuit.
It's true that Riccardo Tisci's expansive collection at Burberry could have it's own alignment chart, but for the purposes of this one, we went with a look that captures a lot of the energy of this collection. And apparently, there is something low-key Neutral Evil about it. Is it because he has refashioned a baseball cap as something that Darth Vader might wear? Perhaps. Or is it the fact that the model is wearing her trench around her waist so that it looks like one of those body-con but make it a ballgown skirt that were so popular in the '80s? A Neutral Evil look cares not for chaos or for laws, they just do what they want.
If you are like me then perhaps the chaotic looks are when you really start dressing. Christopher Kane's collection was titled "Eco-Sexual." Dresses had prints of trees, and the universe, and one was even emblazoned with the slogan "Make Love With the Wind." Kane is full of chaotic energy this season, and this orange mini dress with a pink earth print (plus ruffles!), with ECOSEXUAL on the chest the way your '90s baby tees said PRINCESS or whatever, is peak Chaotic Good. We love Chaotic Good!
At Fendi, Silvia Fenturini was also feeling a chaotic energy, but it was very much under control. There were beautiful '70s floral prints and colors, and lots of textures. It was all very sexual, but not in the obvious way, the thing that you'd be into if you, like Mark Ronson, recently came out as a sapiosexual. The most Chaotic Neutral piece in the whole show was the last look. Historically the last girl in a fashion show is wearing a bridal dress, but Silvia Venturini Fendi instead sent out a quilted floral long sleeve, maxi-length housecoat. You truly love to see it.
And of course, the Chaotic Evil spot could only go to one person, Jeremy Scott, our reigning king of chaos. His collection for Moschino was inspired by Picasso, and although we could've picked the look that was a woman carrying her own body in a frame, or maybe Kaia Gerber dressed like one of Picasso's cardboard guitars, but in the end it was this "nude" (haha get it?) suit, made out of sequins, and accessorized with a purse shaped like a bucket of paint. It's absolutely, deliciously, evil.