Looking for Something Warm
Alissa Bennett meditates on our collective obsession with Marilyn Monroe and the objects she left behind.
There is a famous crime scene photograph that documents the early aftermath of Marilyn Monroe's death. The punctum of this image is the extended index finger of an investigator pointing to a small side table crowded with a flotsam of mail and a group of prescription bottles. I would venture to say that it is the only documentation of the actress in which her body is completely extraneous, and a rare turn of coincidental modesty has her positioned on her bed face down and finally free from a direct encounter with the violence of our collective gaze.
The photograph is familiar enough to anyone who has ransacked the details of Monroe's demise. It looks like art; It feels like someone made it for us to satisfy the specificity of our scopophilia. We like to look, especially when we're looking at something we're not supposed to see. Somehow it doesn't matter that our curiosity promises to eventually exhaust this image—there is a kind of pleasure in that as well—it only means that we will give ourselves over to the satisfaction of examining the scene more closely, that we will plumb the depths to locate something that we missed, regardless of the fact that we know we won't ever find it.

If your eye follows the investigator's finger down to the bottom of the image, below the pills and the mail and past the actress' abandoned body, you will eventually register a black lidded plastic container that sits on the floor. Passionate observers will identify this as a jar of Erno Laszlo's Active Phelityl Cream, the moisturizer that is often credited with exaggerating the fine layer of white-blonde peach fuzz that made Monroe's skin appear to glow under theatrical lights. We know this because we are obsessed.
In November of 2012, Hollywood auction house Julien's sold a partially used jar of Active Phelityl Cream in their Icons and Idols sale. The exterior of the container is stained with foundation and there is a layer of grime visible around its lip; its seal has been broken and its contents dipped into, but these imperfections only serve to make the object more desirable. It belonged to Marilyn Monroe; its hammer price was $4687.50.
______________________________________

Monroe's cosmetic regimen has been feverishly recreated by fans for years, and the advent of the beauty blogger has ushered us into an age of tutorials and product reviews that promise to teach all of us how we might necromance the actress into our vanity mirrors with a Vaseline primer and the artful application of white eyeshadow. Monroe's look was not a casual one, but her long time friend and makeup artist, Alan "Whitey" Snyder, was happy to leave behind a blueprint of its design. Snyder's methods for contouring and lip-lining and brow-arching are catalogued in astounding detail across the internet; the implicit promise is that if we are studious enough to follow his instructions, we can all experience the thrill of imitation, we can all indulge in the grim satisfaction of trying on the discarded shell of The Dead Icon's face.
Though the invention of Marilyn Monroe was the culmination of factors far too complex to itemize here, Whitey Snyder can be credited with conjuring her bomb-shell countenance from its relatively humble Norma Jean Baker beginnings. The two met in 1946 at Monroe's first Twentieth Century Fox screen test, and Snyder is recognized not only for collaborating with the actress on her heavy lidded, glossy lipped look, but as the makeup artist on nearly every major film she appeared in from the early 1950s until her death.
Passionate observers will identify this as a jar of Erno Laszlo's Active Phelityl Cream...We know this because we are obsessed.
We can only imagine the pleasure both must have felt in those early days when Marilyn was first coaxed to the flesh, when the person was transformed into persona via sorceries that were alternately cosmetic and emotional in nature. Whitey's makeup chair was the site of sous rature activation, a place where the chaotic trauma of Norma Jean's life gained currency under the power of Marilyn's mask. But the monkey's paw of fame is rarely free from complication, and it requires only a rudimentary knowledge of Monroe's addictions and emotional volatility to surmise that the task of summoning her to the surface became increasingly difficult. The end of Monroe's career is always of particular interest to those of us who feel compelled to excavate her grave. As is true of the crime scene photograph, we are not exactly sure what we are looking for; we only know when we find it.

Although the actress is at her luminous best in Billy Wilder's 1959 comedy Some Like it Hot, her physical appearance belies a series of troubling personal crises that would eventually wend their way to her surface. Morbidly preoccupied with the possibility of losing the child she was pregnant with and distracted by the drama of a failing marriage to playwright Arthur Miller, Monroe's anxiety and depression manifested not only in an exacerbation of her legendary tardiness, but in on-set habits that aroused the contempt of both her co-stars and her director. Unable to memorize her lines—it famously took her in excess of 50 takes to deliver the phrase "Where's that bourbon?"—Monroe depended on cue cards for the duration of her performance, an issue that was further problematized by her increasing dependence on barbiturates and amphetamines.

There is at least one documented overdose that occurred during the filming of Some Like it Hot, but Monroe's problems compounded when the film wrapped and she abruptly miscarried in the fourth month of her pregnancy. Plunged into psychotic depression and flattened by her addictions, the actress became fragmented in a way that could not support the weight of the double—and often triple—identities she was tasked with hosting. Despite Whitey's magic, Monroe's next performance in 1960's Let's Make Love was reviewed as "untidy" and "fumbling," and though I could not point to one particular physical marker that encapsulates what had changed, it is somehow apparent that Marilyn's mask had nothing left to adhere to, that what had once lay beneath it had started to slip.
______________________________________
John Huston's 1961 classic The Misfits represents Monroe's final complete performance. Co-starring Clark Gable, Montgomery Clift and Eli Walach, the production was a maelstrom of alcoholism, addiction, infidelity, and gambling. Within five years of the film's lackluster initial reception, three of its four stars would be dead. This film is of special interest to anyone with a ghoulish investment in Hollywood history— I have watched it closely many times, mostly because it is the only film where Monroe begins to wear her tumult on her face.
Arthur Miller had adapted the script for The Misfits from his 1957 short story of the same title, which he had conceived of while obtaining a quickie Nevada divorce from Mary Grace Slattery so that he would be free to marry Monroe. The plot revolves around three increasingly disenfranchised cowboys who meet a woman named Roslyn and all come to expect her to cure them of their pain, each of them absolutely oblivious to her own disappointment and suffering. The subtext of the narrative is clear: we had come to expect things from Monroe that she was in no position to provide us with; life had emptied her out, and it didn't matter that everyone still expected more.

The role of Roslyn was written for Monroe in a fit of romantic pathos. Frustrated by the seemingly bottomless pit of her emotional desperation, the playwright had conceived of the film as a dramatic vehicle that might liberate his wife from a purgatory of romantic comedies and fortify her artistic confidence. Once on set, it quickly became clear that Monroe's crisis was not to be reconciled with a valentine movie script. Her addictions had intensified, her behavior was punctuated by frightening spells of dissociative depression, and she was abusive and insulted that Miller seemed to have taken so much of Roslyn's character from her real life. In a retrospective 1981 interview, Huston would famously proclaim "I was absolutely certain that she was doomed."

Whitey Snyder served as Monroe's personal makeup artist on the set of The Misfits, a particularly harrowing task due to the actress' insomnia and drug-bloated features. Hollywood myth suggests that the movie star was so decimated by champagne and prescription pills that Snyder would often have to begin transforming her into Marilyn while she slept off her pharmaceutical hangover. Each morning, her eyes would be checked to see if she was fit for film; if approved, her face would be iced and moisturized, and Whitey would begin the increasingly grim task of calling her back to life. Though the inquisitive eye will detect a gentle slackening of her jaw line, the first suggestions of middle age settling themselves in on her face, it is a strange turn in the film's cinematography that offers us the greatest evidence of Marilyn's physical state. Most of the actress' close ups were shot in soft focus, a decision that was primarily made to disguise the flaws that Whitey could not.

Midway through the filming of The Misfits, Monroe overdosed; production was halted and the actress was forced to admit herself into a hospital for two weeks to detox from drugs and alcohol. She returned chastened, if not happy, and completed production without any further catastrophes. It was during their shared cosmetic ritual one morning that Marilyn asked Whitey to make a promise to her—as her co-inventor and her friend, she inquired if he would do the makeup at her funeral were she to die before him. "Sure," he answered her. "Bring the body back while it's still warm and I'll do it."

Many writers have covered the bleak details of Monroe's final days, some because they love a mystery, some because she has been made emblematic for the generic suffering of all women, and others because her story proves to the rest of us that beauty and fame are flimsy scrims that cannot rescue even the most spectacular among us from pain. It is through these accounts that we know that Whitey kept his promise; fortified with a flask of gin, he resurrected Marilyn's face one last time. He served as a pallbearer at her funeral.

My interest in Whitey is difficult for me to explain, and though his name has come up many times in my own research into Monroe's death, there has never been quite enough information to sate me. Some years ago I stumbled across the website for Julien's—the auction house in Hollywood that sold Marilyn's moisturizer and specializes in (often ghoulish) celebrity memorabilia. In 2012, they had a sale of items from Whitey's estate, the most publicized of which being a large volume of original on-set photographs that he had taken of Marilyn during the course of their friendship. Buried as lot 521 was a gold plated money clip that the actress had gifted to him; it was inscribed with a dedication that read "Whitey Dear, While I'm Still Warm, Marilyn." It sold for $21,250.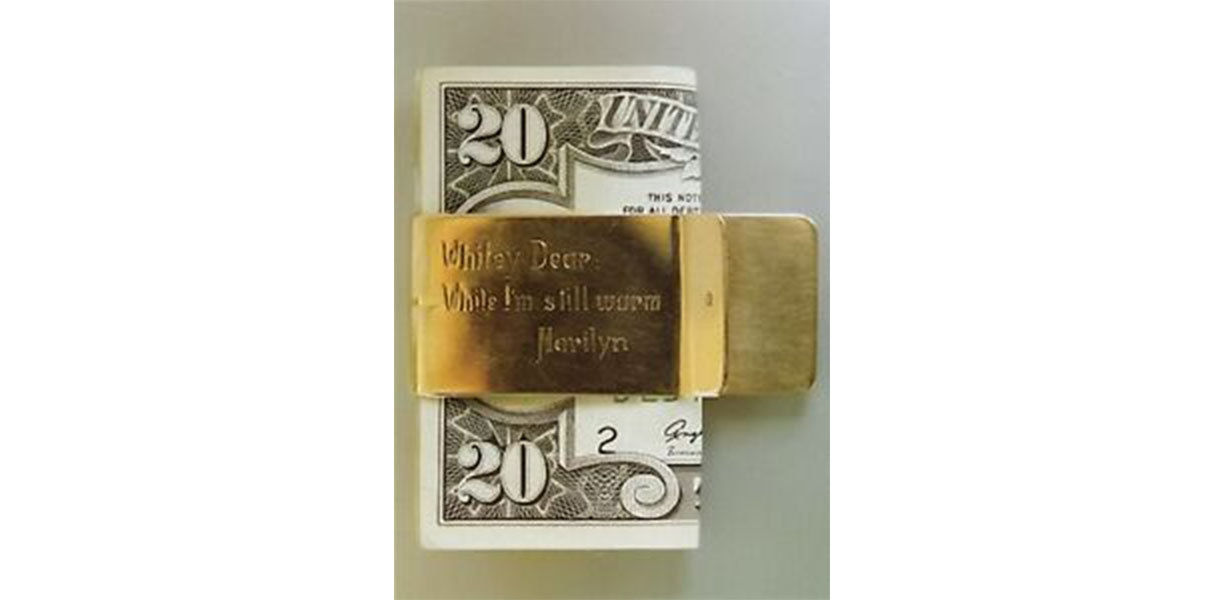 In 1962, Monroe's personal assistant, a woman named Betty Robin, consented to a filmed interview and answered questions about her impressions of the actress' life. "I thought she was a friendless, wandering person," Mrs. Robin said, "and that the only people that surrounded her were the people that she paid." The money clip is somehow able to contain all of the desperate sadness of this sentiment while still maintaining a measure of saucy nihilistic portension. It is a perfect object, a profound metaphor for a life that was by turns glitzy and shabby, and I wish that I knew where it was. The problem with obsession is that we always want more.
Recent news has revealed that there is a new Monroe documentary claiming that there were nude photographs taken of her body in the morgue. It seems a fitting way to end this essay by questioning what compels us to this point, what is it inside of us that would feel psychologically stimulated by the idea of further humiliating a woman who has been dead for nearly 60 years? The truth is that wanting to see more is not so far removed from examining her bedside table or reading her letters. It's not so different from wanting to hold a meaningless jar of her cream in our hands; we are looking for something that feels intimate, we are looking for something warm.