GARAGE Fusions: Solange x Jacolby Satterwhite
In their individual practices, Solange and multimedia artist Jacolby Satterwhite have always done things their own way. Together, they became a force of nature. Photographer: Ronan McKenzie. Fashion Editor: Kyle Luu.
Shortly after the March release of Solange Knowles' fourth album, When I Get Home, the Houston-born, Grammy-awarded singer-songwriter dropped a full suite of visuals. Accompanying her Pharrell Williams–produced song "Sound of Rain" was an animated video by Jacolby Satterwhite, a New York–based artist originally from South Carolina whose work in film, painting, sculpture, and performance draws in equal measure from fable (video games like Final Fantasy) and personal life (his late mother). Satterwhite took Knowles' languid reflections on memory and black southern life and shot them into outer space. The video features spacecraft, a cyborg-centaur, and clusters of muscled bodies dancing in a shimmering floating arena, their ethereal movement a virtual nod to Knowles' ongoing relationship with experimental choreography. Satterwhite's visuals are mind-bending in their fantastical detail, but also tender, evoking the same futuristic intimacy that has made Knowles a contemporary audio-visual trailblazer.
Knowles first encountered Satterwhite's work at his 2012 exhibition at The Studio Museum in Harlem, and she later brought him into the fold for a series of projects at Saint Heron, her creative agency. Through Saint Heron, as well as her expansive approach to visuals and performance—including live shows for art institutions like the Guggenheim, in New York, and The Chinati Foundation, in Marfa, Texas—the singer has made a point of supporting and collaborating with contemporary artists on their way up, and the influence goes both ways. The "Sound of Rain" video was developed following a meeting where the pair uncovered unexpected common ground: "We were mutually at the end of our Saturn return, so we were talking about finding a sense of home again," Satterwhite told GARAGE in March.
In the hands of two artists with such wild imaginations, a return home, it turns out, may mean a departure to entirely new landscapes. This fall, with solo exhibitions by Satterwhite opening at the Fabric Workshop and Museum, in Philadelphia, and Pioneer Works, in Brooklyn, and a string of European tour dates for Knowles, we'll have another window into the futures they're setting in motion.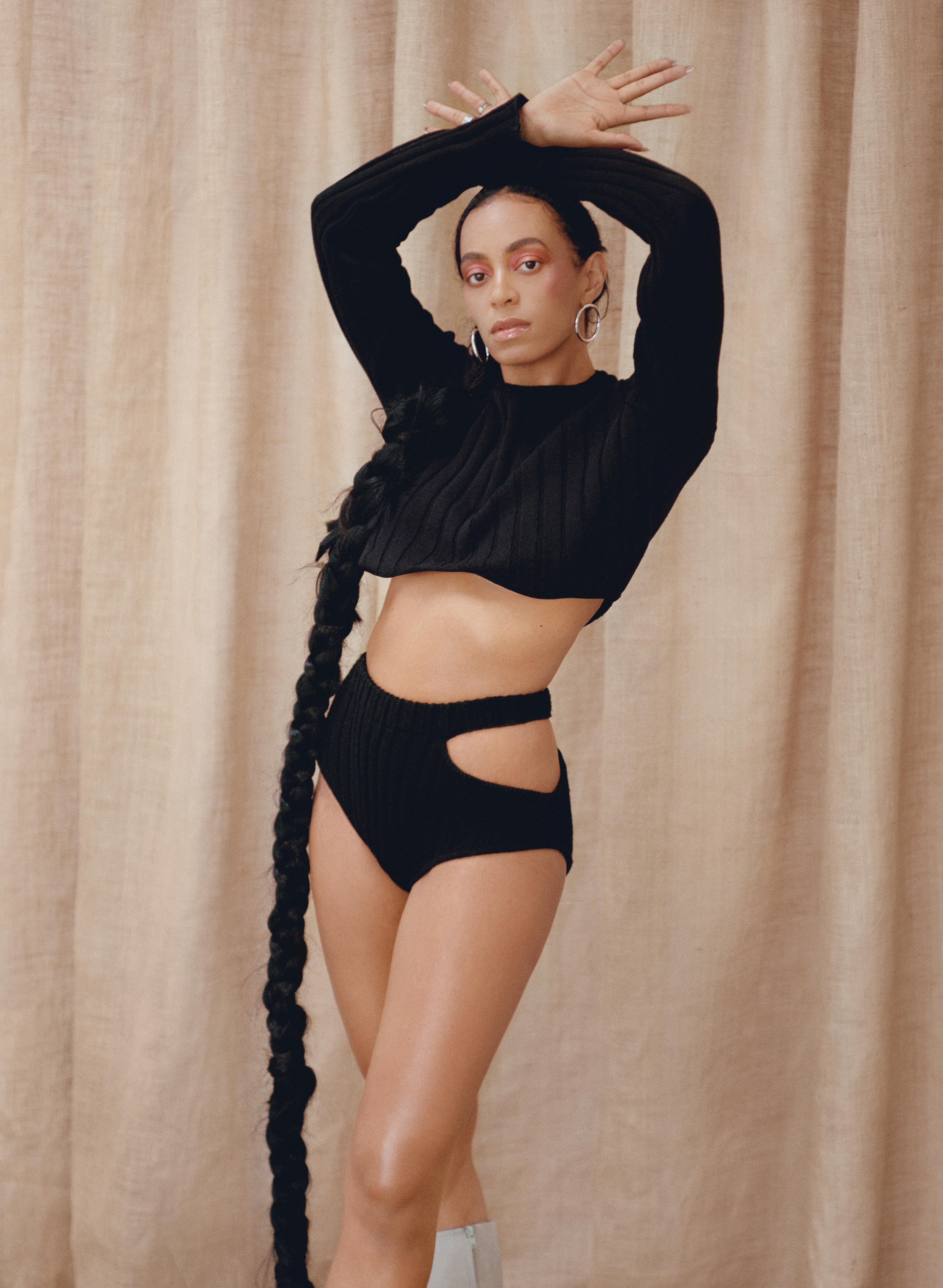 Solange: Welcome to the "Blue Table Talk."
Jacolby Satterwhite: Welcome to the "Blue Table Talk." Thank you.
S: Earlier we were discussing transitioning into new mediums and spaces in our work. I was talking about how secretive the resources can be.
JS: Oh, yeah. I was saying that nobody should hold tight to their resources. I had a brilliant professor once tell me that the people who imitate you copy the most embarrassing part of you, the thing you suppress. Then they exaggerate it times three.
S: That's real.
JS: Collaborating with you has been very, very, very beneficial to expanding things that I'm uncomfortable with.
S: Same thing for me. I never worked within the digital realm of creating an entire universe in the way that you do. Part of me used to have a relationship with digital medias that felt very synthetic, or they didn't feel warm or of the soul. I'm talking about when I didn't know no better. When I saw your work, and I see Sondra Perry's work, and I see people creating these entire universes within themselves, and all of the dimension that you can create, it completely changed my perspective of what you can do within the realm of that space.
JS: When we met in L.A. to talk about the project, we talked a lot about some of the principles that helped you thread this out. We were talking about getting back to feelings, getting back to home. The thing about my way of making digital media—I always say that I want to make the process contradict the medium. I want it to be tactile, full of touch, full of meditation, full of commitment. I used symbols and things from very personal spaces to put in such an artificial program and make that clash happen. When a clash happens, it builds a thunderstorm. When a thunderstorm rings, it makes plants and flowers grow.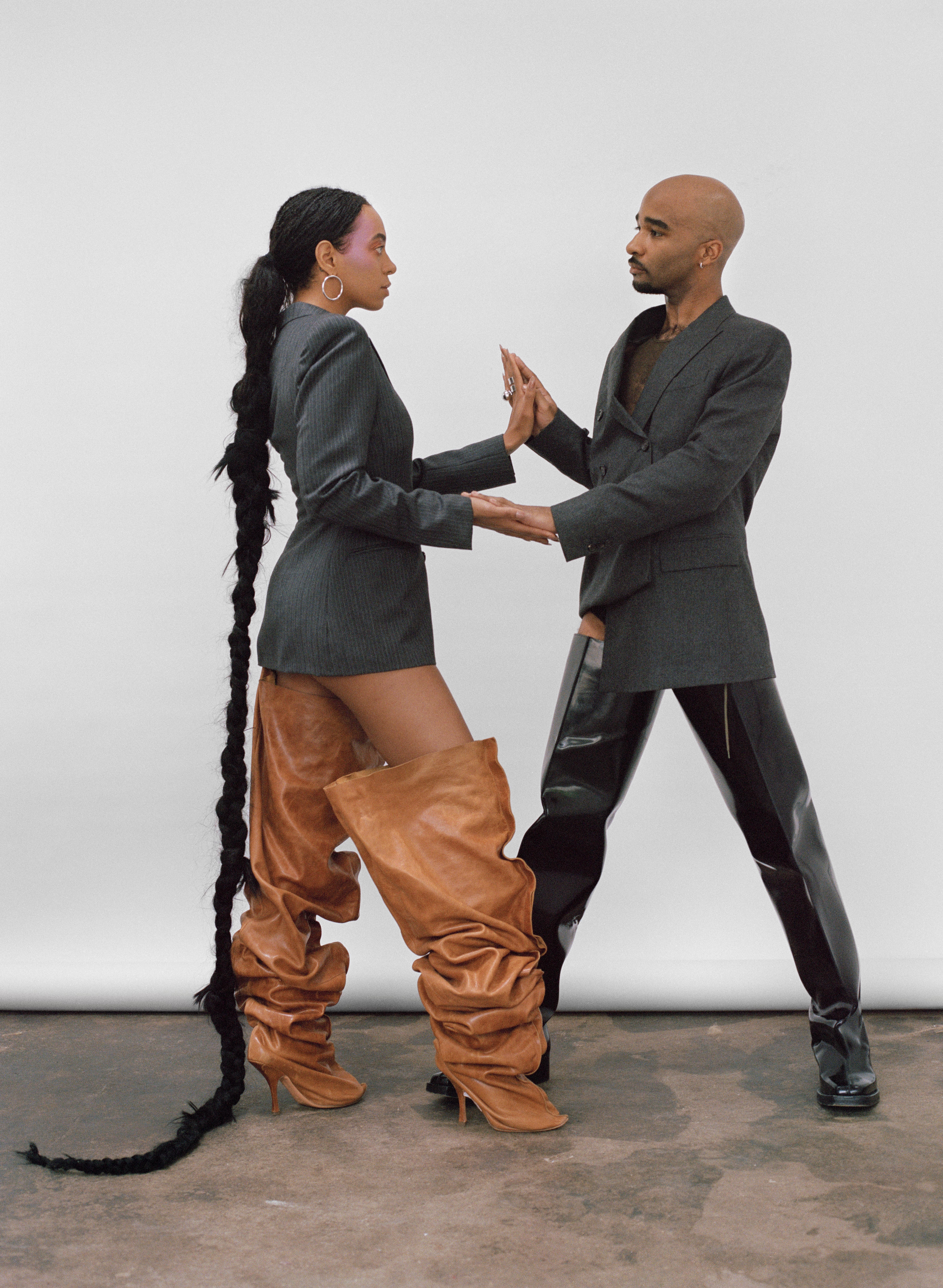 S: I feel like my relationship with collaboration is complicated, because sometimes my process can be so insular, and it has to be that way. I have to get to that space in my head where I'm even uncomfortable with my own thoughts and my own realities. That's really hard to share with someone in collaboration. When it happens, and it happens in a spiritual realm in that way, which I think we had in L.A., it can be so beautiful and so fruitful.
JS: It's interesting, too, because a lot of things that we talked about became so subconsciously embedded into my decision-making. Originally, there were a lot of baptisms in the video, [there was a lot] about renewal, about coming back from the ocean and being at home again.
"When a clash happens, it builds a thunderstorm. When a thunderstorm rings, it makes plants and flowers grow." - JACOLBY SATTERWHITE
S: You combined all of the elements that I spoke about: black rodeo culture, black cowboy culture; the way that sculpture and architecture is another language of expression for me. All of those things—Third Ward Houston, the lineage of growing up in a neighborhood that had so much rich black culture. You literally took all of those elements and landed the ship in Third Ward Houston in the end of the video.
JS: I'm from Columbia, South Carolina, which is country. It is magical. I grew up in the church, and with a lot of Holy Ghost carrying. It was a specific kind of shame for me, as a queer person, because I was afraid of it, because I felt judgment. What's funny about moving to the North, after leaving the South, is finding out how much we all have in common. I'm not talking about when you could find a meme and just pick up on a trend, but the fact that we are generationally mapped in a similar way. I find it super powerful, like, whenever I find other people who grew up in those regions and find out that we have the same kind of structure socially. It's distant family. Do you know what Outkast said about the South? André 3000 said northern rappers are about skyscrapers, elevation, longitude, and structure. In the South, it's about the air, wind, and the flow. I never forgot that.
S: Wow, damn. It's funny that you were discussing your relationship to the church, because I would say the majority of this album, and this project, is centered around one moment that happened to me in the church. When I was 10 years old, they had a little church retreat. My sister was singing at the retreat. We went to the performance. Then, I was just really intrigued by the gathering of all of these young girls who were going to do all this workshopping for the Lord all weekend. I asked my mom if I could stay for the weekend and go to the retreat. You had to be 13 to go, but I was 10. Because we knew the pastor and the youth pastor, they were like, "It's okay if she stays." I remember there were a lot of really powerful moments, a lot of just black girl shit over the weekend. The last night, there was prayer circle. There was a woman who had the gift of discernment—that's what they called it. She was walking over to wherever the spirit led her to pray over certain girls. She would pray over them, and a lot of them would faint. I had seen this phenomenon on TV. I had seen it in church. I had never seen it that close and that intimately. When she started walking over to me, I was like, "Bitch, do not come over here playing with me."
JS: I know that feeling.
S: You know that feeling? Like, "Stay away. I don't need the Spirit." It just was a really surreal moment for me, because you hear about the Holy Ghost. You see what it does to people, you see how it transforms people, you see how people have to pretty much submit to the loss of control of the Spirit. I never wanted anything to do with that. From that period on, if we were in church and I saw someone talking in tongues or shouting and it looked like the Spirit was coming, I would go to the bathroom. I would say I had to pee, I would go for a walk—anything to avoid whatever the Spirit was.
I went through a lot with my body the last two years. I had health issues. I was in and out of the hospital. It was a rough period for me, surrendering the loss of my body as I knew it. I thought so much about that moment at that camp, because it was the first time in my childhood, or my adolescent life, where I felt the loss of control of my body. Going through these issues, I was so reminded of that very sensation. I wanted to get to the point to where I allowed the supernatural, the Spirit, or whatever it was, to stare at it face to face, and not let it make me afraid.
A lot of the album is confronting that very spirit. I feel really good at the end of this record because of all that I had to go through to complete it. That I was finally able to get to that place, to where that shit doesn't scare me anymore. I can invite it in.
JS: It's like you mastered mindfulness. I can relate to your story. When I was a kid, I had cancer twice. I had to get cut open all the time. I had so many surgeries. The thing is…wow, we getting deep.
S: I know! I'm like, "Why we telling all our business?"
JS: I know, I know. Well, when my mom was mentally ill, she wanted me to seek spiritual practices and southern voodoo, like cracking eggs… she wanted me to go through all these rituals and processes, in order to heal the cancer. Which, certain therapists were like no. I grew up with a relationship to southern voodoo, where it took things away from me, took family away from me, took love away from me. I had a certain fear of spirituality, too. I hid in the artistic practice, and it was a practical one that was married to Western ideas, to what I was studying. It was about formalism, but it wasn't about the heart to the home. It wasn't until I had to go through my twenties and go through a lot of escapisms and lot of ratchetness—
S: Yeah, you have to.
JS: That I feel very similar to you, where I was afraid of connecting with myself and allowing the metaphor to become what it needs to be. I did have a traumatic relationship with the church and with voodoo, in relationship to my body—not letting people within my personal space. I've been working against that. It's something about being in my thirties that's allowed me to deal with it in the same way that you do.
S: Hallelu.
JS: I'm connected to the album for that reason. I think that's why I was so amazed when we had an exquisite corpse-way of bringing the project together, where we separately did our parts, then we came back. For me to see quotations and echoes with Terence Nance's part, I freaked out. I was like, "Wow!"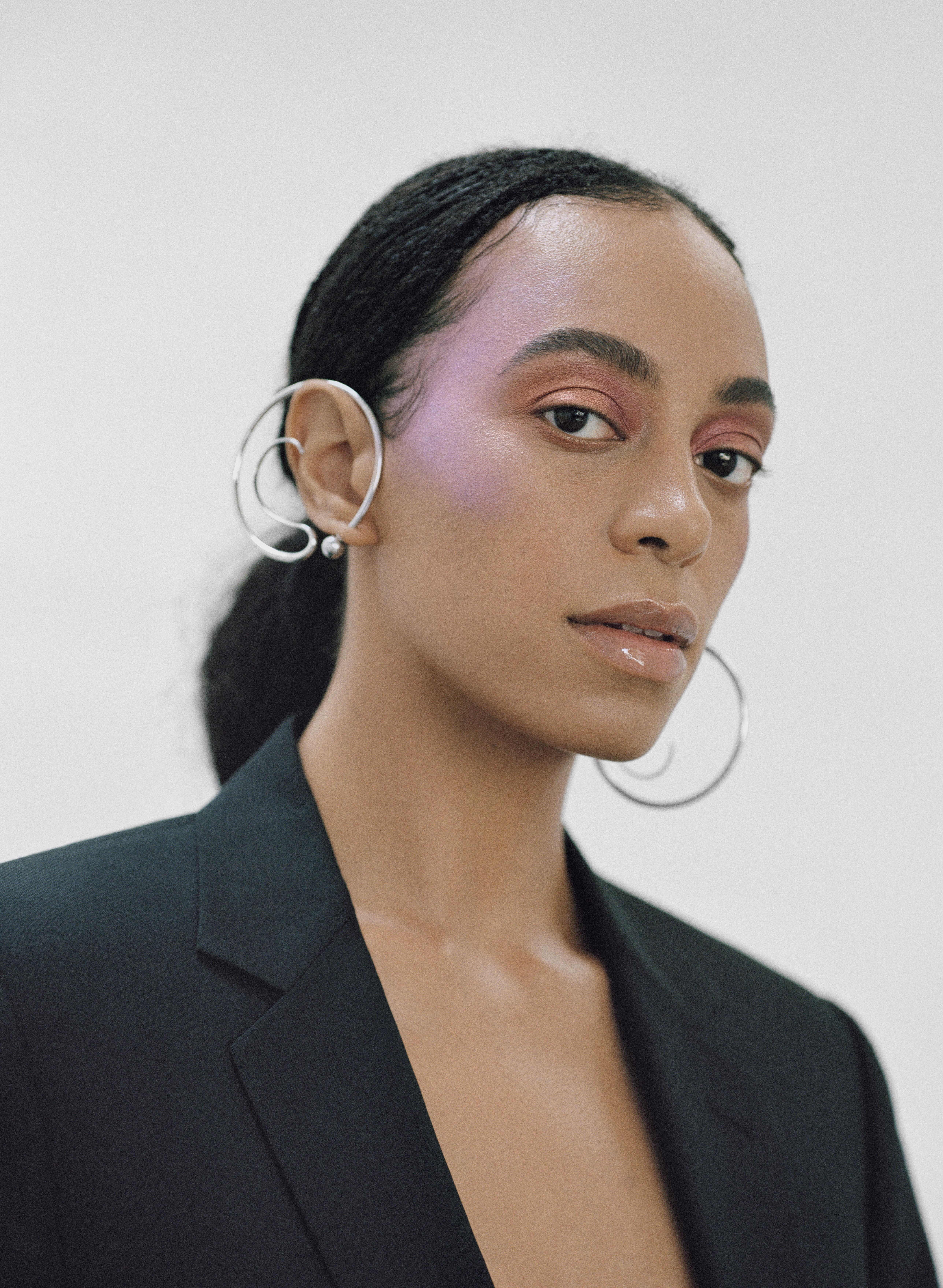 S: I'm curious, based off of these figures, shadows, and creations that you did in the "Sound of Rain" video, what your relationship is personally to black cowboy culture.
JS: We had rodeos, and that was really embedded. All my family were farmers or worked in produce. We had a bodega with horses carrying our fruit and stuff. The way that I was thinking about it was when you were talking about your interest in home, repetition, and architecture, I wanted to go to the most archaic spectator zone, which is the Colosseum.
S: We both were creating our own Colosseums, which was wild. Didn't even discuss it.
JS: Didn't even discuss it! There were many parallels. Then, thinking about putting these Huey Newton chairs in the Colosseum, I wanted to really bring decades of symbolism and merge them to constellate and make something that, I don't know, maybe deal with the lyrics from "Sound of Rain." There was a certain kind of defiance in it. I wanted to create a non-narrative visual ballet around all the motifs that you were telling me at that table.
S: That all came through so clear. I feel like it's been really exciting to watch this renaissance of black cowboy culture. [Art critic] Sir Sargent gave it the name "the yeehaw agenda," of black people expressing this part of history that had been erased and that had been suppressed for so long. I remember watching this documentary, and it started with this black cowboy saying, "Who the fuck is John Wayne?" It just stuck with me as a premise and a foundation for the entire film. This is not a fad, this is not a trend, this is not an aesthetic. This is real lives of black men and women who, every weekend, are going to the Zydeco, who are packing up their horses and trail-riding from Texas to Louisiana, who have been doing this for decades and decades. I remember growing up, going to the Zydeco, going to the trail rides on the weekends, and seeing a certain sense of joy and jubilance, especially in partner dancing, line dancing, and the formations of line dancing, and this unspoken language that you don't know who the hell this person is, but y'all are going to get on that floor, sync up, and create these lines, squares, and dimensions, and crop circles within themselves on that floor.
Who is keeping track? Who was the first person to create them? How does Joe know them, and Tasha know them, and you step right in line? Who is the historian for how these moments happen with no language. It's so fascinating to me. I don't know how much you know about Zydeco culture, but it's like 150 dances and I don't understand how I even know these dances.
"I wanted to get to the point to where I allowed the supernatural, the Spirit, or whatever it was, to stare at it face to face, and not let it make me afraid." - SOLANGE
JS: I think that the way we all know these things so automatically is because they're kind of generational, going back to Africa. I was reading this book by Robert Farris Thompson, Flash of the Spirit, which talks about masquerade culture and how a tribe of Africans worshiped the Queen Mother, and they built these post-modern objects and artifacts, and they celebrate a spiritual female entity to find union, and as a form of prayer, and as a form of nurturing and delineating a legacy, and I think that we carry that in our blood with us in America. That's why we see Afro-Cuban culture in the north doing certain rituals that echo those sentiments, and how we, as southerners, we translate it into rodeo culture, and otherwise family cookout picnics and the electric slide. So, okay, I have a question about the "Jerrod" video, the part with the tall guy, I would love to hear more about that. You know that's my favorite song on the album by far? That song goes off.
S: Is it? Thank you. You know that Anita Baker was on that song, and two days before the album, was like, "Take me off, sis." I was like, "Okay." I remember talking to Toyin Ojih Odutola, who's a friend of mine. And we were talking about the infinite possibilities of blackness. I think my relationship to blackness as a dimension, as space, prior to creating this film, was a lot more narrow in the ways that I can see infinity through blackness.
That particular scene was actually the last shot of the entire film. I knew that that had to be an articulation of all of the infinite possibilities of darkness, trying to find the light at the end of the process. I think for the first time it really occurred to me, or it rang clear to me, the necessary part of darkness. I put on a song by Rotary Connection and something took over me. My mother made the costume, really the sculpture that the gentleman is wearing in the film. I really wanted something that represented her crystallizing this moment within the darkness as only a mother can do.
I felt bare, I felt naked, I felt really seen, and a lot of it was the exercise of letting go of the ego. I think being someone who has been so visible since they were a child, when you deserve the space to have that solitude with yourself, that is a moment in that scene. It's all coming out of me. And I think my relationship to blackness as a space, as a dimension, as a color has really helped me to confront that visibility in a new light. I feel really proud that you like that scene.
JS: I loved it. I love urgent things.