At Frieze, "Leave Britney Alone!"
The figurative painter Robin F. Williams discusses her reimagining of Spears' 2001 "I'm a Slave 4 U" performance, which made an appearance at Frieze London.
For a number of years, in the halcyon days of highly rated musical award shows, the VMAs were all about Britney Spears. Like a body-glittered Atlas, the singer would carry the broadcast, whipping her public into a frenzy as she danced and hair-flipped.
By 2001's VMAs that August, we knew to expect another Spears spectacle: Following heraldic plumes of vapor and jungly chirps, the singer emerged to debut "I'm a Slave 4 U," the lead single off her self-titled third album. As a successor to "Lucky," a sugared plea for human-level recognition, "Slave" might've been read as a kind of concession—were it not for the song's punchy tempo and headline-making VMA routine. For the finale, Spears slinked across the colosseum floor, armed with yellow serpent named Banana.
The ritualistic aspects of the performance are at the fore in the most recent work by figurative painter Robin F. Williams. Entitled "Leave Britney Alone" and on view this October at Frieze London, the work depicts a gangrenous Spears, wearing a greenish python and Williams's trademark—a ghoulish, outsized grin.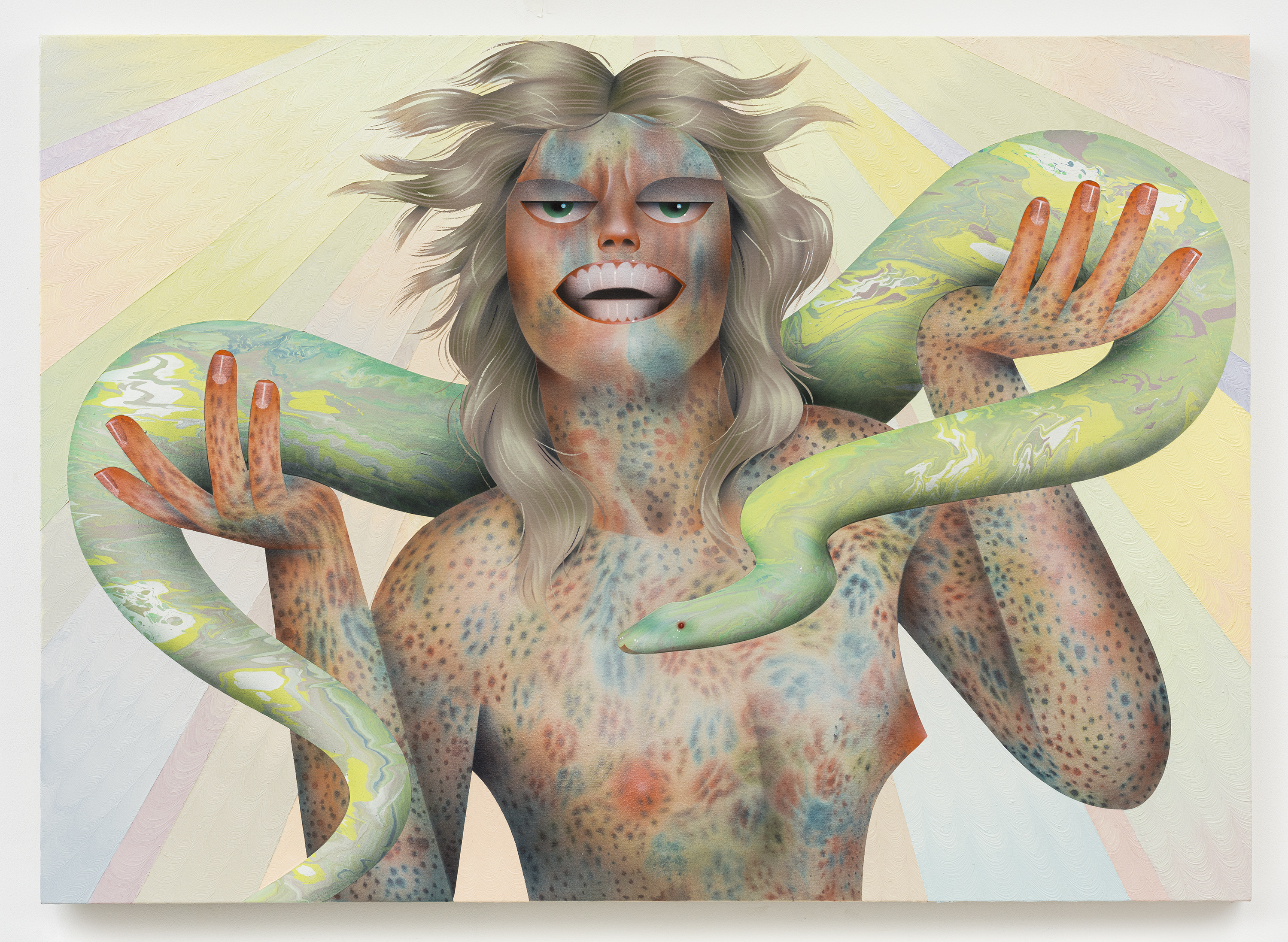 As evidenced by her figuration of Spears, much of Williams's work has been to uproot received notions of gender and sex. Her subjects have included Sabrina the Teenage Witch, Ariel, and Farrah Fawcett—cultural idols she calls "readymade nudes," because their physical value has been both widely and thoroughly appraised. "I feel like [traditional] nudes, by definition, are not aware or if they are aware, it's of no consequence. How they function for us culturally is that their persona—their nakedness—is an outfit. Their availability to us is a skin that they're wearing," explains Williams.
By contrast, Williams's portraits, which she has half-seriously nicknamed "zombie nudes," exude an almost manic awareness, signified by direct, quasi-demonic facial expressions. They are, says Williams, "alive in an undead way" (in "Good Sport," Fawcett is seen gored by an arrow), suggesting that Williams's Frankensteinian objectives cannot fully rectify the wounds of our patriarchal past.
So as not to re-inflict old wounds, Williams went against her original instinct to depict Britney's head-shaving circa '07, instead choosing the "Slave 4 U" performance after rediscovering it online. But the painting, named for a viral fan video posted amid that '07 nadir, does thread the needle between the singer's supposed heyday and the unraveling of her tautly pop-starry image. "There's a still of her [from the performance] wearing this kind of ambiguous look on her face; her head is thrown back and she's being very sexy but she looks kind of angry and powerful," says Williams. "It actually looked a lot like another image of her, from 2007, when her head is shaved and she's kind of charging at a paparazzi, and [she's] almost, like, hissing. I thought, if I am going to 'resurrect' her in all her complexity, then combining these two things made sense."
Indeed, the portrait blends several of Britney's many permutations—including her recent one as an amateur painter. For the marbling seen on Banana, Williams used a technique she found through YouTube tutorials largely made by stay-at-home moms. "In a way [the tutorials] kind of remind me of the paintings that Britney makes," Williams says. In addition, the technique, which recommends mixing paint with personal lubricant, also evokes Spears's past life as a symbol of pious virginity: "Some [of the YouTubers] go to great lengths to get around buying lube; they're like, here's a shampoo that has the same chemical, or here's how to order it online," says Williams. "It's a very American, puritan caveat to this arts-and-crafts project—that you have to bring in this dirty, sexy thing to make it."
However imperceptible, this reference to Britney-as-moral-paragon reminds us of how far-reaching our expectations of her were—and the great but ultimately futile lengths that Spears herself went to reclaim what she'd lost. As Williams points out, after "Slave 4 U," when "the message was 'I am completely yours. I am completely subjugated,'" Spears would return to the VMAs stage in an effort to resurrect herself: "Then, after the meltdown, when the message was 'Gimme More,' things don't go so well for her. Everyone hated [that performance]." observes Williams, referring to Spears's bungled VMAs comeback in 2007. "So I hope that [I'm] adding something to the conversation, and not just trying to just get a[nother] piece of Britney."