"Killing Eve" still via IMDb.
The Rise and Rise of the Big Pink Dress
From Villanelle to Tracee Ellis Ross to Kacey Musgraves, frothy, exultant femininity is the new black.
"Killing Eve" still via IMDb.
Gemma Chan's 2019 Oscar's dress is pinker than fleshy, summer-blooming flowers, pinker than the glistening inside of a watermelon, pinker than the neon signs of massage parlours. It is not shocking pink but violent pink—a shade rarely seen in nature; one that aggressively dominates the eyeballs. It is generously proportioned, less concerned with tracing the shape of the body as it is with flowing luxuriously outwards, like a bishop's gown, or a royal cape.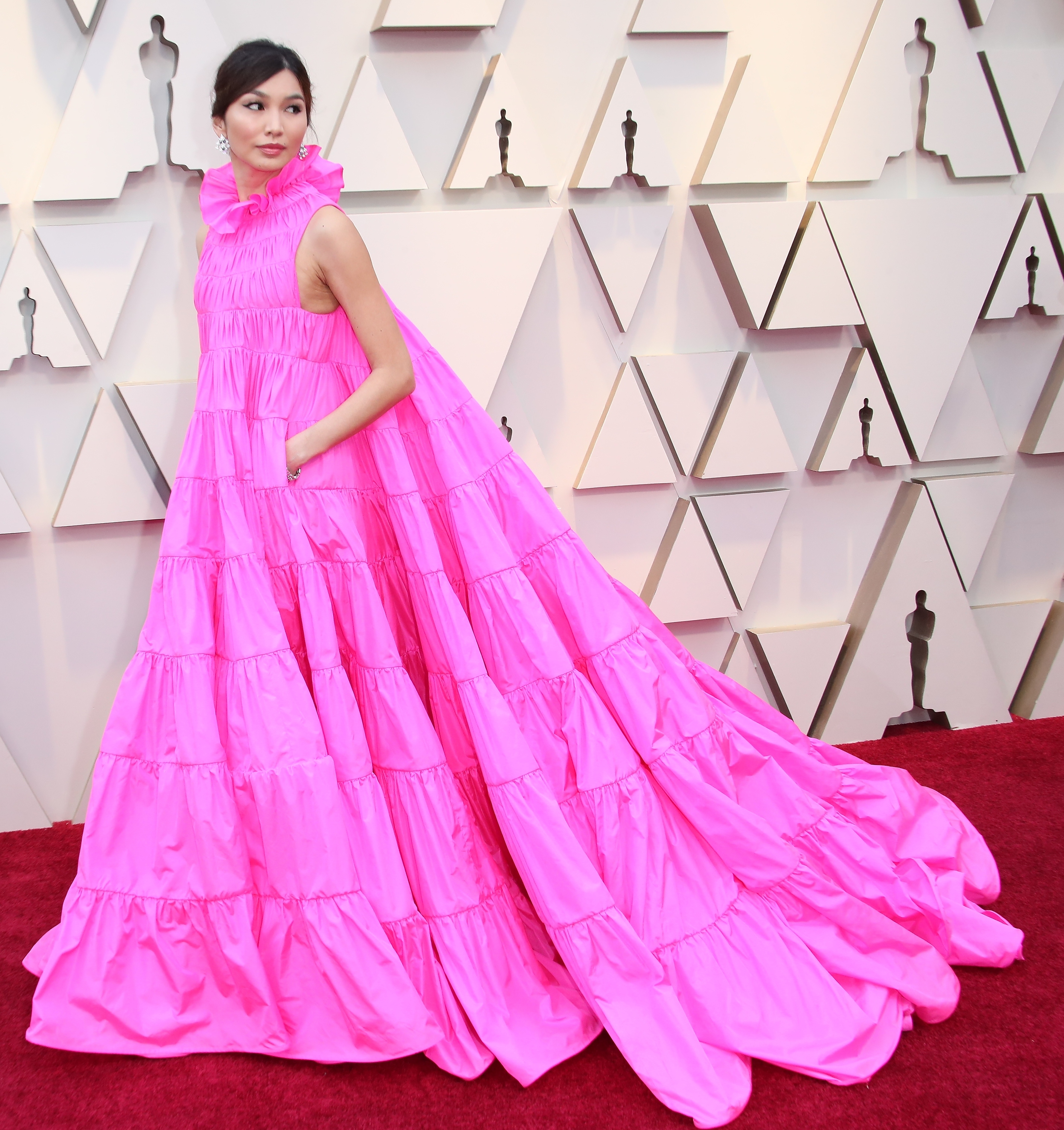 The gathering at the neck gives it a regal air too, an echo of the Elizabethan ruff. Covering the subject from the neck to the floor in yards of tiered fabric, it thoroughly eschews both the ideas of being sexy and being demure; a literal hot-pink, upside-down exclamation mark of a dress. It was a dress that announced both the arrival of its wearer and itself, and what it said was: the Pink Big Dress is here.
The Big Pink Dress was started, as most trends are, by Rihanna back in 2015, when she wore Giambattista Valli to the 2015 Grammys. Having reached an empire waist in a logical and expected way—light pink silk, delicate brocade—the dress suddenly accelerated downwards, ensconcing her in layers upon layers of crimped, tiered tulle that poured away from the waistband.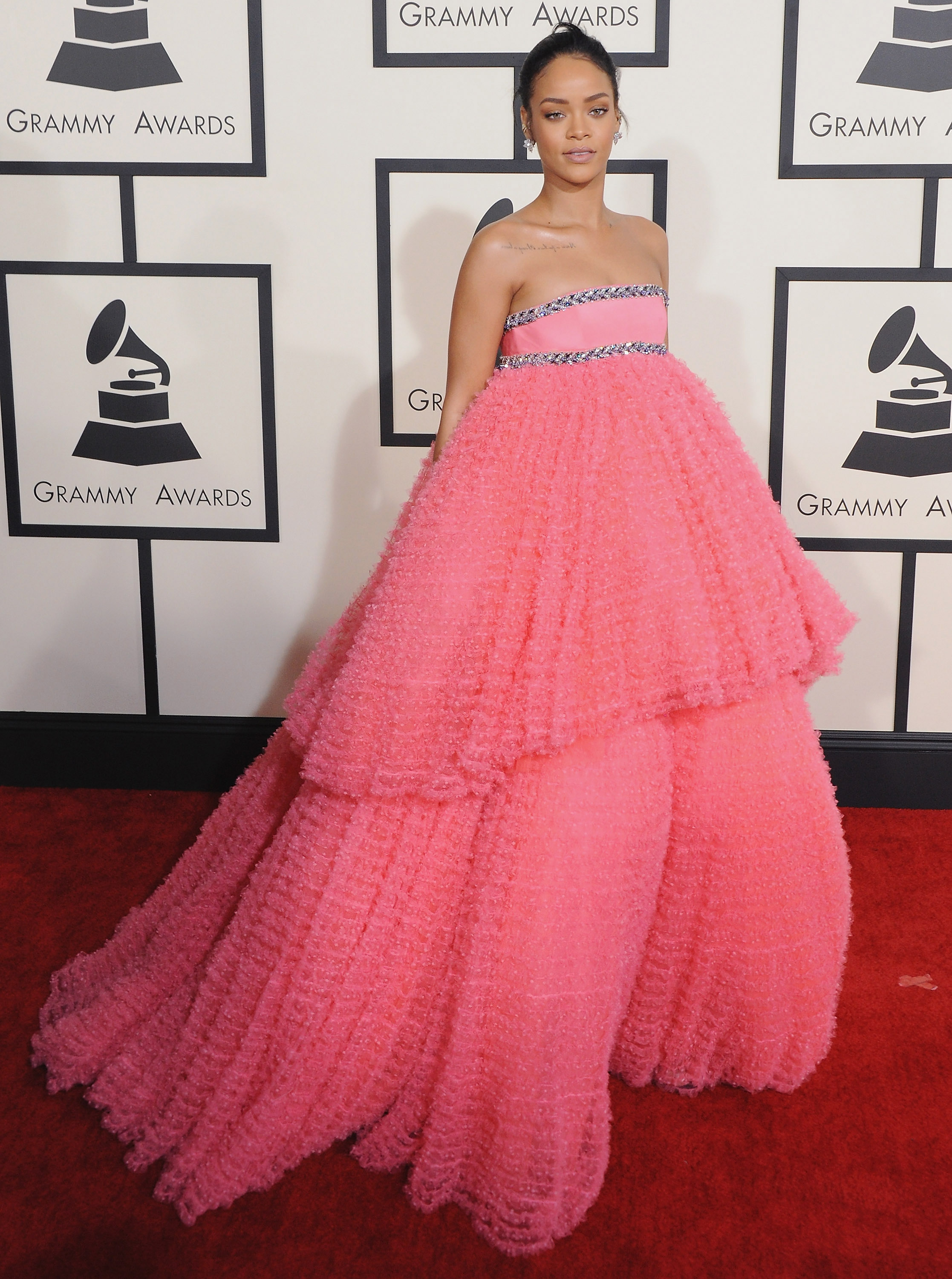 Peak Big Pink Dress, however, came last year. Even before psychosexual crime dramedy Killing Eve had aired—before a million soft sighs of lust over Sandra Oh's hair and Jodie Comer's smirk had been exhaled—there was one promo photo everywhere: Villanelle in a Molly Goddard Spring/Summer 2016 pink mesh dress, ruffles breaking against her body like candy floss waves.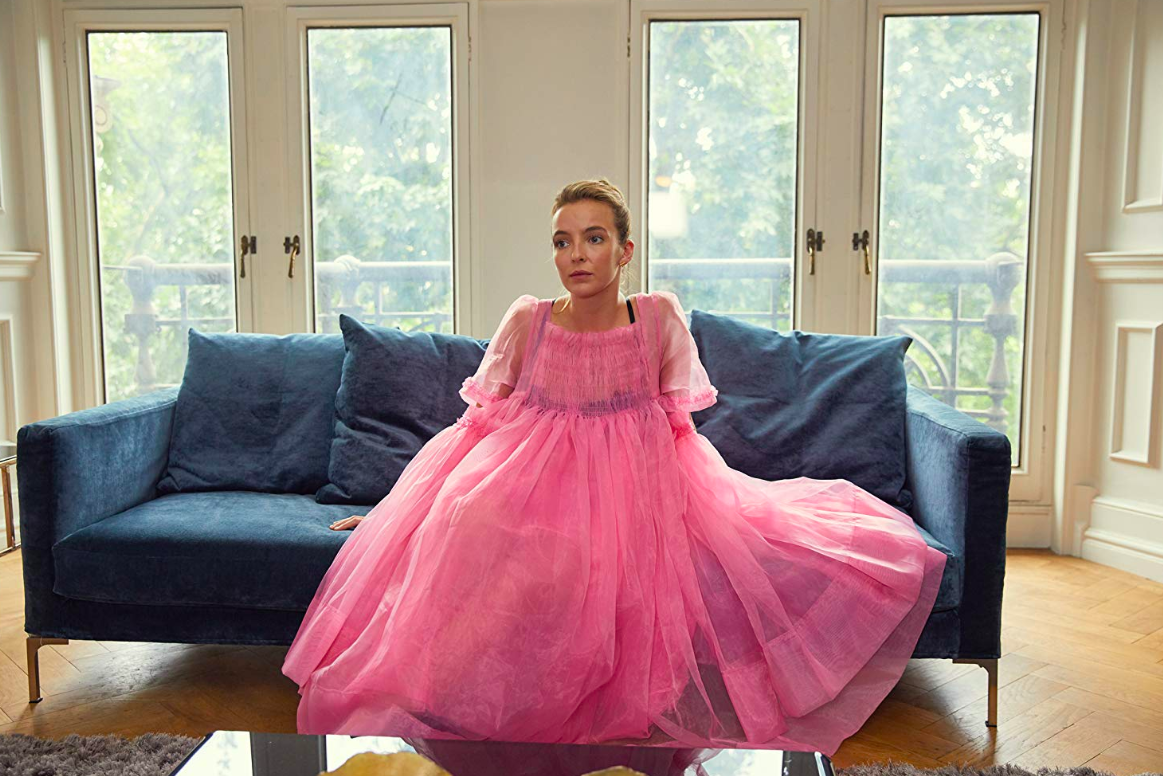 It was a pink that Barbie dreams of, a true E-number pink: sugar and spice and all things nice. Villanelle wore it, paired with patent leather Balenciaga combat boots covered in silver buckles, to a psychiatric evaluation. It was then that the Big Pink Dress clicked into focus: a sociopathic female murderer devoid of empathy, kindness—in short, any of the traits we associate with femininity—wearing the girliest, pinkest, frothiest dress possible.
It might seem as though the precursor to the Big Pink Dress was merely the pink dress, size notwithstanding. Indeed, Small Pink Dresses had their moments of fame: Marilyn in Gentlemen Prefer Blondes, her dress strapless and form fitting; Gwyneth with her demure, prom-reminiscent Ralph Lauren 1999 Oscars outfit. But the Big Pink Dress is different. It is a parody of everything women are meant to be. By exaggerating feminine qualities to their fullest, it has become a symbol of what women aren't supposed to be: too loud, too much, too silly. It showed us how warped the entire construction of femininity is.
The Big Pink Dress feels not only fun, but defiant in its ridiculousness; Rihanna had, after all, worn a baby pink Molly Goddard dress with a 'This Pussy Grabs Back' hoodie to the Women's March in early 2017. In a political climate that aims to deny basic rights to women, the Big Pink Dress is a fuck-you to those who would subjugate us; it's femininity run amok. And people adore it. Article after article fed our hunger for the Big Pink Dress. From The Cut to Jezebel to Grazia, writers told us to how to get Villanelle's look for less, trying desperately to find high street versions of a dress that seemed antithetical to fast fashion values—an abundance of material in a cut that couldn't easily be worn to the club. But the Big Pink Dress had arrived, and it would not go quietly.
Tracee Ellis Ross wore her Big Pink Dress to the 2018 Emmys, ensconced in a fuchsia cloud that proudly clashed with the red carpet, the neckline hanging mid-shoulder like a post-coital duvet. Her hair was pulled back tight, her chest unadorned, as if to contrast the overt maximalism of her outfit with her own quiet confidence.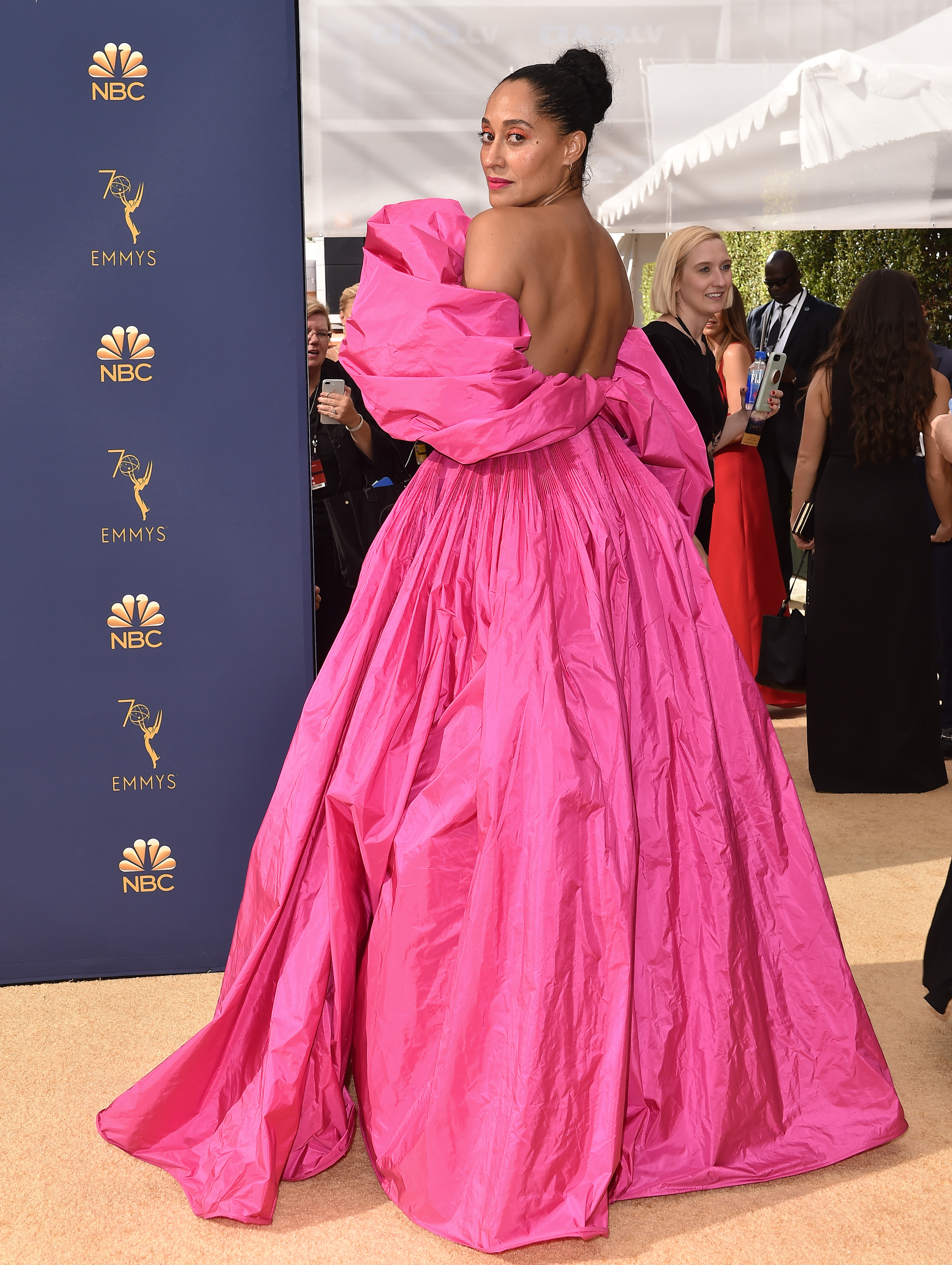 The trend continued with this year's Oscars, which served as an ode to the Big Pink Dress; alongside Gemma Chan, there was Kacey Musgraves, who arrived wearing a pale pink Giambattista Valli with flounces and tiers that expanded in every direction, a bejeweled bow nestling on her waistline.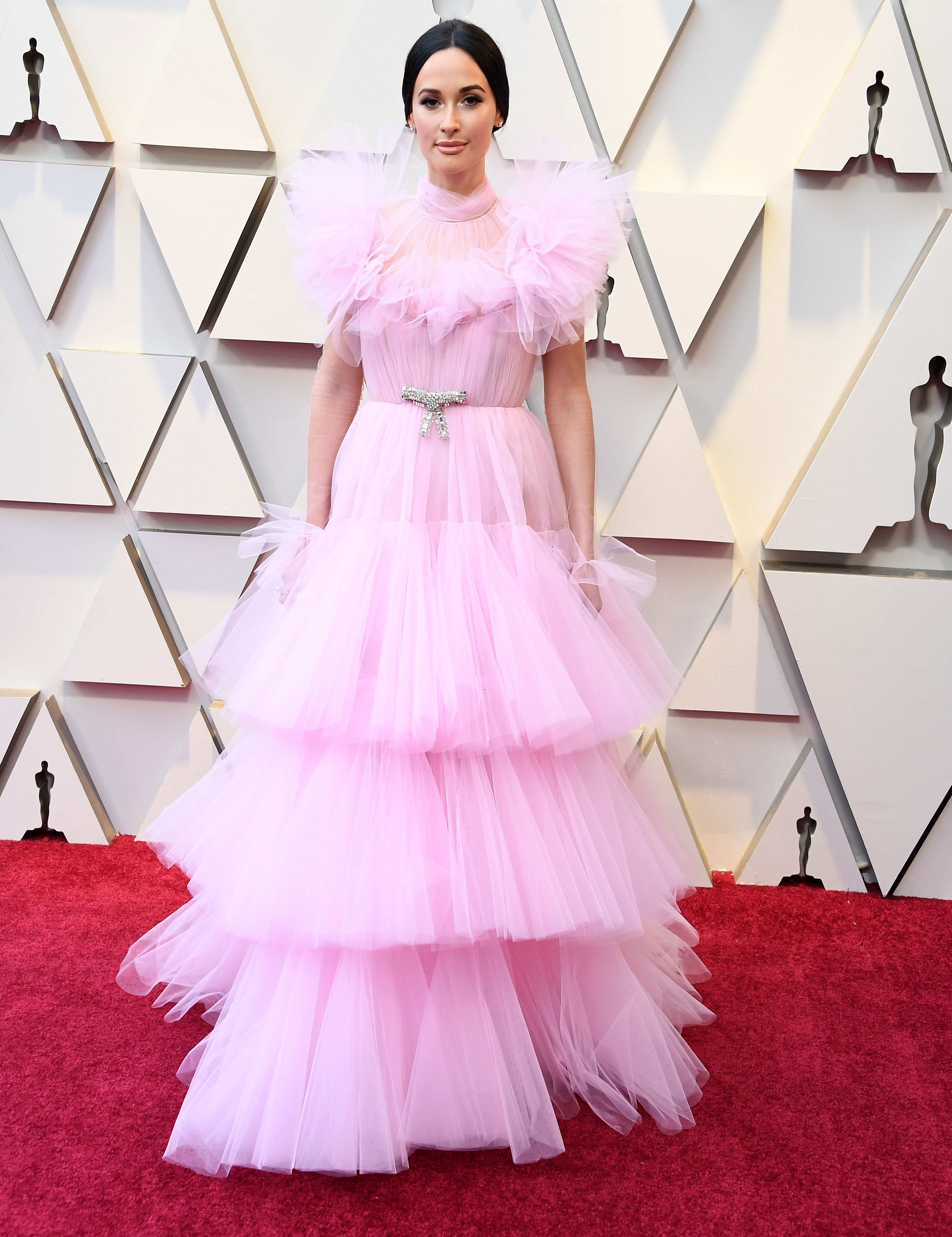 From Angela Bassett, radiant in giant hot-pink Reem Acra, to Sarah Paulson in Brandon Maxwell, looking like a beautiful, drooping tulip with a collar encrusted with jewels, the shocking-pink hues and proportions of the dresses sent a signal, particularly after the all-black austerity of last year's awards season: we're here, and we aren't going anywhere.