Korakrit Arunanondchai, Together with history in a room filled with people with funny names 4, 2017. High-definition video, color, sound; 23:28 min. Image courtesy the artist; boychild; Clearing, New York and Brussels; and Carlos/Ishikawa, London. Photograph by Alexander Addington-White
7 Artists Not To Miss At the 2019 Whitney Biennial
From the subtly spectacular to the oddly elegant at the 79th exhibition.
Korakrit Arunanondchai, Together with history in a room filled with people with funny names 4, 2017. High-definition video, color, sound; 23:28 min. Image courtesy the artist; boychild; Clearing, New York and Brussels; and Carlos/Ishikawa, London. Photograph by Alexander Addington-White
The next 79th Whitney Biennial opens on May 17, bringing together 75 artists for an exhibition that has—especially in recent years—inspired controversy. Of course, any major show meant to be a snapshot of contemporary art in America is going to ruffle feathers. But previous iterations of the biennial have dissolved into anger and polemics, as was the case in 2015, when Dana Schutz's Open Casket—an abstracted rendering of the body of the murdered African American teenager Emmett Till—exploded into a vicious firestorm that went well beyond the art world.
The co-curators of this year's show, Jane Panetta and Rujeko Hockley, must be hoping that their exhibition can sidestep such a fate. (That said, there are already some rumblings of discontent, with at least one artist—Michael Rakowitz—preemptively pulling out of the show due to the business dealings of Whitney vice chairman Warren B. Kanders) The upcoming Whitney Biennial is a relatively youthful affair, with Panetta and Hockley stressing that roughly 75% of the artists are under the age of 40. While the roster includes familiar names (Nicole Eisenman, Josh Kline) and new cult favorites (the unconventional collective Forensic Architecture, nominated for the 2018 Turner Prize), it also leaves room for plenty of unexpected discoveries.
Here are seven of the artists we're most excited about:
Alexandra Bell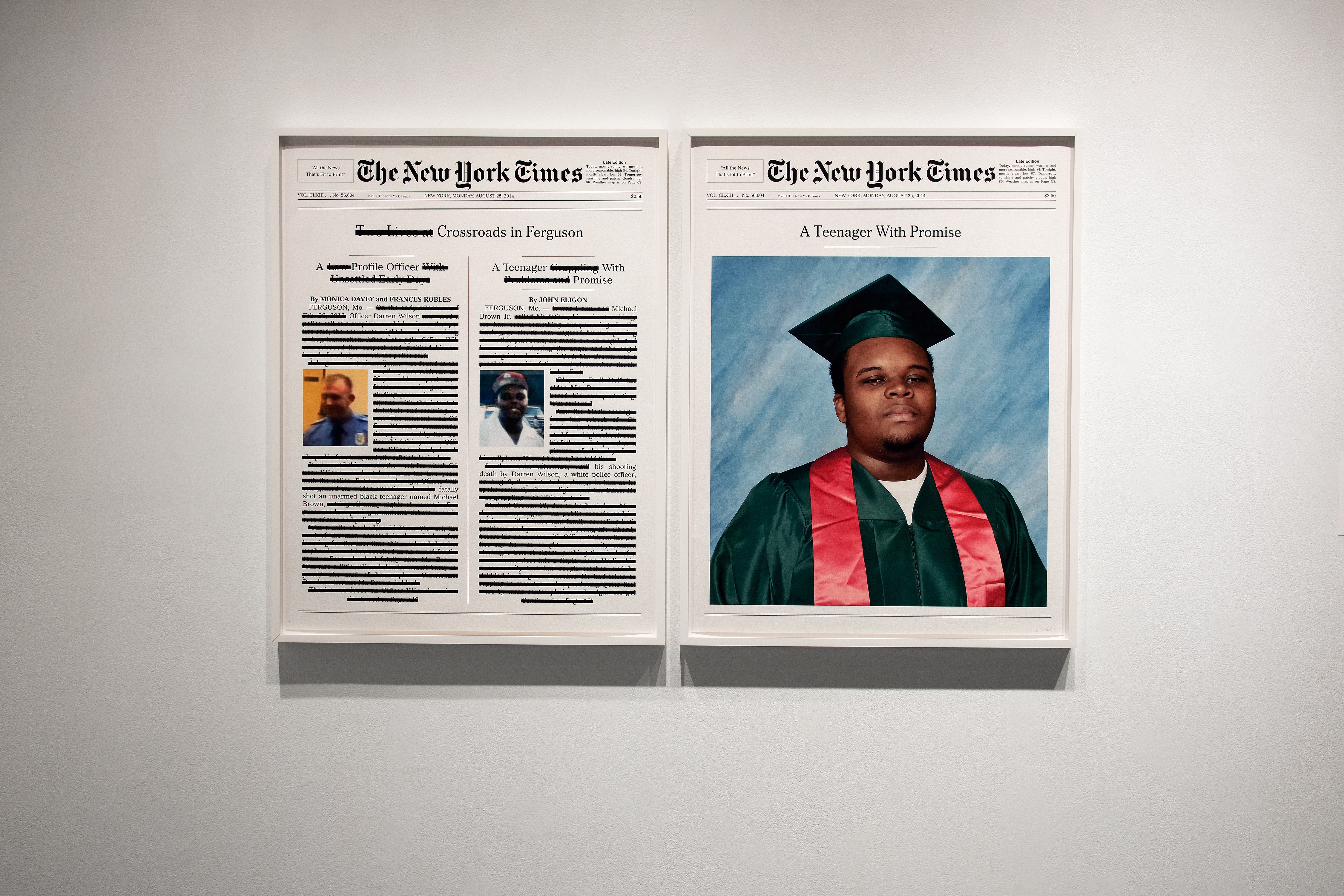 While so much public art can be bland and nonconfrontational, the Alexandra Bell's Counternarratives project brought a righteous, topical anger to the streets. The conceit was simple: oversize mock-ups of New York Times pages, either rewritten or covered with editorial notes meant to correct loaded racial narratives. (In the most impactful example, Bell imagined what it would have looked like if the front page of the Times had ran Michael Brown's graduation portrait under the simple headline, "A Teenager With Promise.") Bell's practice, Panetta says, "proposes a necessary reckoning with problematic journalism, media biases, and our own roles as consumers of information."
Ragen Moss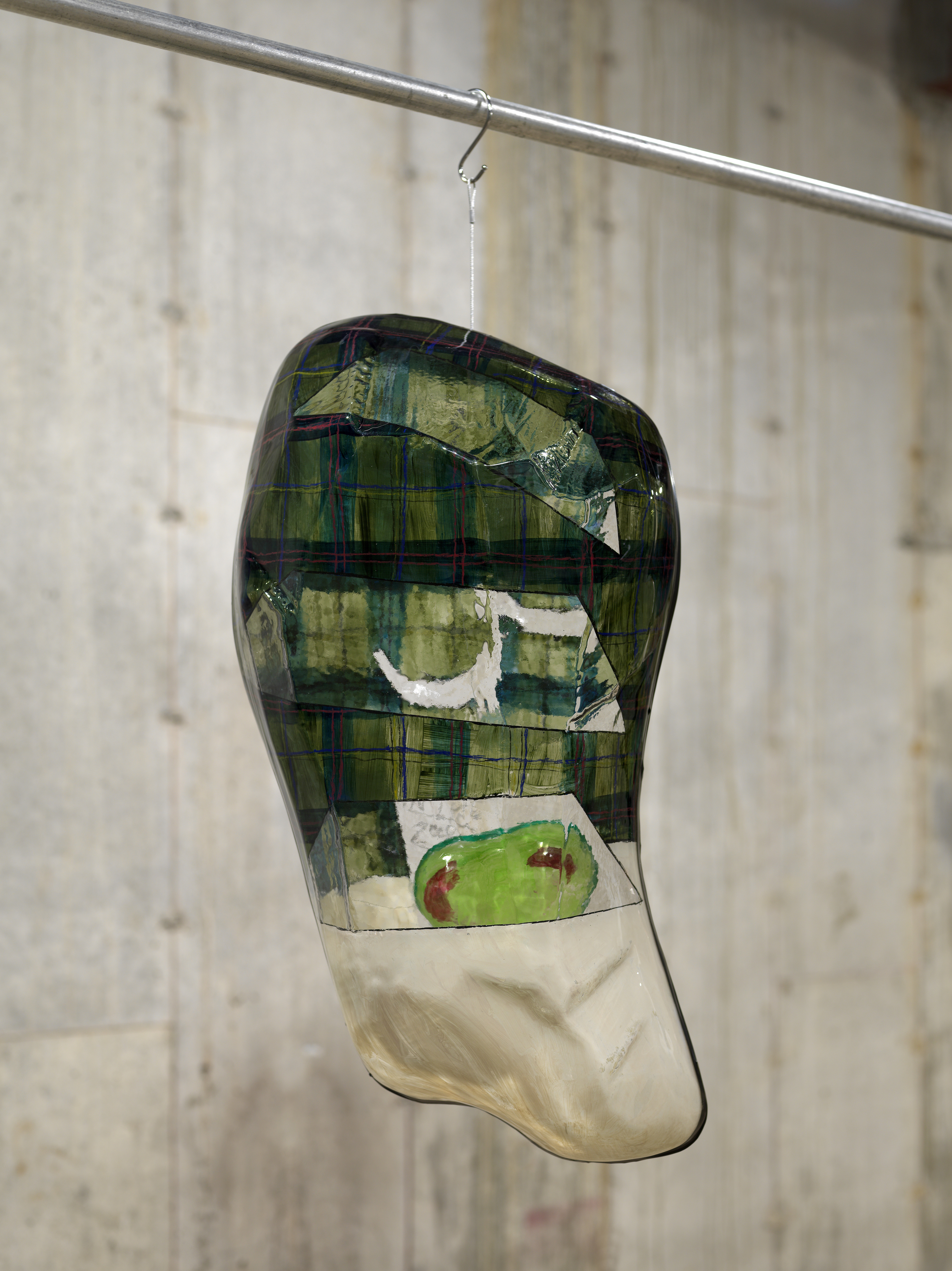 Multi-hyphenates are nothing new in the art world, but Ragen Moss is likely the only artist-lawyer participating in this year's Whitney Biennial. Her unique background leads to all sorts of heady cross-pollination: in 2018, she gave a lecture in Los Angeles entitled "The Spatial Question: What Constitutional Law Can Learn From Sculpture." Thankfully, it's possible to appreciate her work without an advanced degree. Moss landed on the curators' radar following a 2017 exhibition at Ramiken Crucible in New York, organized by Lucas Blalock (who will also appear in this year's biennial). In that show, rows of polyethylene forms hung from metal rods—an array of hollow, enigmatic husks painted with acrylic. Moss's practice might be driven by ideas and a passion for activism, but her curious objects have their own formal allure.
Diane Simpson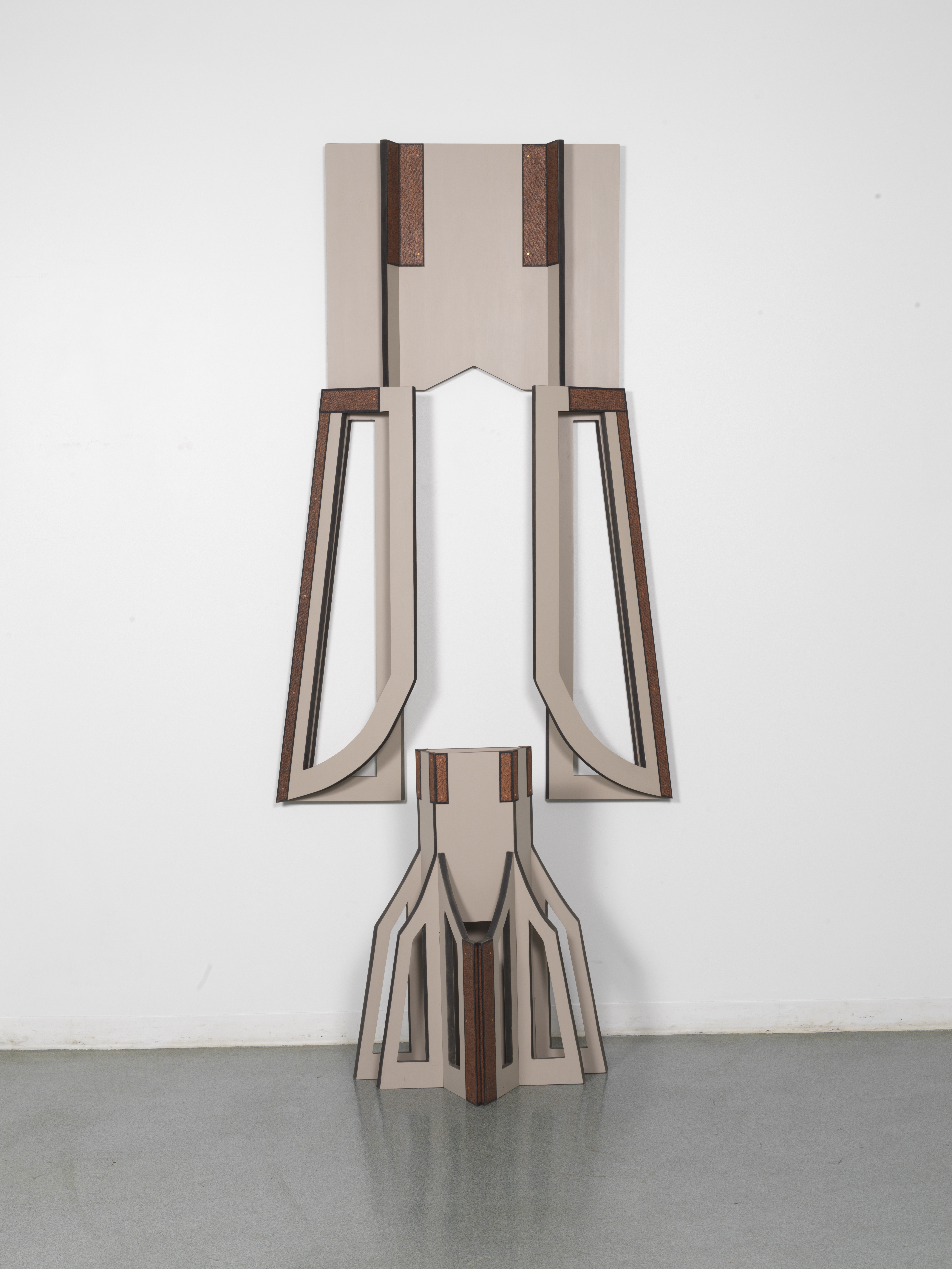 Chicago-based artist Diane Simpson is now in her eighties, but you'd be forgiven for thinking she's a twenty-something upstart fresh from a cutting-edge MFA program. She ingests a wide range of influences in order to arrive at something both alien and familiar; she has written that a single work might pull from the design of both "a child's bib" and "an art deco architectural detail." While clearly moved by the lines and energy of the fashion world, the artist translates the flow of clothing into mixed-media constructions that are elusive, subtly spectacular, and oddly elegant.
Korakrit Arunanondchai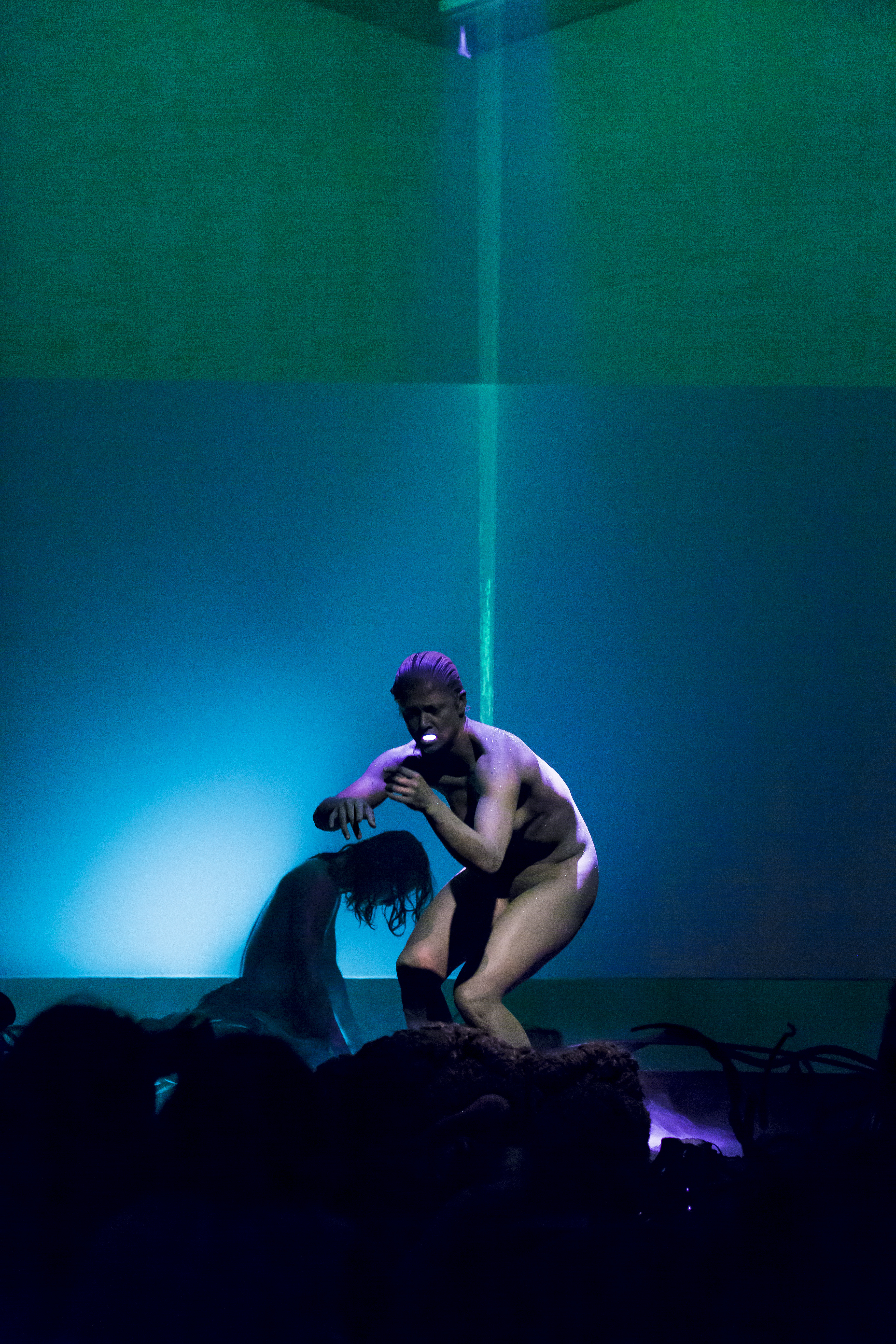 Korakrit Arunanondchai is a master of irreverence and sensory overload. The 33-year-old Thai artist's video works are often housed within gnarly, immersive installations whose materials list includes things like "dad's dirt" and "seafood waste." For a 2018 show in Brussels, Arunanondchai debuted new sculptures in vitrines that had an overstuffed, sci-fi drama to them, cramming in LED lights alongside mushrooms, lobster shells, and a clay rendering of the United Nations building. The Whitney is spotlighting 2017's with history in a room filled with people with funny names 4, which Panetta describes as mixing "footage of his aging grandmother with an almost psychedelic meditation on the state of the human species." That's a suitably ambitious theme for an artist accustomed to dreaming big.
nibia pastrana santiago
Puerto Rican artist nibia pastrana santiago is known for inventive, athletic choreography and a healthy sense of humor. A 2015 piece, billed as an "interspecies situation," found her slowly contorting her body up a wall before pushing a potted plant around the room and engaging with a charming collaborator, a very chill golden retriever named Tara. The performance world can often get a little self-serious, but santiago seems more than willing to lighten that mood. The artist is adept at site-specific work (she once staged a performance for four dancers within an airplane hanger in San Juan), so it will be interesting to see what she gets up to in the Whitney's Renzo Piano-designed space. Her new commission for the biennial will draw on multifaceted field research she has been undertaking along the Hudson River in advance of the show's opening.
Meriem Bennani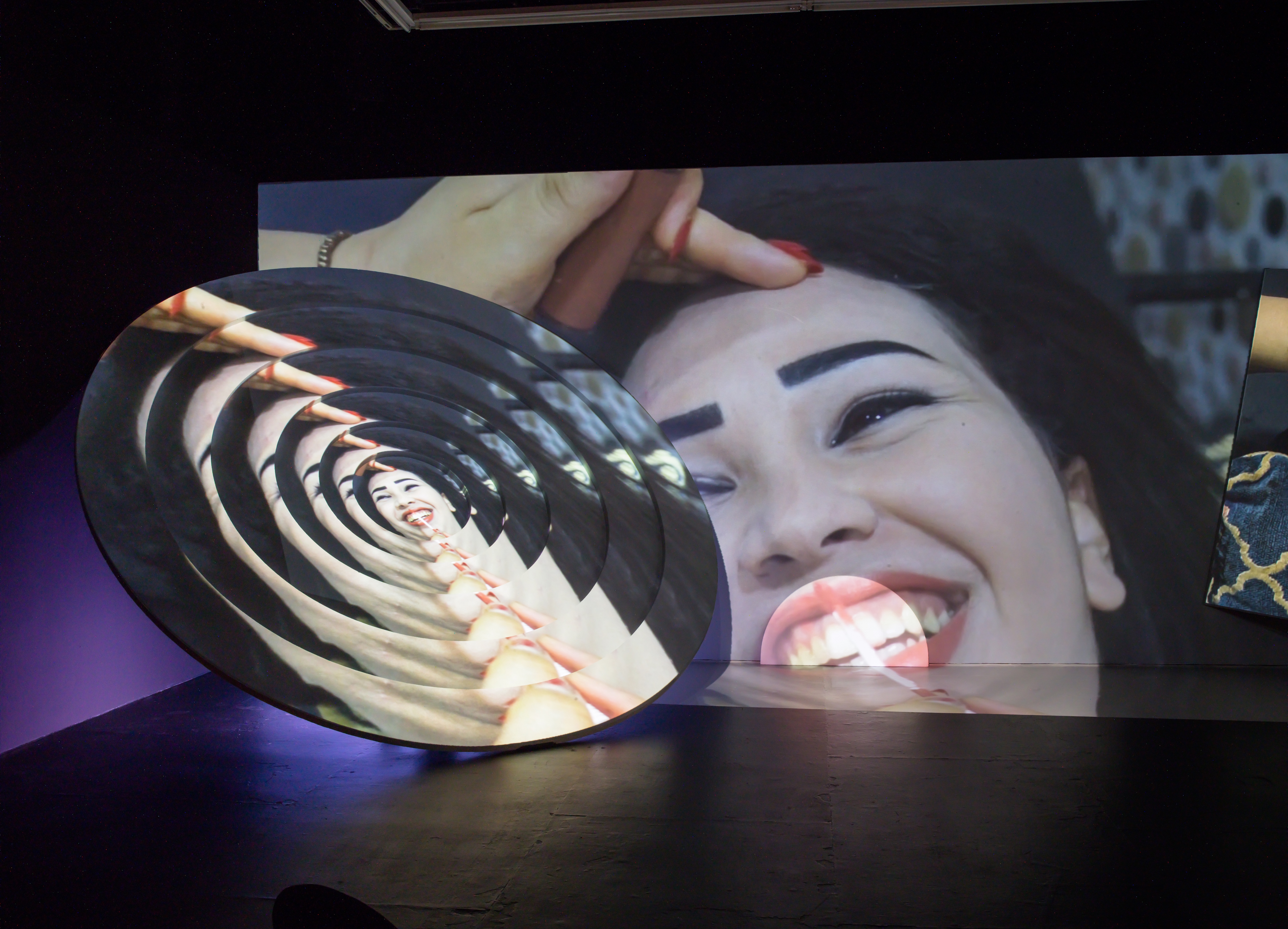 The Morocco-born, New York-based artist mines her own life and culture for material. (You may know her as the creator of the "funjab," a satirical explosion of the hijab's sartorial potential.) Footage of family members and other real people are disrupted by often comical digital effects, playfully confusing the boundaries between fact and fiction. Meriem Bennani's most recent work, Party on the CAPS, takes the form of a sci-fi documentary hosted by an animated crocodile; it explores pressing contemporary themes (like the global refugee crisis) with an absurdist bent. At the Whitney, the artist will take over a space on the museum's fifth-floor terrace, debuting a new film centered around the lives of teenagers at a French school in Morocco's capital, Rabat.
Heji Shin
"We were very interested in the ways that Shin was combining her background in commercial photography with a fine art practice," Panetta says. There are plenty of people who've mingled those worlds before, from Sara Cwynar to Roe Ethridge, but Heji Shin pushes the envelope quite a bit further. She's shot commercial commissions for the likes of Eckhaus Latta and Robyn and shown intimate portraits of Kanye West and childbirth in galleries and museums. A 2017 show at Reena Spaulings in New York read like a riff on Tom of Finland's bad-boy aesthetic, with photographs of young men, dressed as cops, passionately fucking. It remains to be seen if the Whitney will be bold enough to hang something so in-your-face. Either way, Shin probably couldn't care less what biennial audiences think of her work. "I don't feel threatened," she told ArtNews, in the wake of her portraits of West going on view at Kunsthalle Zürich. "Someone can criticize me for anything. I'm totally good."