Cindi Leive and Joseph Altuzarra get their giddy aura glows on. (Photo courtesy of Altuzarra)
I Did An Aura Reading at Altuzarra and All I Got Was This Lousy Sense of Fulfillment
Who knew Madison Avenue could provide inner peace?
Cindi Leive and Joseph Altuzarra get their giddy aura glows on. (Photo courtesy of Altuzarra)
When I close my eyes and picture an aura reading, I'm called back to the Highland Park home of a tarot reader I once visited, awash in turquoise and crystal geodes, with a porch full of parakeets frenetically squawking at me as I entered and exited. What I don't picture is an Upper East Side pop-up store, but that's exactly where designer Joseph Altuzarra held an aura reading event last night in celebration of his Spring/Summer 2019 collection.
As I made my way inside the Madison Avenue shop, I was ushered past a wine bar and up a flight of stairs, where I was invited inside what appeared to be a small black tent equipped with a camera. The aura reader, Christina Lonsdale of Radiant Human, futzed congenially with my hair and blotted my shiny face with a tissue before handing me two energy-reader blocks to hold and instructing me to stare into the camera for ten seconds. I did so, thinking all the while of Going Clear and wondering whether this aura reading would end with me serving brunch on a Scientology cruise.
While I waited for my aura to process or develop or crystallize or whatever, I was properly introduced to Lonsdale, a a cool recent Portland transplant with a tree tattoo on her wrist. She explained that her aura photography project is meant to identify its participants' electromagnetic fields, or "electricity that radiates past our skin surface," pausing graciously while I attempted to get her words down. (I had left my notebook in the Lyft and was reduced to borrowing a pen from the store and scribbling desperate notes in a paperback copy of Rachel Kushner's The Flamethrowers, a sequence of events that says more about me than any aura reading ever could.)
"This is a dual exposure process—the physical body itself, and then an overlay. Can you think of anything else that uses an overlay?" Lonsdale asked. I was stumped. "Snapchat!"
Lonsdale now operates out of an East Village studio, doing readings for a primarily 18-35-year-old clientele, and got to know Joseph Altuzarra and his family after doing a reading for him and staying in touch. "For Spring/Summer 2019, Joseph was inspired by the impact relationships can have on one's aura and energy, and explored the physical manifestations of falling in love in his colorful, sensual collection," read a press packet about Radiant Human's collaboration with Altuzarra, and indeed, the riotously colorful clothes that surrounded us seemed sprung from their wearers' rainbow of auras. Altuzarra has never shied away from bright colors, but as he told Business of Fashion in 2017, "Even though the themes and the colours and the stories might change, the silhouette is consistent, the woman is consistent."
The project, for which Lonsdale has photographed 36,000 people, has its origins in authentic mysticism; Lonsdale was born on a New Mexico commune, Lorien (named after an elf village from Lord of the Rings) that her father started in the 1960s. "When you grow up with hippies, tarot and aura readings are part of life," Lonsdale said.
Finally, finally, my aura photo was ready.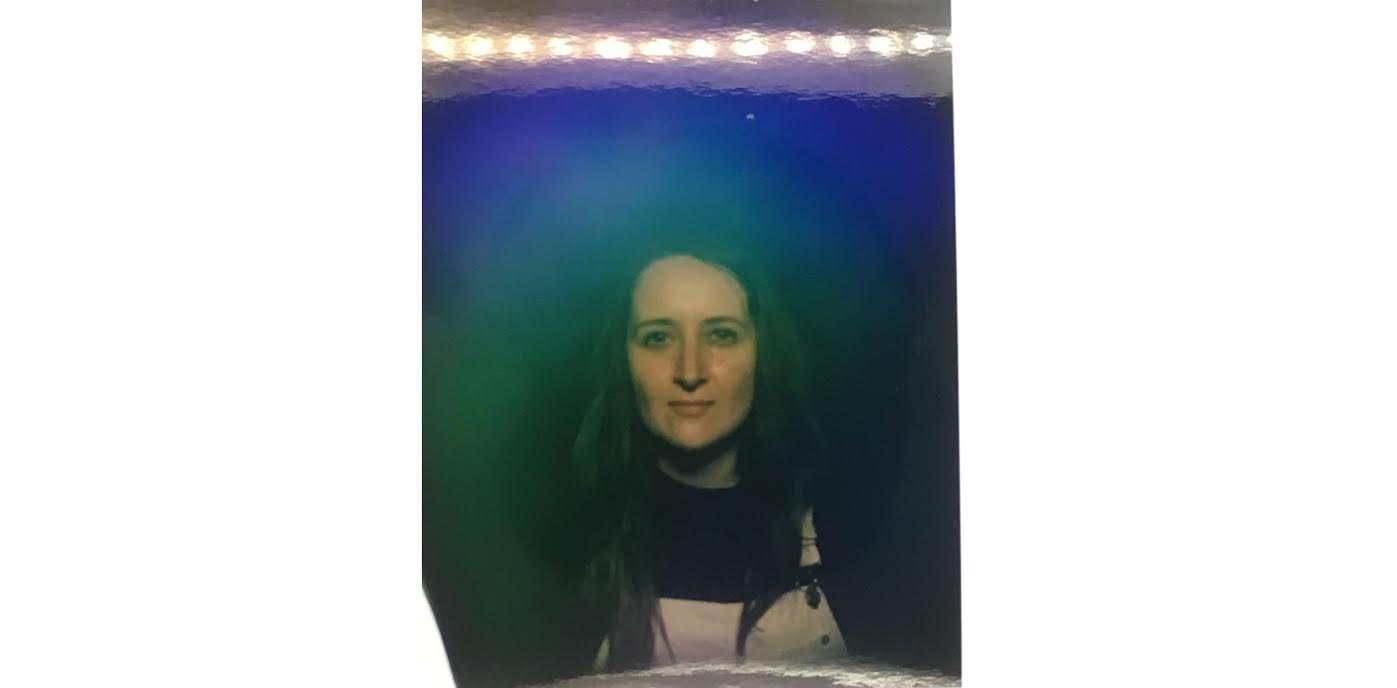 Squinting at the photograph, I saw a film of green over my face that faded upwards into a bright blue—what did this mean? Did the blue indicate depression? Was the green a metaphor for jealousy? I could feel myself sweating even more than I had been pre-blot. I felt like Sweet Dee from It's Always Sunny in Philadelphia, compulsively blurting "Tell me I'm good" to her therapist.
Luckily, I had a professional by my side. Lonsdale rushed to reassure me with a small, color-coded placard that broke the colors down for me. "Green: growth, goal oriented, determined, perfectionist, ambitious, self-assertive, adaptable, long-term awareness." (None of this felt particularly accurate, but I'd take it on faith.) "Blue: depth of feeling, trust, devotion, loyalty, nurturing personal relationships, supportive, intuitive, sensitive." Now we were getting into real, tried-and-true Cancer territory! Weepy grrls only!
Other color options included red ("strength, will power, leadership"), tan ("cautious, logical, strategic") and purple ("nonjudgmental, playful, loves to be inspired and delight others.") As with astrology, crystal healing and tarot, all of which I became intimately familiar with during my three-year stint in L.A., aura reading seemed to be readily open for interpretation. Maybe, on a different day, I would have been Creamsicle-orange and white, rather than blue and green; still, like the woman Altuzarra designs for, my essential self would have remained consistent.
Clutching my aura photograph tightly, I stepped back out onto the immaculately groomed stretch of Madison Avenue, preparing for a long ride back to Brooklyn—but, somehow, a little less daunted by the commute than I previously had been. Maybe it was the green in me—"goal oriented, determined, adaptable"—guiding my journey.