A model in traditional Russian fabric and babushka scarf, photo courtesy of Roma Uvarov
In Revisiting Russia's Past, Roma Uvarov Designs Fashion For Its Future
'Russia's weirdest designer' sets his sights on the country's Soviet history.
A model in traditional Russian fabric and babushka scarf, photo courtesy of Roma Uvarov
I don't think about my Russian childhood very often, but when I do, it's mostly in terms of everyday objects. Here is the floral-print wallpaper decorating my first bedroom; here are the tiny boiled hot dogs I ate with plain pasta every day for lunch at dyetsky sad, or kindergarten; here's the rickety bucket in which I used to bathe in the yard of my parents' friends' dacha. (Rural Russia in 1994; you can't make this stuff up!)
This Russia, the staticky, colorful one made up of bland tastes, dizzying prints and scratchy materials, lives on in my imagination, but I've never been able to find a trace of it in the Russia I've visited many times as an adult. Capitalism has done its thing here (in the cities with airports, at least); Moscow, where I lived until I was five, is all slick surfaces and shiny Starbucks, and even St. Petersburg, the nation's historical capital, boasts upwards of 58 McDonald's outlets—or, in the local spelling, Макдоналдс.
Russian Fashion Week is no exception to the country's the-newer-the-better role; many of the shows I watched over the past week were ruthlessly forward-inclined, from Red September's zip ties and box-shaped jackets to B&D's slick gorpcore smocks and orange plastic safety goggles. Not a trace of old-school Russia was to be found on the various runways, until Roma Uvarov's models took the stage for the penultimate show on Friday night.
Uvarov, whom GARAGE termed "Russia's weirdest designer" as recently as last season, did perhaps the weirdest thing of all (by new-Russian standards, at least) in invoking Soviet Russia in his latest collection. The runway itself was enough to jog my memory; here were the gaudy floral walls of my childhood, juxtaposed against apple-print fabric and taking on an almost kitschy connotation in their new context.
I thought the Soviet kitsch would start and end there, but the first models to stalk down that richly floral runway were dressed in shirts emblazoned with what appeared to be historical black-and-white images of Russians sitting stoically around carefully arranged tables.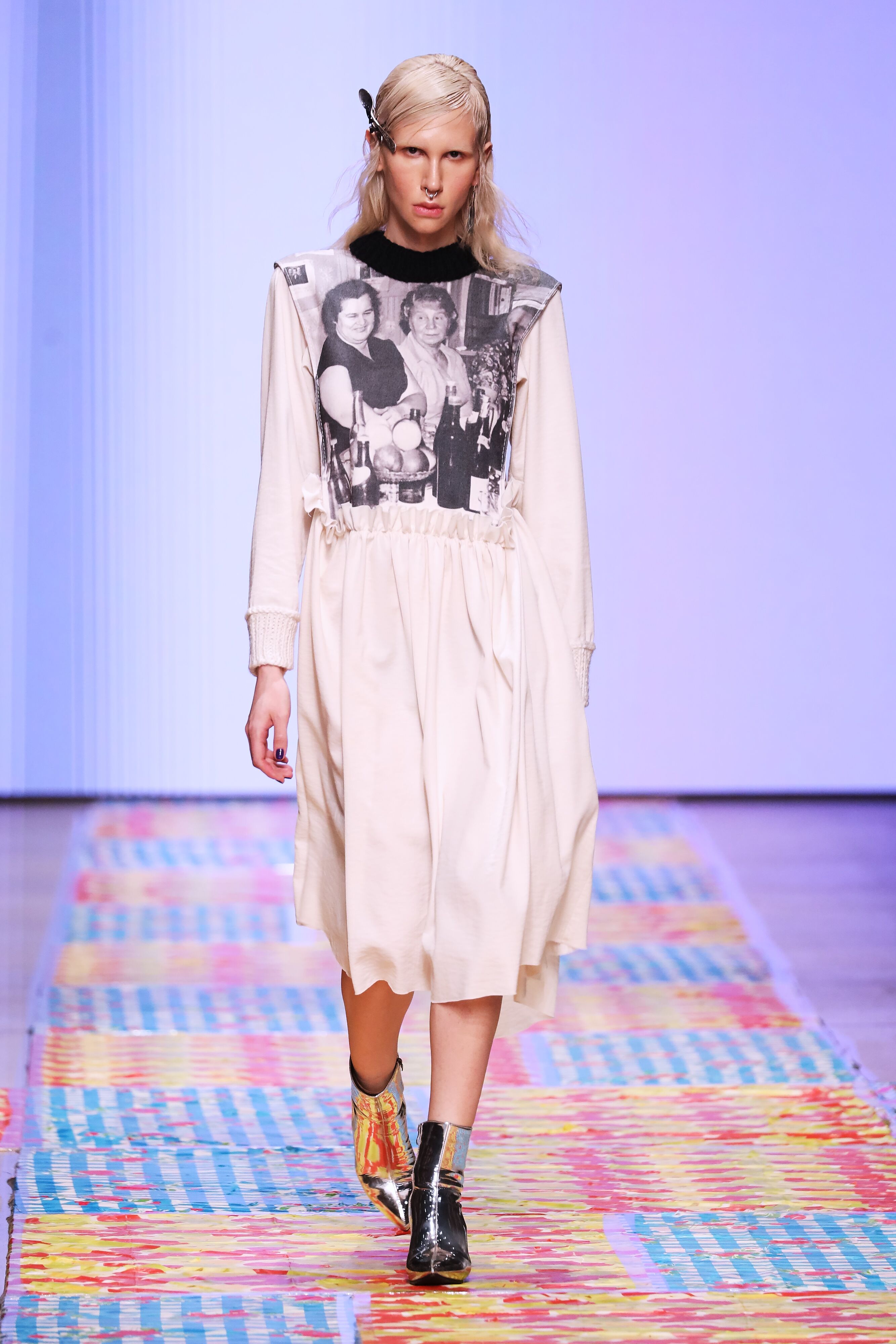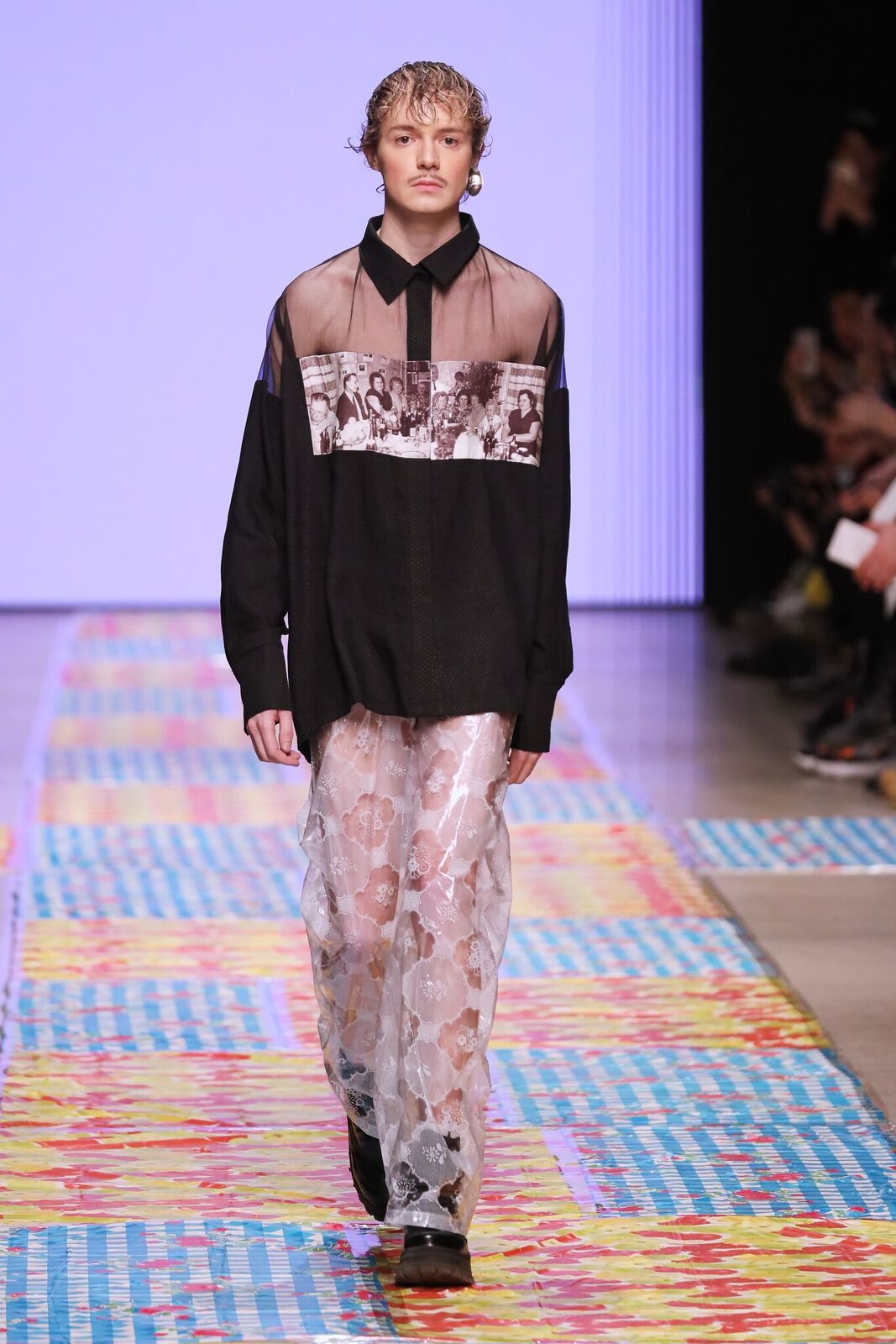 I had read about the formality of such table-side scenes in Russian culinary writer Anya Von Bremzen's tremendous Mastering the Art of Soviet Cooking: A Memoir of Food and Longing, in which she describes her emigre mother working day and night to create an "extravagant czarist-era dinner"—complete with burbot liver, fish pie and horseradish and lemon vodka—at her small Queens apartment, but I'd never seen one in person. I assumed the Russians gathered around the tables in Uvarov's designs must be rich or famous in some way—I knew they weren't Lenin or Stalin, but my sight recognition of important Russian figures was poor enough that they could pretty much be anyone else. Uvarov corrected my assumptions backstage, explaining that the 50-year-old images, gathered in St. Petersburg, depicted "random, real people."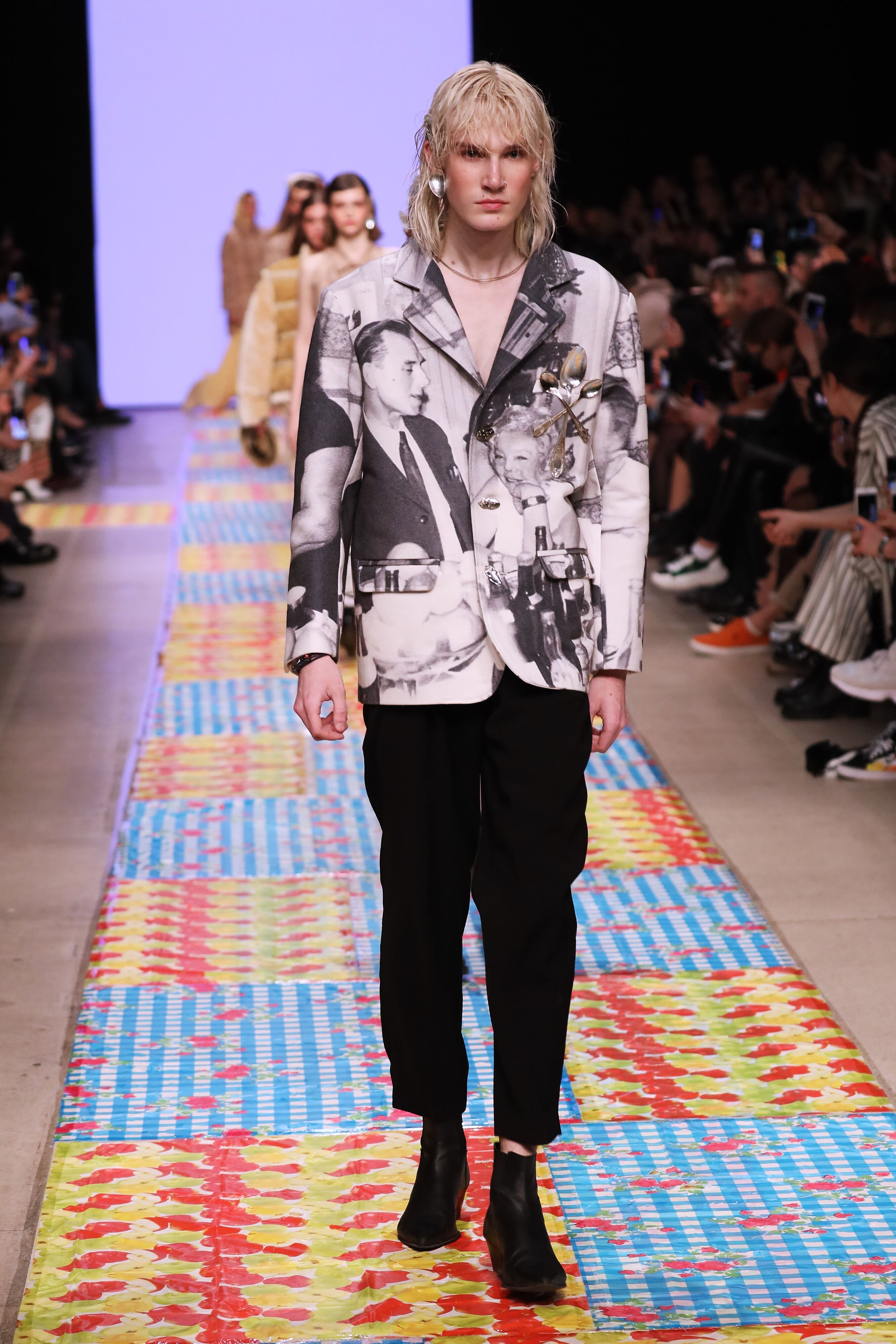 The Russian words I'd been taught when I first learned to talk as a child—plate, spoon—swarmed back into my head unbidden as the next models strutted down the runway wearing a tea service's worth of tableware. Other models wore babushka scarves, while still others wore aprons to evoke those worn by workers in Soviet stalovayas, or canteens.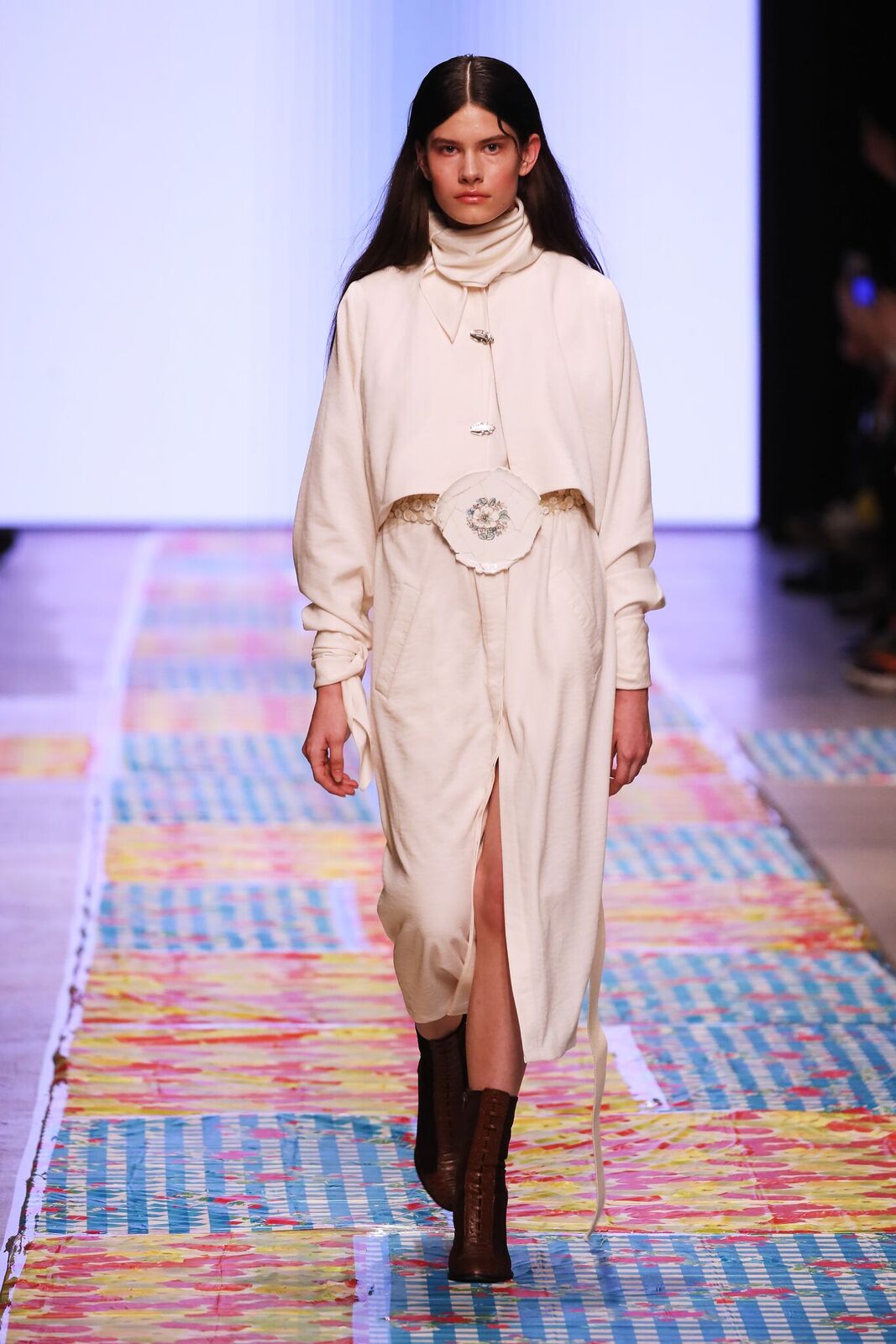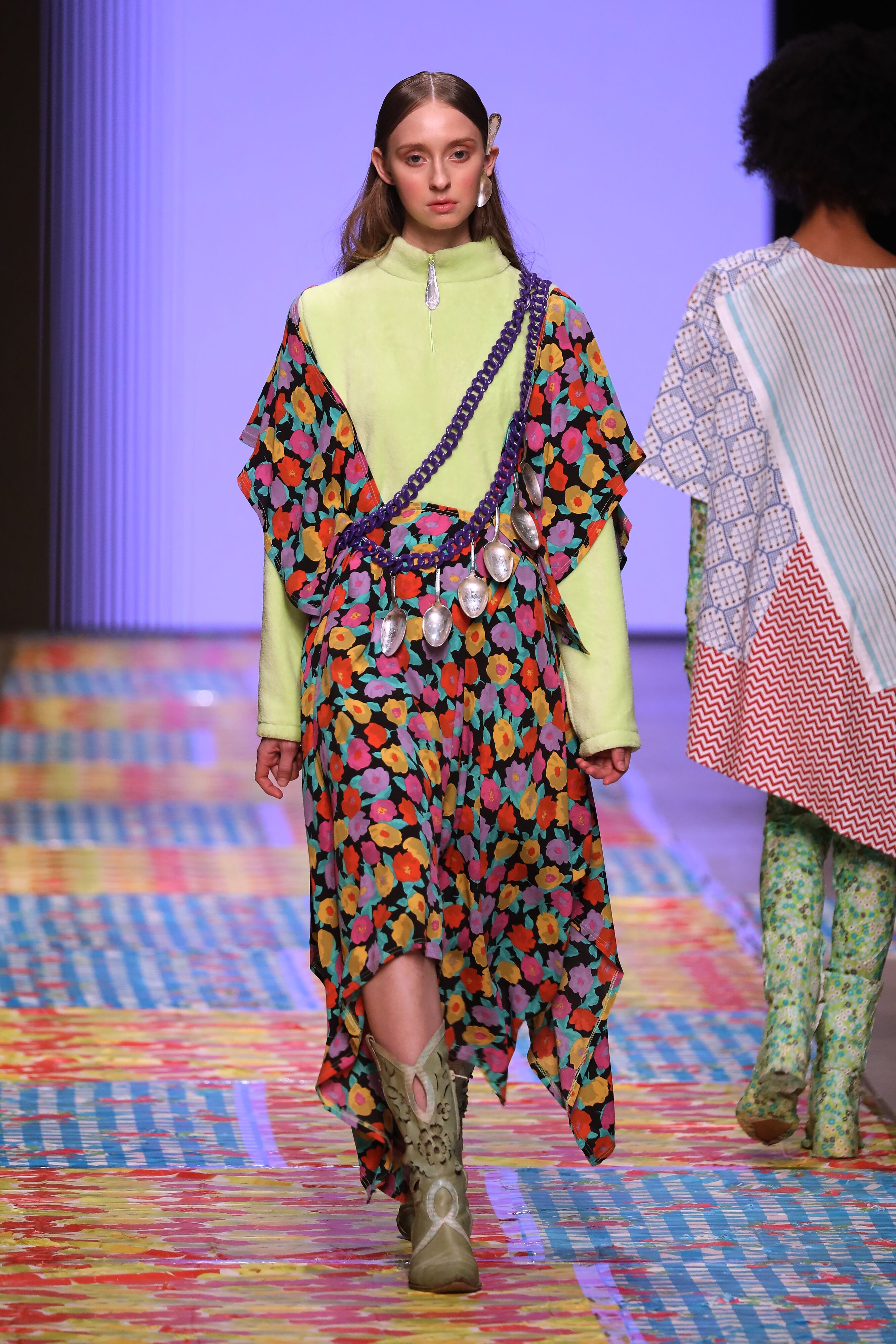 The inspiration for the kitchen-wear that cropped up in a myriad of forms, from earrings to cross-body belts to pasta necklaces (and an entire jacket stuffed with dried pasta), came from the Soviet kitchens that often functioned as the central gathering place of the home, Uvanov told me; the textiles he used, from plush printed pillows to Caucasian carpet-print skirts and jackets to, in one memorable case, an actual sleeping bag, were also drawn from old-school Russian consumer goods.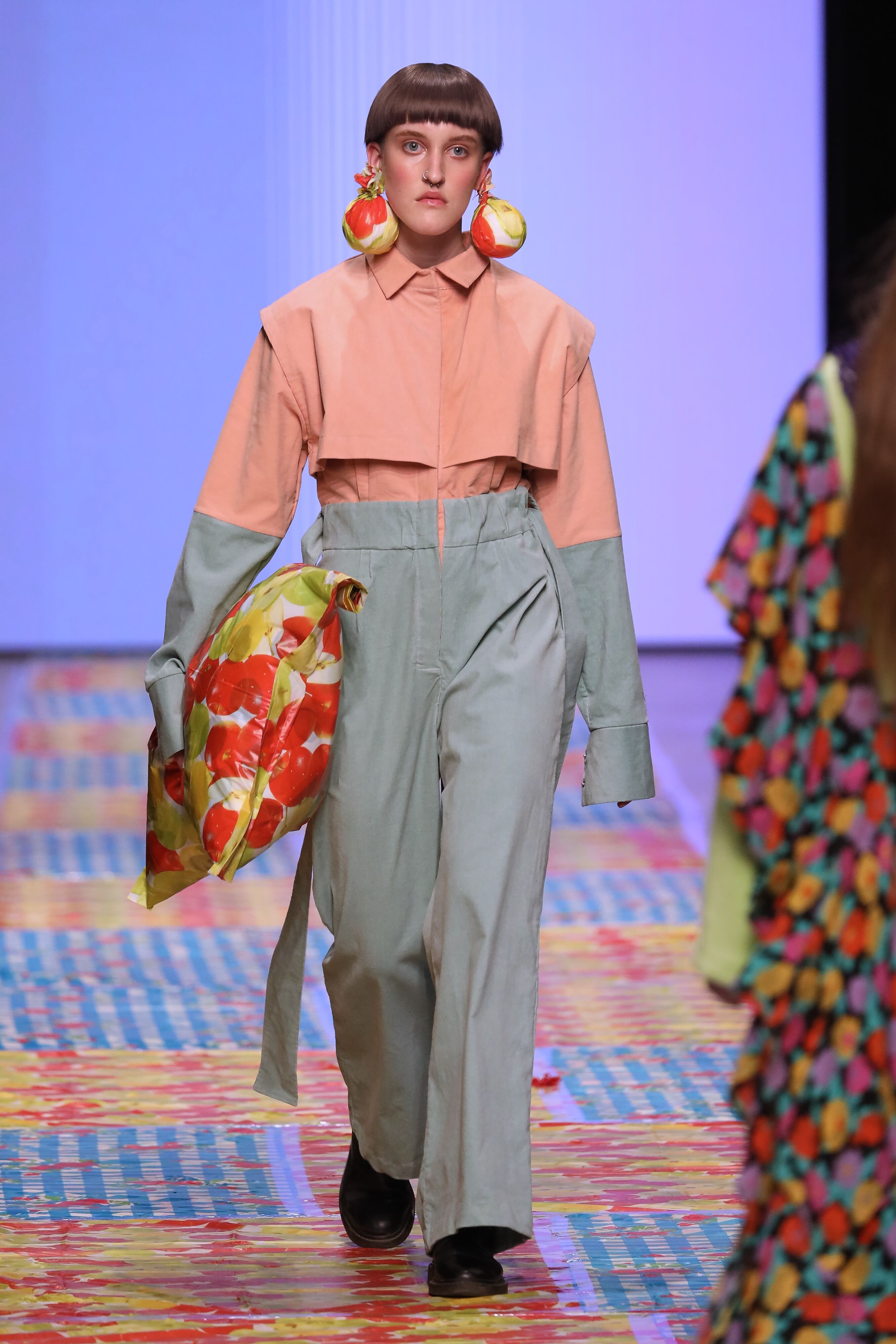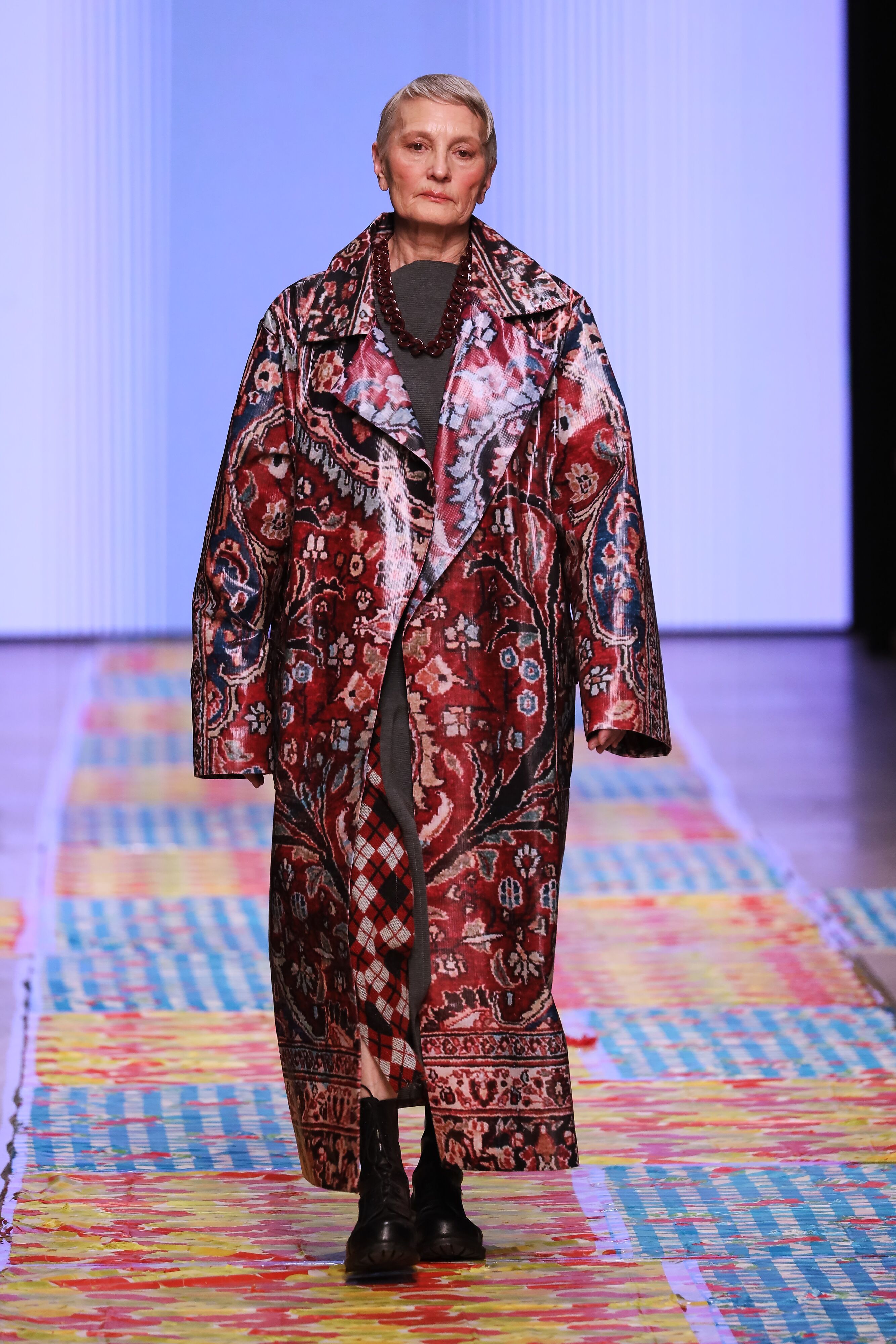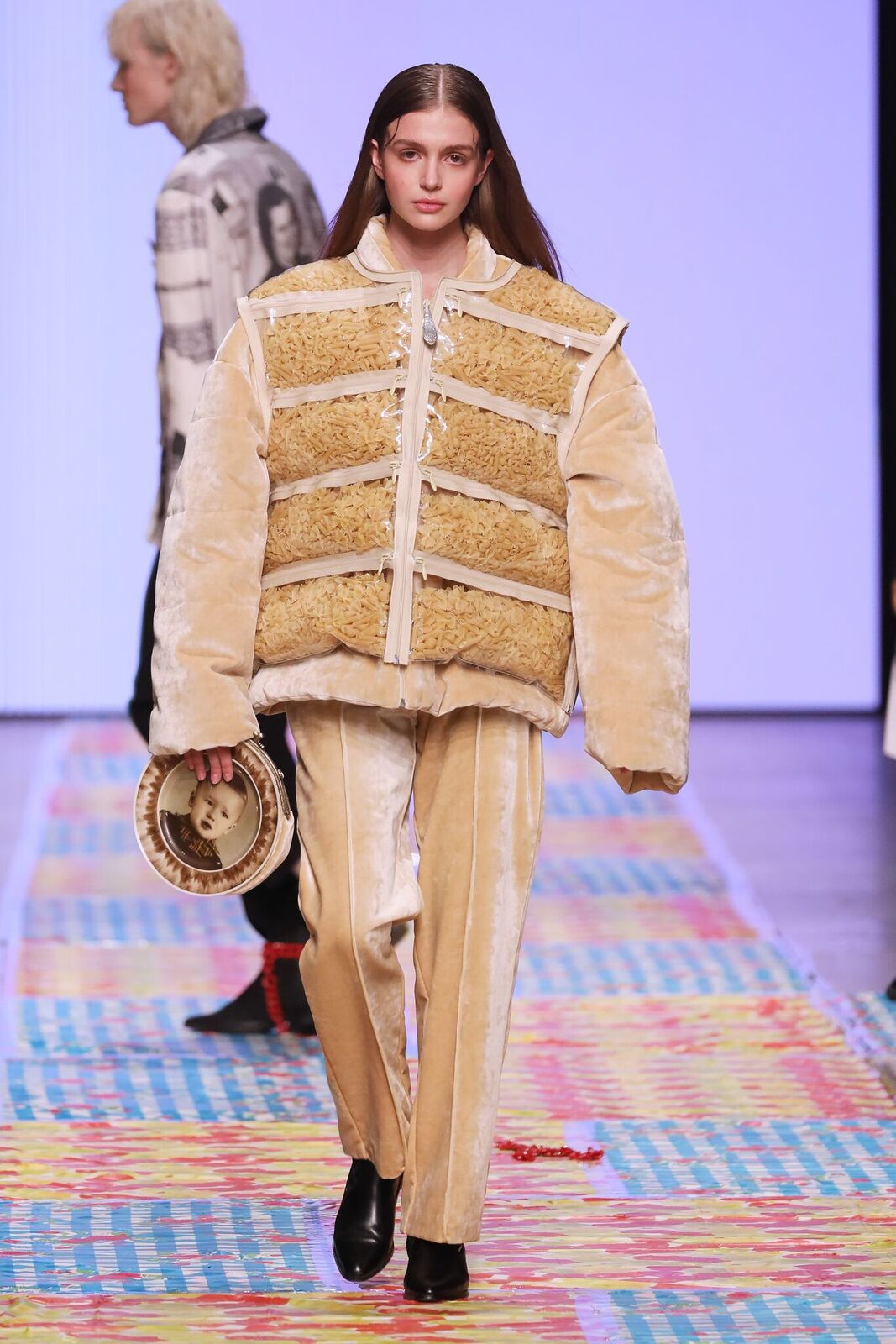 Uvarov's designs may have drawn inspiration from Russia's past, but they also hinted at the future of its fashion industry—many of the clothes are designed without a specific gender in mind, says Uvarov, which presents a stark contrast to much of Russia's rigid, traditional attitude toward gender roles. Like Celine and Gucci, and unlike the majority of Russian designers who still favor youth above all else in their casting, Uvarov casts older models in his shows with the help of Oldushka, an agency that only represents models aged 45+ (their oldest model is 85).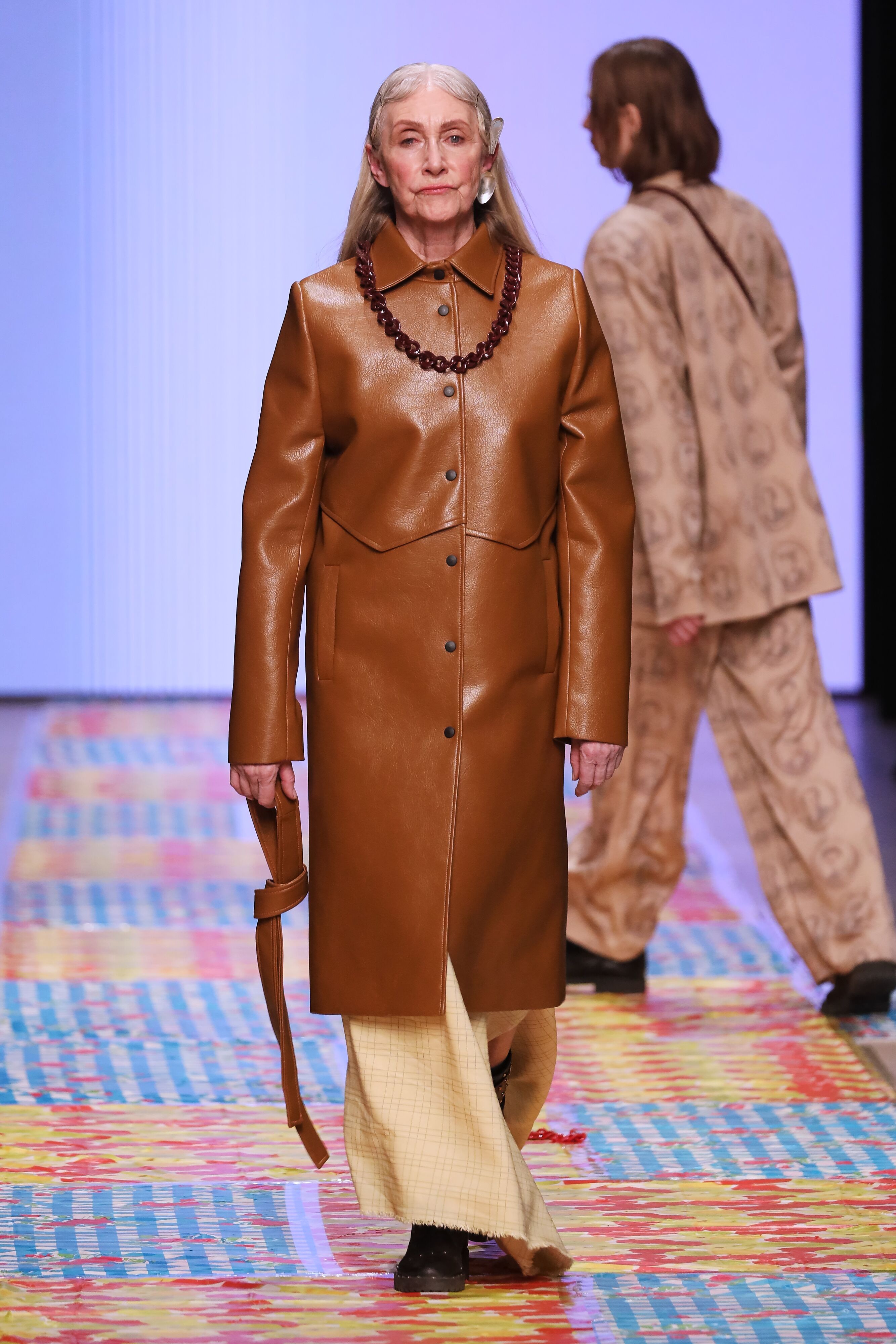 Part of me half-expected some resistance to Uvarov's decidedly historical approach to fashion among the show's largely Russian audience; after all, the USSR is not even a 30-year-old memory in Moscow, and not always a pleasant one at that. Nonetheless, the audience was enraptured, snapping endless pictures of the retro goods on Chinese-assembled iPhones protected by Japanese-designed plastic cases (let nobody say that today's Russian is not a citizen of the world economy.)
Maybe I was silly to think Russians wouldn't respond favorably to Uvanov's throwback designs; after all, Soviet nostalgia is a real thing, with about 56% of Russians saying they regret the collapse of the socialist state. For an American kid raised in Yeltsin-era Russia, consuming leftover Soviet customs and norms while dreaming of the U.S. I watched in Hollywood movies, taking in Uvarov's beautiful, occasionally bizarre show felt like coming home.