Photo by Angelina Marie Vitto
Upbeat And Out of Sorts With Waggy Tee
Comme des Garçons and Eckhaus Latta's favorite DIY brand has its roots in Nevada and Arizona thrift stores.
Photo by Angelina Marie Vitto
"I thought people might think, Oh, great. She wrote some poem on the crappy t-shirt." Nora Slade says, of her initial foray into clothing design. "But they just loved it." Having seen a vintage shirt Slade modified for herself, a New York-based artist asked her to make some more for a holiday sale in 2013. Slade said no a few times, but the sale's curator was relentless. Finally, she agreed. There were elaborate plans involving silk screening, but the deadline loomed and the silk screening went undone. "Eventually there wasn't time and so I biked into Manhattan to get fabric paints, markers, and crayons," Slade says. The name for Waggy Tee came from a similarly titled DJ who kept repeating his moniker in a mixtape Slade listened to while frantically working to get the shirts done.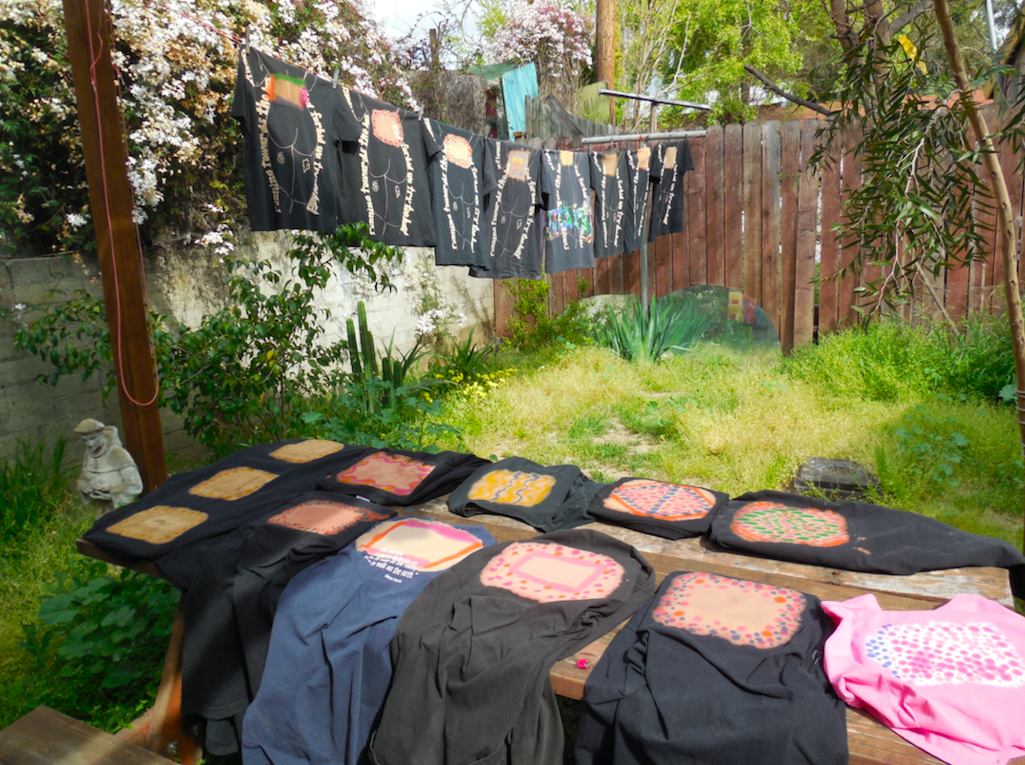 Though they no longer cost $20, today's Waggy Tees retain the DIY ethos and delightful wonkiness of that first batch. A California native who graduated from Pratt in 2009, Slade moved to Los Angeles in 2014; the Waggy Tee operation takes place in the garage and on the picnic table behind her house. Waggys, as she calls them, retail or have retailed at the Comme des Garçons Trading Museum in Paris and Tokyo, the Eckhaus Latta store in Los Angeles, Stand Up Comedy in Portland, pop-ups in art spaces, and Slade's online shop, which also features a $2,500 Person Lamp made "with a living person...whose sole purpose is to bring light into your life." (She has not yet sold any of those.)
Thrifted shirts make up the line's foundation; found objects often play a role in Slade's art practice, which intersects and sometimes overlaps with her clothing-making. Because Los Angeles' thrift stores are so over-picked, Slade drives to places like Nevada and Arizona for their Goodwill Outlets, where clothing is sold by the pound. She was recently introduced to the world of used clothes distribution warehouses in LA, so she buys local too. Though she's selected hundreds, Slade still struggles to explain what makes for a good Waggy shirt. "I think it changes every single time I do it," she says. When I mention Supreme Court Justice Stewart's 1964 "I know it when I see it" verdict on obscenity and its possible application here, she adds, "I think about that expression all the time."
Once found, the shirts are washed, dried in her backyard, then hung up in her studio for observation. All garments are one of kind. Slade handles almost all of the dying, printing, painting, bleaching, sewing, and detailing herself. Sometimes she cuts them in halves or quarters and mixes different shirts together. She tries to push beyond the typical graphic and text orientation of t-shirts. Her hand-lettered font might begin right below the neck collar and carry on to the hem. A silver material often used for tiny stars or similarly small detailing appears in much higher quantities on Waggys, totally changing the effect. There are snatches of text and strange doodles.
She has a lot of fun subverting the rules of t-shirt design, but the results are strange enough Slade herself is sometimes shocked. "Oftentimes, I'll see someone wearing a Waggy and be like, Wow, that looks insane," she says. Recently, she's begun modifying jeans, too.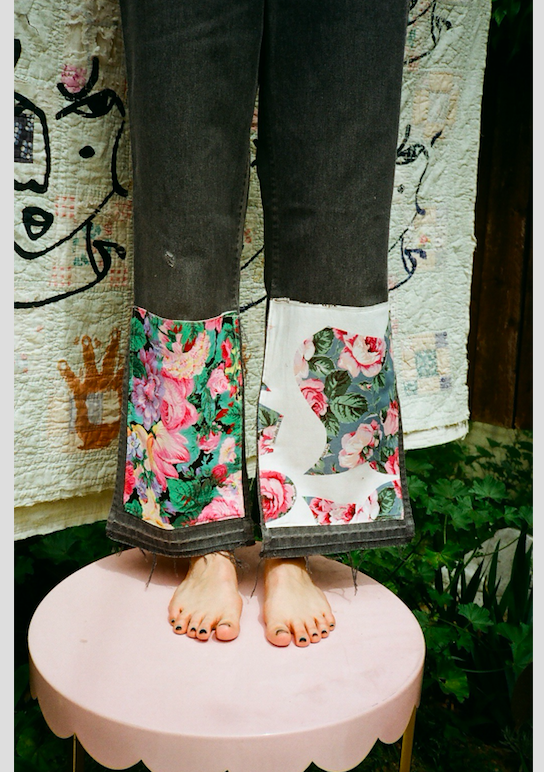 When she started Waggy Tee in 2013, Slade called the line "a platform for dissemination of utilitarian positivism + magic." But she didn't realize positivism is a philosophical theory; "People have pointed that out to me and I'm like, Oh, whatever," she says. Positivity is probably closer to what she was looking for.
As for magic, it comes in all different forms, both on and off the shirts. For example, she met someone at a Thanksgiving potluck who insisted his girlfriend would love the shirts. A year later, he reached out to say he'd finally shown her Waggy and she'd shown Waggy to other people at Comme des Garçons, her employer. The shirts made it to Adrian Joffe, Comme des Garçons' CEO, and then their Trading Museum in Paris and Tokyo. Slade is currently working on a second collection for the Trading Museum.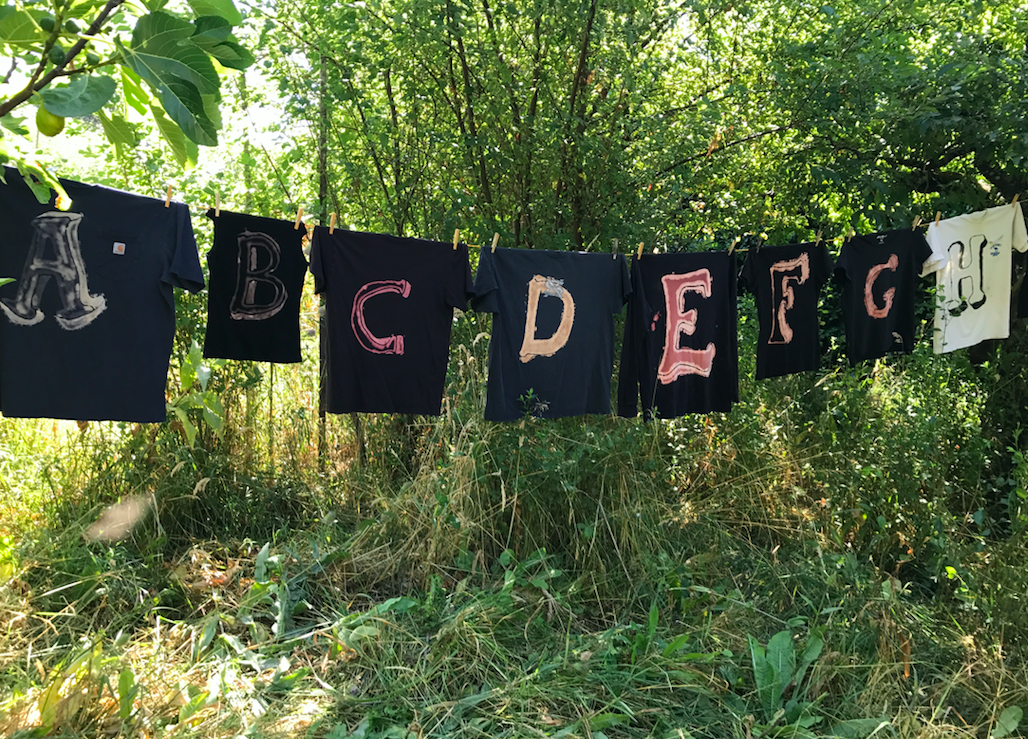 Last year, Slade had a 3XL Mickey Mouse shirt she wanted to cover in her signature bubble letter-y font. The discontinuity between Mickey and a trio of questions she settled on proved delightful. The questions—How do you spend money? What do you do with your time? How do you talk to the people you love—have since re-appeared a number of other shirts. For Slade, Waggys prod self-reflection and promote conversations. I ask how people respond to her when she's wearing one of the question shirts. "Well I actually haven't worn one of those shirts until like two weeks ago," she says. But she put on one and left the house. Weirdly enough, walking around that day, no one seemed to notice.