Fashion Horoscopes: The Signs as All-Time Greatest Met Gala Looks
Rihanna appears twice, because of course she does.
Aries: 1974 Cher in Bob Mackie (Romantic and Glamorous Hollywood Design)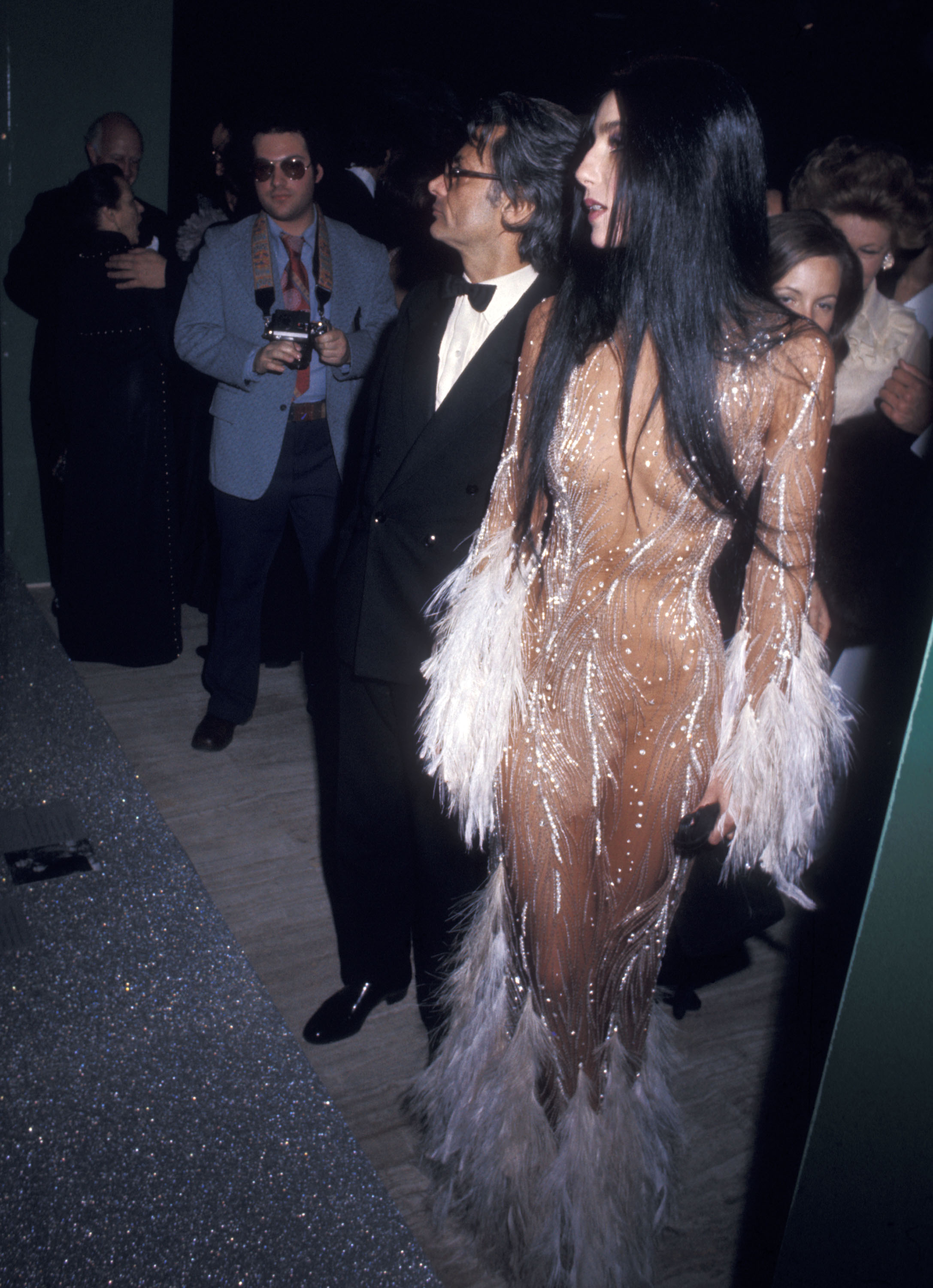 The OG nude dress! This classic Cher look was imagined by lifelong friend and fashion designer Bob Mackie (*cough* Aries *cough*), who she attended the event with. The concept of the naked dress is already daring, flashy, and innovative, but to add feathers? That's Aries level drama.
Taurus: 2018 Blake Lively in Atelier Versace (Heavenly Bodies: Fashion and the Catholic Imagination)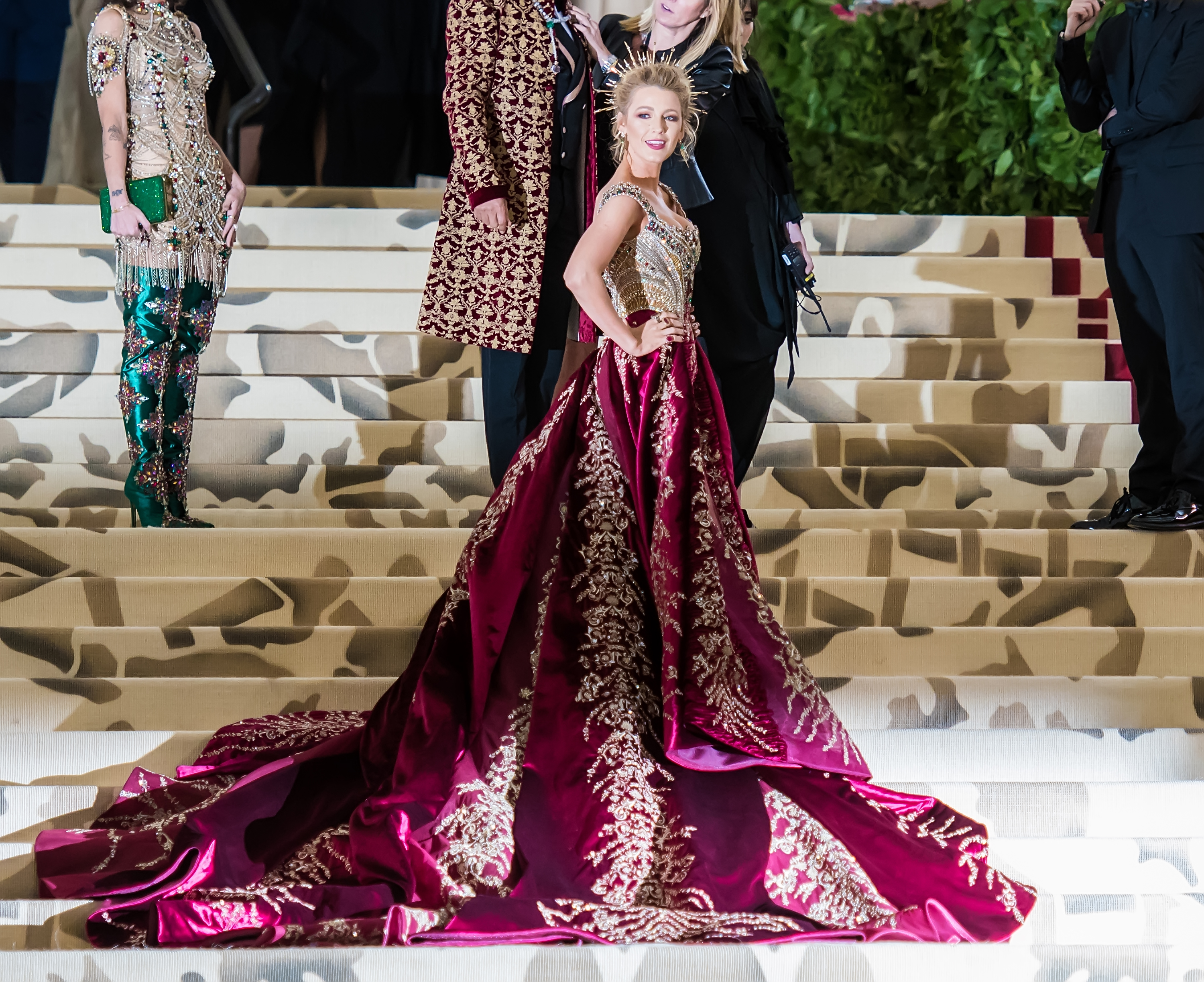 Ornate jeweling! An embellished bodice! This Blake Lively look is stunning. Her custom Versace topped best-dressed lists last year. It's luxurious, elegant, and sophisticated. Though never tacky, Taurus lives for this kind of beauty and indulgence. More jewels! A longer train! Rich coloring!
Gemini: 2013 Sofia Coppola and Marc Jacobs (PUNK: Chaos to Couture)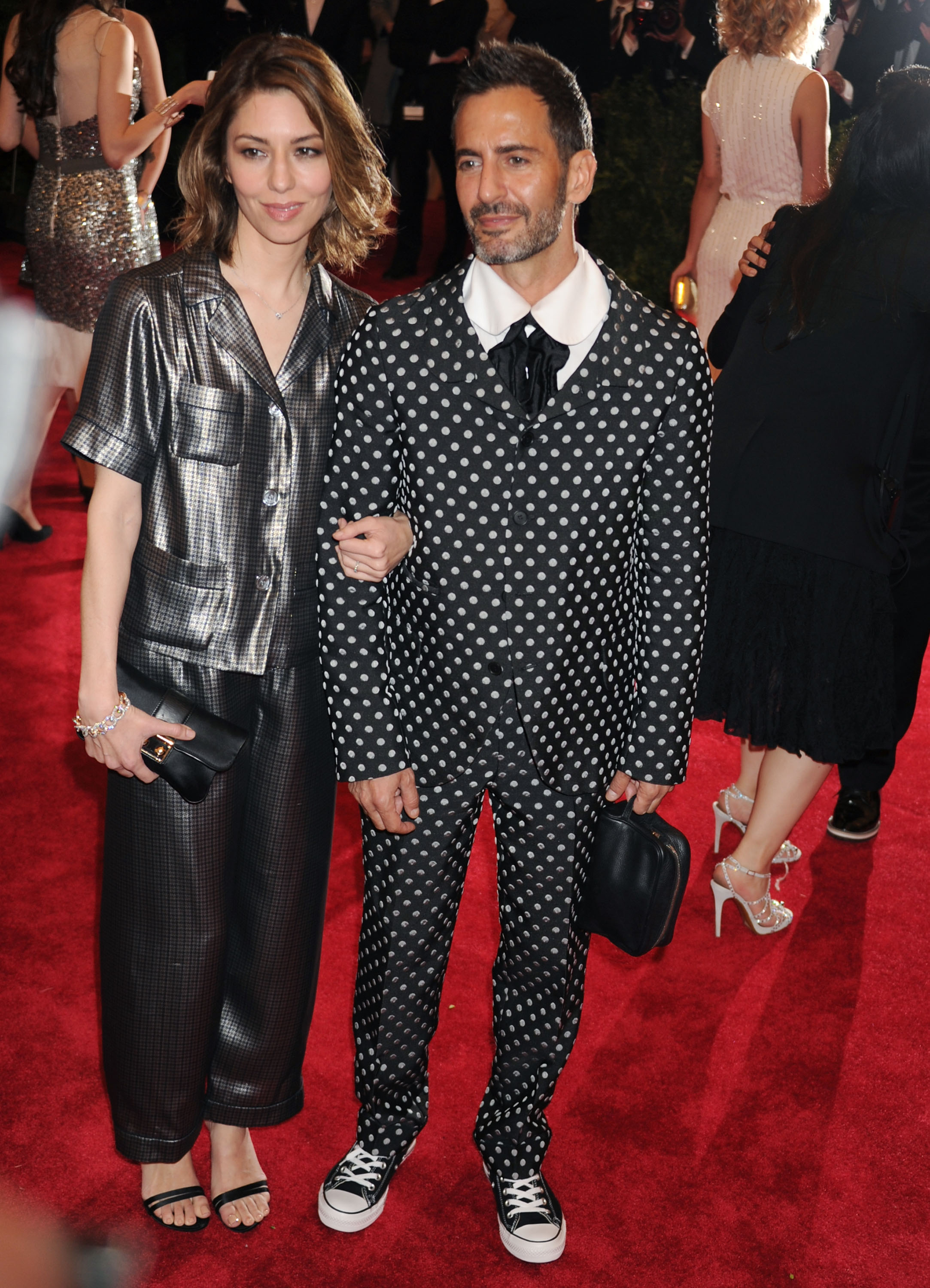 As the sign of the twins, Gemini loves the buddy system. Social and friendly, they prefer to show up to an event with a pal. Here we have Sofia Coppola and Marc Jacobs going punk couture donned in sleek silvery pajamas and a polka dot suit. So wacky! So fun! So fresh! Classic Gemini sense of humor! Fashion coverage was mixed in their reviews of the paired look, with some saying that pajamas are too low effort for the Oscars of Fashion, and some admiring them for adhering to the anti-establishment theme of "punk" by actually kind of being lil punks. However YOU personally feel about it, you can admit that Geminis always elicit split reactions.
Cancer: 2016 Nicole Kidman (Manus x Machina: Fashion In An Age Of Technology)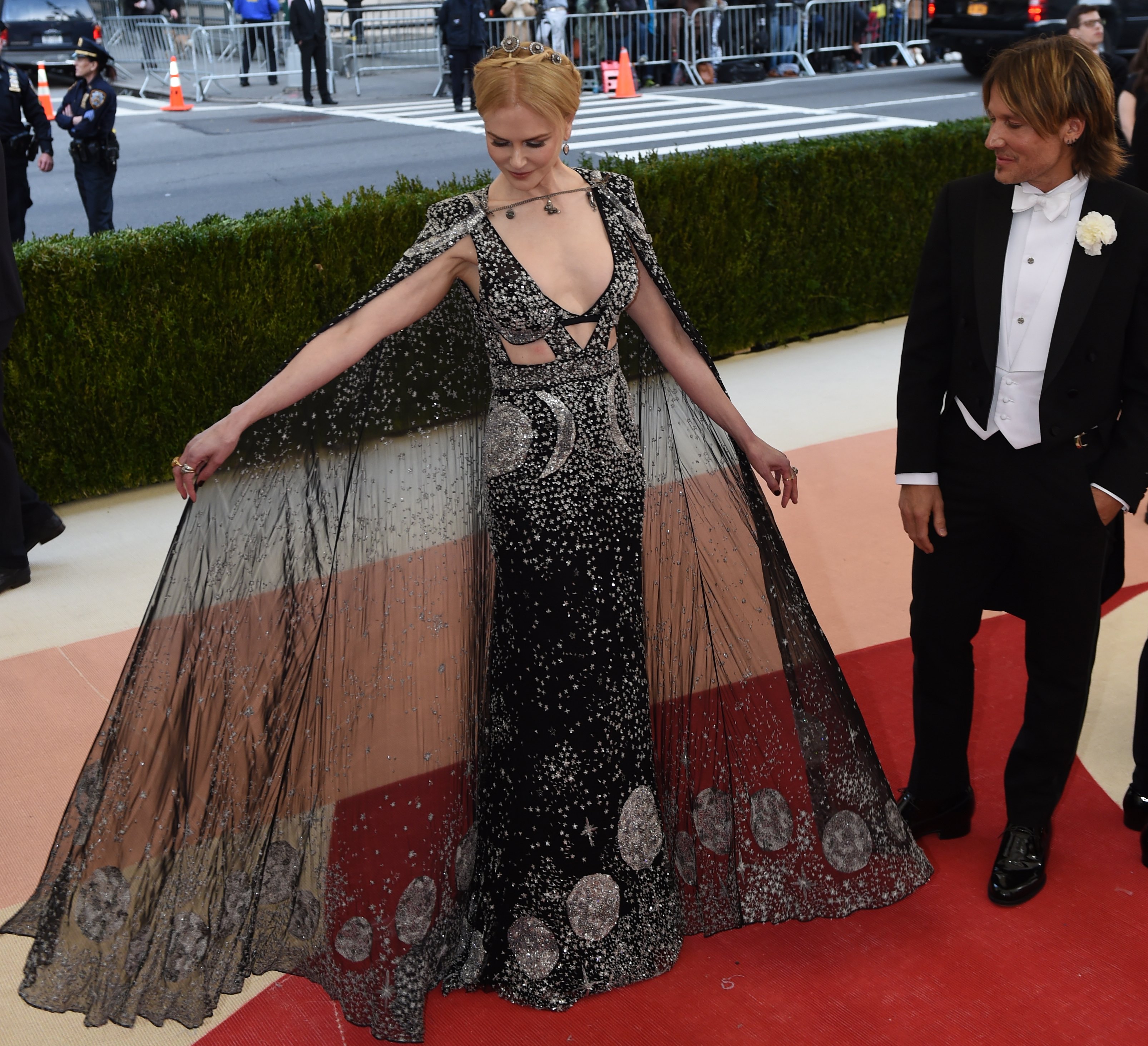 Nicole Kidman looks like the shining goth magical moon mother that every Cancer strives to be in this ethereal Alexander McQueen look. This cosmic dress/cape combo whispers "I had a dream about you last night" and gives the impression that Nicole Kidman uses the "Come little children" song from Hocus Pocus as a lullaby for her kids. Cancer is ruled by the moon, and has a strong connection to all that is surreal and unspoken - the emotional world. They'd rock this witchy look.
Leo: 2015 Rihanna in Guo Pei (China: Through the Looking Glass)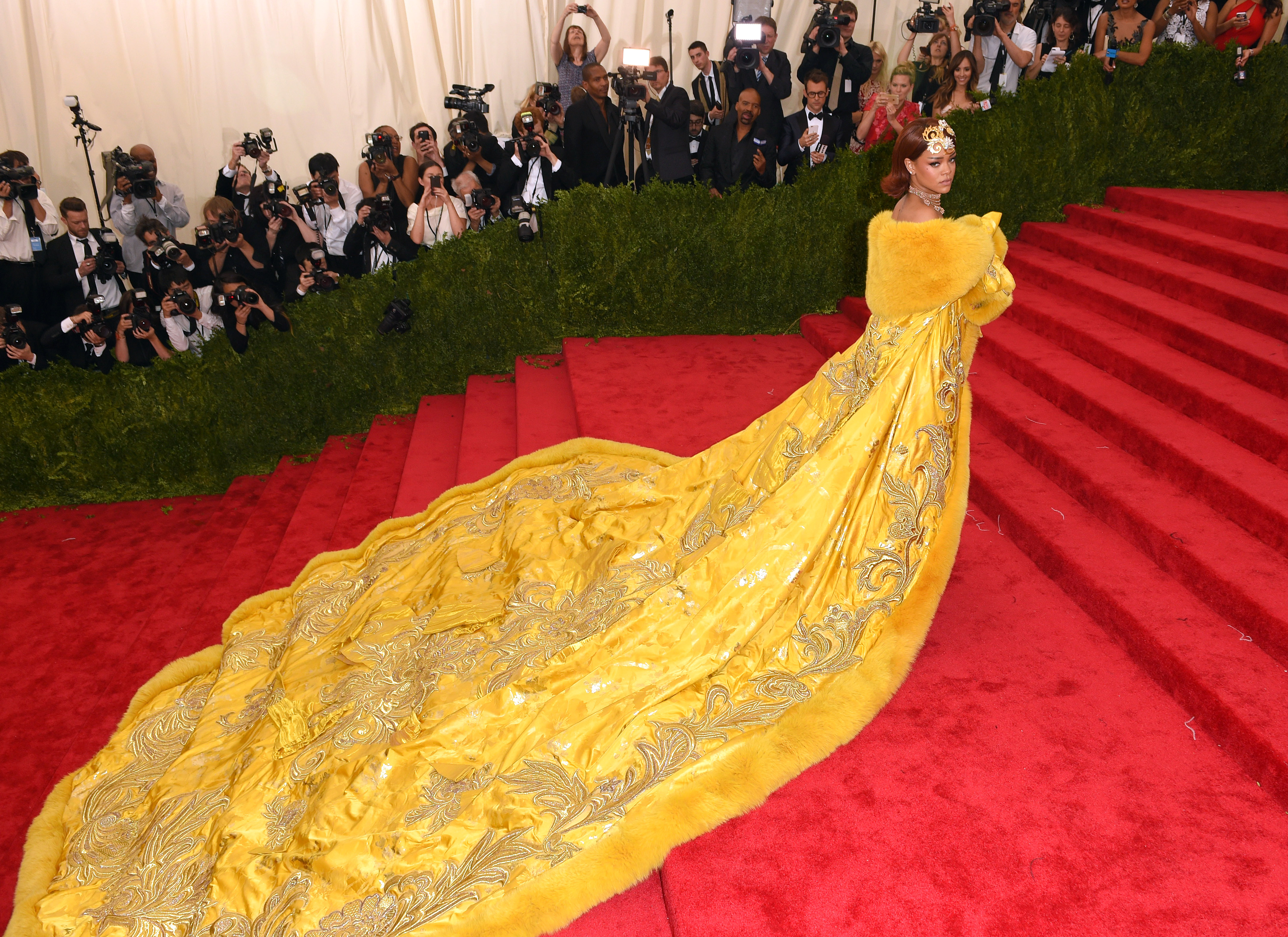 Alright, cut the crap, idiots. This is THE Met Gala dress. It's the only one! Rihanna fucking slaughtered the 2015 Met Gala in this yellow Guo Pei design that took two full years to make! This showstopper HAS to be Leo (sorry Pisces). Leo loves a head-turning moment, and makes a habit of showing up overdressed. But you can't be overdressed at the Met Gala. The sky's the limit. So you may as well wear a fur-lined canary yellow embroidered cape.
Virgo: 2018 Chadwick Boseman (Heavenly Bodies: Fashion and the Catholic Imagination)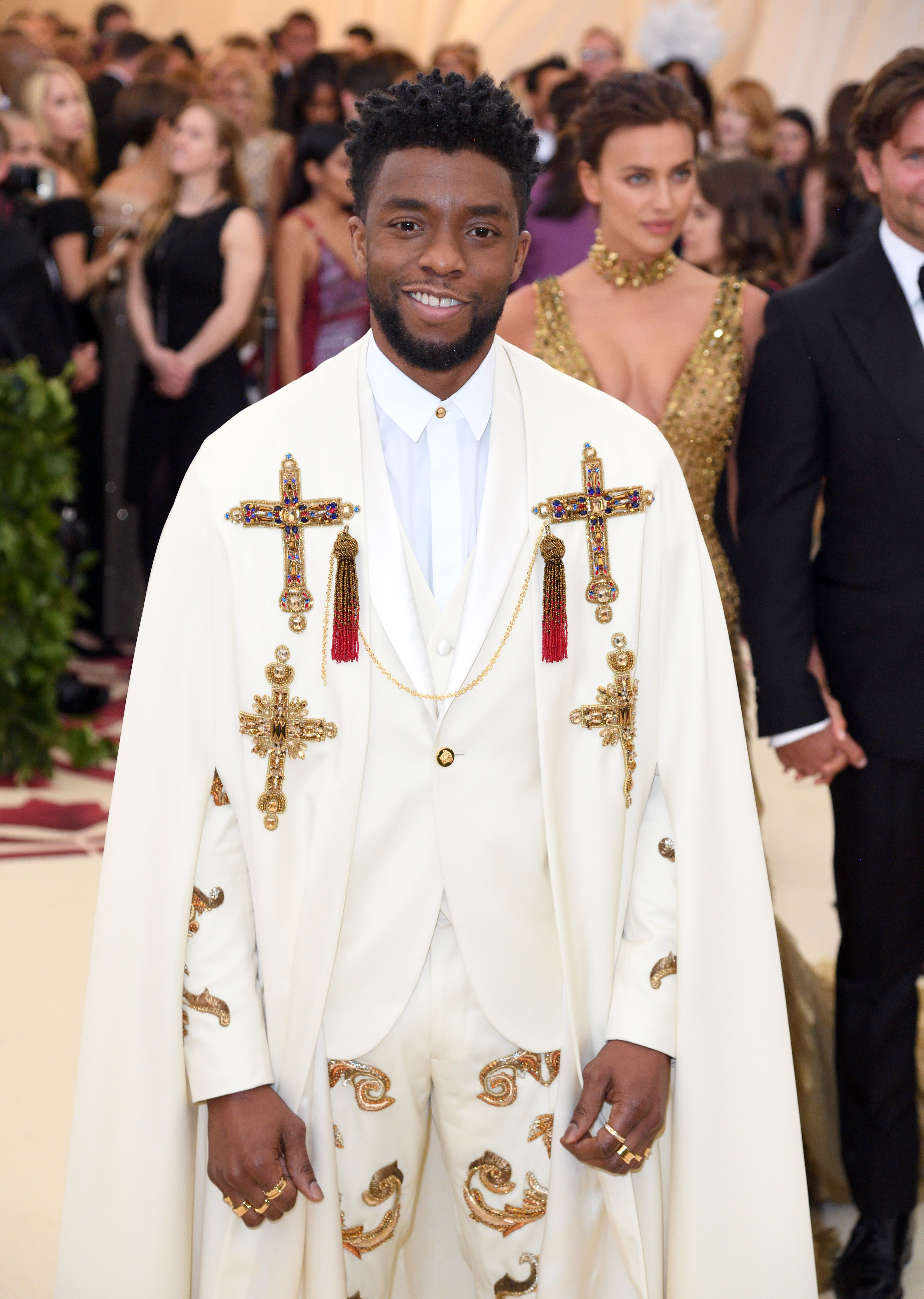 Virgos stick to the theme. They meet the requirements. They know how much planning goes into an event, and they respect the effort! As the sign of the virgin, they have a fixation with purity and being wholesome. Chadwick Boseman truly tackled the 2018 theme with this pristine, all-white Versace look. Too many men slap on a tuxedo and let their dates' outfits shine, but Boseman embraced the event in full, and for that, I applaud him.
Libra: 2017 Zendaya (Rei Kawakubo/Comme des Garcons: Art Of The In-Between)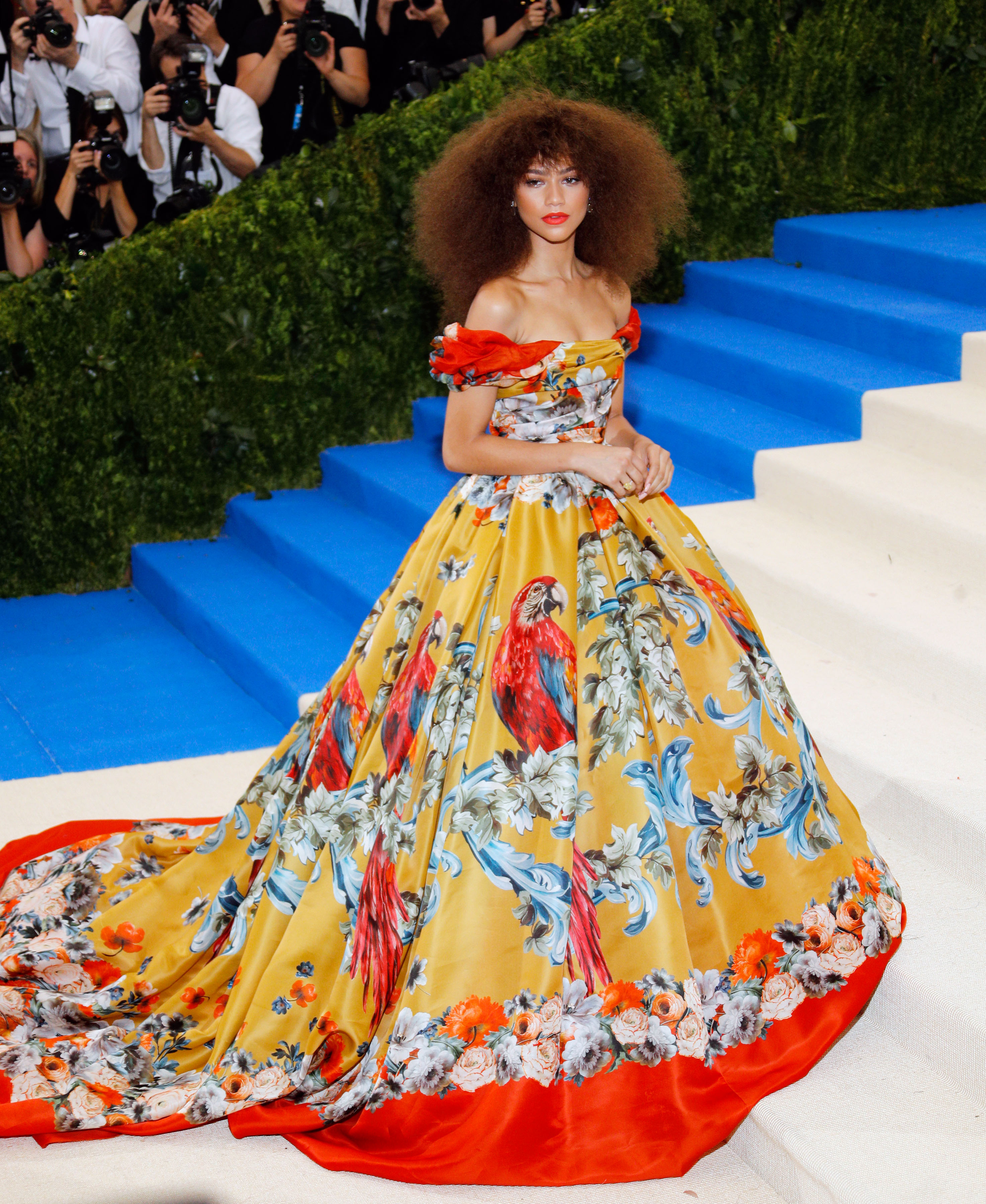 Zendaya channeled Libra romance with this Dolce and Gabbana gown! Adorned with brightly colored parrots, gorgeous flowers, and an array of colors, her dress was a showstopper. What makes this the Libra look though is that it's also one of the Met Gala's best beauty looks in recent memory! Libra is the sign most concerned with beauty, and though she wasn't reaaally on theme, Zendaya's hair and makeup were flawless. Even *Rihanna* reposted her look.
Scorpio: 2017 Kendall Jenner (Rei Kawakubo/Comme des Garcons: Art Of The In-Between)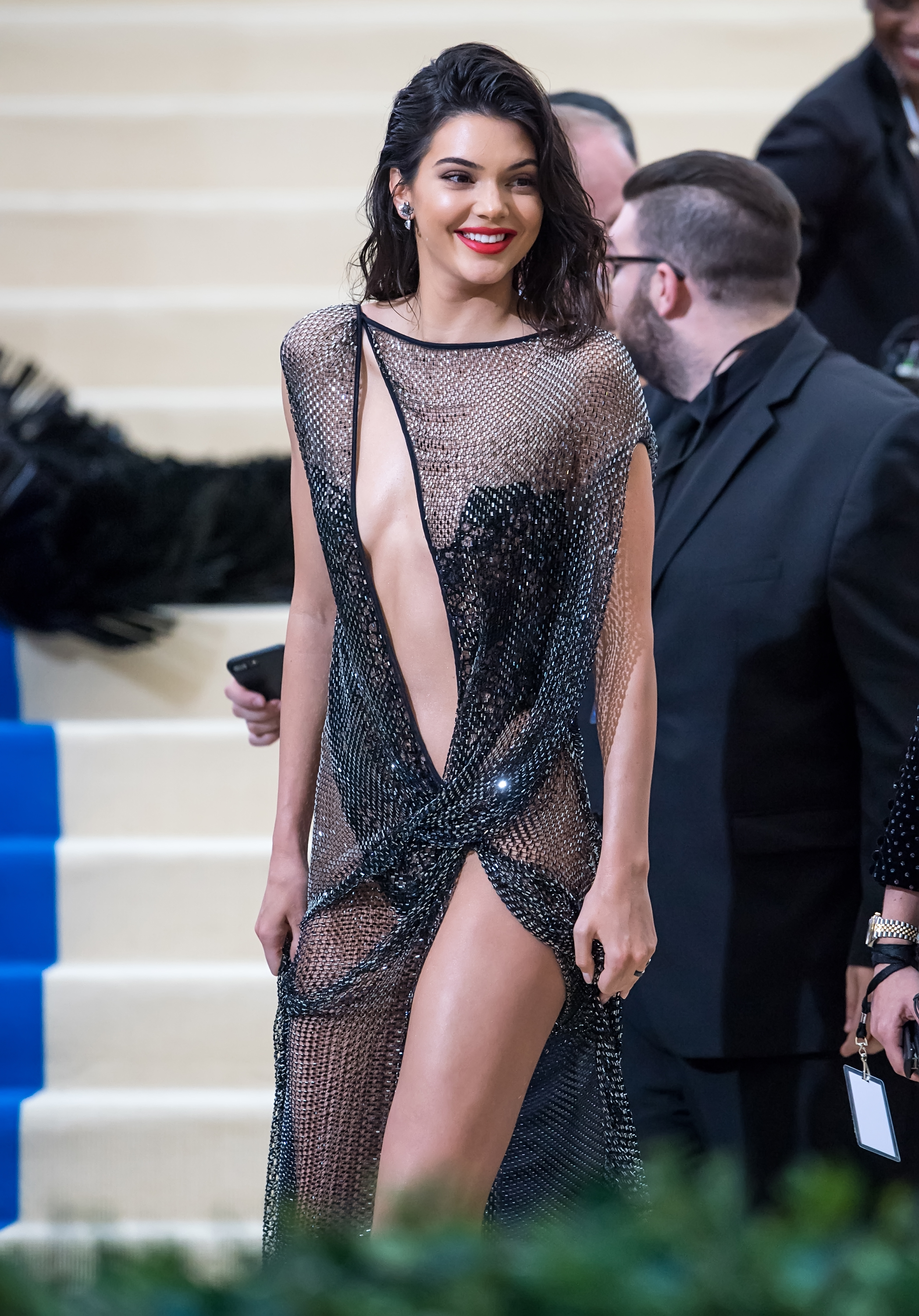 The ideal Scorpio look? Lingerie, but make it couture! La Perla styled Kendall Jenner for this cheeky custom design. It's an ass-out favorite with slits to kill! Obviously this dress is sexy, but to wear it, you must possess the Scorpio attitude: fearlessness, a love of making an impression, and a disregard for public opinion.
Honorable mention: Frank Ocean sneaking in mostly undetected behind Rihanna at the 2017 Met Gala because he wasn't interested in answering questions.
Sagittarius: 2013 Miley Cyrus (PUNK: Chaos to Couture)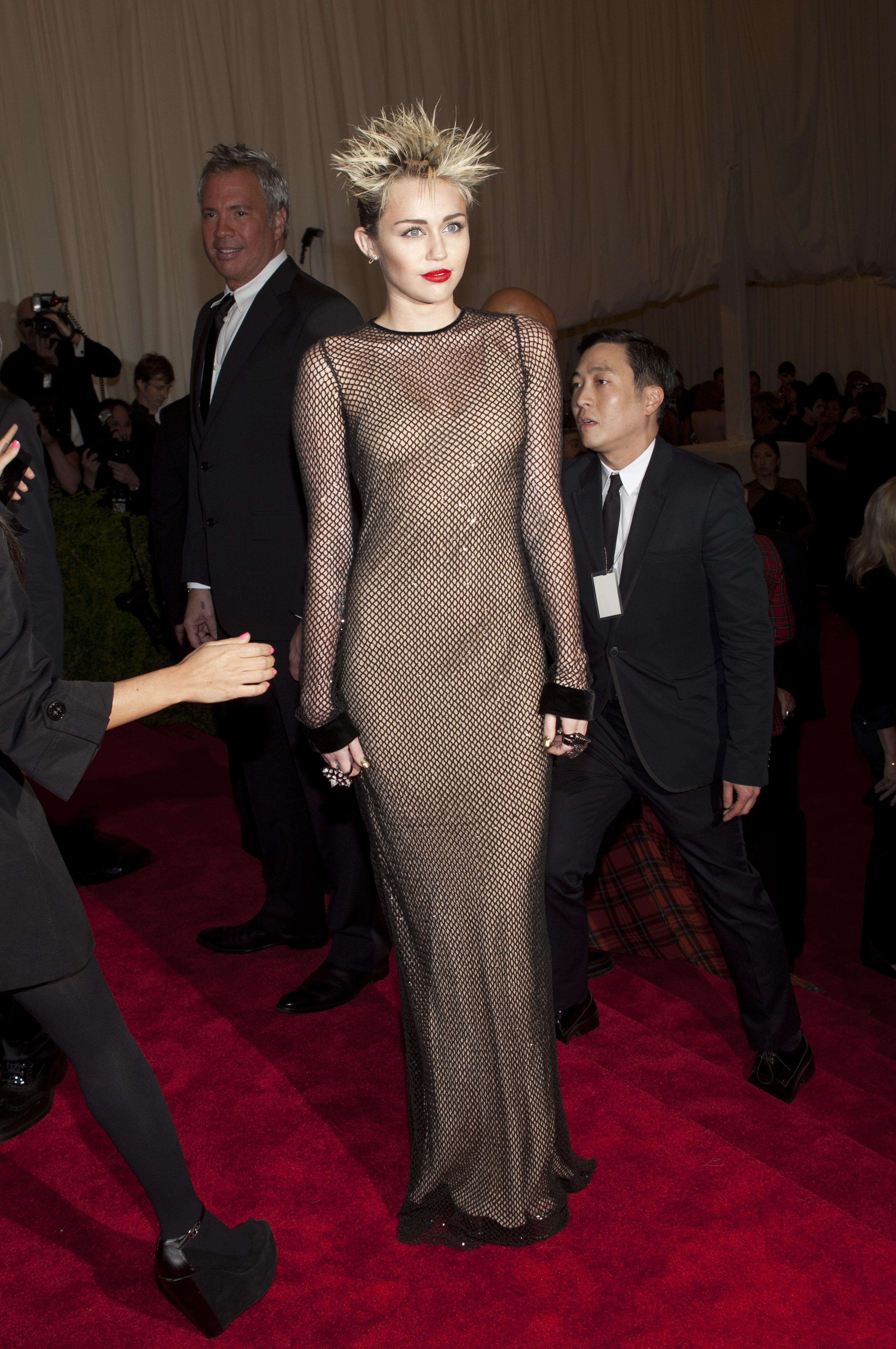 Sagittarius is well known for their enthusiasm. They like doing it big. Not every celebrity went balls-to-the-wall PUNK for the 2013 theme, but Miley went all in. Her sheer, black mesh dress was designed by Marc Jacobs, but it's her short, bleached, spikey hair that makes this look stand out. It's simply FUN! Sagittarians are fun-loving people, and are the most likely sign to see the Met Gala as a bangin' party (vs. a Very Serious Fashion Event). Miley punked everyone with this one.
Capricorn: 2014 Beyonce (Charles James: Beyond Fashion)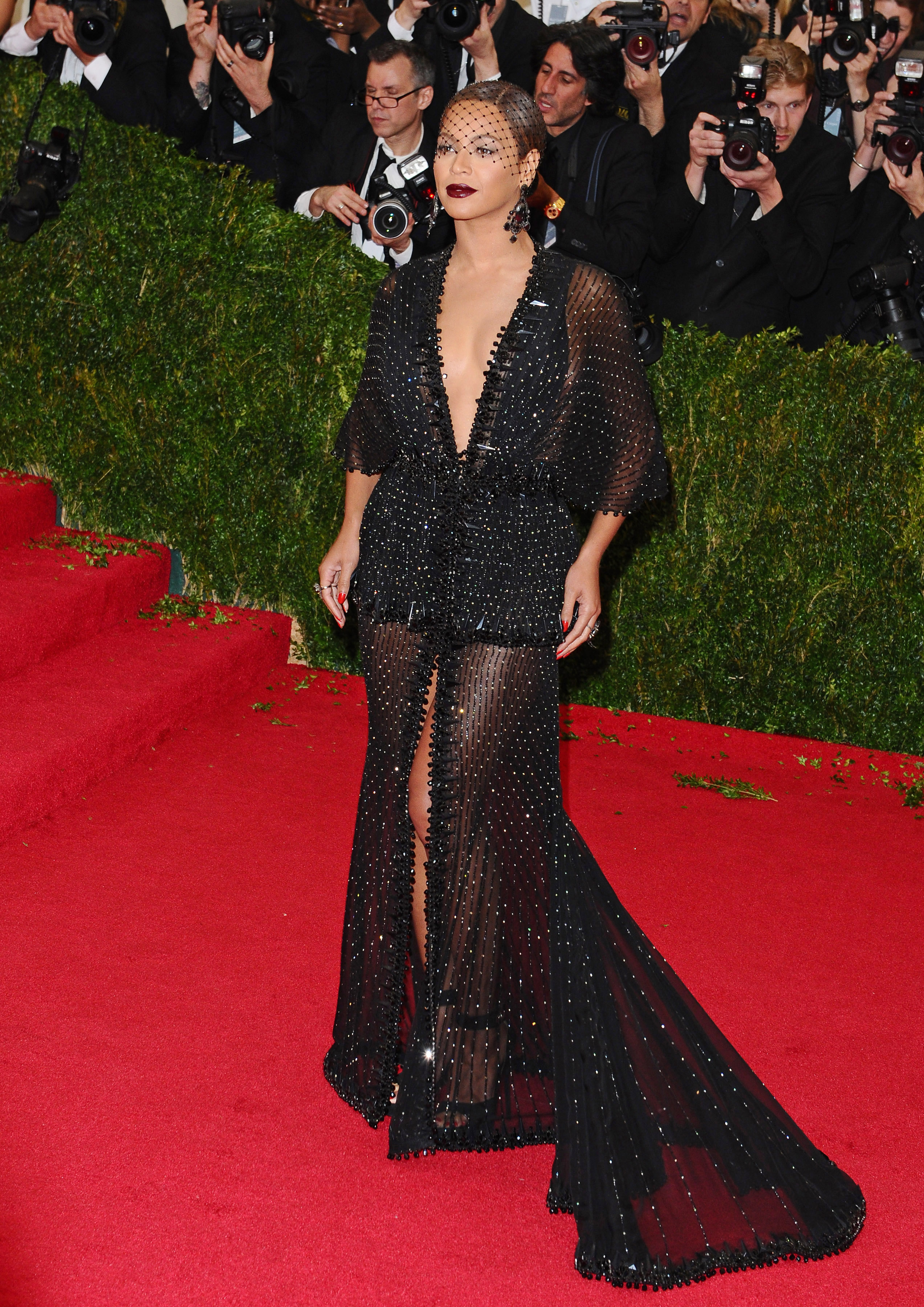 Capricorns can be quite demure in their fashion sense. Because they lean towards maturity, practicality, and longevity, they can gravitate towards black, simplicity, and pieces that they can wear again. Cut to Beyonce looking stunning (per usual) in Givenchy at the 2014 Met Gala. Capricorns pay attention to the details, and her look is ornate: admire the beading! The birdcage headpiece! The vintage touches! This is no simple black dress! Capricorns are refined, elegant, and sexy.
Aquarius: 2015 Solange (China: Through the Looking Glass)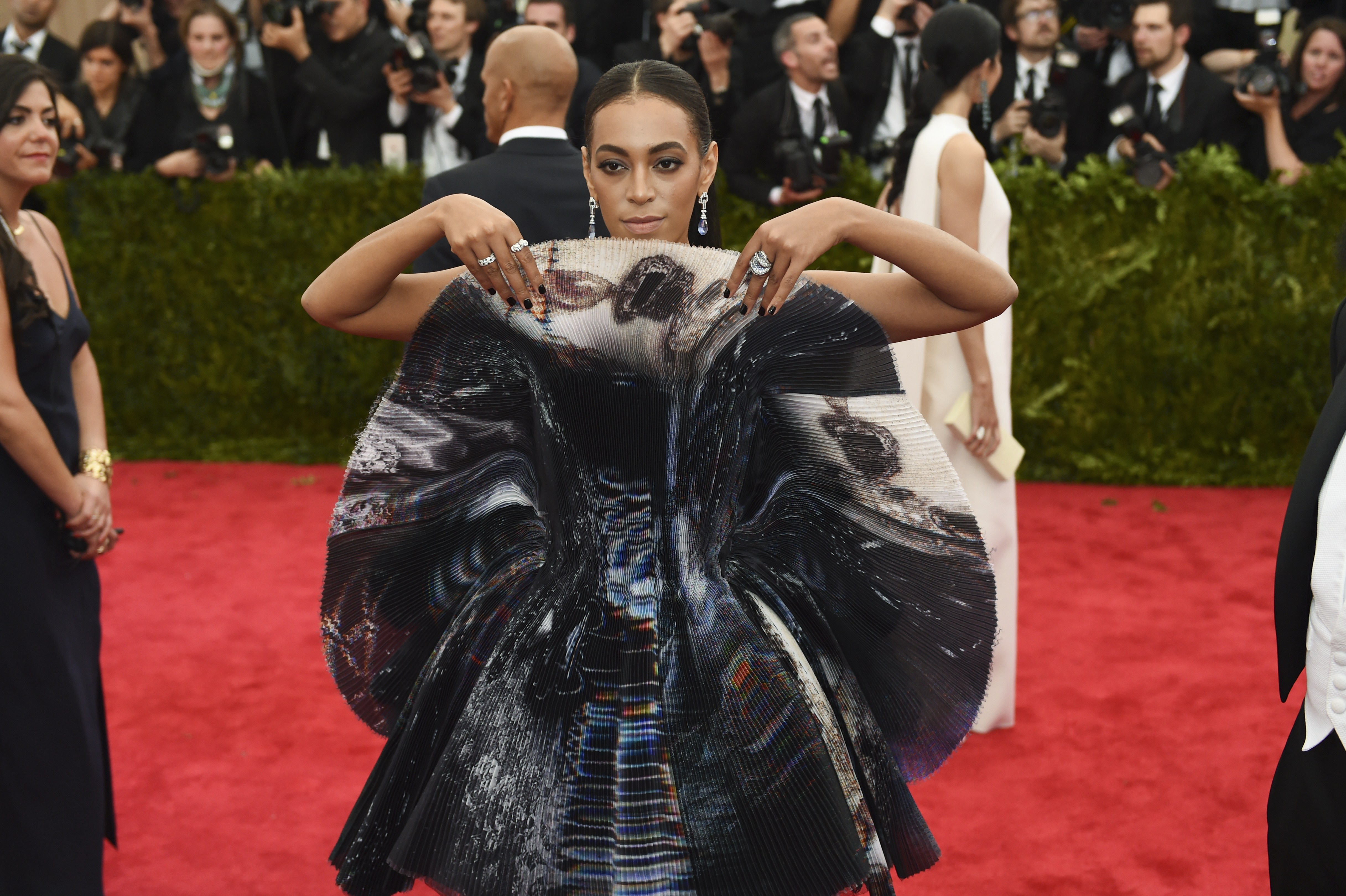 Solange's futuristic Giles dress makes her look kind of like a galactic bubble, but in the coolest way possible. On the way to the event, she tweeted, "It's just fucking fashion. Have fun. Take risks. But mostly, have fun. : )" That sense of adventure and inventiveness is very Aquarian, and Solange happens to have an Aquarius moon! Try new things, people!
Pisces: 2017 Rihanna (Rei Kawakubo/Comme des Garcons: Art Of The In-Between)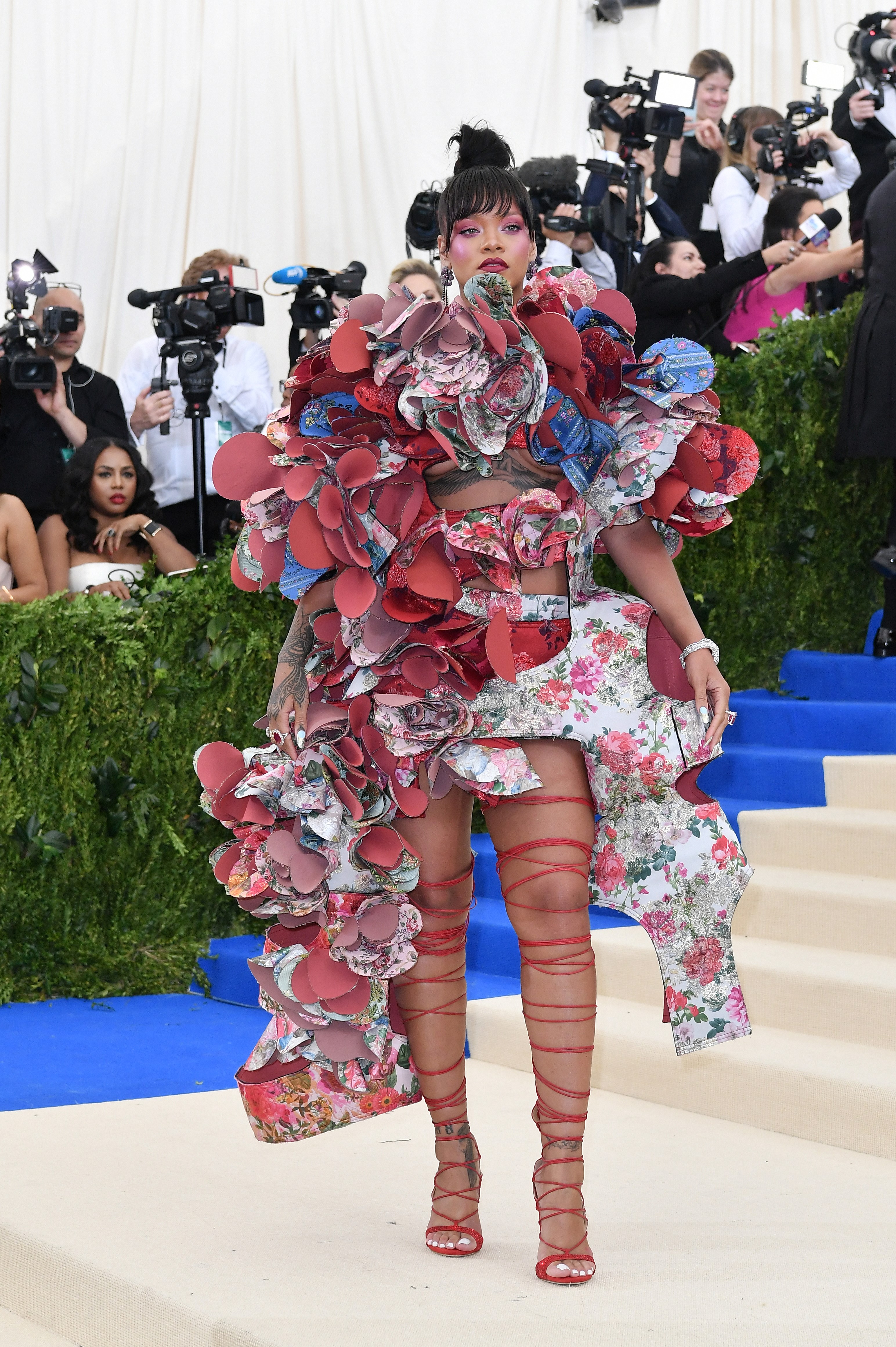 Rihanna, our Pisces queen, the reigning champ of the Met Gala, inventor of religion, the color yellow, and blush. A salute to her! Pisces is represented by the most playful of Rihanna's many incredible Met Gala looks. Pisces is renowned for their imagination, creativity, and otherworldliness. Their visuals tend to be innovative and unique, rather than simply appealing and classically beautiful. This look is a Pisces.