Eiko Otake, A Body in a Cemetery (performance still), 2020. Image by William Johnston. Courtesy of the artist, Green-Wood Cemetery and Pioneer Works
A Performance for the Dead at the Green-Wood Cemetery
Performance artist Eiko Otake delivered a 40-minute salute to grief with subtlety and touch among tombstones, right before sunset.
Eiko Otake, A Body in a Cemetery (performance still), 2020. Image by William Johnston. Courtesy of the artist, Green-Wood Cemetery and Pioneer Works
The finale of Kim Ki-duk's 2012 masterpiece Pietà shows its pitiless, debt-collector lead commit suicide by tying himself underneath one of his victims' car. He's absent in the bird's eye view scene, but the man's slow demise is evident through the vehicle painting the road with his blood like a paintbrush. There is a similar red trail following performance artist Eiko Otake, whether she is performing amidst ruins of Fukushima or bankers passing by Wall Street. Hers is a hefty silk cloth, a safety blanket or even an armor, sewn with kimonos from her grandmother's geisha house.
Last Saturday, the ruby shroud was in Otake's hands when I saw her appear before sunset at Brooklyn's historic Green-Wood Cemetery. Organized by Red Hook's beloved kunsthalle Pioneer Works, A Body in a Cemetery permeated the peaceful landmark with a breeze of contemplation, a reminder of the extents the human body can take when distancing is still carved in our brains. In her first solo in three years after performing with others in her The Duet Project, the 68-year-old was back in full force, carrying elegantly her resilient body for forty minutes.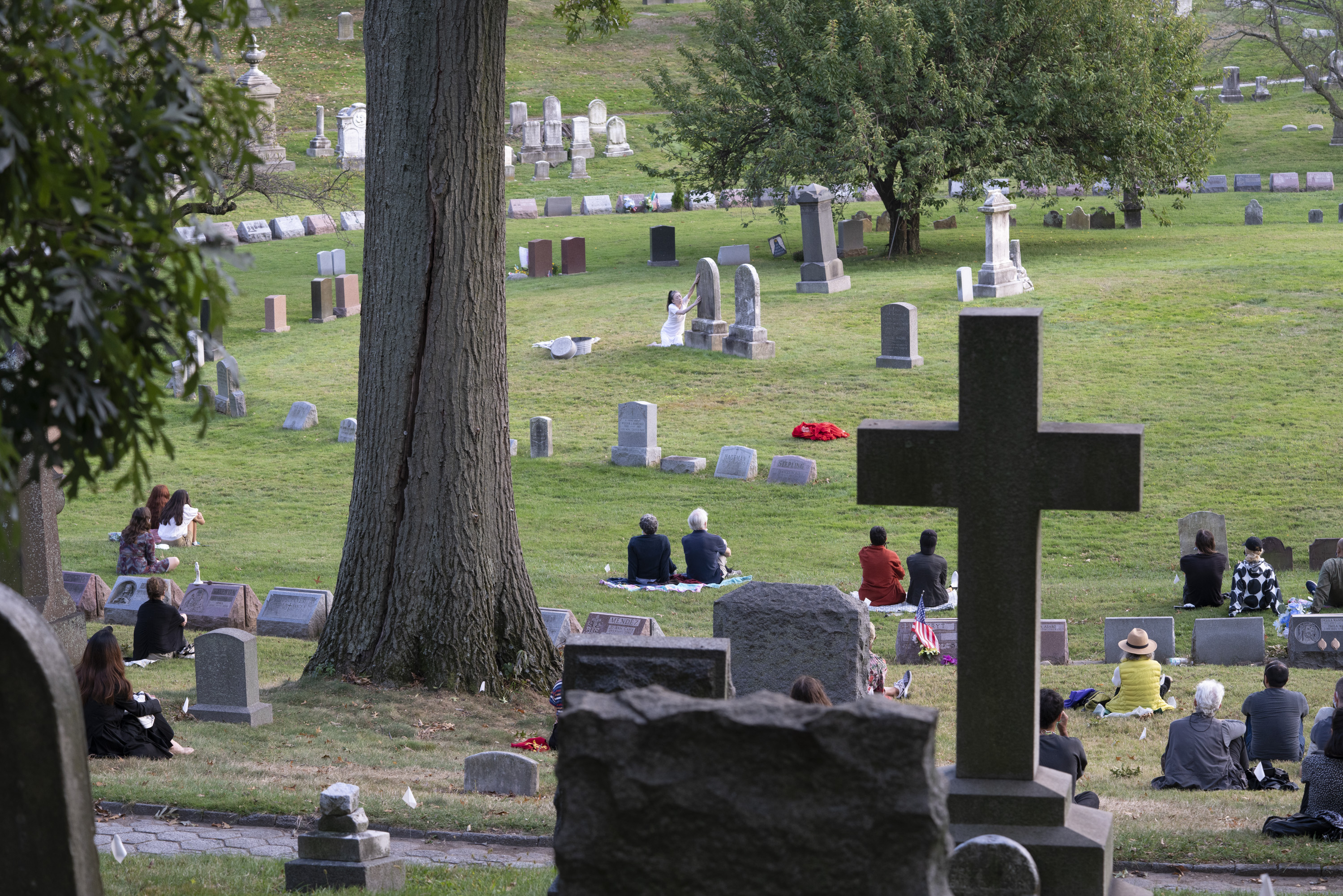 Built before Central Park, Green-Wood possesses a haunting old-world beauty, that disturbs and lures with its winding paths carving out breath for trees and tombstones. I reached the cemetery's Dutch Circle in my own ritual, entering from the main Gothic gate and walking through tombstones and mausoleums commemorating death, a reality that has veered off from absolute towards mundane within half a year. We have seen mass graves, a man's eight-minute-and-46-second-long death at the hands of police, and body bags carried in and out of hospitals. Death surrounds us in the morning news, in the papers, when we take the streets to protest its unjustness. And, here I was coming to it, for the sake of art.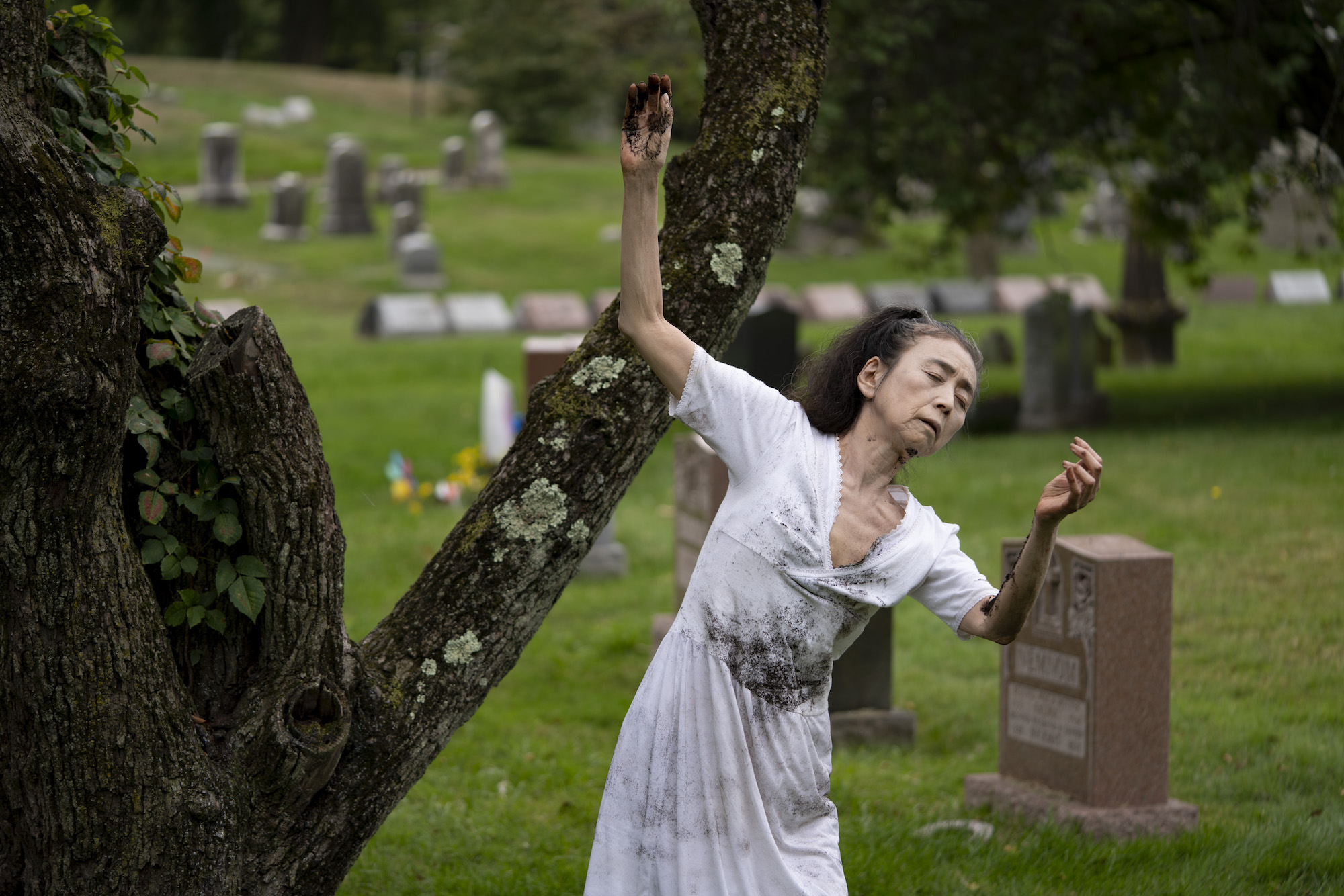 Once a socially-distanced gathering of 175 people formed a half-circle across the grass, Otake appeared from the opposite end, as if she stumbled upon us while searching for the right place to place her red cloth. "Magma, blood, and wound," she would later explain to me about her prop, but back then, I was a newcomer into her realm. Over her fragile body, she wore a white dress in harmony with the cloudy sky preparing for the dusk. The utter silence was occasionally interrupted by nature and machine; birds chirping, leaves moving, and planes flying by. She walked through tombstones with the restrained pace of someone in complete darkness; from my angle, she resembled horror flick giants taking big steps between Manhattan skyscrapers. She shrouded a stone with another piece of white cloth and later reached into a bucket full of water—first to drink and then to sprinkle over stones. When she lifted the bucket, I thought she'd pour it over her head and gasped—the September sun had long left its heating force! Otake, instead, gushed water onto the tombstones circulating around her grass stage and wrapped another stone with her old friend, the red cloth. Now dressed in white and red, the two tombstones resembled both ancient sun clocks and Giulio Paolini's fabric-bursting Arte Povera sculpture I had seen at the upstate museum, Magazzino—stone and cloth together spanning time. Later she revealed another secret: she never uses a material once—it always has to be twice. Water was used to turn soil into mud. Otake grasped some, first to fill into her dress and later to smear over her arms and body. As the sun was in its last stages, she left.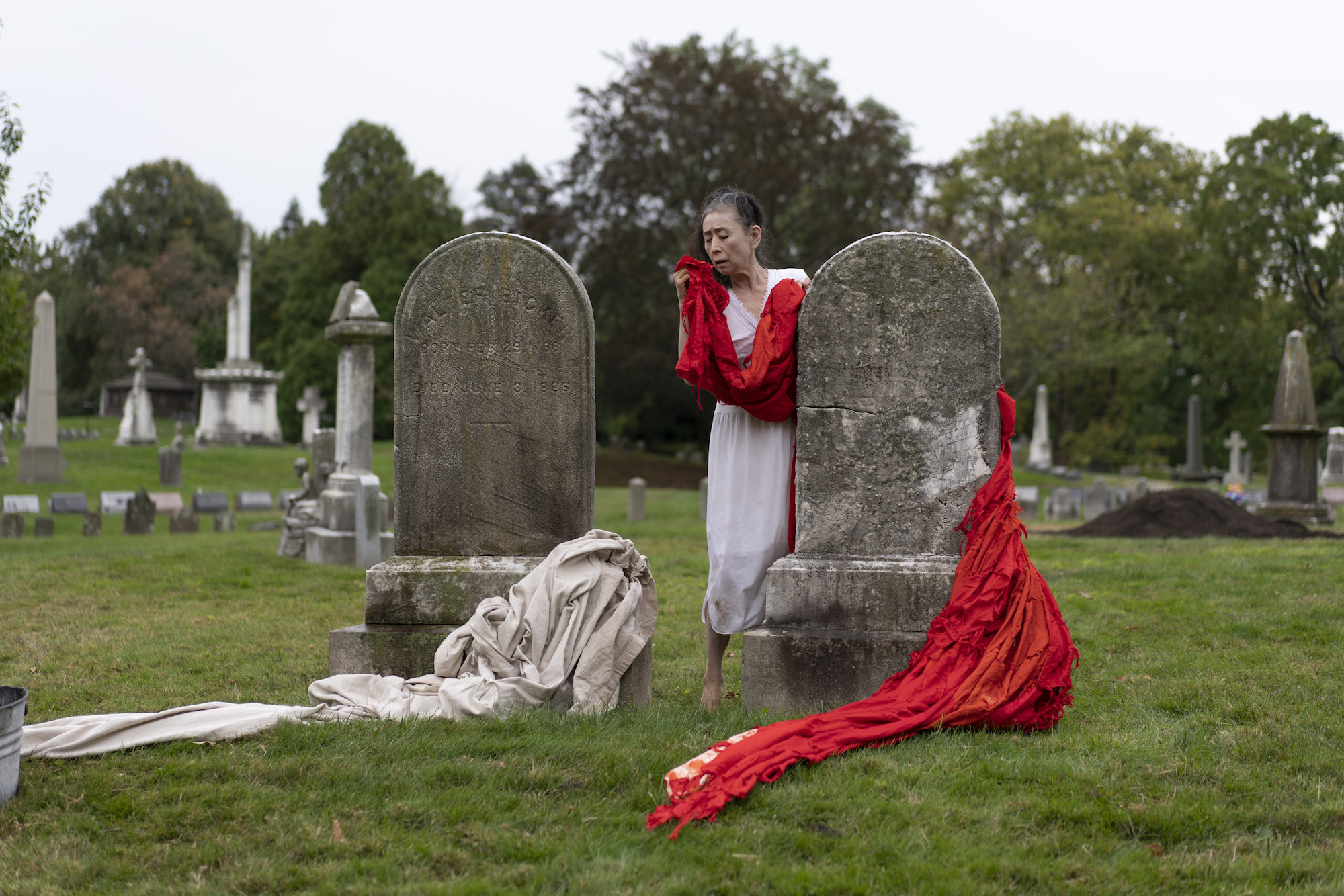 I ask Otake about the red cloth. "I needed color because I felt 'naked,'" she told me about performing with such an unusual distance from people. Missing the vicinity of her audience, which she's usually near enough to touch, she needed a prop, like she did during her visits to post-disaster Fukushima for her A Body in Fukushima photography series. "At Green-Wood, however, there is so much death that I had to only focus on those recognized on stones and others gone without a trace." Her offering was for those resting here, not even for her mother who died in early 2019 after she went back to Japan to spend time with her. There, her mother gifted her with what she calls a "good death," a cathartic full-circle experience of seeing her leave at "a good place."
I left the cemetery with my friend Sareh, whom I ran into—that quarantine-era thrill of forgotten chance encounters. A devoted fan of Otake's performances, she was struck by how this one was so different and yet similar to previous performances at museums. She pointed how both a museum and cemetery function as "heterotopic spaces," in terms of breaking with traditional time. "Think about the indefinite accumulation of time in museums running parallel to the quasi-eternity of the cemetery," she said. As time has become an ever more evasive a concept, what is accumulating at an abnormal rate is tombstones and dead bodies worldwide. And, these bodies were, in fact, the audience, more so than us, me, or Sareh. "I was performing for the dead," Otake told me. "Did you not notice I wasn't looking into anyone's eyes?"