Still from Tiger King via Netflix
Carole Baskin's Hippie Mama Style Haunts Me
Did Carole Baskin put her ex-husband in a meat grinder?! I think yes!
Still from Tiger King via Netflix
There is nothing more bone-chilling in this life than hearing Carole Baskin say, "Hey all you cool cats and kittens!" while sitting at her computer wearing a funky leopard-print muumuu and a floral crown. Baskin is one of the leading characters in the Netflix docu-series, Tiger King. The owner of a "sanctuary" for tigers and other cats of unusual sizes called Big Cat Rescue, Baskin seems like a benevolent hippie mama when she first appears on screen. But, as we learn over the course of seven episodes, she is most certainly not. Baskin might be just as evil as her nemesis, Joe Exotic. Exotic, a polyamorous gay meth head with a Prince Albert piercing who is now in prison for a murder-for-hire plot, is Baskin's professional competition. He owns a private zoo in Oklahoma, and Baskin finds the way he runs his zoo to be unethical. On the show, we learn that her husband went missing in the mid-'90s. Did he, as some suggest, go to Costa Rica to visit a secret family? Or did she, as Joe Exotic suggests, feed him to a tiger and/or put his remains in a meat grinder then toss said remains into a septic tank? As if that's not enough to raise an eyebrow, there's looking at how Big Cat Rescue actually "works." Baskin has millions of dollars, yet most of her "employees," are volunteers. No one is getting a paycheck! Also it is not obvious how Baskin's operation is that different from Mr. Exotic's. She has a ton of rare tigers just hanging out!
What I love about Baskin's whole shtick is that you wouldn't think that this woman is the kind of person who may or may not have fed her ex husband to a cat with big teeth based on her outfits. She has long, blonde, Rapunzel-like hair, and big blue eyes that belong on a very sad hound dog. Baskin prefers free-flowing silhouettes on the show like a cozy bell sleeved top paired with some comfy boot-cut jeans, and exclusively wears cat print. She often rides around Big Cat Rescue on her bike wearing a pair of cheetah print pants, a bright pink polo, and sensible walking shoes. She is also no stranger to a beauty moment—like a Bratz doll, Baskin knows how to work a fuchsia lip and a smokey eye. She almost never "dresses down." Whether she is discussing why Joe Exotic is a bad dude, or (once again) dispelling rumors about her ex-husband's disappearance, she always brings her A-game.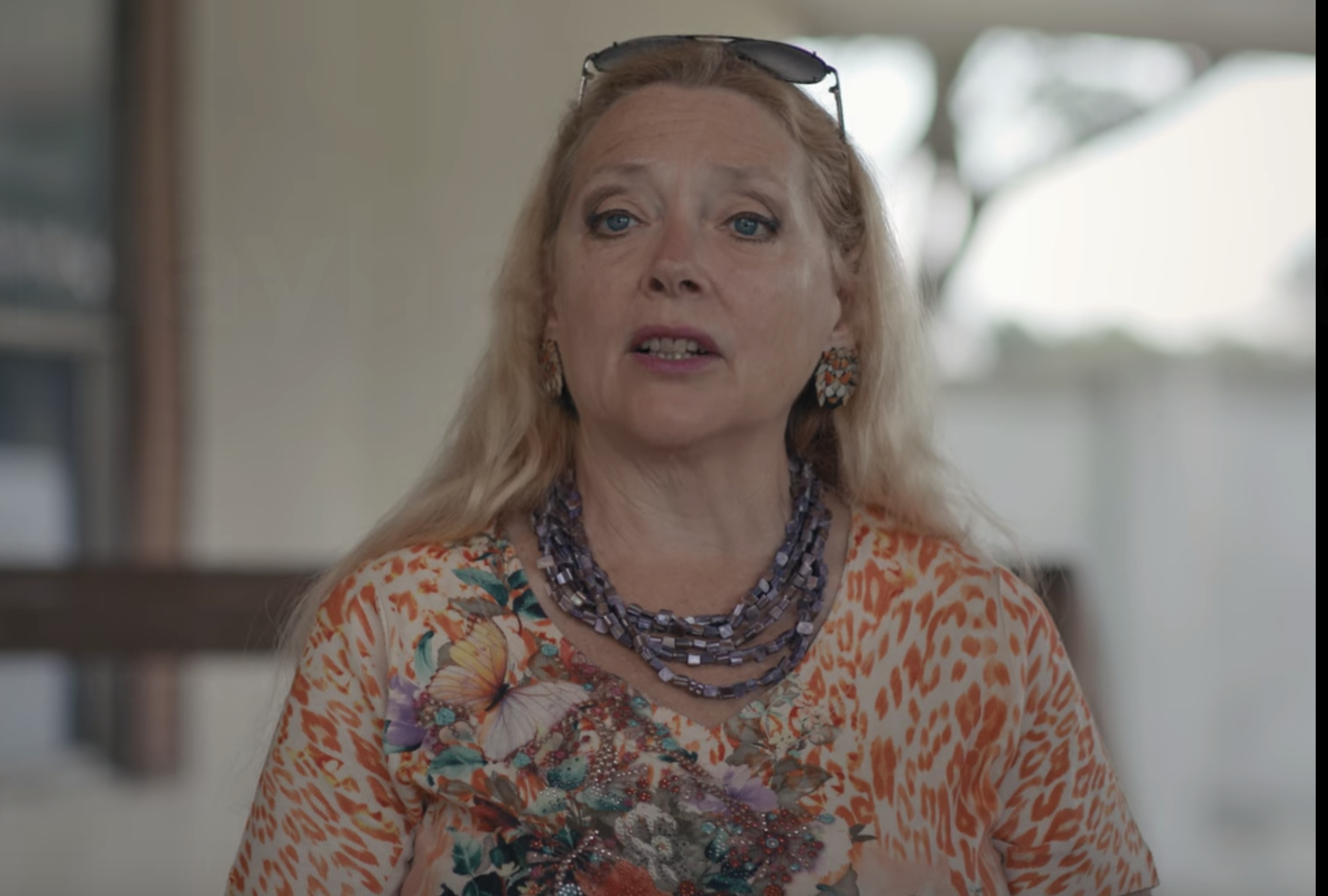 A Carole Baskin look is a put-together look. Baskin is one of those people who clearly believes that no outfit is really an Outfit without a little sparkle and a little pizzaz. Throughout the show, we see her pair her practical yet kooky outfits with big pieces of statement jewelry, like when she wears a low-cut short-sleeve leopard print top, and a chunky necklace that features little beads in brilliant blues in teals; or when she wears a creamsicle orange leopard print top and pairs it with a purple beaded necklace, and big beaded earrings that appear to also be tiger-themed. Her style might more accurately tell the world that she may be running a paint and sip studio on the beach. The maximalist feminine fantasy says she doesn't have a single bad bone in her body! Reader, she might not. But O.J. Simpson puts it best: "There's not a shred of doubt in my mind that that lady's husband is tiger sashimi right now."
Tagged: