All My New Yorkers, Which Is the Best Seat (to Take You to the Shows Opening This Week)?
Let a meme guide you to your first art opening week of the year.
On New Year's Eve, one New Yorker posed a hot question to the Twitterverse:
The inquiry opened a deluge of opinions (espousing strongly held opinions on the internet? how novel!) and, in corresponding GARAGE fashion, prompted us to ask a question of our own:
All my New Yorkers, which gallery show should you check out this week?

We'll make it easy for you: chose your preferred subway seat, and we'll tell you which new-and-notable gallery show you should check out in the city this week. Sure, in an ideal world, you'd have time to check out all five, just like how during an ideal commute, you'll happen upon a sparsely populated subway car (obviously, never trust a completely empty car) and can take a seat on 4, bag resting on 5, feet propped up on 3… Now, on with the shows:
If you chose seat number 1, you should see…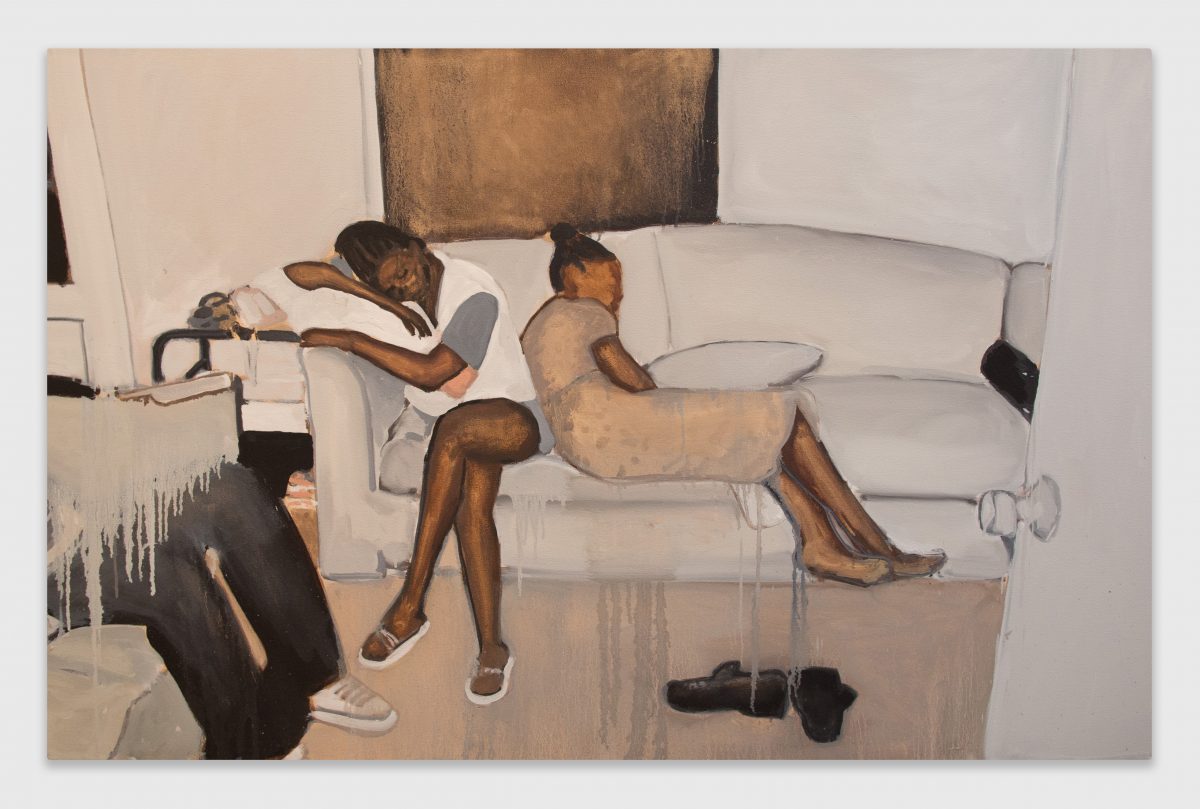 Noah Davis
David Zwirner, 533 W 19th St.
January 16 – February 22, 2020
The uncomplicated choice. Seat number 1, closest to the door with relatively ample personal space, is a tried-and-true spot for any commuter. Effective, and affecting.
Utilize that easy subway exit to head straight towards David Zwirner Gallery in Chelsea, for an expansive presentation centered on American artist Noah Davis. It is the first major New York showcase of the artist's work since his death in 2015.

The show—organized by Helen Molesworth, who worked with the artist during her tenure as chief curator of the Museum of Contemporary Art in Los Angeles—will feature Davis's powerfully tender figurative paintings and also pay homage to his role as co-founder of the Underground Museum in L.A., including models of previous exhibitions he curated there. The show calls the artist's life and work on the West Coast back to New York, where he started out as a painter in his early 20s.

If you chose seat number 2, you should see…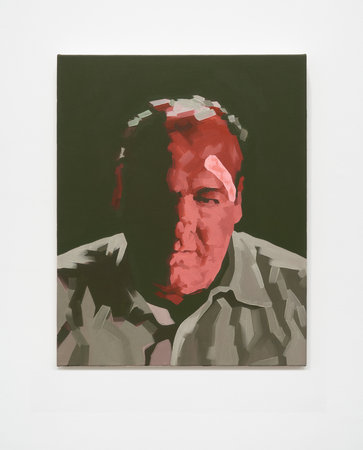 Michael St. John
Democracy Portraits
Team, 83 Grand Street
January 16 – February 22, 2020
Some might say picking the middle seat is an act of unbridled chaos, but one could argue that purposefully inserting oneself into the affairs of others is the only way to truly observe. Seat 2 invites its sitter to peer over the shoulders and into the minds of their fellow passengers, to see who they're texting, what bandwidth-draining show they're streaming, which New Yorker article they're barely skimming.
Let's all dive deep into our collective personal psyches with American artist Michael St. John, who makes art according to his "impulse to collect and record," at his new solo show, Democracy Portraits, which opens on Thursday at Team Gallery in SoHo. St. John's practice of "filtering culturally significant and insignificant flotsam to aggregate an American iconography well-versed in prosaic violence" makes for disarmingly poignant paintings—created since the 2016 presidential election—that allow us to look back at ourselves. Does it suddenly feel a little…cramped in here?

A second solo exhibition, featuring works from the same series, will run concurrently on the ground floor of ASHES/ASHES at 56 Eldridge St.

If you chose seat number 3, you should see…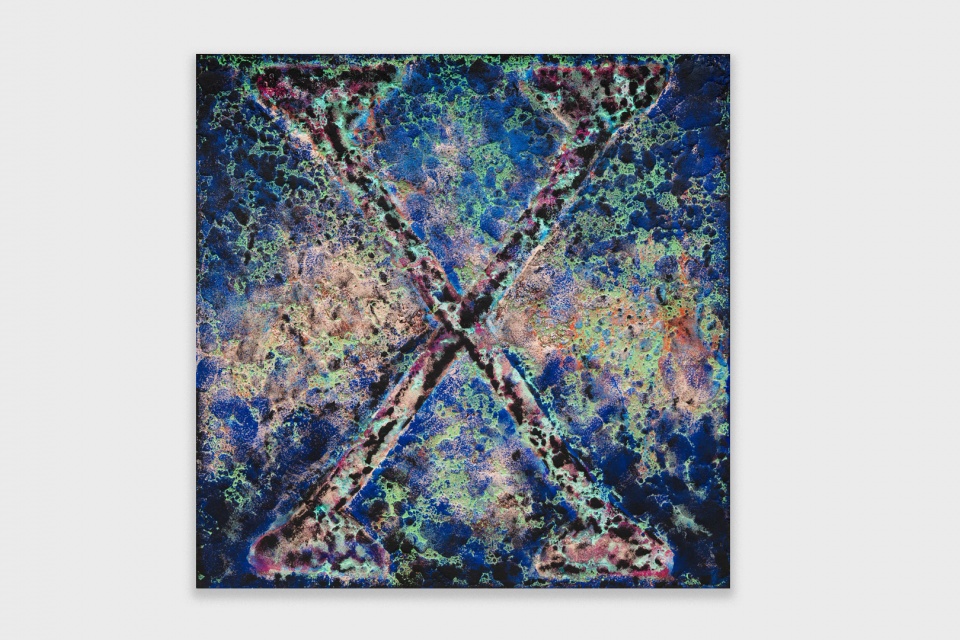 Vaughn Spann
The Heat Lets us Know We're Alive
Almine Rech, 39 E 78th St.
January 15 – February 22, 2020
You never really know what you're getting yourself into with seat number 3. It's at the crux of the two benches, and can just as easily provide you plenty of personal space as it can put you in everyone's way. Relish in the uncertainty. Embrace the dichotomy.

At Almine Rech, a new show, The Heat Lets us Know We're Alive, featuring abstract and figurative paintings by American artist Vaughn Spann also toggles between the realms of known and unknown, bodily and cosmic. Spann visualizes the weirdness of humanity through surreal sci-fi imagery and polycephaly, and in his paintings—as on a subway car full of alone-together travelers—"[t]he truths are many. They may even contradict each other."

If you chose seat number 4, you should see…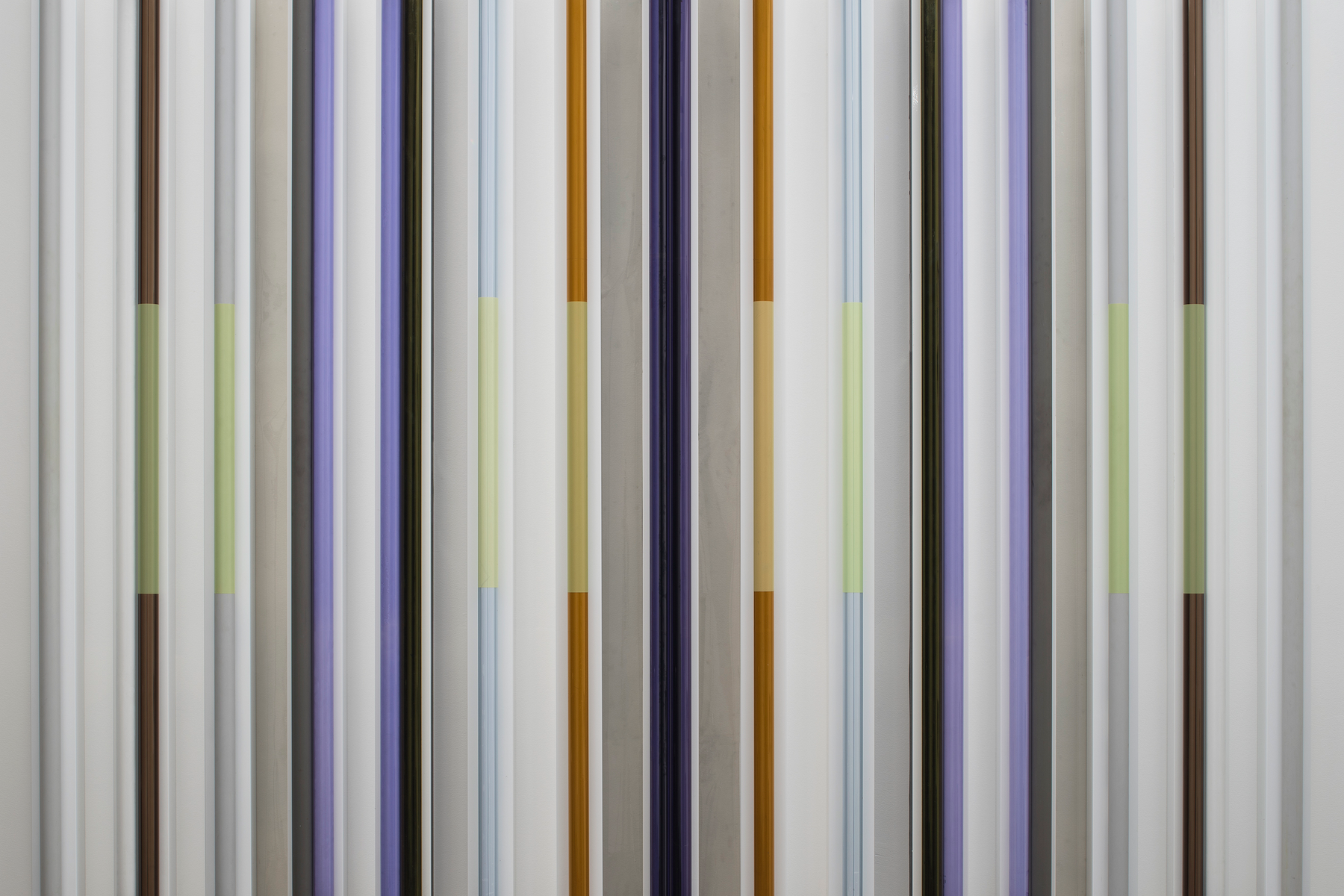 Robert Irwin
Unlights
Pace, 540 W 25th Street
Jan 17 – Feb 22, 2020
While one Twitter user (not incorrectly!) declared that "4 is for petite women with multi-borough commutes and no one else should be allowed to sit there," window seat 4 offers the sort of iron-clad comfort that's akin to being nestled under a weighted blanket. It is the choice of the observer who's in for a long ride.
Also in it for the long haul is pivotal American artist Robert Irwin, who will show eight new works in Unlights, which opens Friday at Pace Gallery in Chelsea. It will be Irwin's nineteenth exhibition with Pace since he joined the gallery in 1966.

Irwin's installation works have long explored notions of light, perception, and space; Unlights will feature, as titularly implied, unlit fluorescent fixtures colored by translucent gels, their tubular forms warping one's perception of the gallery walls. An undeniable upgrade from the "unlight show" you can sometimes be privy to when the power goes out in your subway car.

If you chose seat number 5, you should see…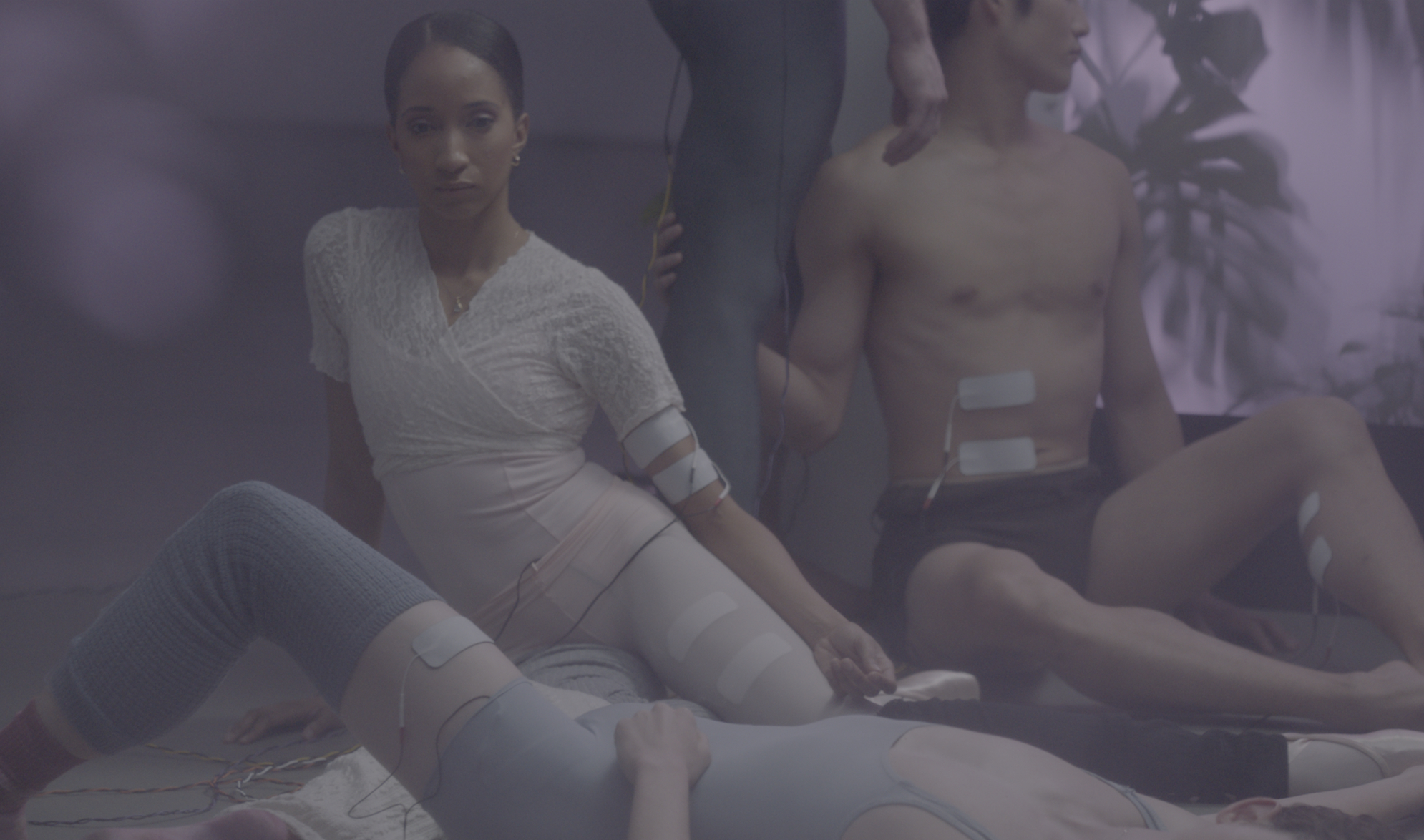 Jesper Just
Corporealités
Perrotin, 130 Orchard St.
January 14 – February 15, 2020
Seat number 5 is an offbeat choice because it allows for a range of movement that the other seats don't have. You can face forward if you'd like, or swing to the side and rest your legs in the aisle (though hopefully not at the peril of anyone trying to traverse the car). Seat 5 is flexible. Has a bit of stretch to it.
You'd love to stretch your legs at Corporealités, a new, immersive multimedia installation from Danish artist Jesper Just, opening Tuesday at Perrotin Gallery on the Lower East Side. The show is centered on movement with a new video work, on multiple channels programmed across multiple sculptural LED panels, featuring dancers from American Ballet Theater. In the work, the camera focuses on poetic physicality through "close-ups and parts of bodies — the blink of an eye, a flexed pelvic muscle, hairs standing on end atop a dancer's forearm."

"It is difficult to discern whether the dancers' movements are dictating the score, or if it is the other way around," the show's press release reads. "Like parts of a self-contained machine, they are simultaneously autonomous and passive." Hmm. Sounds kinda like being on the subway.

And if you never ride the subway, you should see…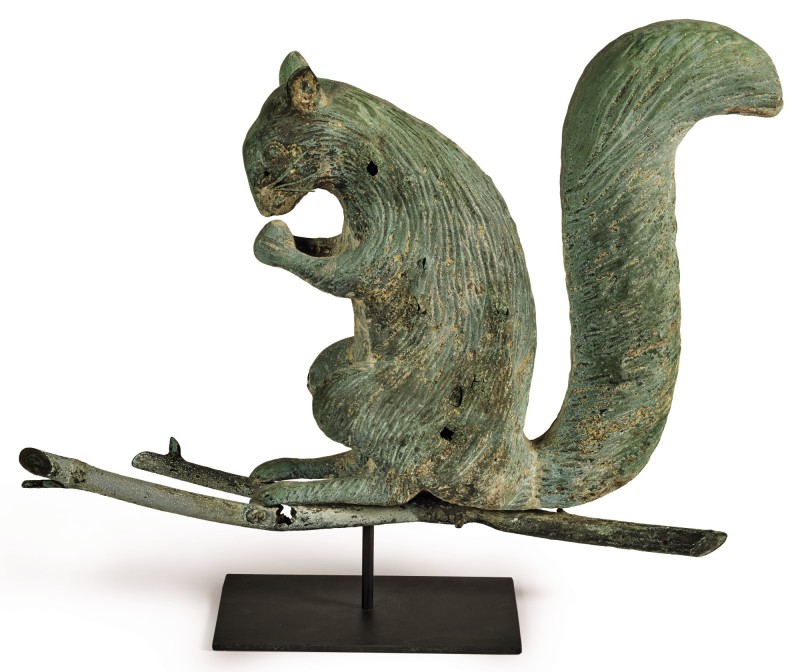 Highlights from Americana Week
Sotheby's New York
January 14 – February 15, 2020
Starting on Tuesday, absolutely take a car to the Upper East Side to marvel at highlights from Sotheby's annual Americana Week, in advance of the corresponding auctions happening later this month. On display are select furniture, fine art, and decorative objects spanning folk art (windmills abound), printed manuscripts, and items from the personal collection of interior designer Mario Buatta. Use this as an opportunity to imagine a time when New York City didn't even have a subway system, when everything was all still farmland. Maybe back then we would've actually gotten to work on time.