Can a Fluffy Chocolate Treat Bring Us Together?
Digital artist Mina Cheon's "Eat Chocopie Together" campaign builds connections between strangers through South and North Korea's mutually beloved candy.
It's a bird! It's a plane! It's…USB sticks tied to helium balloons dotting the sky! Until North Korea blew up its liaison office with South Korea in June, the Baltimore-based artist Mina Cheon was flying flash drives of lectures on contemporary art across the border with help from intermediary activists in China and Russia. "In each class, I talk about Dread Scott or Shirin Neshat to an audience who otherwise has no access to this information," explains Cheon about her guerrilla art broadcast, which she compares to "children's T.V. shows." She seeps humor into the heftiness of art history by appearing as her alter ego, a North Korean painter by the name of Kim Il Soon, whose teaching method is half-performance artist and half-quiz show host. She records her lessons through Snapchat, and her makeup palette spans as wide as the app's face filter options; she discusses Warhol as a leopard, but for Mark Bradford, she opts for mouse with glasses. Art traffic, in fact, has been running both ways. Figurative paintings from anonymous North Korean artists reach Cheon every now and then. "I've just received a massive replica of a very famous Renaissance painting!" she shares with me, but cannot reveal which painting yet.
After the bitter realities of the pandemic and the explosion, Cheon found the solution to continue her border-pushing art experiment in the puffy sweetness of her favorite childhood candy. Her Eat Chocopie Together campaign for the inaugural Asia Society Triennial, We Do Not Dream Alone, builds connections between strangers through both Koreas' mutually beloved candy, Chocopie. Automatically raising a dollar a "cyber-pop," each participant virtually shares a candy and spreads empathy and care in an imaginary bite. The digital sweet exchange is completed when the other person accepts the pie to receive the pixel candy. The artist kicked off the project on August 15—the only holiday celebrated in both Koreas as the National Liberation Day—and has recently amassed $5,000, all donated to the COVID-19 Community Action Fund of the Korean American Community Foundation.
Cheon describes the marshmallow cookie sandwich dipped in chocolate as "fluffy and dense." Could there be a better symbol for two countries' tumultuous relationship than two semi-hard cookies pressing against a pillowy softness on both sides? Cheon was born in Seoul to parents with North Korean roots and grew up eating the treat, enough to know that the real deal must come from South Korean manufacturer, Orion. Its original wrapping has the Korean word jeong (which symbolizes affection) in Chinese characters, but the artist designed five alternative wrappings for her cyber versions, and added urgent messages of "love," "peace," and, of course, "eat," next to symbols of social justice, such as Black Lives Matter, the LGBTQI flag, and the Korean Unification flag.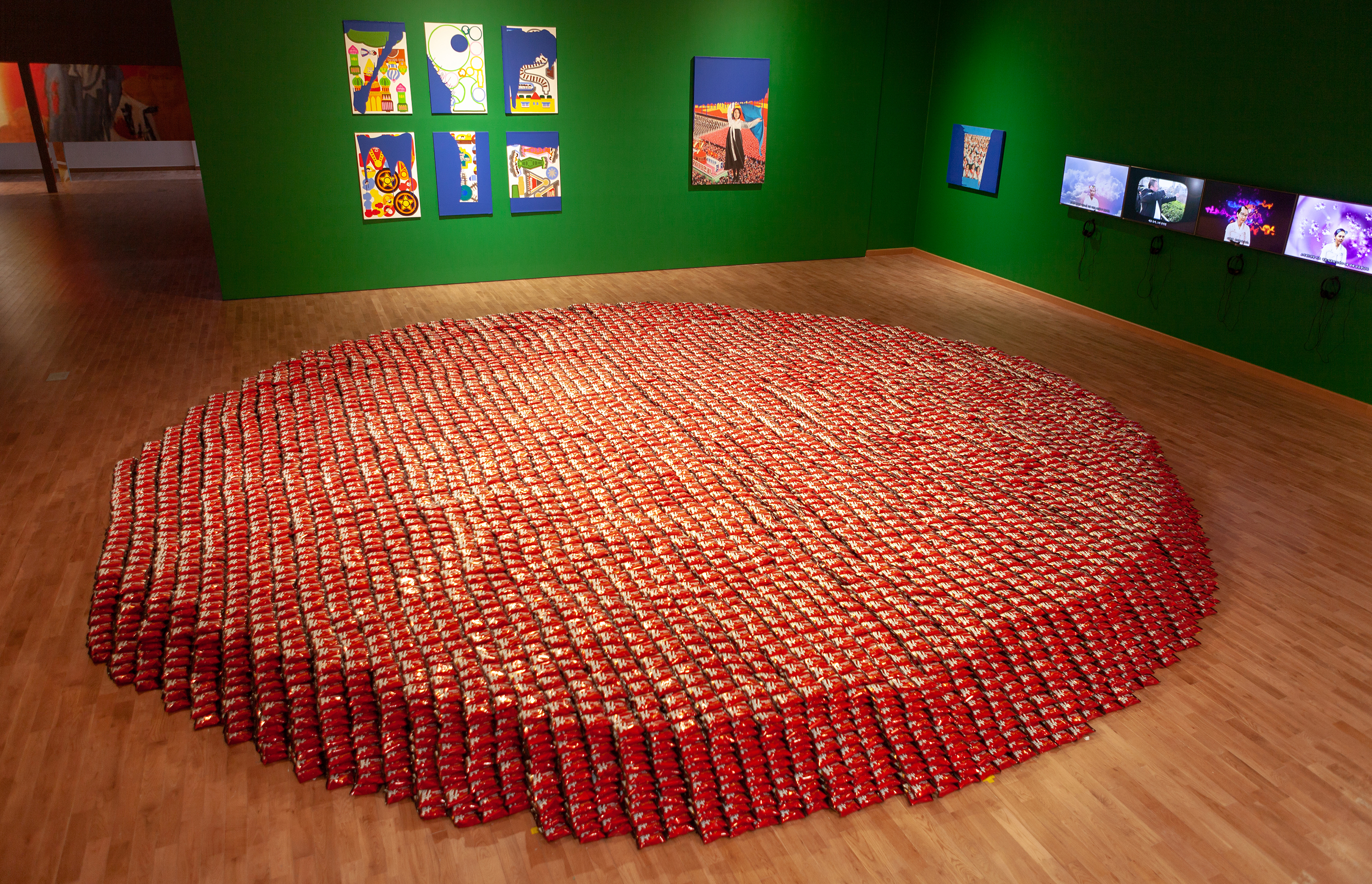 "It's nostalgic, a shared taste of something sweet," Cheon explains the appeal of the Chocopie and its acquired meaning. In the 1970s, confectionary factories blossomed across the country and allowed for mass production of candy, including Chocopie. The treat's fandom reached North Korea through the workers at the Kaesŏng Industrial Zone, where it was available to purchase at the commissary. The industrial zone's first closure in 2013 and permanent shutting down in 2016, however, skyrocketed the North Korean blackmarket value of a single Chocopie to three bags of rice. Overnight, the craving for the treat became synonymous with yearning for freedom. It makes sense then, that this isn't the first time that Cheon has worked with the the candy bar. In 2014, she covered the floor of the Ethan Cohen Gallery's floor with 10,000 up-for-grabs Chocopies, and she grew the number to 1000,000 in 2018 with another installation for the Busan Biennial. Those in line for candy ranged from middle school children to South Korean defector groups, but one couple particularly stood out. "The First Lady was very excited to grab a treat and told the president they 'had to do it'," remembers Cheon about president Moon Jae-in and First Lady Kim Jung-sook participating in her work. "He had my Chocopie and went to North Korea!" she says, thrilled by how the president flew there next day for peace negotiation, unintentionally bringing the work to full circle.
The artist plans to bring this sense of joy and sharing to the David Geffen Hall in Lincoln Center on March 16, 2021, for the second part of the Asia Society Triennial. There, the installation of Chocopies will form the shape of the Unification Flag. I, however, was not patient enough to wait until next year to taste the sweet fluff, and headed out to H Mart in Koreatown. Through the densely-lit aisles of fresh fruits and kimchi jars, I found what I was looking for: the Chocopie tasted like a MoonPie, or the Eti Puf I devoured with curiosity about its over-fluffiness while growing up in Turkey. I chewed, recognizing that texture and flavor that managed to settle into tastebuds and memories of children from all nations—taken for granted, and fought for when taken away.
Tagged: