Photography by Inna Kablukova. Courtesy of the artist and Crosby Studios.
Behold: An Entire Office Covered in Balenciaga Logos
Designer Harry Nuriev has created a collection of Balenciaga-themed furniture.
Photography by Inna Kablukova. Courtesy of the artist and Crosby Studios.
The same week that GQ Magazine declared that Balenciaga was spearheading the return of boot cut jeans—a proclamation met with hysteria on the internet—a wooden air conditioner, a lace office chair, and an armoire in the form of a hulking corporate copy machine debuted at Design Miami. And on each of them was the cool serif of the almighty Balenciaga logo.

Another provocative proclamation about luxury from designer Demna Gvasalia? Are swivel chairs on wheels about to replace Prouvé armchairs?! In fact, these pieces are the work of Harry Nuriev of Crosby Studios, the design firm he founded in Moscow and moved in New York in 2016, which combines the gloss and kitsch of Memphis Group with an almost sober post-Soviet minimalism.
"I used to work in government, in parks and recreation, as an architect. And I had this super miserable office life," Nuriev told me in an interview earlier this week. "And I hated it, so I was always dreaming to create something beautiful out of the printer or chair."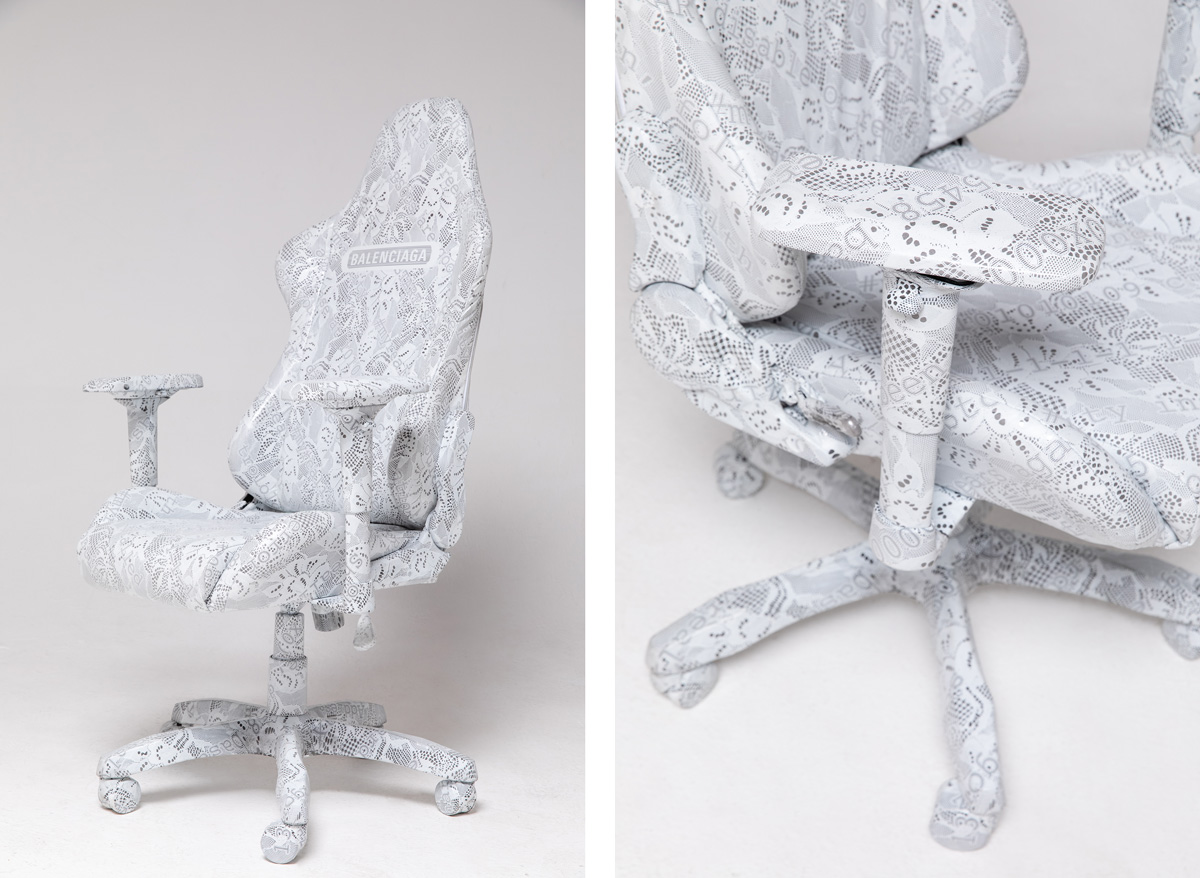 Nuriev was dressed in an oversized T-shirt over a pair of silver sequin bike shorts with Margiela sneakers and two strands of Mardi Gras beads. "It just looked miserable," he said of his office life in Moscow. "You lose your identity. You cannot express your personality, because there's all this [rigidity]."
Nuriev was attracted to Balenciaga's use of "a domestic thing as an art object or as a luxury object." Layered performance jackets made into a finely-tailored mass. The least fashionable shoe in the world as an aristocratic club kid classic. Ikea totes as a $2,000 it-bag. The most maligned denim silhouette as the apex of high fashion. This reimagining of the quotidian as luxury at turns fascinates, infuriates, and delights the public.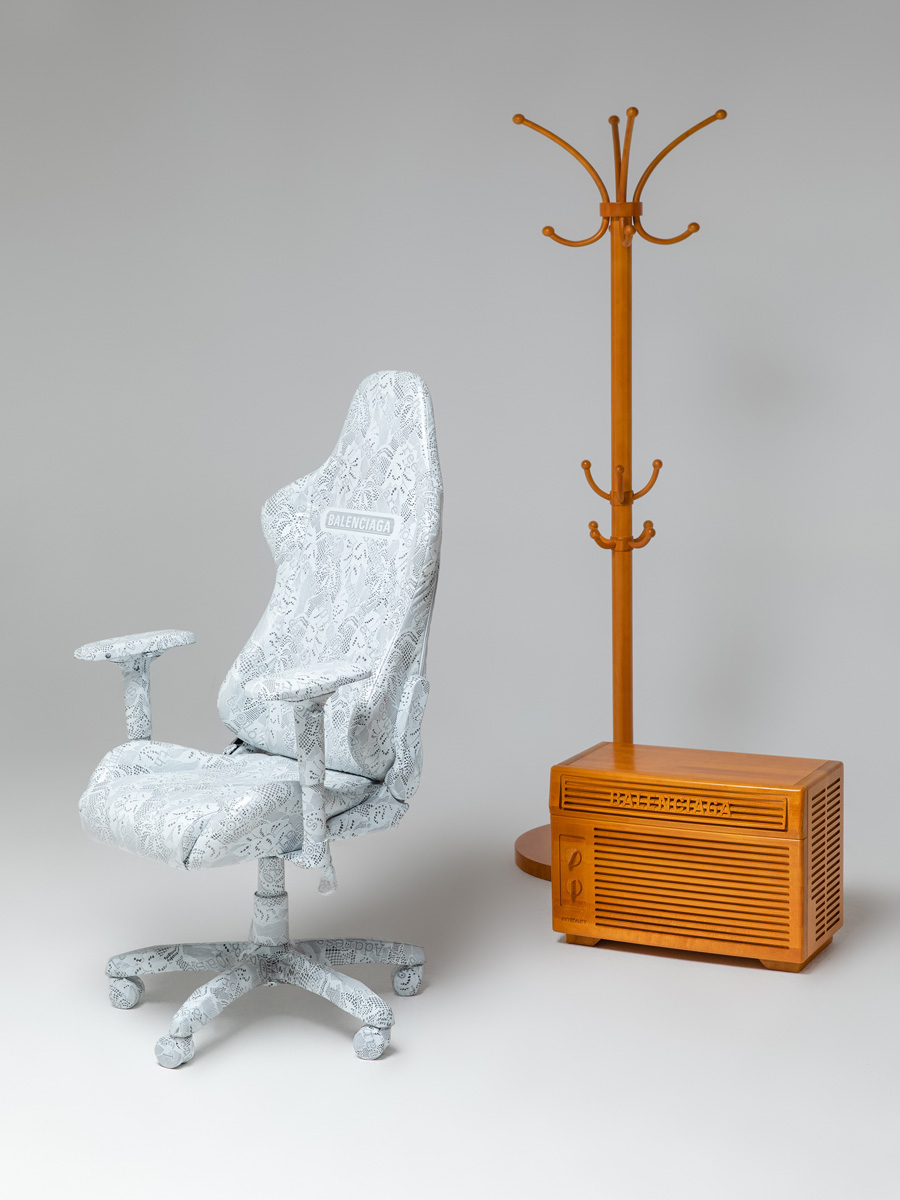 Nuriev's air conditioner and copy machine are both made of hard-carved wood and function as storage spaces; the air conditioner, for example, would make a great bedside table. Nuriev was inspired by his first year in New York, when he lived in a tiny room and spent most of his money on an air conditioner.
The Balenciaga logo is delicately engraved where "Koldfront" or "Epson" might be, and woven into the white lace material. But it's not a formal partnership, the way the house worked with, say, Crocs. "It's not a collaboration," Nuriev explained. "It is inspired by Balenciaga, so they let me include the logo on it, but as an art item."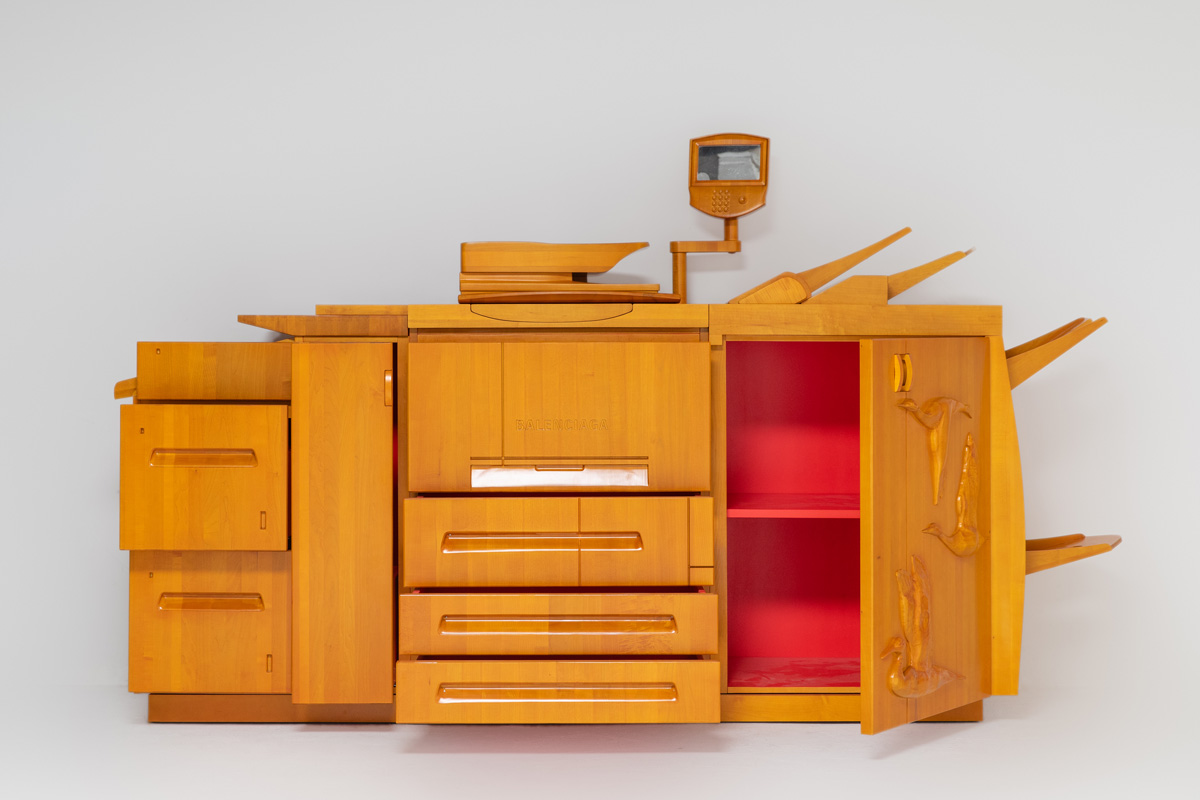 Still, it's hard to imagine Demna Gvasalia wouldn't love to have the chair and curtains in his home office. Both are upholstered in a fussy white lace print covered in plastic, a material that Nuriev grew up with at his grandmother's house. "She used to serve breakfast to me on this tablecloth. It's so from the bottom of my heart because I loved her." Both the chair and the curtain, along with an oversized coat in the same fabric, are ugly and yet wildly appealing—the contradiction at the root of Balenciaga's house codes.
"Everything is beautiful now," Nuriev said. "Our iPhones—even shopping bags and milk bottles are beautiful. We need something ugly, because there is an ugly part inside of us and a beautiful part inside of us. There is too much beauty."
This collection, Nuriev explained, is also a stepping-stone towards clothing design, his next venture. He said the collection will be lots of "construction materials" and silhouettes. "I mean, I'm not interested in people who have money and who can hire stylists," he said. "I'm really interested in someone who has no style, no taste, no money, but they still have to wear [clothes]. They cannot go naked. And somehow, they pick the clothes in a store. They go and they're like, OK, am I gonna look sexy or not?"
"Right—everyone has to make these choices about appearance," I said.
"Right—but people with no taste, like zero," he assured me. "Let's talk about someone who has never been to MoMA, or has no idea what Vogue magazine is." He added that he'll likely show it at a space that navigates between art and fashion—not quite a gallery installation, but not quite a runway show. (Sounds like the loving critique of "upscale" Carhartt we've been waiting for.)
He pointed to his Mardi Gras beads as an example, which looked like the typical plastic circles in screaming primary colors. "It looks like plastic, but it's silver. It's handmade." You have to roll each bead by hand, he said. "To make one bead, it took one day."