The Social Revolution of Our Time Cannot Take Its Poetry from the Past but Only from the Poetry of the Future, 10, 2019, 2 panels Courtesy Jack Shainman
Meleko Mokgosi Is Going Big
The artist shows a series of works in all of Jack Shainman's New York spaces that are simultaneously timeless and urgent.
The Social Revolution of Our Time Cannot Take Its Poetry from the Past but Only from the Poetry of the Future, 10, 2019, 2 panels Courtesy Jack Shainman
Meleko Mokgosi, the Botswana-born painter, whose depictions of daily life in Southern Africa are underpinned by political history and critical theory, has exploded on the U.S. museum scene. He's had recent solo shows at the Baltimore Museum of Art, the Fowler Museum in Los Angeles, the Smart Museum in Chicago, and has another, beginning next February, at the Pérez Art Museum in Miami.

Meanwhile, this fall, he has taken over all three spaces of his New York gallery, Jack Shainman, with a monumental presentation of three bodies of work that draw on his appetite for research and showcase his political and aesthetic range.

At Shainman's building—itself museum-sized—in the Hudson Valley, The School in Kinderhook, N.Y., Mokgosi presents 42 mostly large-scale works, mainly oil on canvas, that make up Democratic Intuition, a series he has worked on for nearly a decade.

He has new work in Shainman's two spaces in Chelsea. One is showing The Social Revolution of Our Time Cannot Take Its Poetry From the Past But Only From the Poetry of the Future (the title comes from Karl Marx), a series of large-scale figurative paintings paired with texts by African and African-American writers, to which Mokgosi sometimes adds his own annotations on the canvas.
The other—seemingly in a totally different vein—has Pan-African Pulp, a single work in 31 immense panels in which Mokgosi has rewitten the text of a 1970s photo-novel to turn it into a biting attack on those who subvert and get rich off revolutionary struggles.
Mokgosi, 38, is based in New York City. He has lived in the U.S. since 2003, earning degrees from Williams College and UCLA, not to mention stints in the Whitney's Independent Study Program and as an artist-in-residence at the Studio Museum in Harlem. As of this year, he is teaching at the Yale School of Art.

It's a heady resumé, but his political bite is as sharp as ever. So is his eye for the ways in which U.S. and South African society, in particular, share challenges and traumas; and his sense that no one has a monopoly on truth, and no victory is permanent.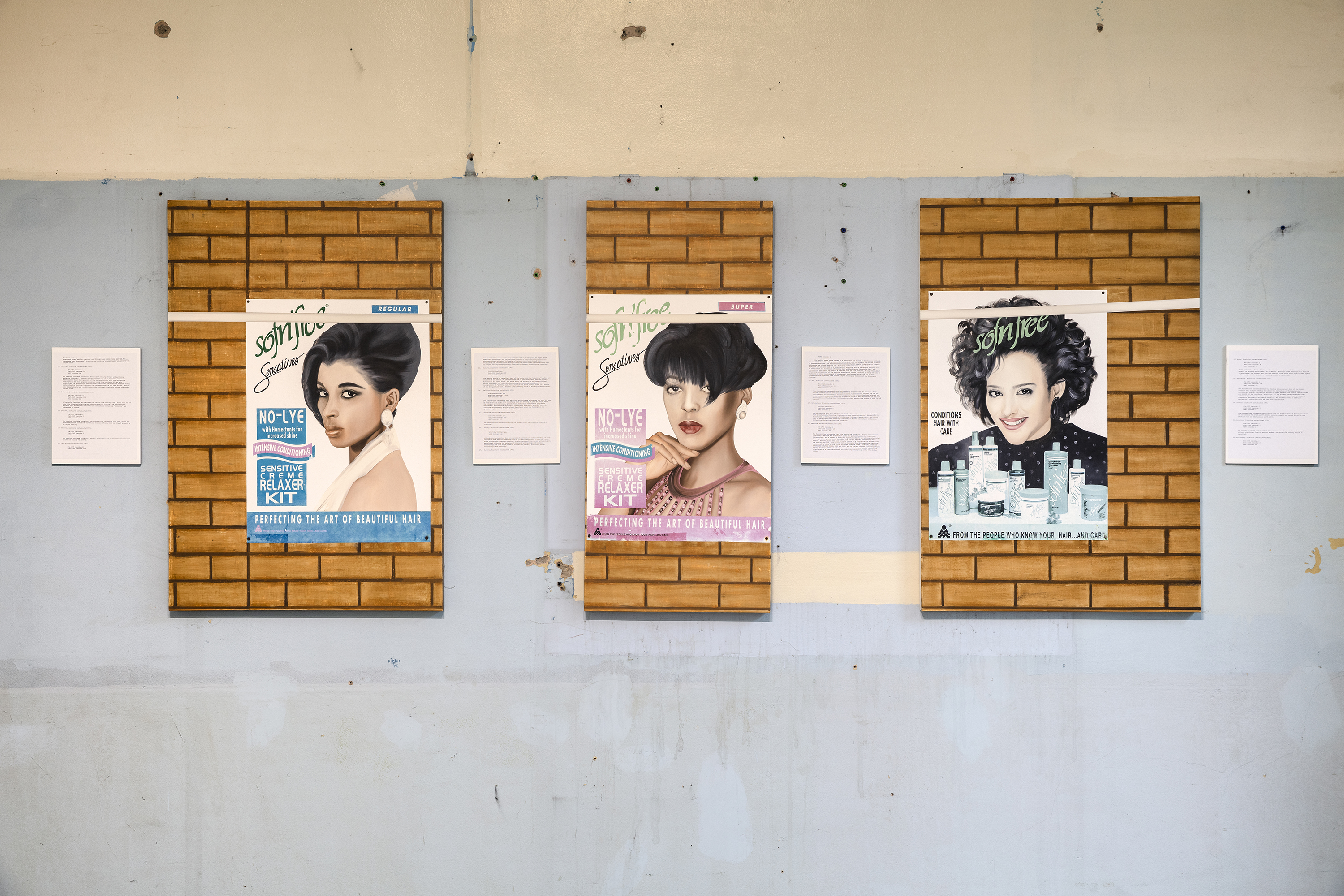 Your "Democratic Intuition" series represents your take on history painting. What does history painting mean when it's applied to post-independence histories, in countries that experienced colonial rule?
Up until the struggle, history was understood and conceptualized from the West. And history painting was a genre that tried to encapsulate the vision of the colonial empire in Europe. So as to say, these are our values, hopes, dreams, wishes, and this is our conquest.
My way of engaging is to fold in the histories of post-Independence southern African nations, which, as with most independence struggles, are very patriarchal. These movements seem to be always about what the singular male historical figure achieved, and so forth. A lot of times women are left out, the working classes are left out. So yes, it's good that a country got independence, but under what terms was independence achieved? Who benefits? It's about folding in these complicated, bittersweet effects of the struggle for liberation.

In the process, you end up painting a panorama of the different facets of life: work, education, love, socializing... So in a way it's also a counterpoint to ethnography.
Pretty much. In the West, history painting was supposed to capture a very specific, big historical event, and it tries to depict important historical figures. It's all about privilege and prestige. So I kind of removed that too. I don't depict any monumental events or figures. It's kind of a conflation of genre painting and history painting—to introduce specificity to historical discourse, to undercut ethnography and anthropology in the Western context, and say that history is a very expansive and expensive thing.
The idea of a "democratic intuition" opens up the potential gap between the idea of belonging to society, and the idea of belonging to a particular political system.
Absolutely. And in all the frames or panels, that idea of the democratic is really about an intersubjective relationship between two people. Like, democracy cannot function with someone in a vacuum. It's a relationship: how do you work with another subject in a way that does not antagonize and counteract your own freedoms, but also where what you want to do, how you want to work towards whatever you think is self-determination, does not hinder another person's freedoms? So at a basic level, it's about a certain kind of relationship based on mutual recognition.
Because all of these facets of life —work, love, etc.—can be marshaled into ideologies. Any full-fledged ideology has its conception of each of these things.
Absolutely, and the unconscious is a very important thing. Even looking at something like xenophobia in South Africa—I had a five-year project, a long time ago, that tried to look at xenophobia. I tried to figure out, how does it come to that? Having worked hand in hand with people from Zambia, Zimbabwe, Botswana, all these countries united and working towards liberation, and 30 years later there is violence pointed towards other Black African nationals. It's a really important question that has to do with the unconscious and psychic investments.
Is it your feeling that social trauma is generationally passed on?
Oh, totally. In the South African context, when the apartheid regime ended, there was intergenerational trauma from the people who benefited from the apartheid regime and now feel ostracized and targeted, the white Afrikaners. And then you have the intergenerational trauma from those who were targeted by the racist regime and suffered greatly.
Frantz Fanon teaches us that the torturers were also traumatized.
They were all traumatized. I believe it was James Baldwin, who said he felt really sorry for white Americans, because they really don't understand how dehumanized they have been made by racism. All the parties involved are damaged goods.
When you exhibit these paintings, you often place them right next to each other, so it creates a strip – like a cinematic effect, as if this were a conceptual documentary.
That was one of the things I was interested in from the beginning. I was trying to figure out how to add to the discourse of painting, not just with the content, but also the formal aspects, and try to combine history painting and cinematic studies.
The works are framed in relation to how cinema shots are framed. I don't do long shots or close-ups. In cinema, the long shot is the establishing shot, which gives just a certain kind of context, and the close-up is a kind of perverse look at something very specific. I want to keep at a medium shot. To kind of obscure, and to highlight the idea that there is no way of encapsulating everything at once and having a full understanding.

And that way, you also offer everyone their space.
Totally. And allow the viewer to enter the space. Just as cinema uses the pause, in the long cinematic frames or "film strips," I use negative space as a device that allows both reflexivity and entry into the work—to allow the viewer to kind of step in, not to produce an overbearing composition where the viewer does not feel like there's room for them.
We've been talking about your figurative work. But you work a great deal with text as well—combining paintings with text, and text-only works, sometimes adding your annotations to someone else's words. What's the draw of text?
It's a thing that began in 2007, I think, when I saw a museum show on African beaded artworks. And I guess I was very taken by how the artwork and cultures and people were historicized in the museum context. I started interrogating museum wall labels. It was another way of engaging with the politics of representation.
Almost all the texts in the show – some paired with paintings, some on their own – are by African or Black American women writers. What's behind that selection?
I wanted to highlight the role that the African female subject has played in the struggle for liberation. I do it also with the images—I have a lot of images of Albertina Sisulu, Winnie Mandela, and so forth. In liberation movements the Black female subject tends to get left out.
Though you also have a text by Frederick Douglass, whom some would argue is seen as a great patriarchal figure.
That one is bending the rules a little bit. It seemed like the most appropriate text to talk about the Black male subject. And he was a patriarch, yes, but what a lot of people know now is that he was the only Black person invited to the Seneca Falls convention.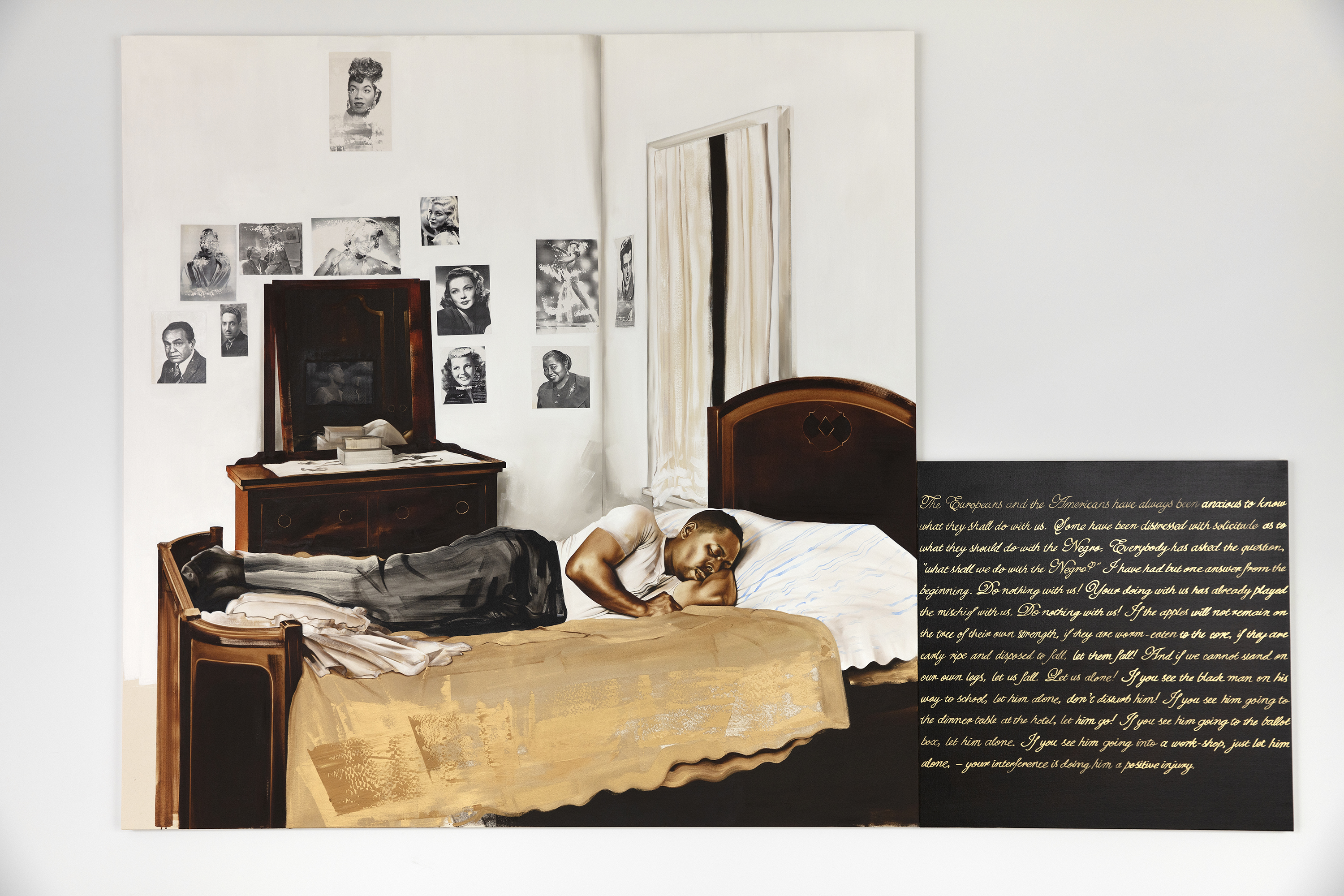 In one work, you have a poem by the South African writer Mavis Smallberg, about the murder by the apartheid regime of a young boy named Willie Nyathele. And the painting is of what appears to be a Black middle-class couple on the porch of a township home. It's left to the viewer to infer any connections.
Yes.
Good answer.
The image and the text is not a one-to-one relation. I think it's a powerful poem, and an image too. It's a way of injecting human emotions and affect into things that don't necessarily get that kind of investment. Even in America, where there's story after story of Black boys killed for no apparent reason, it seems like there's no reckoning of the fact that this is someone's child, who has a name and parents and people who care for them.
Then you have a work that consists of a poem by June Jordan, with your annotations. It's a poem of solidarity with the struggle, but you're correcting some of the information in the poem. It feels like you're welcoming solidarity, but also making clarifications.
I guess it frames the relationship of sisterhood, and how it cannot really cut across a lot of issues and ideas. The march of Black women that the poem celebrates had to happen on a certain day, for instance, when the women, who were mostly domestic workers, had the day off… The annotations are kind of putting into perspective that there shouldn't be just one idea of historical facts.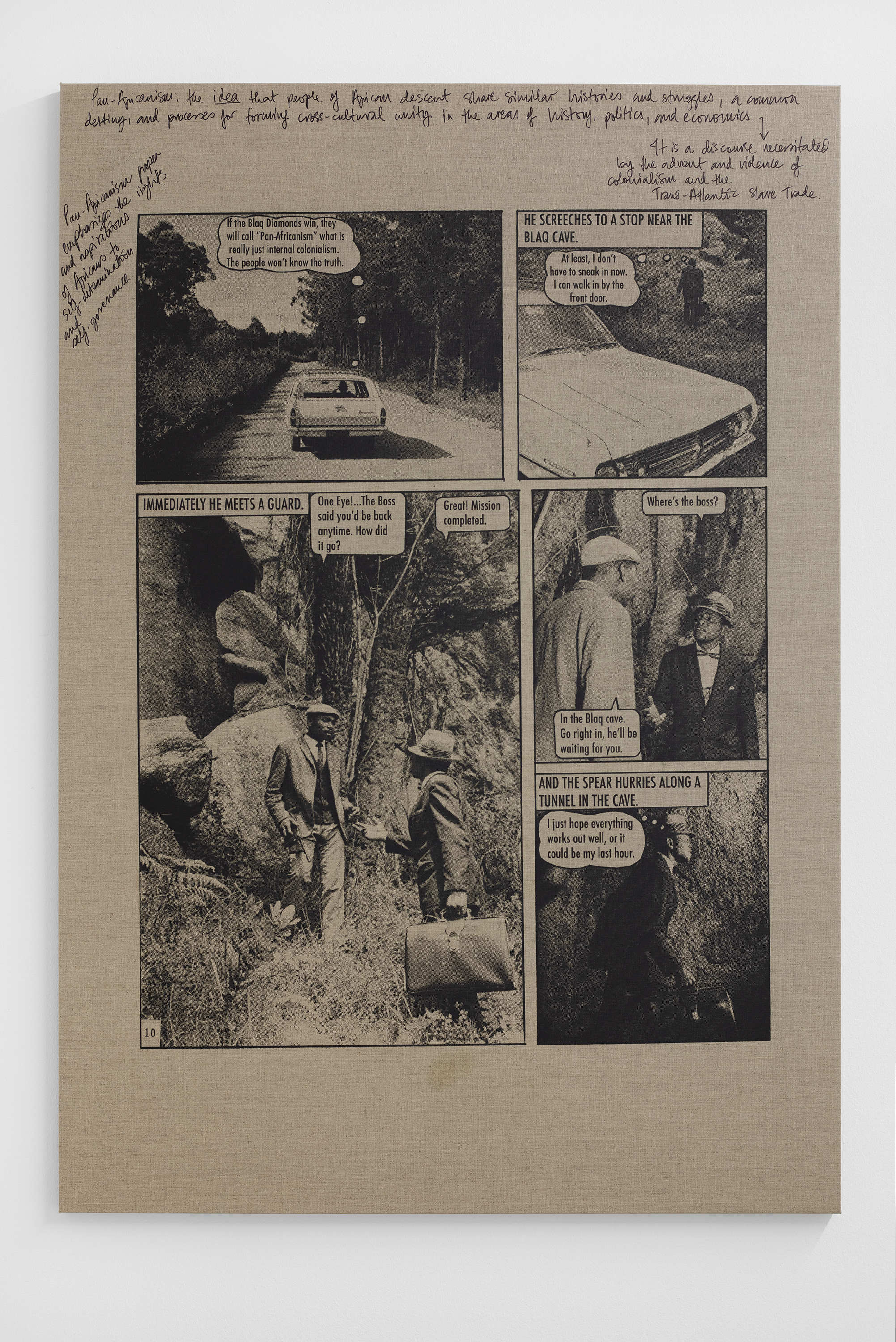 Jack Shainman's on 24th Street branch is showing "Pan-African Pulp," which is your take-off on a genre of graphic novel that seems like it was iconic.
Yes. They were photo novels—in the South African context they were called "look books." These ones were published by Drum Publications. This was in the 1960s and 1970s, and they were very popular. They were a precursor to African cinema, and they're very under-recognized. They follow a kind of James Bond storyline, and they were important, because they gave Black people not just access to the kinds of representations they could envision themselves, outside the political climate, but it also gave them reading material, because there wasn't a lot of popular culture produced for the Black subject. In the research I did, a lot of people would say, "I would travel the whole day just to go to town and get this one thing that was published that month."
It was a kind of nourishment.
Absolutely, intellectual nourishment—again, at that point, Black people were just thought of as being bred for manual labor. So this kind of cultural content allowed people to imagine things differently. It also allowed me to talk about Pan-Africanism. The way they were produced, they were shot in Swaziland or Lesotho, and published in Britain, Kenya, and Nigeria. There was a whole host of people putting it together.
Even in America, where there's story after story of Black boys killed for no apparent reason, it seems like there's no reckoning of the fact that this is someone's child, who has a name and parents and people who care for them.
Did the typical story have any politics in it?
It couldn't. The producers wanted it to be distributed without any censorship, and enter the field of popular culture. So it's about, oh, Dr. Evil is going to do this thing, and Lance Spearman is going to save the day, and it was totally apolitical.
But you've turned them into a highly political story, in which Lance Spearman, is fighting against the people who are taking advantage of the revolution—the Black capitalists and others who are trying to co-opt the struggle. Did you work with the original images, and just write new text bubbles?
Yes. I just changed the dialogue.
So you had to come up with a storyline to suit the photographs.
It was a lot of work! But I also worked with a close friend who is a great writer.
Pan-African Pulp is huge—a single work, made up of 31 large panels that fill two large rooms. What would be a good long-term home for it?
A public institution would be ideal, I think. That's why I try to work at the scale that I work—I really try to think about the work living in a public institution that can engage a wider public in a kind of critical framework. If someone is a collector and thinks they can acquire it and take care of it, I'd be happy too, but ideally it's a public institution.
Tagged: