Cannupa Hanska Luger, The One Who Checks & The One Who Balances. Navajo Nation. Photo: Chip Thomas for Return of the Warrior Twins mural, 2018 - Ginger Dunni
Imagining a Utopian Future
A new show at the Ford Foundation in New York brings together artists from around the world.
Cannupa Hanska Luger, The One Who Checks & The One Who Balances. Navajo Nation. Photo: Chip Thomas for Return of the Warrior Twins mural, 2018 - Ginger Dunni
There has been some talk about the evolution of the black superhero in pop culture, with films like Black Panther and Netflix shows like Raising Dion, but one exhibition in New York proves artists have been imagining an inclusive future—from Afrofuturism to sci-fi Sufism—for decades. Case in point: Yinka Shonibare imagined a black man on the moon in 1992, while Saks Afridi made a space mosque in 2019.
This work and more is on view in the group show Utopian Imagination, which runs until December 7 at the Ford Foundation in New York. The exhibition brings together 13 artists from around the world—from Iran to Japan—who are imagining their own future of life on an endangered planet, far beyond your typical Marvel clichés.
According to the curator Jaishri Abichandani, the exhibition's title is lifted from writer Naomi Klein, who said that a utopian imagination is an "articulated vision of the world we want instead." Klein explained in 2018 as follows: "I think that previous generations of activists, of organizers, for better and worse, had that utopian vision of the world they wanted instead. They didn't identify as 'I am an environmental activist. I am a women's rights activist. I am a civil rights activist.' It was more like, 'I'm a revolutionary. I am not just resisting what I don't want. I know the world I want instead.'"
"The exhibition is a poetic interpretation of this idea, with fictional narratives for the future being proposed by black, indigenous, queer, feminist artists of color," said Abichandani. "Klein says we need an all-encompassing utopian imagination to bring together all human concerns, in order to see changes in public policy and government; from the professionalization of social justice issues, which prevents them from being addressed in a holistic fashion to counter the existential threat we face as a species."
Abichandani walks GARAGE through six artworks in the exhibition, detailing how artists are imagining a utopian future.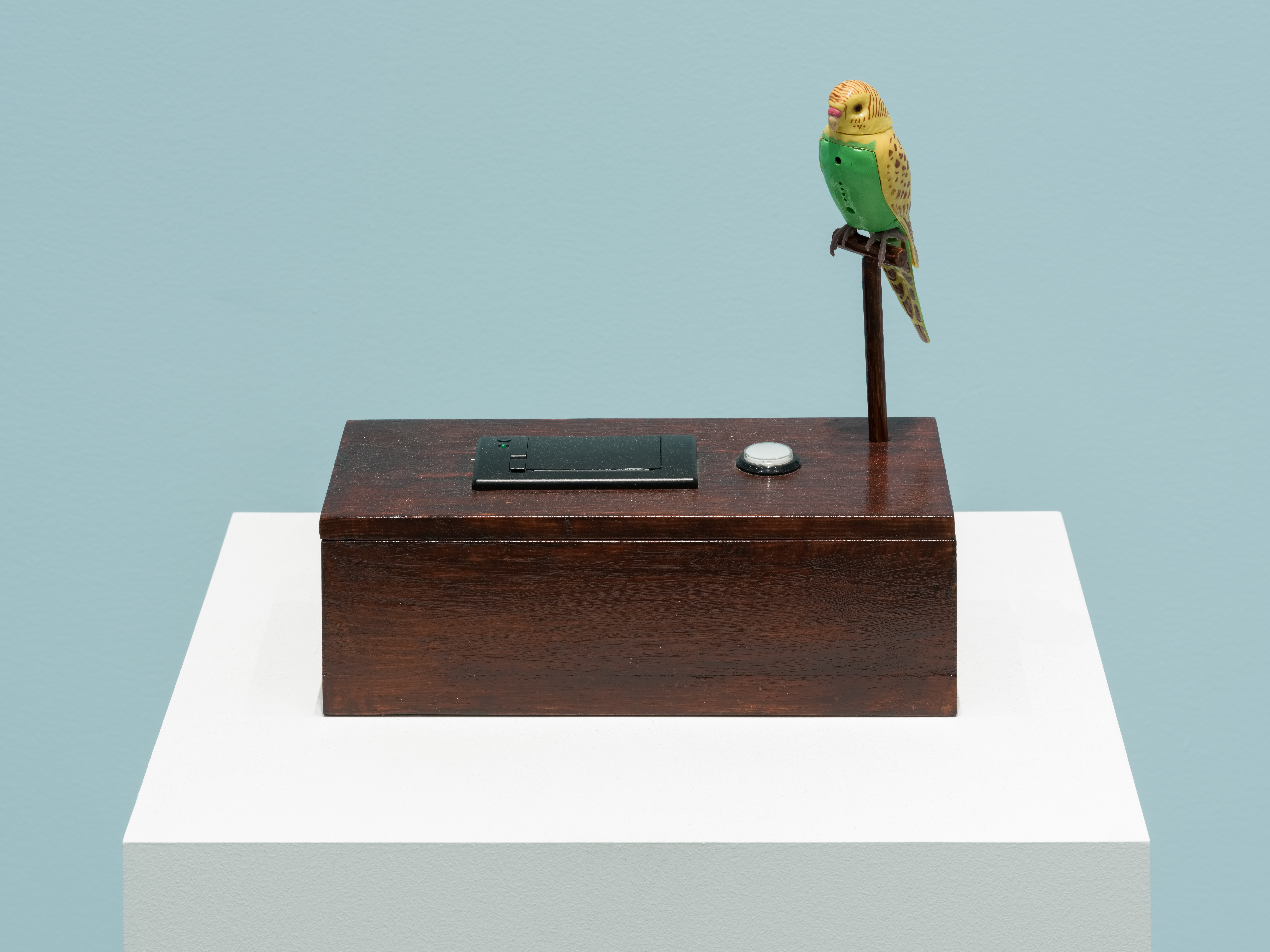 Beatriz Cortez
In the gallery, walk up to a set of receipt-making machines on a table. Press a button to get a fortune printed out on a paper bill. Phrases like "There will be no violence" and "We will have land to cultivate" and "Our children will be educated" have been written by the indigenous Kaqchikel Maya collective Kaqjay Moloj from Guatemala. It's part of the artist's work The Fortune Teller (Kaqchikel edition). "It's their list of wishes for our future, ones they believe you can manifest the future into being with your words," said Abichandani.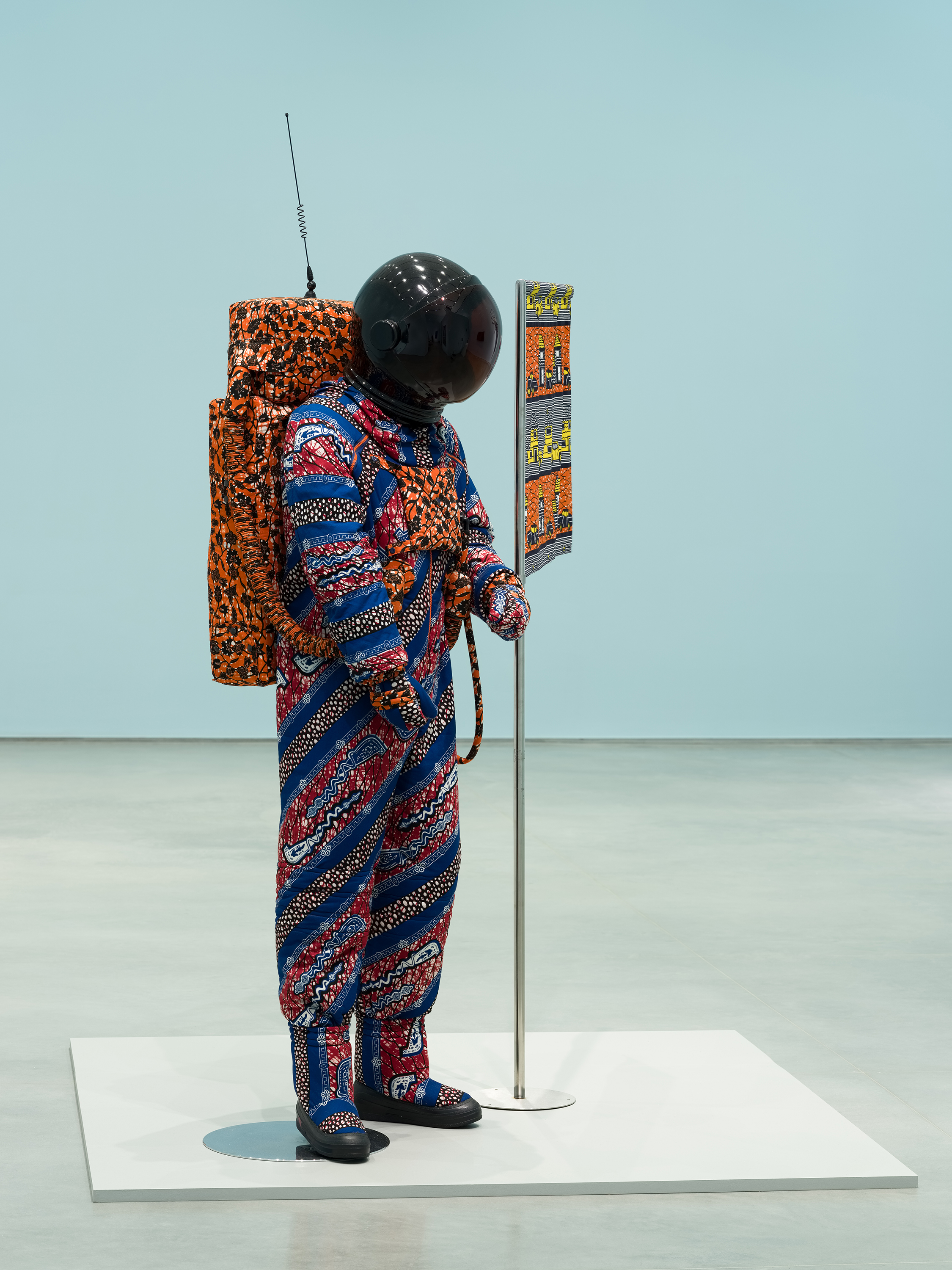 Yinka Shonibare MBE
Cloud 9, which the artist created in 1992, envisions a black astronaut who landed on the moon. It was completely ahead of its time—depicting a moonwalker in African patterned garb (his Refugee Astronaut piece is also fantastic). "We had never seen anything like it," said Abichandani, "so many artists had been focused on historical narratives and postcolonial deconstructions that it took us all by surprise. Yinka made a powerful intervention, giving us the perfect manifestation of the ideas of Afrofuturism. Indeed, these investigations have been happening for a long time."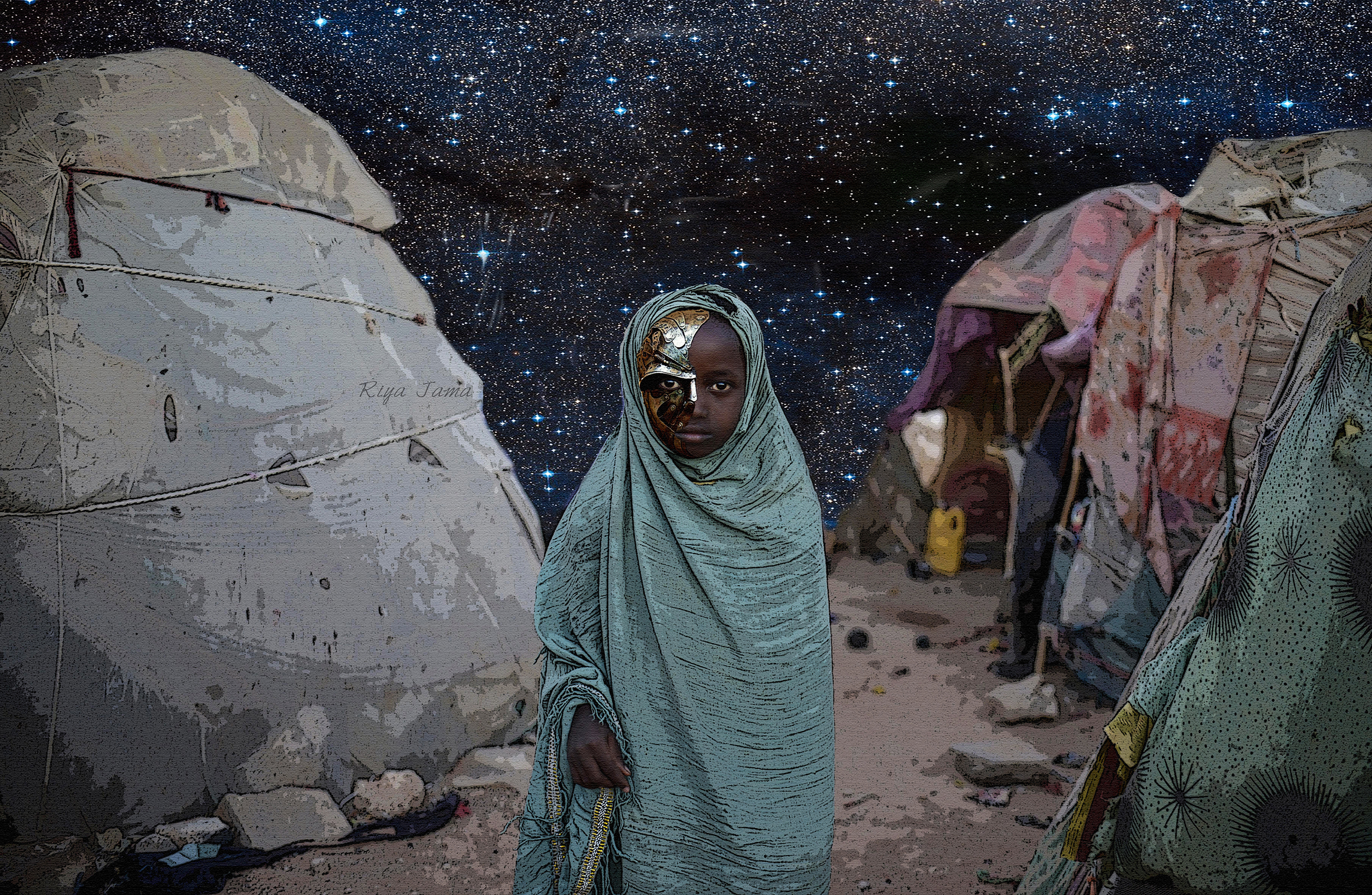 farxiyo jaamac
What does an Afrofuturism theme look like from the perspective of a young woman? Photos of a young, black Muslim girl stands in a refugee camp—which could be in outer space. "There is a burgeoning complexity in her work that merits attention, and I was fascinated by the image of a little visibly black, Muslim, android girl in the midst of what appears to be a refugee camp," said Abichandani. "In the very specificities of this identity, lies it's power to speak beyond them. The android girl has a powerful and uncanny presence that transmits itself from that bleak landscape. Without realizing it, farxiyo was tapping into the same instincts that led Yinka Shonibare to create his mud cloth-clad astronauts over a period of twenty years."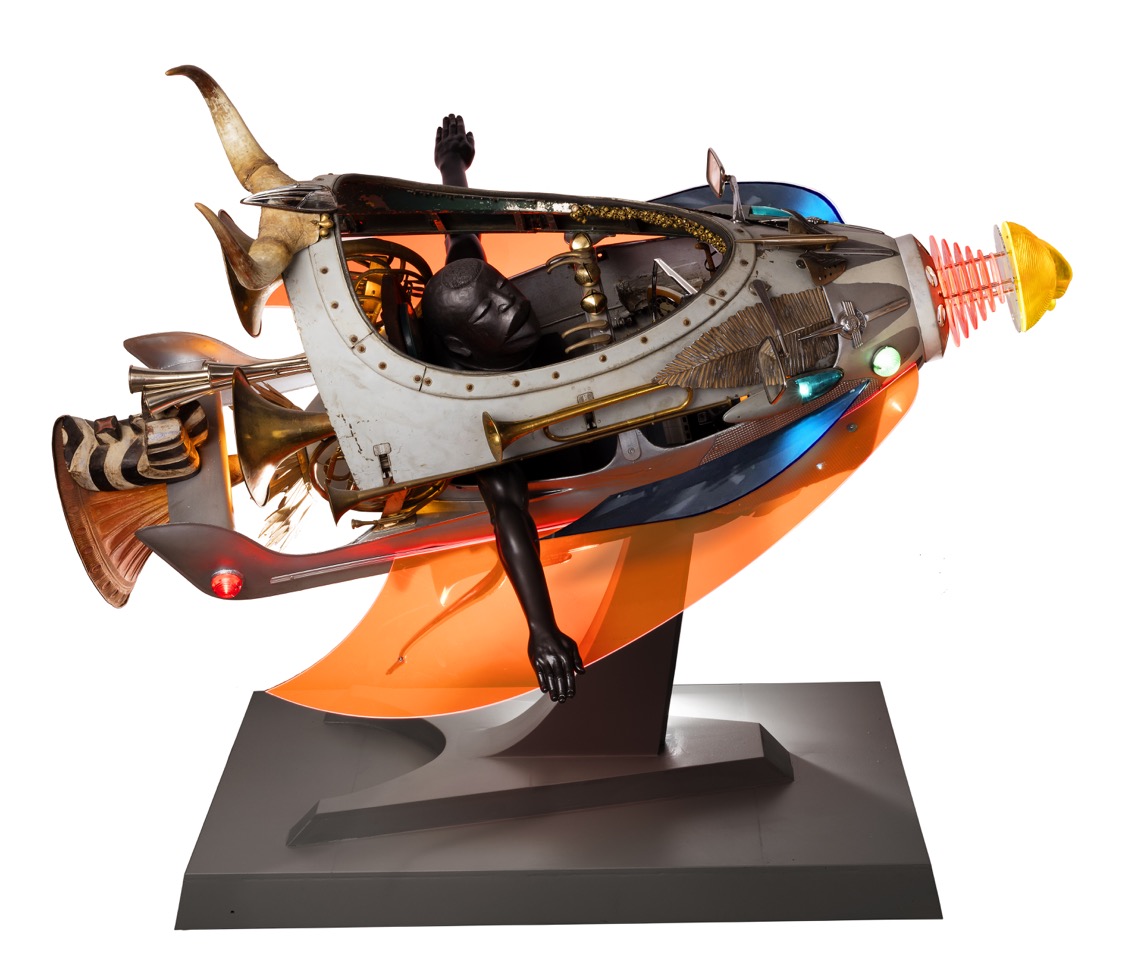 Zak Ové
The artist, who has an ongoing interest in diasporic and African history, is showing two pieces, Sky Lark from 2017, which is a large DIY spaceship, partly crafted from recycled parts, and Nubian Return from 2011, which is what Abichandani calls "a female cyber goddess replete with a halo of airplane parts."
The sculptures here are an ode to past visual touchstones of space travel, while suggesting a more inclusive future. "Many of the works evoke a sense of magic," she adds. "I love how artists were excavating ancient belief systems and marrying them with technology to create magical works."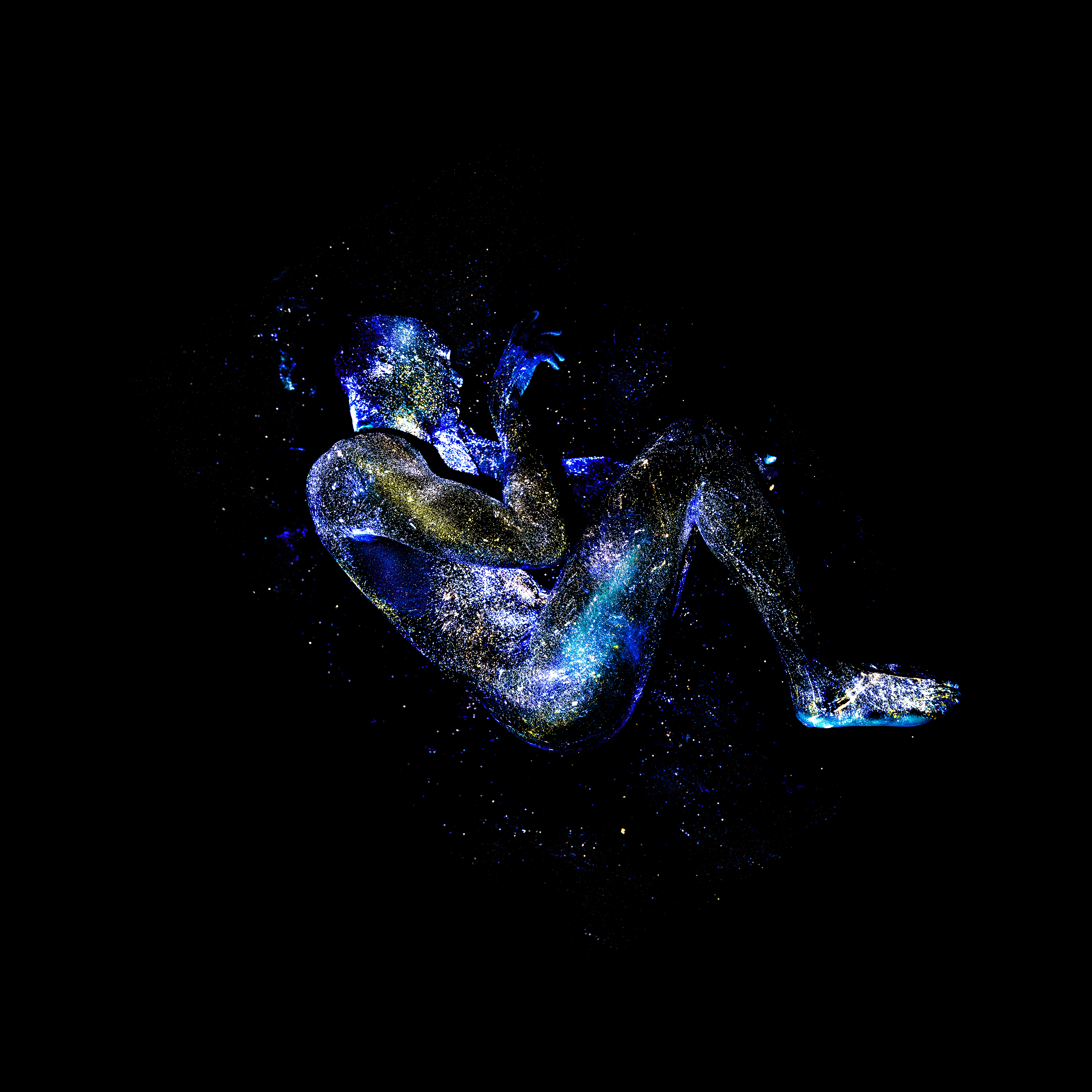 Mikael Owunna
The Nigerian-Swedish artist shows a selection of photographs from his Infinite Essence series, where the artist has hand-painted models bodies with florescent paint. It's what the artist calls "a quest to recast the black body as the cosmos and eternal." Shot entirely in total darkness, their bodies, covered in speckled paint, "illuminate as the universe." This work is what Abichandani notes is a combination of technology with portraiture to render bodies that look like they're covered in stardust. "This elevation of black bodies to mythic beings is the very definition of Utopian Imagination," she said.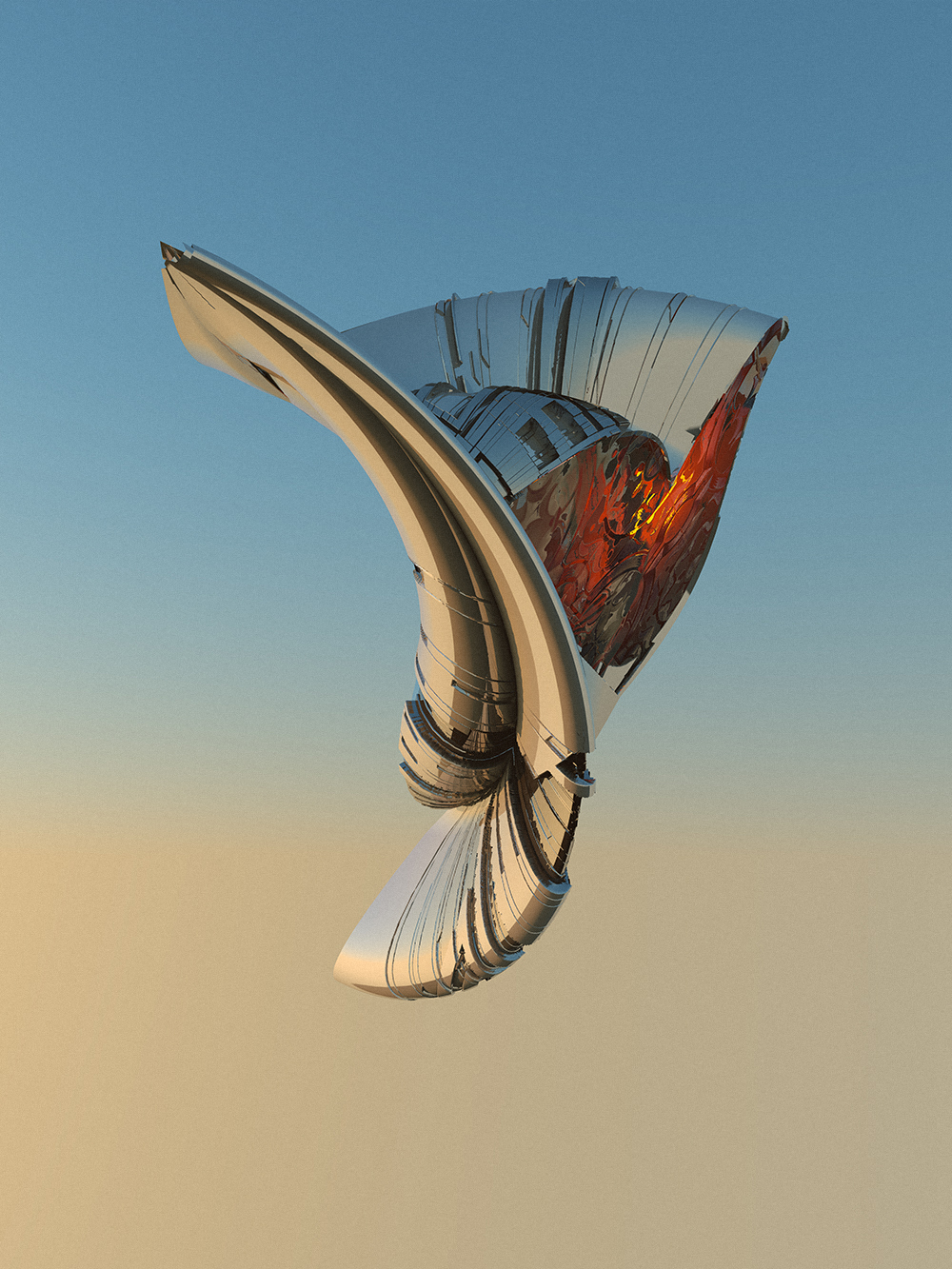 Saks Afridi
The Pakistani-born artist calls his work "sci-fi Sufism," as he imagines a future inspired by Islamic mythology, Sufi poetry and Afrofuturism, among other references. Among the works he shows here, he's showing his Prayer Catcher, which imagines a time where collective goals are more important than personal wishes, and SpaceMosque, which looks towards a utopian world that is changed by the power of prayer. A sense of selflessness is a thread throughout Afridi's work, much of it which calls to mind sleek design work, charged with a psychic energy. "If we don't start thinking collectively, our children will have no future to inherit," said Abichandani. "They could very well be the last generation. Humanity has never faced such an existential crisis together, we need to come together for solutions for our own benefit, or else all is lost."
Tagged: