Tali Lennox, Detail from Karol's Fortune, 2019, Oil on Canvas
The Ghosts of Tali Lennox
Her first solo show at Meredith Rosen Gallery in New York is a celebration of souls; real, imagined, and long-gone.
Tali Lennox, Detail from Karol's Fortune, 2019, Oil on Canvas
"Are we trying to escape or are we telling our truths?"
The painter Tali Lennox has just asked this question. We are in her studio in Chinatown, on a busy corner in Manhattan. Up five flights of stairs, the little room, with its walls painted white, has an air conditioner blasting on high to deflect the intense August heat. In one corner, a makeshift photo studio, with jewel-toned fabrics that form a photo backdrop for her portraits. On another, a desk filled with some of the tchotchkes that populate her paintings. A wall is covered in neat rows of vintage photographs and there is a bowl full of seashells on the floor. In the middle of this kingdom—and it does feel like a kingdom, high above the city, disconnected from the outside world—stands Lennox, wearing a vintage lingerie slip and blue Chinese slippers.
We are a few weeks out from her first solo show opening at Meredith Rosen Gallery in New York. There are unfinished oil paintings all around us, all starring various characters that some might at first describe as tragic, but they're only tragic if you're blind to what is essential. Some stare straight at the viewer, with steely gazes, others are nervous, absent minded. All their faces are painted white—the actual color white—over their white skins, not unlike a clown, but they aren't clowns. In one, a woman wears a white neck ruffle, her naked breast gently resting over a vintage bottle of Coca Cola full of milk. She could be a mermaid, maybe, who gave it all up for a pair of legs. In another, a young woman smiles at a light beyond the paintings. Her hands holding up her head at a slight angle, is it a mask? Or is it her face? A crown of silver leaves frames her head. This one is called "Beneath Eternities Loom." All of these, will be part of her show "The Ballad of Linda Leven," which opened recently on September 13.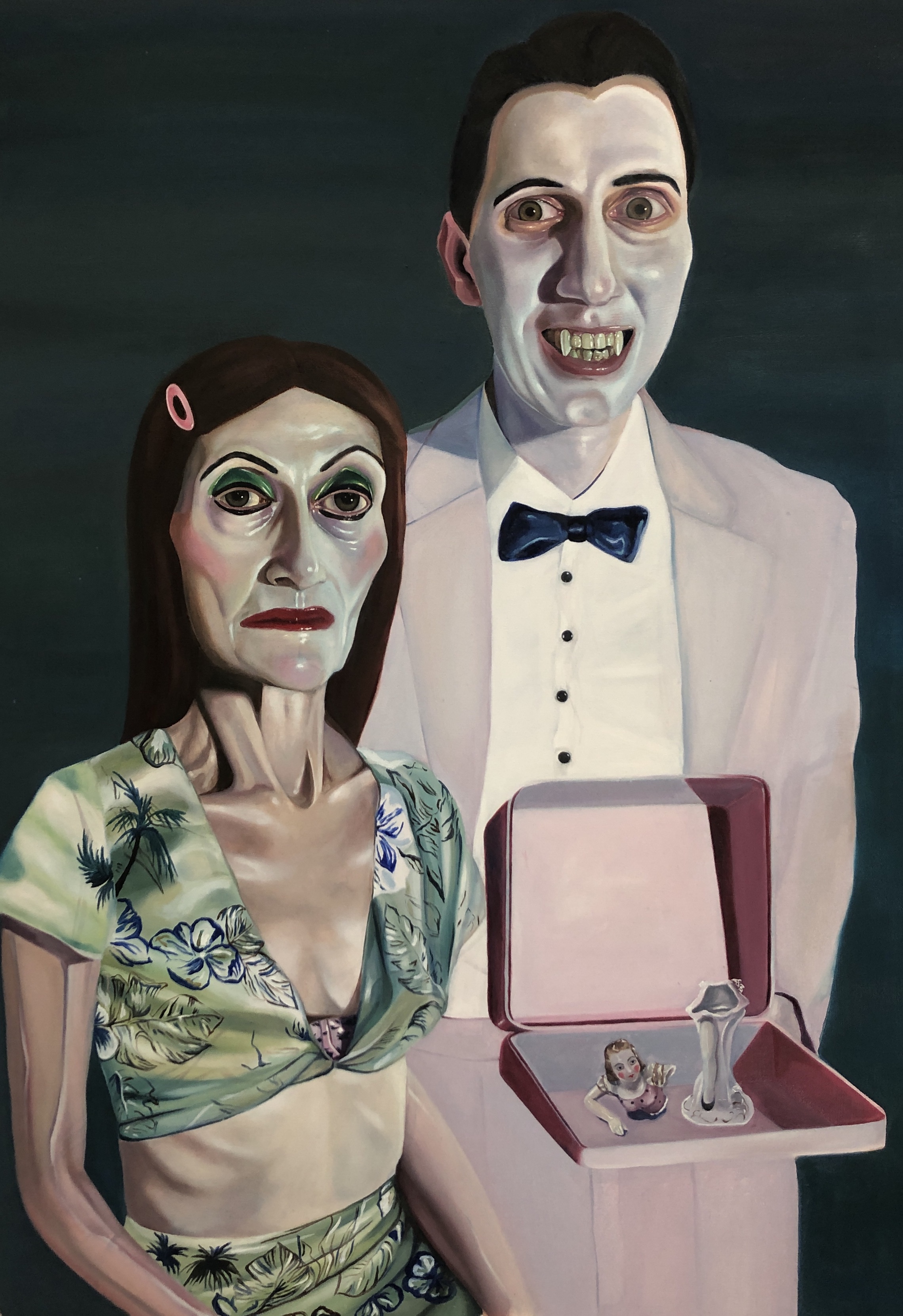 Linda Leven is a real person, a woman. She's 77 or 78, Lennox isn't sure. "She came to New York to be a dancer, a ballerina, and she never made it," Lennox explains. "Now, she wants to be a model, and she's obsessed with being famous." She corrects herself. "I don't know if it's even fame that she wants, she just wants her name to be known."
"When I painted her, her one request was please just put my name in the credit."
Her portrait immediately demands recognition. She is gaunt, her bones protruding from her stomach, from her chest, from her cheekbones, which are rouged heavily. She is a star from the past, frozen in time. Her eyes bear the gaze of a woman who was seen a lot, who has lived it all, who has lived through this. She carries herself with dignity. Next to her, a young man, a nervous expression across his face. He smiles showing fangs—a vampire. He holds a little box with a ceramic broken ballerina.
"I didn't plan for the ballerina to break," Lennox says. "It was a very specific antique ceramic ballerina. I took it out of the package and dropped it and it smashed on the floor. I was so disappointed." She adds, "now it makes the painting."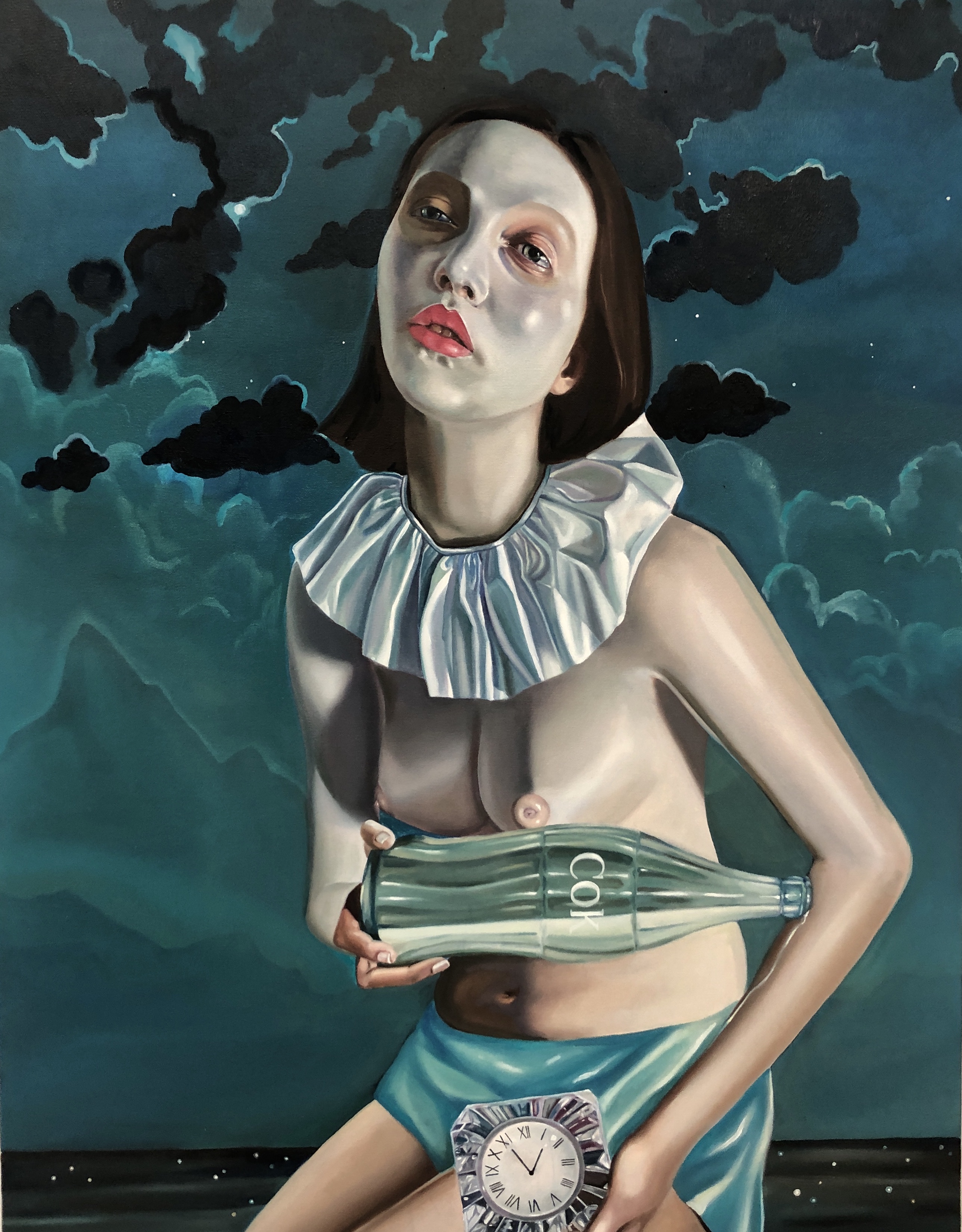 These works are inspired by the Maverick Festival, a proto-burning Man that took place in Woodstock, New York in the early 20th century. "It was like one of the first utopias in a sense," she explains, "It was an opportunity for people to have three days of freedom and liberation, and people dresses as fairies, and they built a 200 foot pirate ship and burned it down at the end of three days."
Many of the vintage photographs on her wall are of the Maverick Festival. "They're really unbelievable photographs, and people don't know about it all, it's a totally forgotten history." Lennox obsession with vintage photographs, for the lives of people who are no longer with us, stem from an accident four years ago where her boyfriend lost his life. "I have a fascination with this thing of… holding onto ghosts in a way," Lennox reveals.
"Collecting really old photographs was a way for me to cope. I had them all over my apartment and I would paint these characters, it felt like something I could hold onto." She adds, "It's almost a way of being closer to death, and the remnants of what doesn't exist comes with a lot of melancholy. It's like, this grappling of time, really."
The paintings too, will be gone one day, a feeling that Lennox is more or less ready to face. "I always say that painting reminds me of a short-lived love affair. [The kind] that you have when you meet someone completely random, and you tumble into this three day thing of intense bonding and connection and uncovering of these intimate layers. And then suddenly it's done and it's over and either you'll look back at that love again and think it was amazing and life changing, or you'll regret it and be disgusted by it."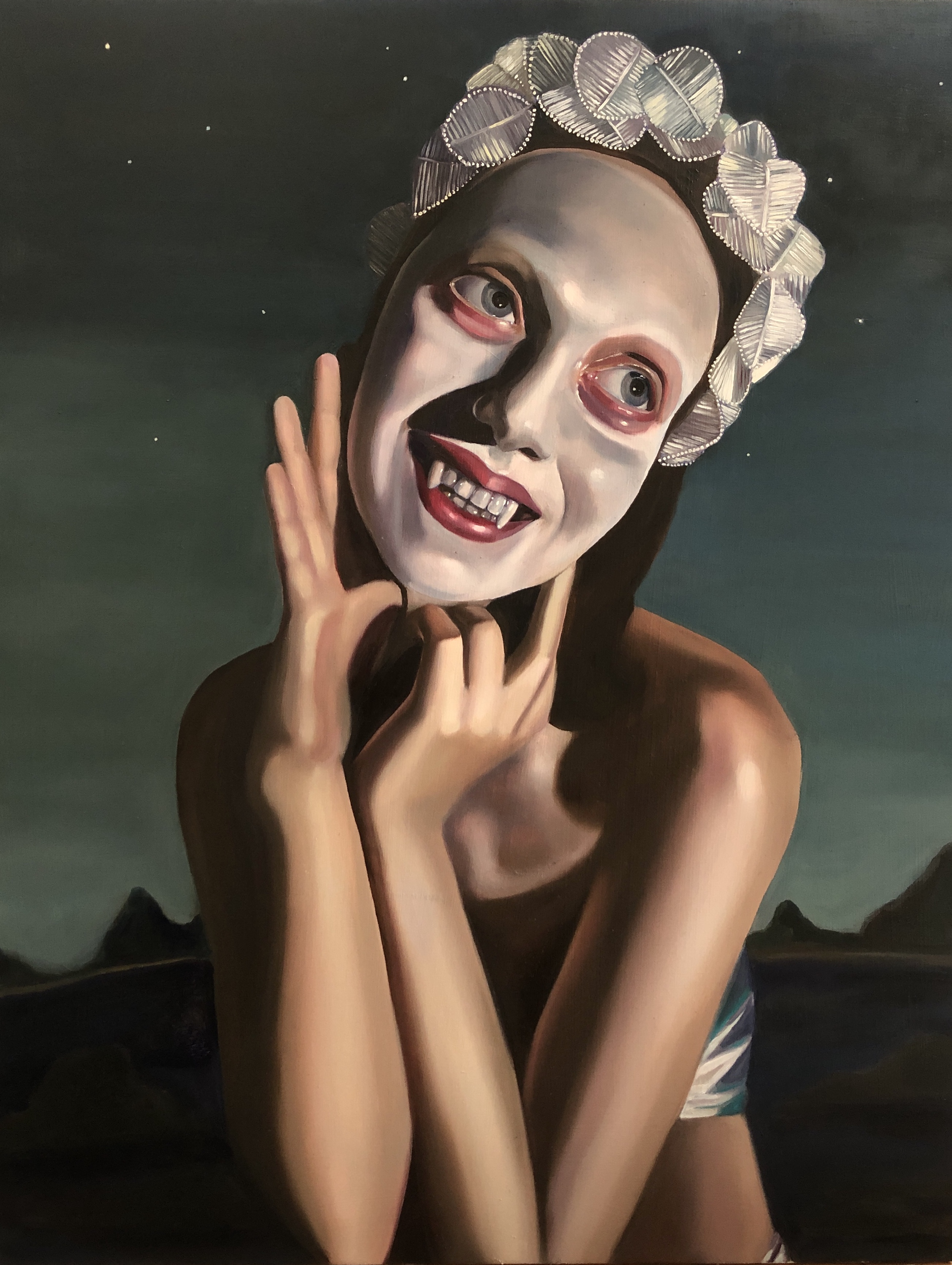 She gets to the studio early in the morning and leaves late at night, working in silence or sometimes, the music of Johnny Greenwood. "It can be too heavy sometimes, but I like those feelings, I welcome them." She's not afraid of darkness. "In my work, I wanted to have beauty and darkness, and to some people they're a bit much, they're a little bit too uncomfortable." She adds, "I like that reaction, but I also don't want to turn people away."
"Whenever I leave the studio after a long day, I feel like I'm on psychedelics," Lennox explains. "Everything looks so glow-y and illuminated, I think it's people's energy, it takes me a while to land back from space."
But going back to that original question— are we trying to escape or are we telling our truths? In Lennox's paintings the answer is obvious, why not both?