Fergus Greer,

Leigh Bowery, Session VII, Look 37 (Detail), 1994, C-type on fuji crystal archive paper © Fergus Greer, courtesy Michael Hoppen Gallery
She's Got L'Eggs and She Knows How To Use Them (To Make Art)
A new show at Carl Freedman Gallery in Margate revolves around that much dreaded accessory—hose.
Fergus Greer, Leigh Bowery, Session VII, Look 37 (Detail), 1994, C-type on fuji crystal archive paper © Fergus Greer, courtesy Michael Hoppen Gallery
Until recently, I had never contemplated tights through a political lens. My observations on the garment, much like a pair of pantyhose, were bland. After viewing Gossamer, a group show at Carl Freedman Gallery, curated by renowned stylist Zoe Bedeaux, I may have underestimated the potential of these interwoven yarns. Bedeaux, whose talents span styling, modeling and poetry, is an intriguing character, not least a curator. With a career counting styling gigs for Juergen Teller and Tim Walker (for whom she has modeled as well), Bedeaux is attuned to spectacle; to see her skills extended to the gallery space was a novel treat.
It's an hour and a half journey to Margate from London, but the coastal enclave where the gallery is based more than compensates for the voyage. Cockles, jellied eels, and gentrification tell-tales (see craft beer and gastro pubs) haunt the area. I'm pleased to see a show outside the city-centric bubble of London's art world. Carl Freedman Gallery was first erected in Shoreditch, East London; now it sits a ten minute walk from the Turner Contemporary in the Kentish town fabled for Tracey Emin's upbringing.

Using hosiery, the show carves out a comprehensive interrogation of sexuality, race and gender. The show is an educational experience for viewers, but it was also educational for Bedeaux as she was putting it together. "Once I started to delve into the material and what it actually signified for me, the substrata came to the fore," Bedeaux tells GARAGE. "As I explored the premise, different socio-political themes emerged and they became the overarching links between the works."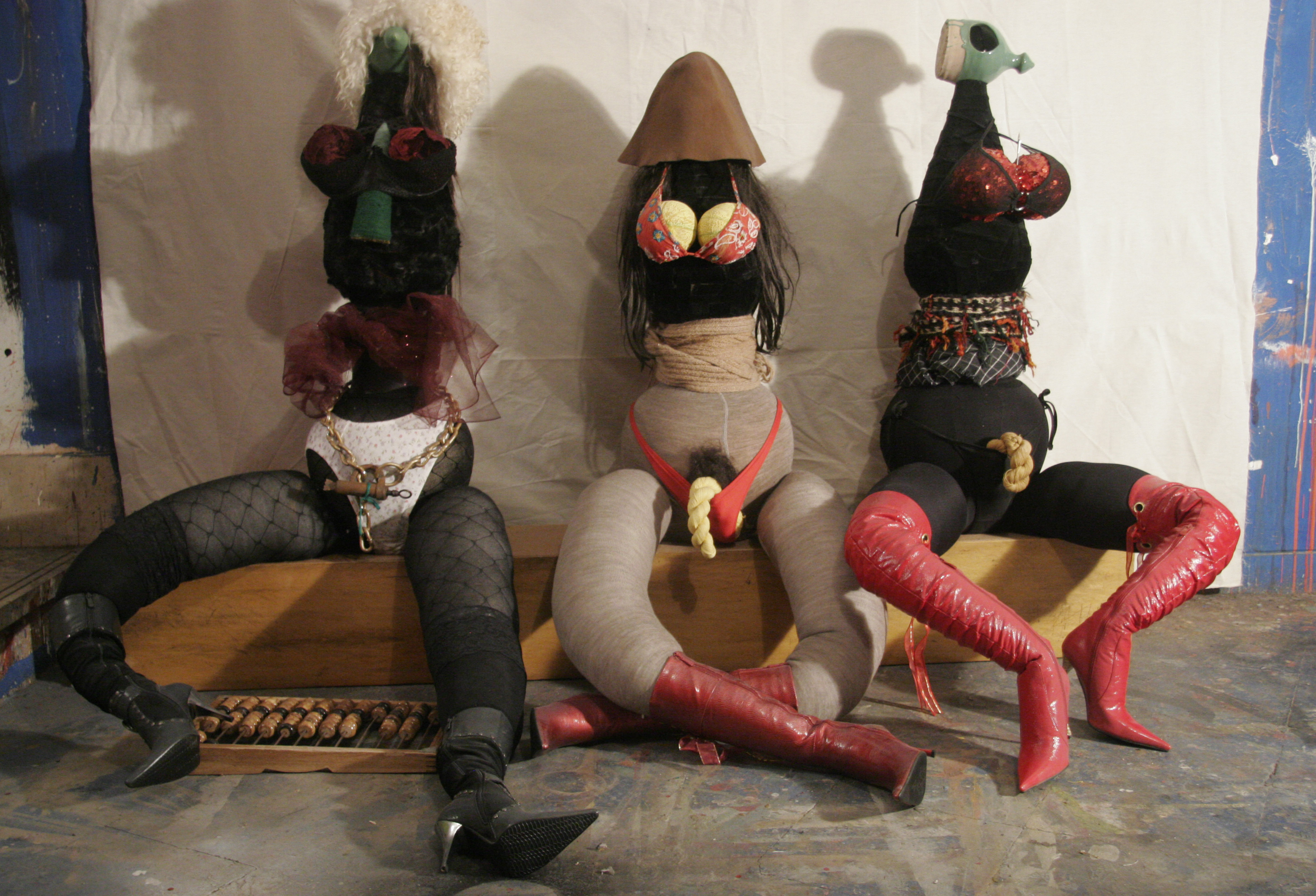 Ranging from the YBA Gary Hume to the Iranian artist Shirin Fakhim, the show picks out voices from across the globe. "What excited me was the diversity in the work and the artists themselves," Bedeaux says. Fakhim's sculptures, at once unnerving and humorous, address Tehran's prostitution circuit, using rope, melons, wigs and of course, tights. Slicker and verging on the abstract, Hume's American Tan XXVI painting takes a scalpel to the sexual ideals of Americana, in this case, the cheerleader.

At the show's opening, Bedeaux read a poem, the lines of which reverberate with past and present treatment of black people. "Fuck you American man, and your so-called nude and American tan," Bedeaux pronounced, masked, bound by rope and encased in nude pantyhose. "We are just pawns in the game that you play," she echoes. I'm struck by this line and inquire further. "[It] refers to the manipulation of freedom, especially in relation to the 13th amendment of the US constitution. Slavery may have been abolished but slavery still continues. Black bodies are a commodity in the US, whereby the prison systems continue to enslave."
A participating African American artist, Senga Nengudi's photographs show her body in extremis, webbed in a bondage of the aforementioned nude pantyhose. Taking direct inspiration from Nengudi, Enam Gbewonyo's spiralling oculus of plaited pantyhose sits on the gallery floor; each pair speaks to the multitude of ways black women are moulded by racist ideals, and thereby made invisible. The message is clear. Black bodies are enslaved by failing politics and hegemonic standards.

The show does a stellar job at spotlighting repressed voices, but it also showcases works from a questionably male gaze. Daido Moriyama's grainy, high contrast images of female limbs in fishnet tights reveal the seedier side of post-war Japan, while Man Ray's photograph sees his wife, Juliet, poised with pantyhose taut across her visage. These works, which fetishize the female form, sit in stark contrast to other works in the show by Polly Borland and Louise Bourgeois; the former completely dismantling the female figure, and the latter offering a delicate, vulnerable femininity. I was unsure, but Bedeaux set me straight. "Cherry picking was not part of my vision," she says. "I wanted to depict as many viewpoints as I could, that related to both men and women."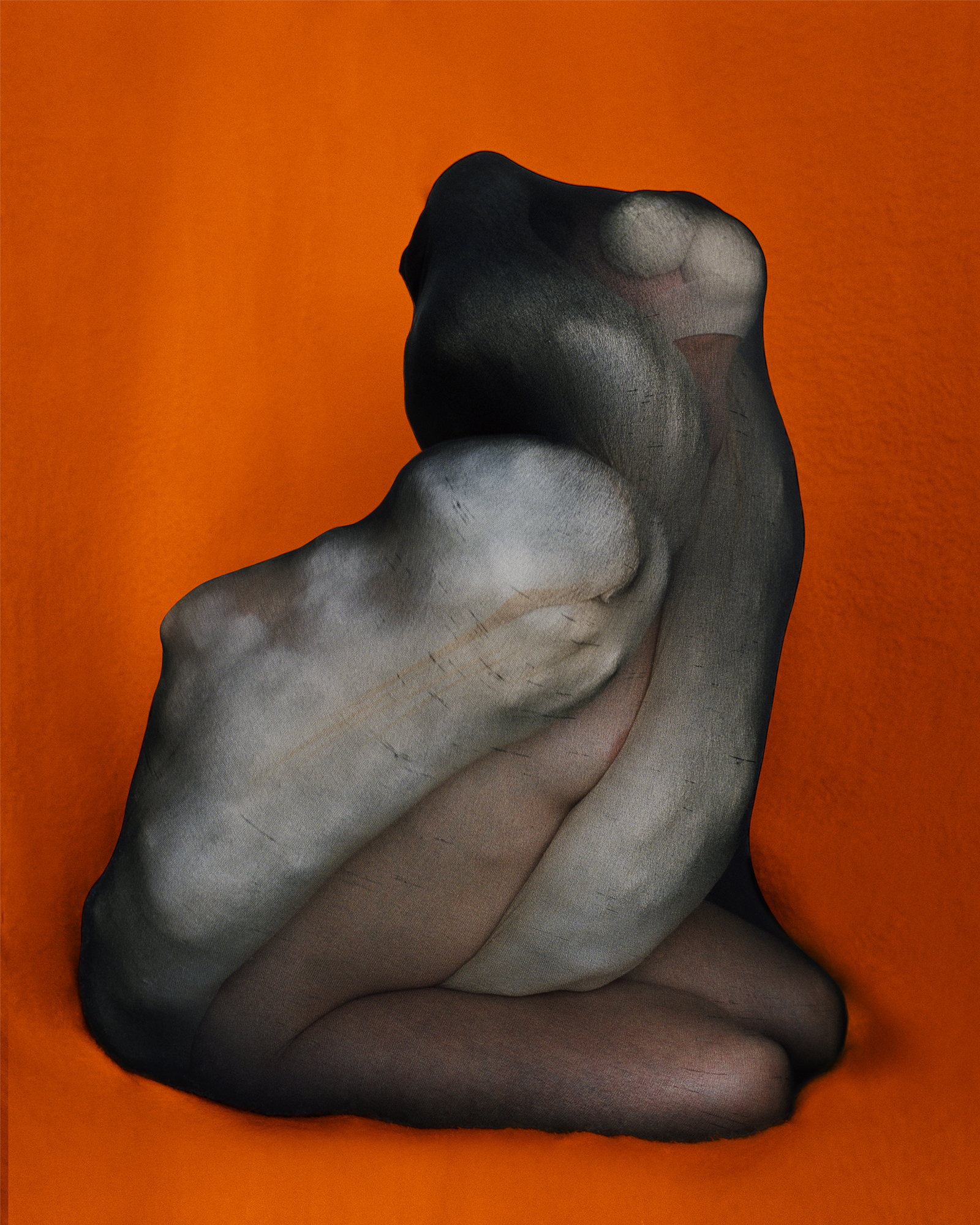 Beyond men and women, there is Leigh Bowery, who adds his own extra-terrestrial layer to the show. Photographed by long-time collaborator, Fergus Greer, Bowery's post-modern drag transcends gender norms, even human norms. The images, Bedeaux explains, represent an otherness. "Leigh was a master of alterity, creating something fantastic that defied classification." Where Nengudi and Gbewonyo use pantyhose to expose alienation and othering, Bowery embraced other, bringing binaries themselves into question. These interpolations give the show a conversational aspect. The overused term 'works in dialogue' is deserved in this case.

Bedeaux confirms there is a didactic thread running through the show. She asks viewers to consider who our world benefits. "When we have a moral understanding of what is wrong with a system that may or may not affect us directly, collectively we can start to change things," she remarks. Tights are ubiquitous, and therein lies Bedeaux's genius. She pieces together a social call to action through a completely banal object.