Ryan McGinley. Photo courtesy of Team Gallery, New York.
Ryan McGinley Says His Latest Inspirations Are Dressing Room Mirrors and Staying Home
Hast thou considered the latent transcendence of the mirror selfie?
Ryan McGinley. Photo courtesy of Team Gallery, New York.
Over the past three years, Ryan McGinley has been providing cameras, rolls of 35mm film, mirrors, and a set of instructions to a large group of his friends. Each participant used this bounty to produce self-portraits, with the artist developing their film and selecting one image to represent each subject. The resulting works, gathered in an exhibition titled Mirror, Mirror at Team Gallery in New York this summer, are pictures in which authorship hovers somewhere between the sitter/maker and McGinley himself. One of the artist's rules was that images had to be shot in the subject's apartment; many of these were spaces very familiar to the photographer. The space shown in the photo of the artist's former boyfriend Marc Hundley, for instance, was even his own home for a decade. As McGinley put it, "It's a big diagram of people who are close to me."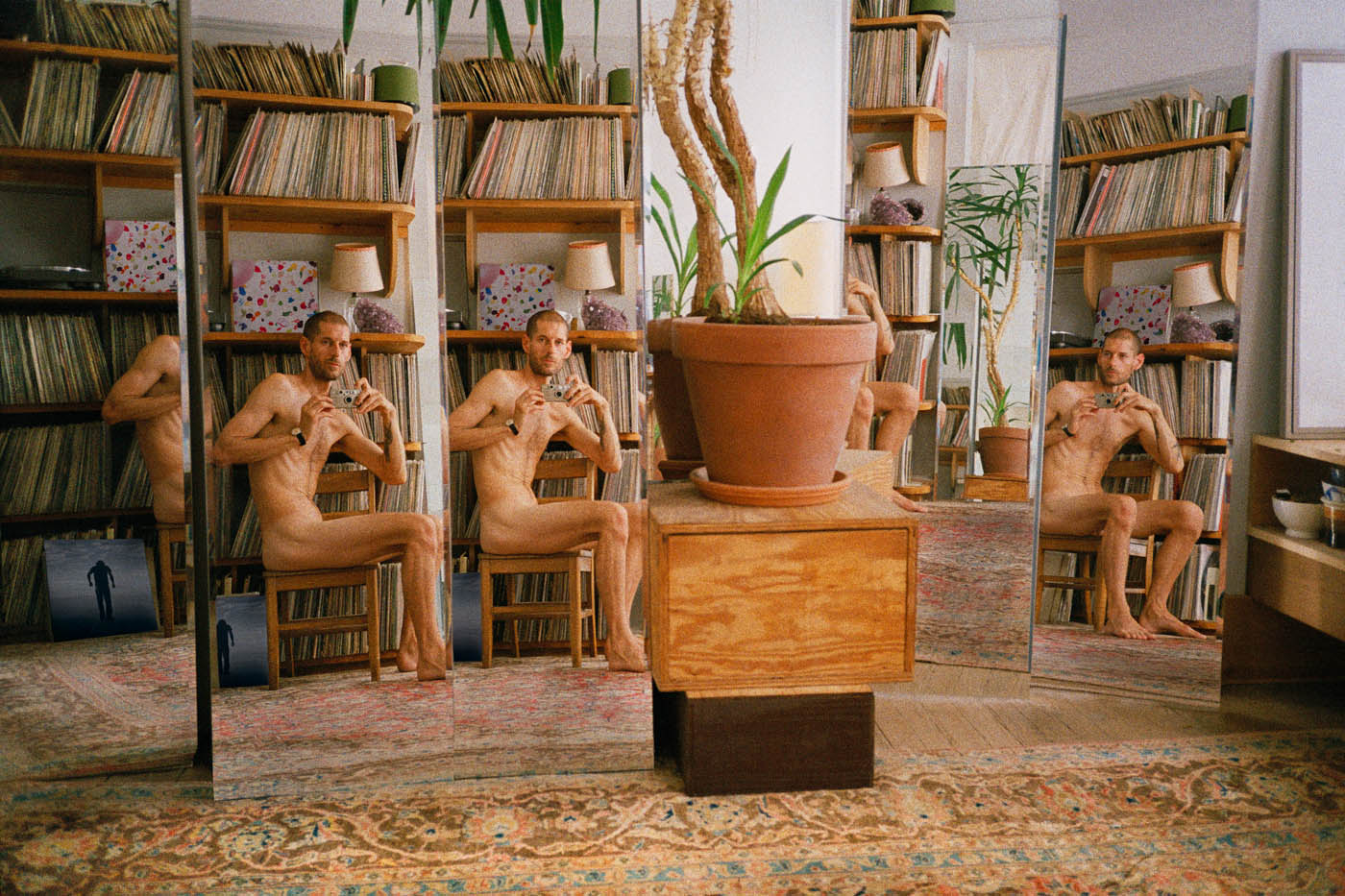 The show itself feels like a bit of a departure though, especially since McGinley's ravishing images of nude youths in fields and forests are now so familiar. But the difference, rather than constituting a rupture, comes from how the new photos circle back to some of his earliest work. The cameras he distributed, Yashica T4s, are the same point and shoot 35mm models with which he worked in the late 1990s and early 2000s, a model also popular with the skaters he first read about years ago in Big Brother magazine. This is the first time the artist has used film in nine years, and that choice also allowed McGinley to bypass the instant feedback loop of digital. "I didn't want people to self-edit, I didn't want them to shoot and then look at it and say, 'I don't like this one so let's delete it.'" A kind of concentration results, thanks to an increasingly outmoded technology.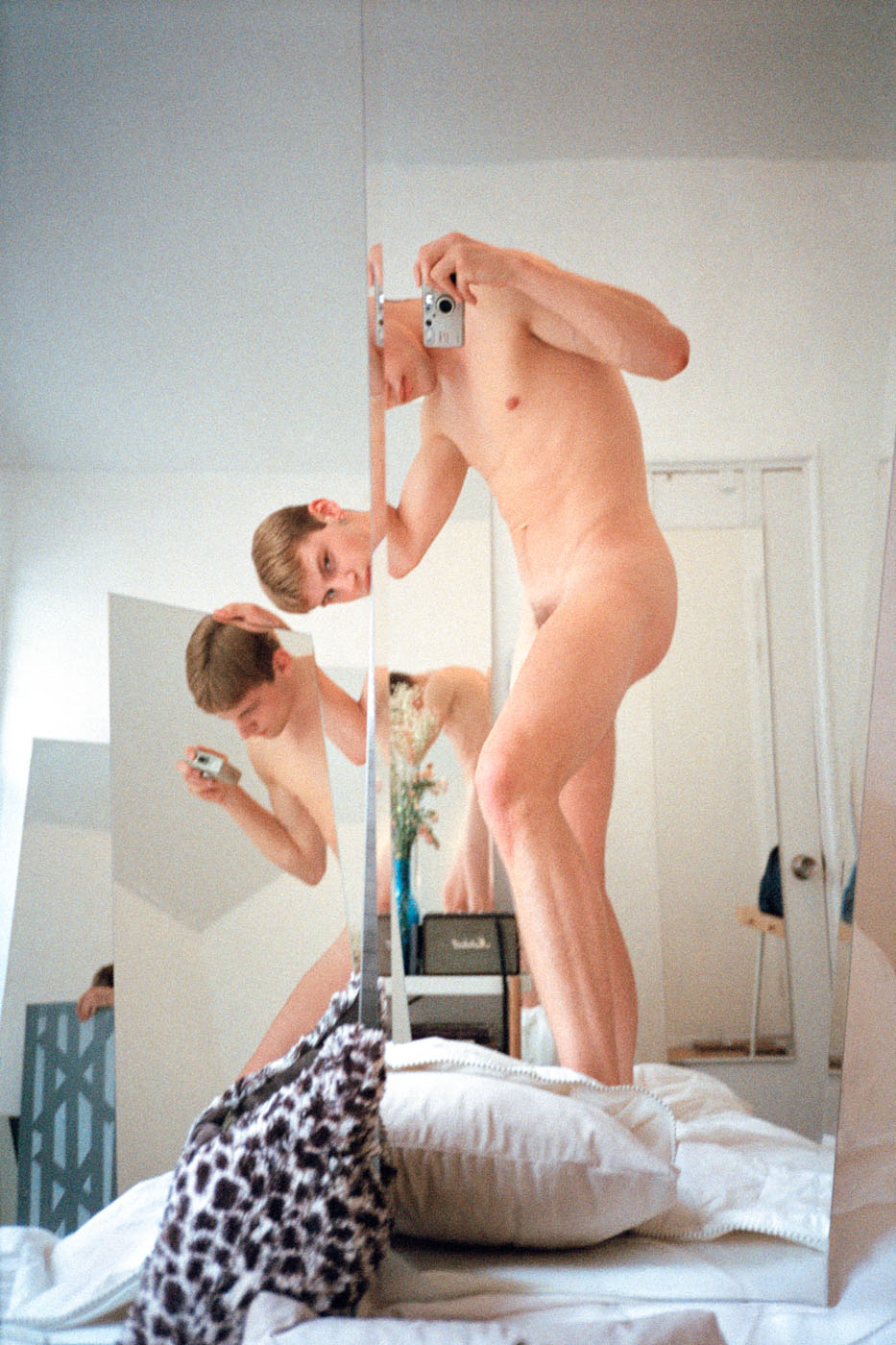 In some images, the subject seems frank and open, like one of sculptor Chris Bogia lying down and smoking a cigar, following two of McGinley's instructions at once: to recline, and to capture the effect of smoke in light. With the coyly posed figure of Quinton, 2018, though, the person conceals as much as they reveal, leaving a sense of mystery and impenetrability. There is a difference in the sense of intimacy produced in these images as compared to his road trip photos. "Your life happens in your apartment and you sleep in your apartment and you eat there and you raise your family there…So the apartment holds this power of personal, and I think when you see a nude body in the apartment it's very personal. It makes it much more personal than seeing somebody climbing a tree or in a lake or running through a field."
Looking at these photos with art history in mind, they evoke early twentieth century German photographer August Sander's serial portraits of his compatriots from all walks of life and professions circa the 1920s and '30s. But McGinley's range of references is broad, and, as he noted, one starting point for this new series was a fight scene in the 1973 Bruce Lee vehicle Enter the Dragon. Another was a quotidian shopping trip: "I was at the Gap trying on clothes. And you know the Gap always has that very classic, long dressing room with the three mirrors at the end, and I was thinking about how nice that looked."
Add to these two elements a third inspiration: today's selfie culture. "Dating apps, hook up apps, people's thirst traps, just how mirrors play so much into that," McGinley says. Compulsively documenting oneself isn't criticized here, but it is queered, deformed, transformed, and maybe even made a little psychedelic.
The stuff of everyday life always has latent, surreal potential, but an ordinary looking glass, in particular, holds the artist's gaze: "Mirrors play such an important role in the history of photography. Every great photographer has great mirror photos." He cites Tina Barney's photograph Jill and Polly in the Bathroom, 1987, Bruce Nauman's use of mirrors to distort his own body, and Joan Jonas's mirror performances of the 1960s and '70s (McGinley showed Jonas, whose work he studied in art school, some of the new images before their debut). But a music video for the Red Hot Chili Peppers' "Give It Away"—"a video that really moved me when I was younger"—which features mirrored imagery of the band members' aestheticized bodies, is an equally important precedent. All which is to say that the idiosyncratic conceptual structure McGinley has developed here, while in tune with culture both high and low, is very much his own.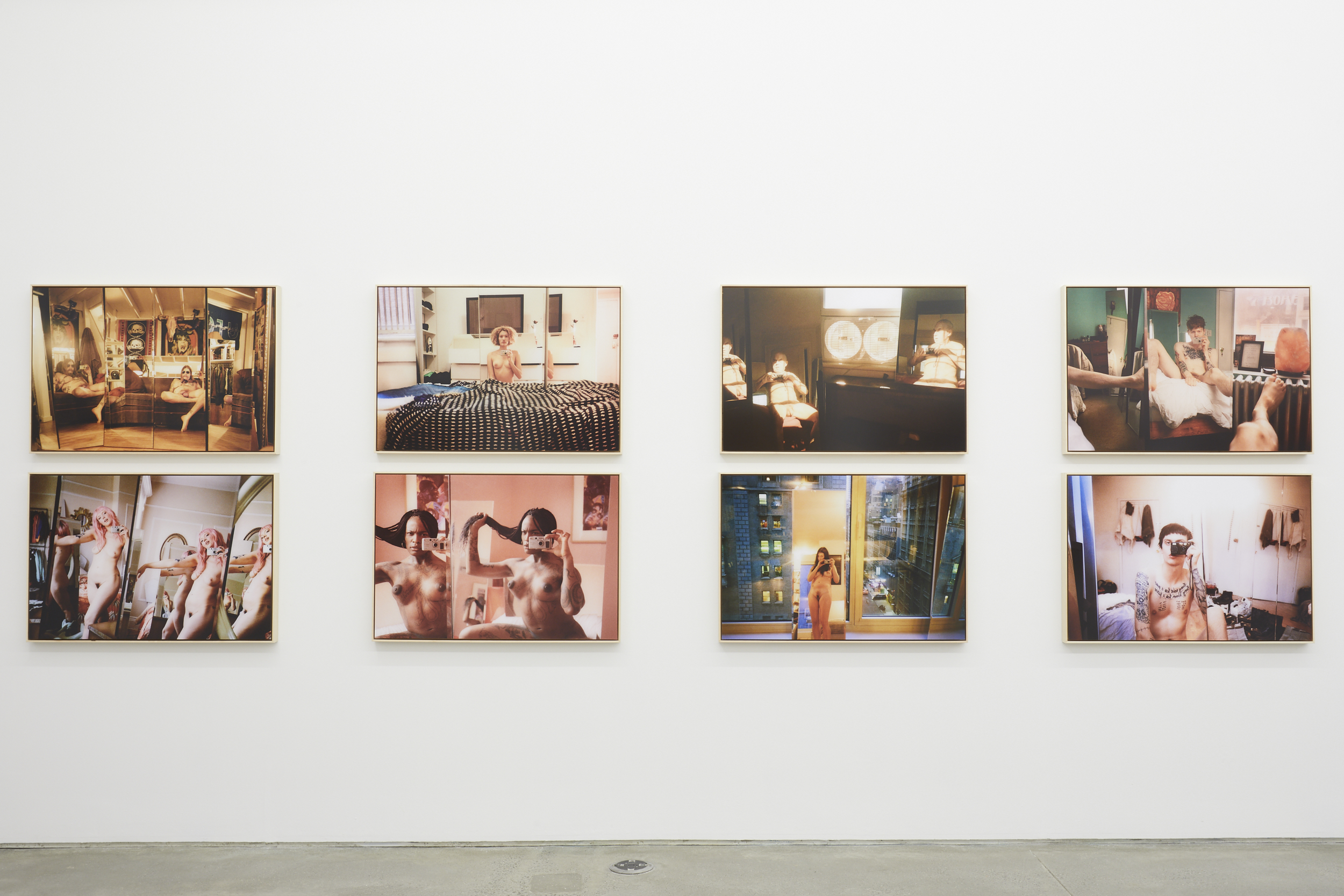 Mirror, Mirror is on view at Team Gallery, 83 Grand Street, through September 29, 2018.