Raquel Welch in the photoshoot for the movie poster of Myra Breckinridge (1970). Photo by Terry O'Neill/Iconic Images/Getty Images.
Myra Breckinridge Was an Agent of Doom for the American Male
The Hollywood adaption of Gore Vidal's controversial 1968 novel with a trans heroine is screening in LA for one night only as part of a queer cinema festival.
Raquel Welch in the photoshoot for the movie poster of Myra Breckinridge (1970). Photo by Terry O'Neill/Iconic Images/Getty Images.
Published in 1968, the year after would-be Warhol assassin Valerie Solanas unleashed her S.C.U.M. Manifesto, Gore Vidal's Myra Breckinridge was meant to be both a jab at the insurgent women's liberation movement as well as a shot across the bow in a feud with film critic Parker Tyler (who remains woefully understudied and undervalued). Vidal's novel concerns the title character who, after a sex reassignment surgery, takes up a teaching post at a Los Angeles acting school and vows to pursue the "destruction of the American male in all its particulars." She does this, primarily, by pegging a straight student named Rusty Godowski (Roger Herren) against his will, while seducing his girlfriend, Mary Ann Pringle (Farrah Fawcett). Via her critical pedagogy ("Posture" and "Empathy" courses, mainly) she educates her students on female dominance, and regurgitates Tyler's basic thesis about the Golden Age of Hollywood—that film stars are the mythic gods and goddesses of the masses, replacing the pantheon of Greek and Roman deities in all their virtues and vices.
This satirical novel was a best seller, and became a cultural shorthand for contemporary tensions around gender and sexuality, a kind of "morning after" following the Summer of Love. Vidal's cover was graced by an iconic image of a star-spangled cowgirl statue that, for many years, topped a billboard on Sunset Boulevard. When a film adaptation of the book was produced by 20th Century Fox two years later, the picture's star, Raquel Welch (fresh off of One Million Years B.C. and Bandolero!), was dressed in a burlesque of this showgirl statue for promotional images. The film is as notorious for its meandering plot and stilted acting as it is for the backstage infighting between Welch and Mae West (who played the sexually prolific talent scout Leticia Van Allen and wrote all her own dialogue). Rex Reed, who plays Myra's male counterpart, Myron, was a working film critic for the New York Observer and used his platform to publicly slam the disastrous production before it premiered.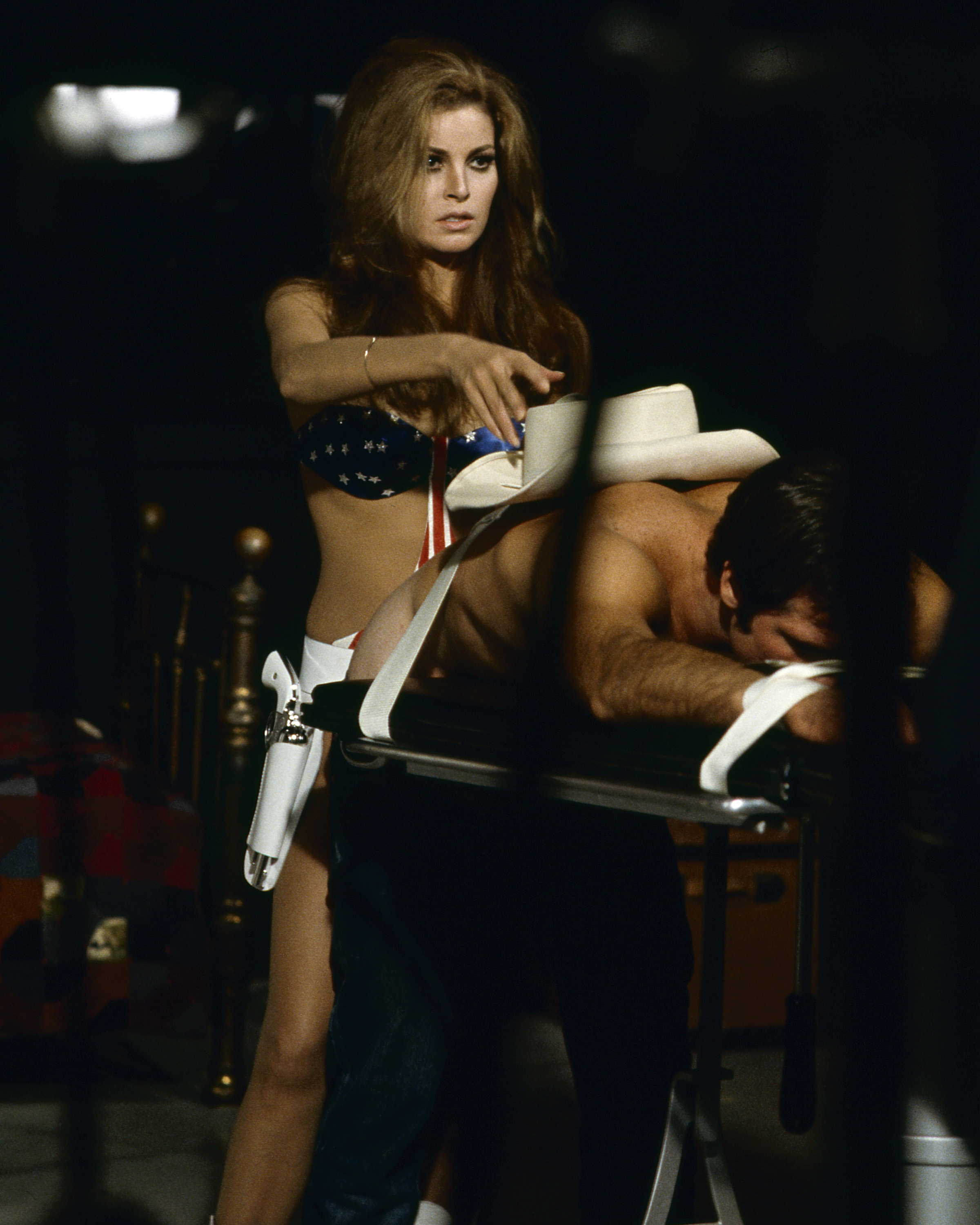 Still, the X-rated film has much to recommend it: Farrah Fawcett and Tom Selleck make their big-screen debuts; the camp (both intentional and unintentional) is grandiose; and the intercut snippets of other Hollywood movies that course throughout the film crassly comment upon, abnegate, and heighten Myra Breckinridge's constellated weirdnesses. The picture could easily be a case study for any serious student of postmodernism. For example, in the opening credit sequence, Myra (Welch) and Myron (Reed) do a Fred Astaire and Ginger Rogers routine down the Hollywood "Walk of Fame." A Shirley Temple song from the 1936 Orientalist/orphan fantasy The Stowaway serves as the musical accompaniment for the pair's whirls and twirls. In that song ("You gotta S-M-I-L-E to be H-A-P-P-Y") Temple performed impressions of well-known characters from the history of film and radio, hamming as Al Jolson did in blackface and Harry Einstein's equally offensive Greek character, Parkyakarkus. The sequence in Myra is a telling prognostication of a work that rewards film fandom like few others have done before or since, bundling a sheaf of references in a beguilingly ambivalent package.
Of course, by today's standards, both Vidal and the adaption's director Michael Sarne expressed a limited and ultimately essentialized vision of trans embodiment. Myra is literally split into male and female characters—an extension of how trans people have been historically pathologized as having split, or otherwise incommensurate gender personalities.
As part of "Dirty Looks: On Location"—a month-long queer film and performance biennial, founded by independent curator Bradford Nordeen—Myra Breckinridge will be screened at The Black Cat, formerly one of the earliest known gay bars in Los Angeles's Silver Lake neighborhood. The film is ripe for a kind of reclamation anyway; in their essay "Gender Terror, Gender Rage," Kate Bornstein takes an alternate view of Myra Breckinridge, noting that, "Vidal positions Myra as the voice and agent of doom for the traditional American male. I think he was on the mark, and I'd be proud to call Myra my sister."
Myra Breckinridge played in Los Angeles on July 18 at The Black Cat as part of "Dirty Looks: On Location."