Photograph by Patrick Piel for Gamma-Rapho via Getty Images.
A 1997 Performance Art Piece Explains the Summer of Giant Hats
The meaning behind a seven-person straw hat demystifies our sudden desire for huge headgear.
Photograph by Patrick Piel for Gamma-Rapho via Getty Images.
It's official: 2018 is the summer of giant hats. It's true, because the New York Times said it: there's Jacquemus's 21.5" La Bomba, the 22.5" Palapa from Olmos & Flores, and Lola Ehrlich's Spinner, practically petite at 16". If your hat is an appropriate and normal size for your head, then God bless, but your influencer clout is zero and you will certainly never be in the New York Times. There was even a giant hat fight, after one giant hat was misidentified as another. Look: if you are not stumbling on the beach under the weight of a vast saucer made of straw, you are no one.

Why are hats suddenly so big? (And when our sunglasses are so small?) The Times chalked it up to the influencer's unstoppable desire for double-taps—but isn't that the purpose of most clothing now? A 1997 performance art piece by the Brazilian artist Tunga, of all things, may demystify it more. The performance, titled Inside Out, Upside Down, features a huge straw hat—so gargantuan, in fact, that it's built for seven women to wear (think of the combined clout of seven influencers under one giant brim!). The hat slopes like beach dunes in layers of brims, with several smaller hats embedded for the wearers to slip their heads into, and several overturned hats with skulls plunked in them.
Tunga, who died in 2016, staged the performance a few times—most notably, at the 1997 Venice Biennale, and a few months later, at German modern art fair documenta. The women in the hat ramble through the performance space as Charles Aznavour's "Que c'est triste Venise…" plays, and it "reminds one immediately of the Caryatides, the supporting figures of antique temples," Tunga told the German art magazine Universes in Universe in an interview that year. After the performance at documenta, Tunga displayed the hat in the fair's gallery space, hanging it from an oversized cross, like the control bar from which a marionette's strings fall. (Eerie!)
Here is a video the hat in motion—Jacquemus, eat your heart out (or...eat your hat?):

According to Tunga, hats are not merely a way to block exposure to the sun, but a spiritual place. "The hat is for me like a temple or holy place, like Delphi with its oracle and its fortune teller," he told Universes in Universe. The woman in the hat, in other words, is in a sacred space. When the piece was performed at documenta, Tunga constructed a felt hat to contrast the straw one, highlighting an aspect of the hat's appeal that goes deeper than a mere need for Insta-attention: "The one made of straw is like a spiral, and inspires thoughts of lightness, temporality, eternity," while the other hat creates "the feeling of pressure, like an immovable block of time." Images of women in this summer's hat are invariably on the beach, in the country—in other words, at carefully calculated leisure. The woman in the straw hat is always in motion, always in transit, always going from one place to the other, but always with enough time and money (Jacquemus's La Bomba is $700) to pose. In the fairytale world of influencers, travel is a status symbol, and time is a luxury object.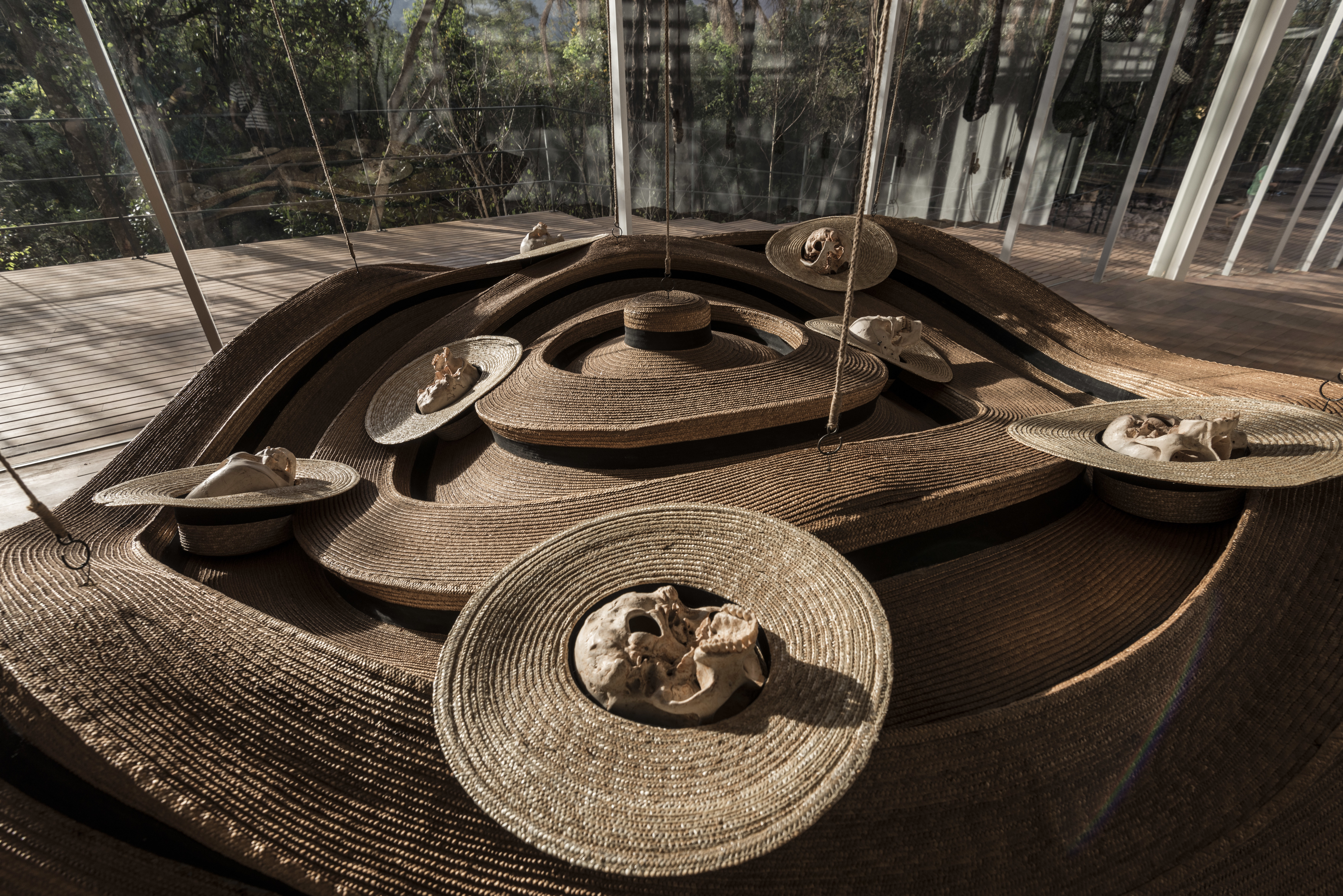 Tunga's work carries another analogy for the popularity of today's enormous hats. "This idea of the hat contains a paradox: a hat is something very individual," he said, "and to transform these individuals into something collective is a challenge." Indeed, many of the women interviewed by the New York Times said they loved wearing a huge hat for the sense of individuality it brought them: "They take guts and confidence," said a proud La Bomba owner. But can viral fashion items—like a big hat, a Supreme fanny back, or fur-lined loafers—ever signal the courage of individuality, or do they merely stand for a desire to conform as they become status symbols? Those skulls on the Tunga hat serve as a trend Memento mori: if the summer of giant hats tells us anything, it's that the influencer economy makes our most daring fashion possibilities the stuff of lemmings.