Photograph by Stephane Cardinale for Getty Images.
At Chanel Couture: Did Karl Lagerfeld Just Kill the It-Bag?
The Chanel Couture show featured no handbags—instead, women strode free and easy with their hands in their pockets.
Photograph by Stephane Cardinale for Getty Images.
You have to remember that many of the people attending Couture Week are here not to Instagram or inspire FOMO or predict what people will want to buy, but to actually buy their wardrobe. One of the most interesting things about this biannual parade of made-to-order clothing is that it is, ironically, fashion at one of its most commercial moments, when the designers are working with specific markets and clients in mind rather than setting broad trends that predict or guess at what women want to wear. And the women buying those clothes are at the shows, responding immediately to the looks—often with snaps on an iPad, a grimace, or a thumb's up to the designer when he appears at the end of the show.

These women are also there to show deference to these designers who have dressed them by hand, and nowhere is that scene more thrilling than at Chanel. Held in the Grand Palais, Karl Lagerfeld constructs magnificent little fantasy universes—this time, an idyllic spring garden, with green trellis gazebos and a fountain bubbling merrily in the center. (The sound of water harmonized with the show's soundtrack, as it did during the ready-to-wear show in October, for which Lagerfeld constructed an entire waterfall. Chanel: as essential as H2O.)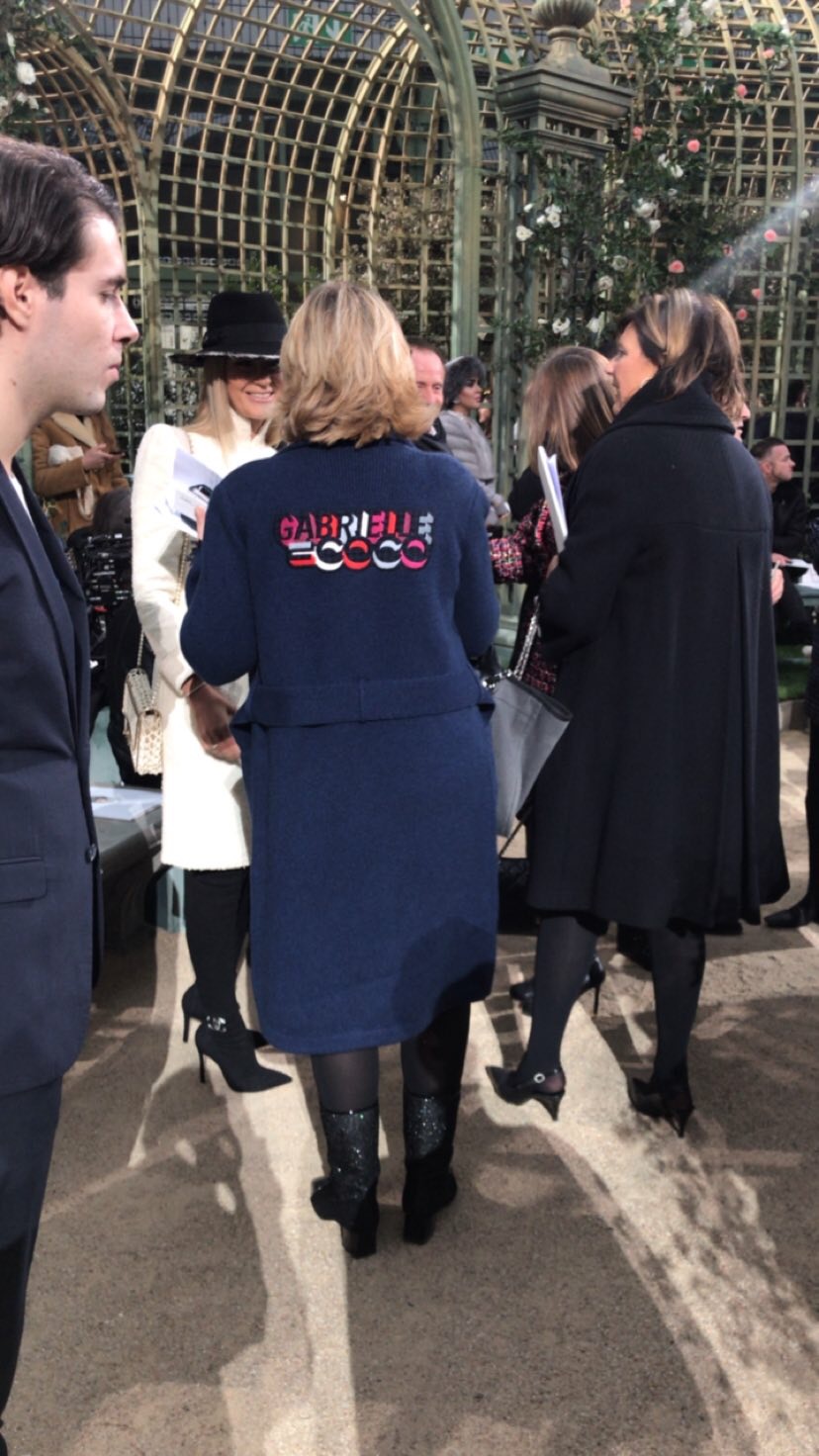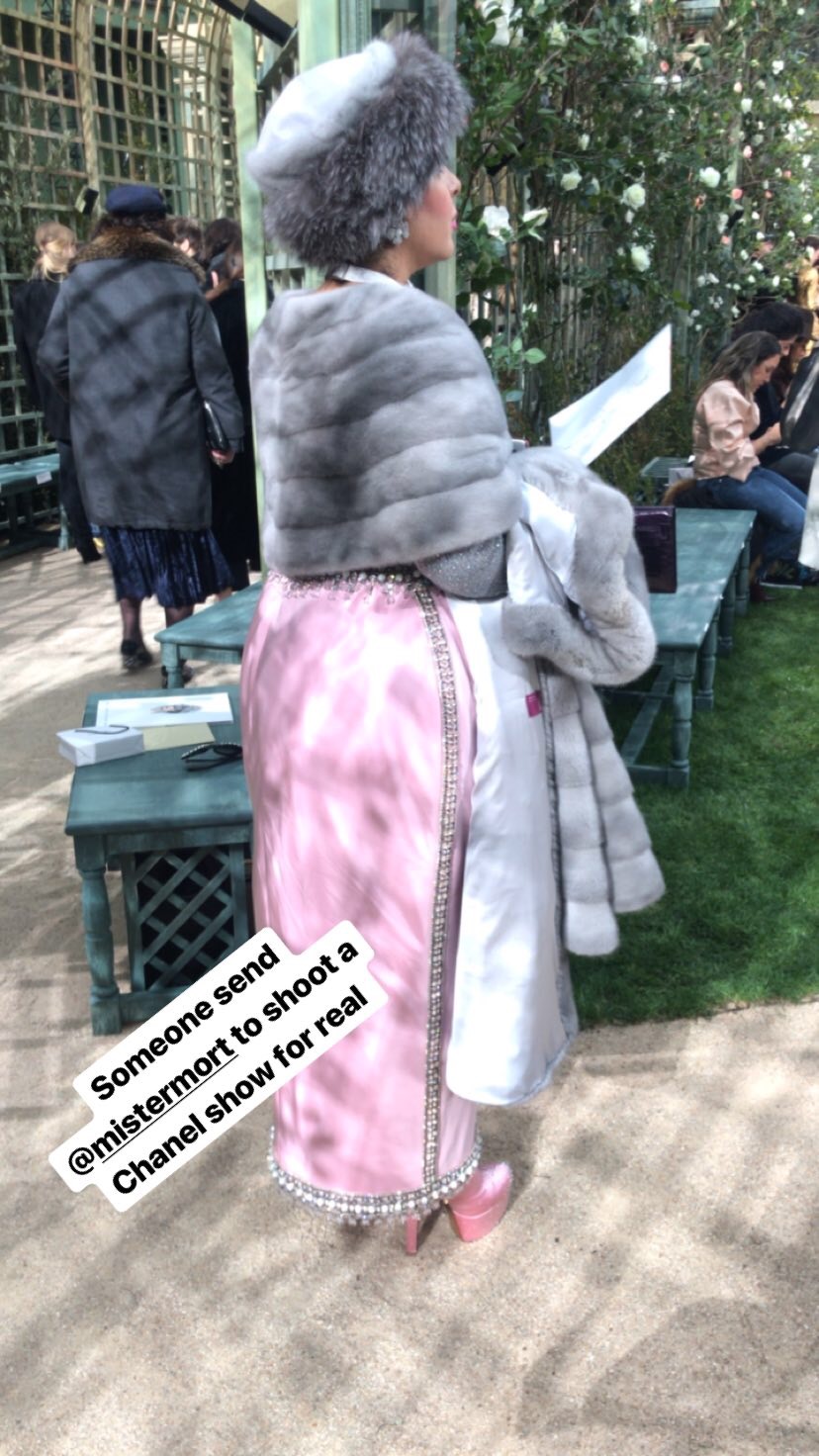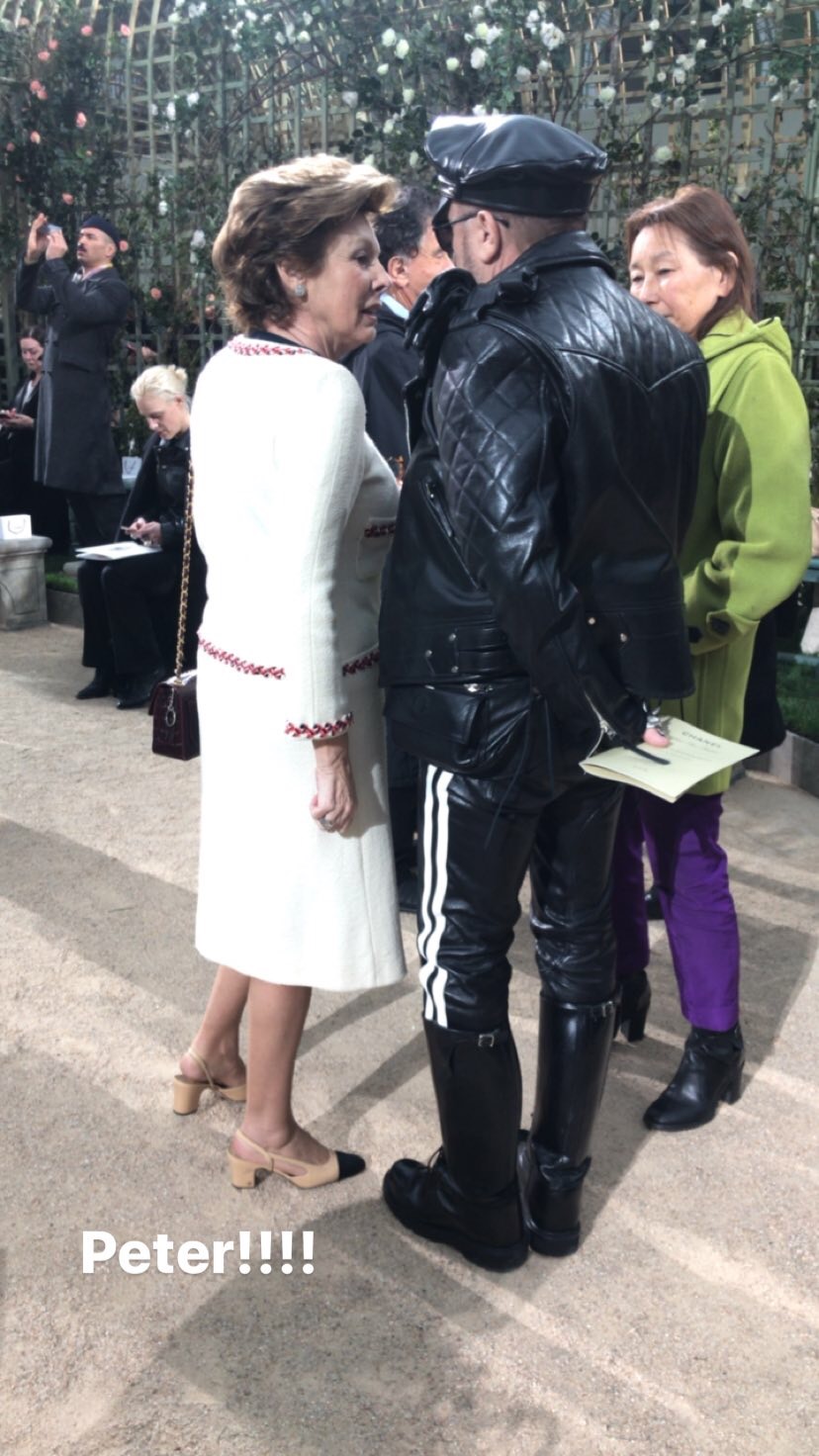 Robin Givhan brilliantly compared Chanel fans to Deadheads during the Spring 2018 shows last fall, but the Chanel show is also something like Comic-Con for couture fans: they fangirl, they don costumes, they go over-the-top. A woman near me was chattering about leaving afterwards to meet her husband in Davos; another catty-corner from me tapped her feet to the pleasant pseudo-techno while snapping looks she liked on her iPad:
Because couture is designed with these specific women in mind, it can be a fascinating romp through what is posh in Dubai, what is chic for Swiss teenagers, and what women fantasize about when they see themselves at their glamorous best. With that in mind, one significant thing struck me at Chanel, a brand name synonymous with it-bag: there were no bags. There were bespoke mid-calf boots for nearly every single look, cut from the same magnificent tweeds as the dresses and embellished in just the same way; and there were intricate pompoms of flowers with mini-veils set atop models' heads, but there were no bags. Nearly every single model had her hands in her pockets, whether they were slung in a loose skirt, tucked in a classic boucle jacket, or even perched in the bodice of a little cocktail dress, marsupial-style. Some of the most famous photographs of Coco herself show her with her hands stuffed in her pockets, and these images demonstrate best how she constructed her regal and liberated air: a woman at ease everywhere, who projects a sense of unquestioned power, somehow both commanding and relaxed.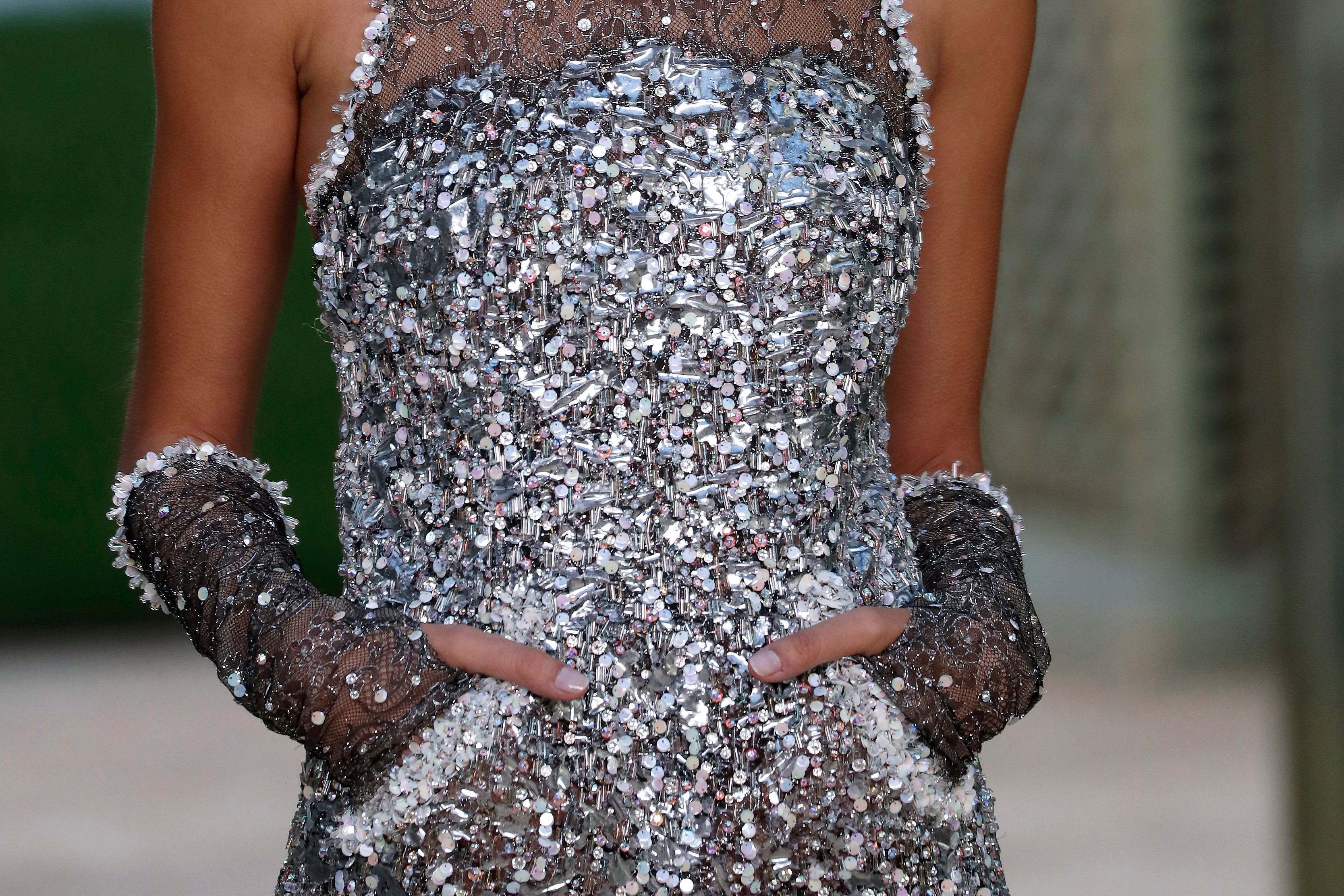 There was a beautiful lightness to this Chanel show, between the setting, the color palette, and the buoyant silhouettes. And this came from the models, too, whose gaits were unburdened by the swing of a bag, the chain strap across an ensemble, or the hand occupied with a miniaudière. (Why do people carry those, anyways? It's like David picked up a rock, was told he shouldn't throw at Goliath, and listened.) Maybe I'm making too big a deal out of all of this; I don't know if I would go so far as to call it feminist, but then, when a woman has a sense of liberation, even if it's merely through her clothing, how could it not be? Yesterday I wrote that handbags are a men's thing now, and when Lagerfeld shows something, that pretty much seals it. Chanel's brand may represent untouchable luxury for much of the clothing-consuming public, but Lagerfeld's magic is that he always channels some unexpected part of the zeitgeist.
Indeed, the only thing close to a bag was carried by a boy: a basket of flowers held by Lagerfeld's godson, Hudson Kroenig, during the show's traditional bridal finale. Oh, and I should add: the bride wore pants.