Questions, questions. Courtesy of Pioneer Works, photo by Walter Wlodarczyk
"Art is the Ultimate Con": Should Artists Occupy Museums?
Artist Coco Fusco and activist Noah Fischer chew over some ideas around artists, institutions, and cash.
Questions, questions. Courtesy of Pioneer Works, photo by Walter Wlodarczyk
"How can love be a tool for resistance?" This was the question tacked to my chair at Brooklyn's Pioneer Works, the venue for "Performing Truths," a conversation between artist Coco Fusco and activist Noah Fischer staged this past Sunday. Other chairs bore equally challenging queries. The event marked the conclusion of Fact Craft, a series of workshops, performances, exhibitions, and actions aimed at examining the ways in which truth is constructed, distorted, and disseminated in the Trump era.
Fusco and Fischer began by setting the scene: as the rise of alternative facts has allowed wide swaths of the US to convince themselves that a middling New York real estate developer is genuinely interested in restoring mining jobs to Kentucky, the world of professionalized art education has continued to promise initiates an unrealistic degree of access to a market still awash in new money. The price of this, of course, is substantial personal debt.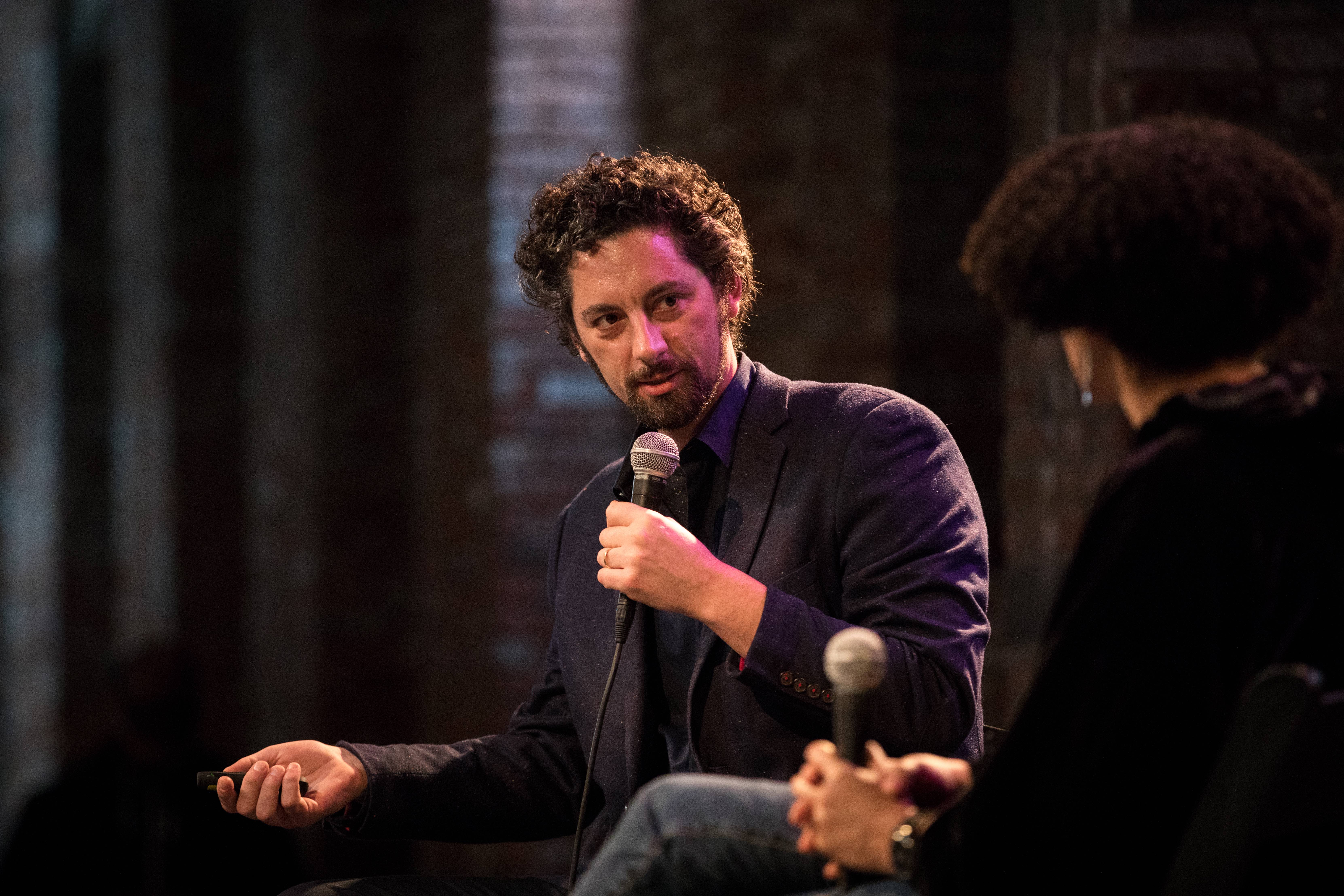 Fischer recalled joining the Occupy Wall Street movement and finding numerous artists among the crowds at Zuccotti Park. Per Fusco, "Occupy captured Americans' anger at losing their savings. People's life's work evaporated overnight, and after mortgage debt, the second largest source of debt was student debt." That debt was, Fischer argued, "the very best thing for artists to organize around." Wondering what might happen if the Occupy General Assembly turned up at MoMA, he co-founded Occupy Museums, which organizes protests and other direct actions in museums across the world.
This group, in collaboration with other artist-activist cells like GULF Labor and Decolonize This Place, has by now staged a number of high-profile interventions. They've shut down the Guggenheim in protest of their labor practices in Abu Dhabi and stunned Columbus Day visitors to the Museum of Natural History with an alternative tour focusing on how some exhibits mask the atrocities of colonization. They also landed a slot in the 2017 Whitney Biennial with their installation Debtfair, opening up a gallery wall to reveal the works of artists who owed big banks and financial firms. The works were on sale for the equivalent of one month's debt.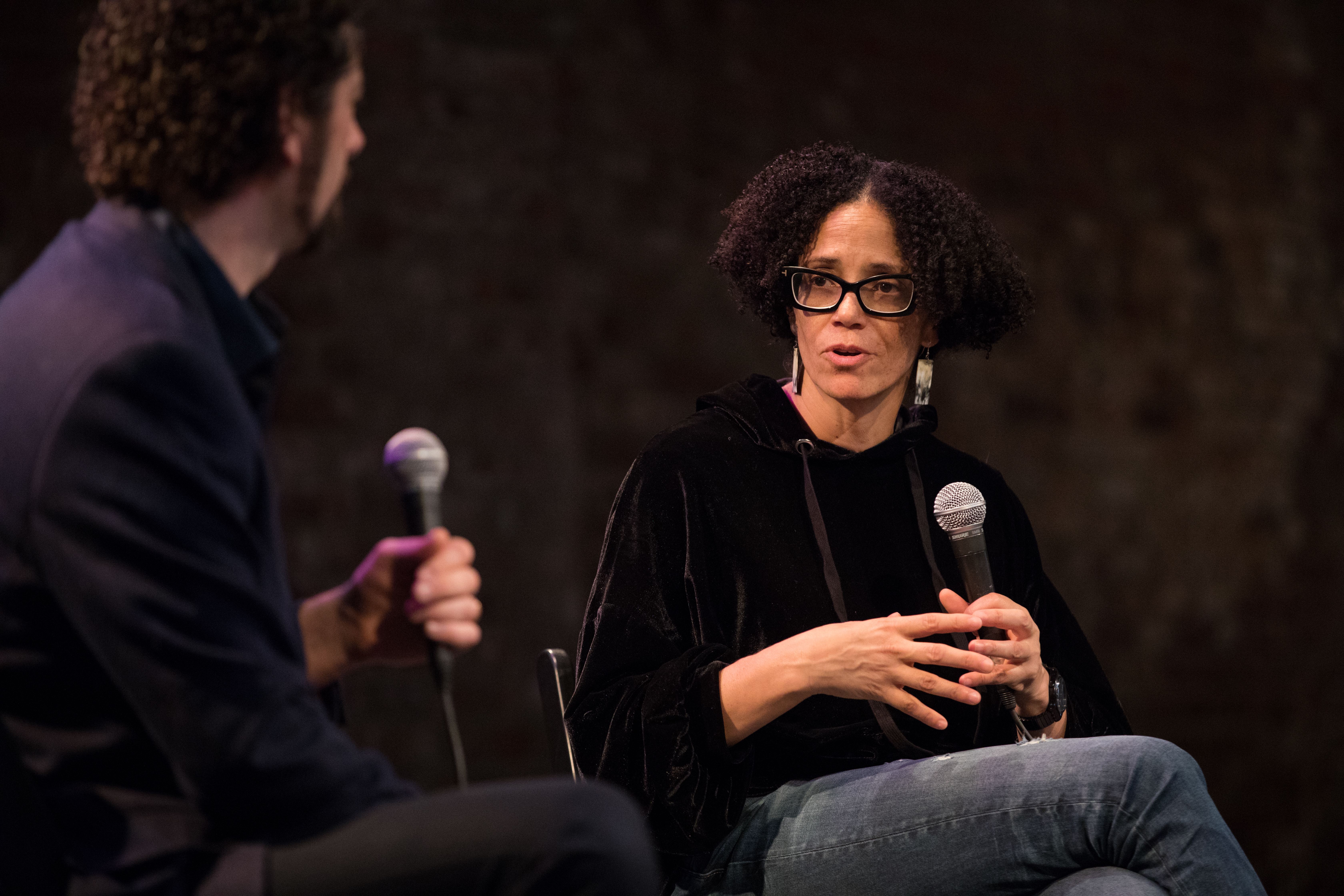 Fusco, whose practice has been steeped in politics for decades, pushed back a little against the idea that being brought into a museum was proof of Debtfair's success. She argued that more pressure was essential, especially since the same financial firms that the artists were in debt to were also responsible for funding numerous art institutions. Further, she questioned how much artists should even be involved in fighting for truth since, as she put it, "art is the ultimate con. It's seductive power is to engage the viewer in an imaginary construct." Plus, she continued, "I'm not a lawyer. A museum is not a courtroom. I don't want to put that burden on artists."
Predictably, "Performing Truths" couldn't resolve the complex queries it presented to its audience via those welcoming signs—how could it?—but did outline some helpful organizing principles, and hinted at a real path forward.

"Performing Truths: Coco Fusco in Conversation with Noah Fischer" took place at Pioneer Works, Brooklyn, on November 18.
Tagged: