Oprah Winfrey. Courtesy of Getty Images
As Oprah Nears 1000 Instagram Posts, A Necessary and Important Look Back
Nobody does IG quite like Mama O.
Oprah Winfrey. Courtesy of Getty Images
The journey began on April 25, 2012. "Me and friends," Oprah Winfrey captioned a photo of an unidentifiable woman and man on her newly activated Instagram account. It was a quiet, unmemorable introduction, but then again, it was an entirely different platform just seven years ago. Five more pictures popped up that day, including a shot of Oprah doing hair backstage at Lincoln Center and a view from her hotel. Days later, she posted the same photo twice with nearly identical captions—but different filters. "No I do not need another dog with 5 already' but found this little guy irresistible," read the first. "Trying to just say NO to another dog. But this little guy is pretty cute," read the second. Despite the filters, this was a side of Oprah new to her millions of fans accrued over the years as host of The Oprah Winfrey Show, which wrapped just a year earlier.
That July we were treated to five posts dedicated to Oprah getting a silicon cast of her face and hands for Lee Daniels' The Butler. Those early months featured a lot of behind the scenes moments on set of the film as well as various celebrities featured on Oprah's Next Chapter and plenty, plenty of pictures of vegetables from her garden.
But then things began to slowly change. Oprah, who it seems quite clear operates her own Instagram account, started to master the platform and better curate her feed. In the seven years since, now with a following of upwards of 16.6 million, she's become not just a master, but the master of the platform. Below, a necessary and important look back.
1. Oprah's First Harvest Day
May 2, 2013: Oprah's first official Harvest Day photo. Fava beans. Herbs. Strawberries. Zucchini. Artichokes. Fresh peaches. Blackberries. If it grows in the garden, Oprah is harvesting it. And taking a picture with it. It's grown to become a signature Oprah post. Thank God.
2. Oprah Goes Video
August 13, 2013: Oprah made her video debut on Instagram, getting braids ahead of The Butler premiere. "I'm feeling very Heidi-like," Oprah declared.
3. Oprah Hoola-Hoops!
September 3, 2013: It was a huge moment for hoola-hoop enthusiasts around the world when Oprah got in on the action.
4. Oprah Rides Baby, Rides
January 25, 2014: Worth the watch just to hear Oprah pronounce "Soul Cycle."
5. Oprah Gets Stitched Into Her Gown
February 6, 2014: Ahead of the BAFTAs, Raj and Giuseppe help stitch Oprah into her gown.
6. Oprah On Ice
August 16, 2014: In arguable her best performance since The Color Purple, Oprah did the Ice Bucket Challenge.
7. Oprah Does Medicine
December 14, 2014: Oprah takes Tamiflu. The Internet changes the label to Xanax and a meme is born.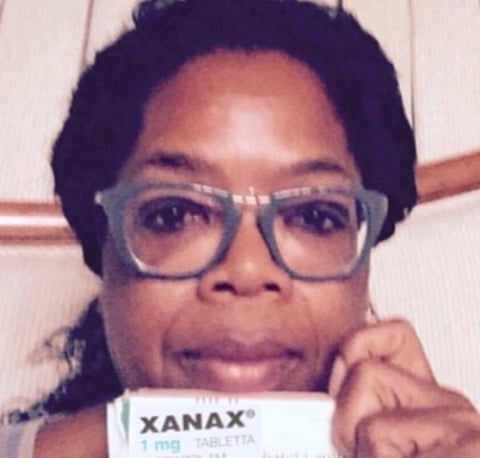 8. Oprah Sings!
March 25, 2015: Oprah joined songwriter Diane Warren to belt out a tune recalling that time she sang the Oprah Winfrey Show theme song.
9. Oprah Still Loves Bread
January 31, 2016: The iconic "I. Love. Bread." utterer re-affirms her love for the carb.
10. Oprah Goes Superhero
June 13, 2017: Oprah gets ready for her Wonder Woman party by helping us imagine a world in which Mama O played the superhero.
11. Oprah Meets the Neighbors
July 18, 2017: Oprah says "good morning" to her neighbors aboard an Alaskan cruise. It's a riveting exchange.
12. Oprah Introduces Debra
November 17, 2017: Oprah introduces us all to her camel self, Deborah, for her film Star. Didn't see the movie so can't say much about it, but Deborah is a gay icon, this much I know.
13. Oprah Calls Out Fraud
December 21, 2017: Standing before her gargantuan Christmas tree, Oprah sings "it's a fraud, it's a fraud, it's a fraud," letting us know that someone out there has the audacity to be impersonating her in an effort to extort money. No bueno!
14. Oprah Goes Pizza Chef!
August 22, 2018: You must watch Oprah eat pizza. Don't go another minute without checking this off your bucket list.
15. Oprah Celebrates the USA Women's Soccer Team
June 29, 2019: Nobody had more enthusiasm for the USA Women's National Soccer Team than Oprah, decked in head-to-toe red, white, and blue and a jersey inscribed with her name. That's a legend.
Tagged: