Photo courtesy of FN Furniture.
Sitting Pretty: The Zero-Waste Chair of Your Plywood Dreams
Let designer Ken Landauer change your mind about humble, hardworking plywood
Photo courtesy of FN Furniture.
Plywood doesn't have a reputation for being particularly graceful. The term itself conjures up images of utilitarian cabinets and shelving more than artfully designed furniture. It's an engineered material constructed by gluing together different wood veneers (often made from inexpensive hardwoods) and lacks the romance of authenticity that an original piece of cut-from-a-tree wood can offer. However, once you get past that unsexy name, plywood is comparable in strength, durability, and style to that of natural hardwoods. Moreover, in the right hands, like artist and designer Ken Landauer's, the material can produce some beautiful-looking chairs with the best of them.
Based out of New York's Hudson Valley, Landauer makes all his furniture from plywood: credenzas and stools to shelves and tables. His overarching aesthetic skews elegant and straightforward, chock-full of sharp lines and functional details. His company—FN Furniture—carefully designs its products to use 94% to 100% of each sheet of plywood. (For the wood nerds who may be reading this: he uses a multi-layered Baltic Birch Plywood.) Each piece is cut by a Computer Numerically Controlled (CNC) machine and then sanded and joined by hand.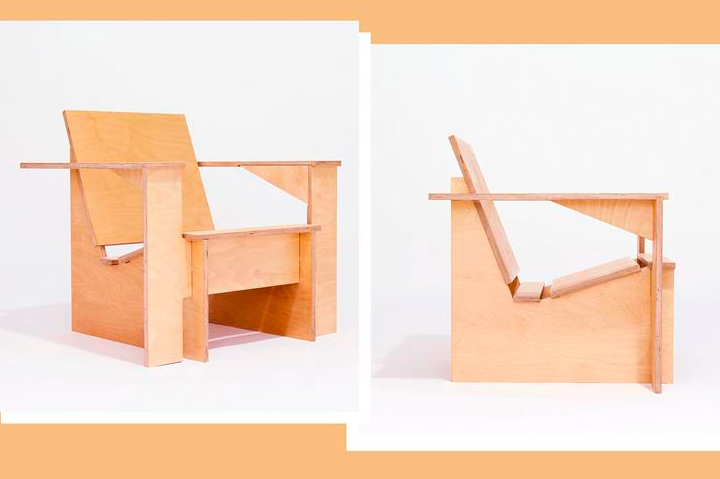 One of Landauer's standout styles is the the F2 Lounge Chair. It's a commanding silhouette comprised of hard cuts, an angular back, and a slanted seat. Landauer's designs also have the ability to change tones based on its finish drastically: the clear naked plywood feels raw and modernist while the red acrylic gives veers more chic and deliberate. And the chair's most charming secret? Ten separate parts that join together to form the finished product, each piece nestling together like a puzzle.
Plywood has long been appreciated by designers for its versatility and affordability. One of Charles and Ray Eames' most iconic designs is the duo's Molded Plywood Lounge Chair, a playful silhouette of sculpted plywood and organic forms that is just revered today as it was back in the 1940s. However, where the Eames' chair utilized warm mid-century curves, Landauer's chair relies on much sharper angles. The F2 Lounge Chair is guided by yogic principles, and the seemingly cutting edges actually encourage comfort, healthy alignment, and dynamic flow.
Landauer makes use of the impersonal and personal. He leverages manufactured materials and computer-driven technology on a product he also sands and assembles by hand. That clash of technical and handcrafted is at the core of his furniture. Over 30 years of making art and woodwork have led him here; none of these details are accidental. We live in a world where the options for buying chairs are either cheaply made of pressed wood (Sup Ikea?) or frivolously expensive thanks to some fancy designer name stamped on the bottom (What's good Ludwig Mies van der Rohe?). With the F2 Lounge Chair, Landauer dresses up plywood into a bright object of design and does so without the exorbitant price tag. Plus, buying zero-waste furniture for your home as Mother Earth slowly melts is a purchase you can feel right about—especially when it looks as good as this one.