IRL butterflies are slowly going extinct, but will their influence on fashion ever die?
When Japanese couturier Hanae Mori showed her final collection in Paris during her last-ever runway show in 2004, her models trailed down the runway veiled in beaded butterfly patterns. Since 1951, the butterfly was her signature. By then she was hardly the only one showing butterfly patterns but she was one of the first. Love for winged patterns goes all the way back to the Victorian era when the western world became obsessed by east Asian culture. By WWII, we had taken a break from appropriating Japanese culture, coincidentally when Mori began working, effectively reintroducing the pattern by the late 1970s. Any butterfly motif that flits down the runway, Mori did first.
Outside of fashion, real live butterflies are slowly going extinct. The butterfly population has significantly decreased in the last 40 years. Specifically, monarch butterflies have seen a 97% population drop in the past 35 years risking extinction. Because the weather is so unwieldy, predicting migrations is more of a guessing game. Still, an odd miracle occurred on the west coast, like the unseasonably rainy weather this past spring, which followed a record-breaking and disastrous fire season. Butterflies, by the billions, cascaded en masse through California. Literally one billion painted ladies flooded the Los Angeles air, fresh from a rainy winter, kissing the shoulders of surfers, cyclists, and commuters alike. Where'd they all come from? Scientists all point to flowers as butterflies mate on petals: more flowers means more butterflies.
As an elegiac symbol, butterflies may be fading into extinction but return, year after year, to the runway. Part of the resurgence of trends we left in the 90's and early 2000s (mall-ready PVC purses and low-rise jeans, for example), butterfly graphics are back in full force, popping up across the runway and gliding down through the retail ranks with details at Urban Outfitters and Forever21 (the new Claire's Accessories, tbh).
Gigi Hadid's finale look for Moschino's Spring 2019 RTW show included butterflies embroidered along the edges of her veil, a maybe nod to Mori's bridal dress from 2004, which her granddaughter wore. Hadid's felted swarm of butterfly props (carried by a gaggle of bodies in all black, super weird) bear resemblance to Alexander McQueen's 2008 tribute to the late Isabella Blow in his Spring RTW runway show. Models stomped with literal swarms of butterflies headpieces as romantic fairy goddesses or whatever. "Life is a butterfly!" Gaultier supposedly said when he debuted even more butterfly looks in his Spring 2014 couture line. Sure!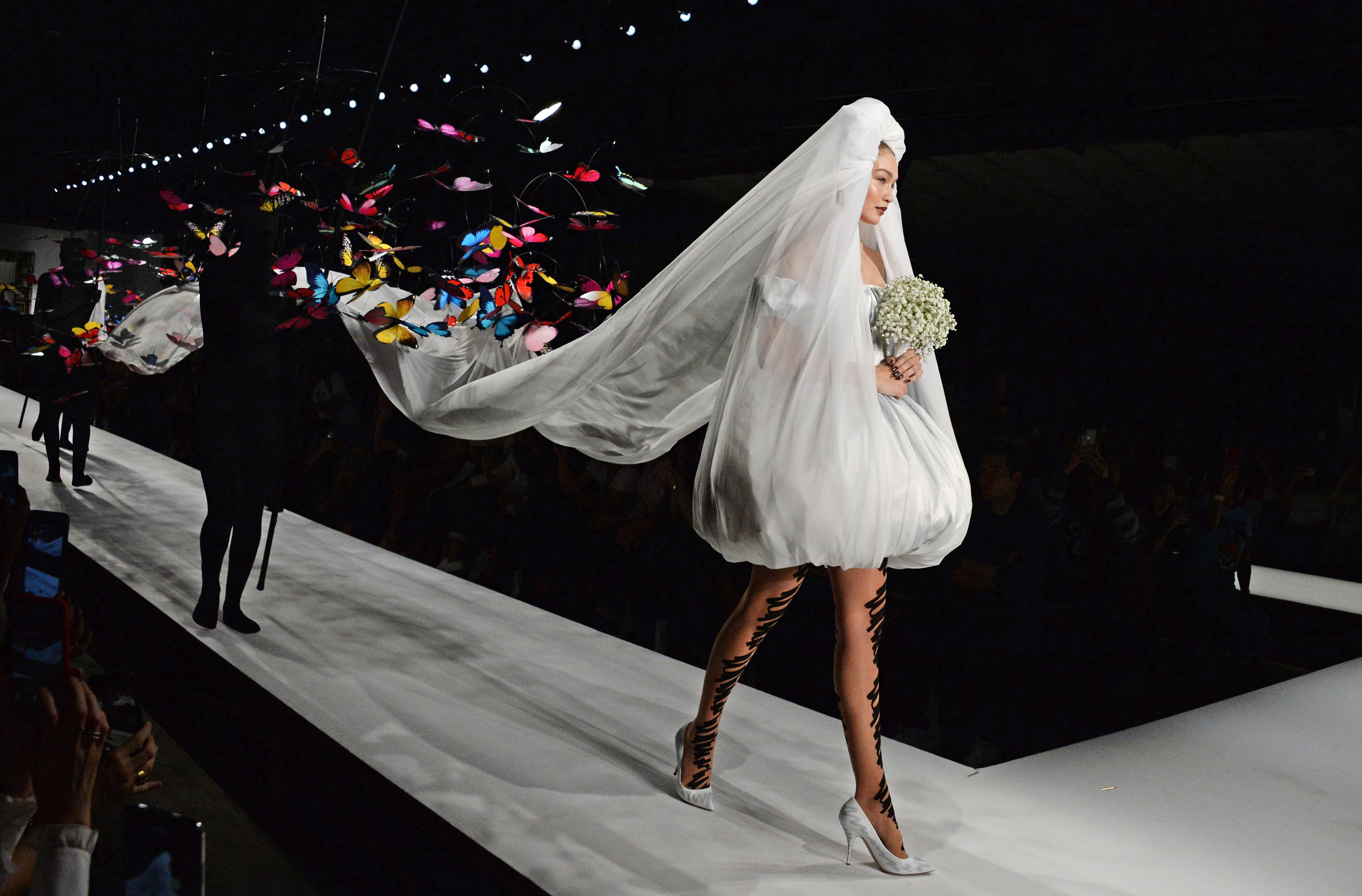 Butterflies recently dappled the robes and headwraps of Versace's 2018 Spring RTW collection, a callback to his Spring 1995 RTW show. There he debuted the decidedly feminine pattern in a post-grunge world after Vogue declared "the body was back" signalling the heavy bodycon vibes of the early 2000s. Slips, wiggle dresses, and empire waists dominated the line but what was loudest (and lasting) were the prismatic butterflies. Novelty prints replaced plaid and the rest was history.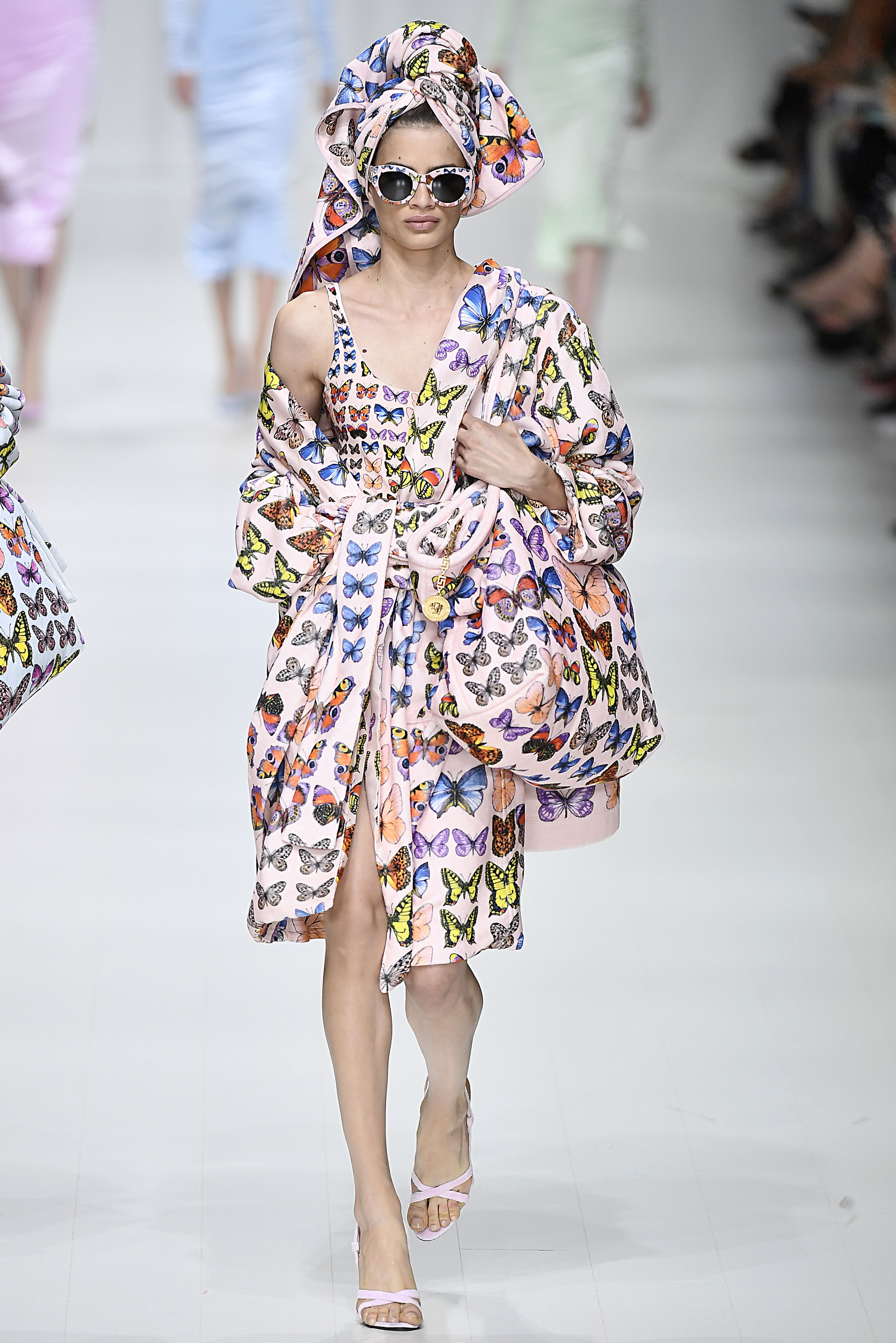 Victorians were first obsessed with butterflies, influenced by their love for Japonisme when, in the mid-19th century, Japan opened trade with Europe for the first time in 200 years. At that time, butterflies symbolized death and a soul on its journey into the afterlife. (It was common practice to open a window after a loved one passed in order to let their soul flit out, the same way an insect like a butterfly would flit in). Collecting and mounting insects became a popular past time, suggesting that the human desire to dominate the natural world was synonymous with a Freudian death drive. Too delicate to be a memento mori, but morbid enough to decorate hair and garments; a butterfly looks alive even when it's dead.
An enduring contemporary symbol of metamorphosis and soul, gender affirmation and change, butterfly patterns spring from the the cocoon of winter and offer an alternative to the predictability of a floral print in warmer months (flowers can be picked, but butterflies must be waited on or caught). Florals are an obvious if not perennial look for the snow-melting months but if florals signify a storied but shopworn take on spring, then butterflies are its kitschy little sister. Psychedelic or formal, both exotic and pastoral, butterflies span a kaleidoscope of stylistic expressions. For example and as an aside, in the mid-1990s, tattooing became legal again in New York City and therefore more in vogue across the nation. Butterflies were a popular symbol and a stereotypical image for lower back tattoos (affectionately known as the tramp stamp).
Swarms of butterflies, delicate, papery butterflies, may be the only force strong enough to curtail what's-his-face's border wall plans. A monarch preserve at the southernmost tip of Texas named the National Butterfly Center is private property, and according to them, butterflies can't migrate through or past the metal slats the current administration has proposed for the wall.
Butterflies are an apt symbol of our era's fashion: timeless but with an apocalyptic tone as we slowly swap out the natural world for its virtual counterpart. As Audrey Wollen remarked online, the art we make now will be less known for its engagement with the digital, but rather for its seasonality, "by livable temperatures, easy travel, trees and flowers, food to eat and many different animals"; marked by insects like butterflies, symbols of nature's cycles, of leaving and returning. The generation that equates butterflies with innocence (those sparkly hair clips and Anna Sui t-shirts) is now being reminded of their existentialism. A figure emblematic of evolution, Mariah Carey who famously said, "Butterflies are always following me, everywhere I go." (She can't help it, folks; she's sweet as Honey.) The appeal of the butterfly's form is timeless; to be fragile but transformative, diminutive but expansive. In the future, butterflies will be a symbol for the delicate world we lost at the hands of clumsy, less sensitive people.