Laurie Simmons, Birthday Cake, 1984 (detail). Courtesy of Amanda Wilkinson
Laurie Simmons' Fake Fashion Photos Are the Real Deal
The artist's series makes a convincing case for fashion imagery as a force for change.
Laurie Simmons, Birthday Cake, 1984 (detail). Courtesy of Amanda Wilkinson
"The idea that a photograph could lie," said Calvin Tomkins, "excited her." It still does. Laurie Simmons has spent years crafting replicas, doubles, and fakes. When she first showed her Fake Fashion photographs in 1984, one of them made the cover of ZG Magazine. It shows a woman standing rigidly, back-to-back with a shadowy doll. Inside the magazine is theorist Jean Baudrillard's essay "Clone Story." A replica human, in Baudrillard's words, "haunts the subject like a subtle and always averted death." But the real and fake women in Simmons's image match each other uncannily. It's hard to say which is haunting which.

The façade of Simmons' images is as polished and impenetrable now as it was 34 years ago. The Fake Fashion series, exhibited again this month at Amanda Wilkinson Gallery in London, follows a simple formula. In each, a woman, wearing something unfussy but smart, stands before a projected backdrop. It's like a standard fashion photo, except that every element rings slightly false. The backdrops look unreal: they're repurposed from Simmons' other series. Aztec Crevice steals the scenery from Tourism (1983), Bathing Suit from Water Ballet (1980–1). The fashion looks unreal: the models wear pieces that Simmons grabbed from New York thrift stores. The lighting looks unreal: an assistant hoisted a lamp that set the models in searing relief. And the situations, most of all, look so insouciantly unreal. Why would a woman in a crisply pleated blouse be hanging around outside an Aztec temple? What would bring another together with a giant birthday cake?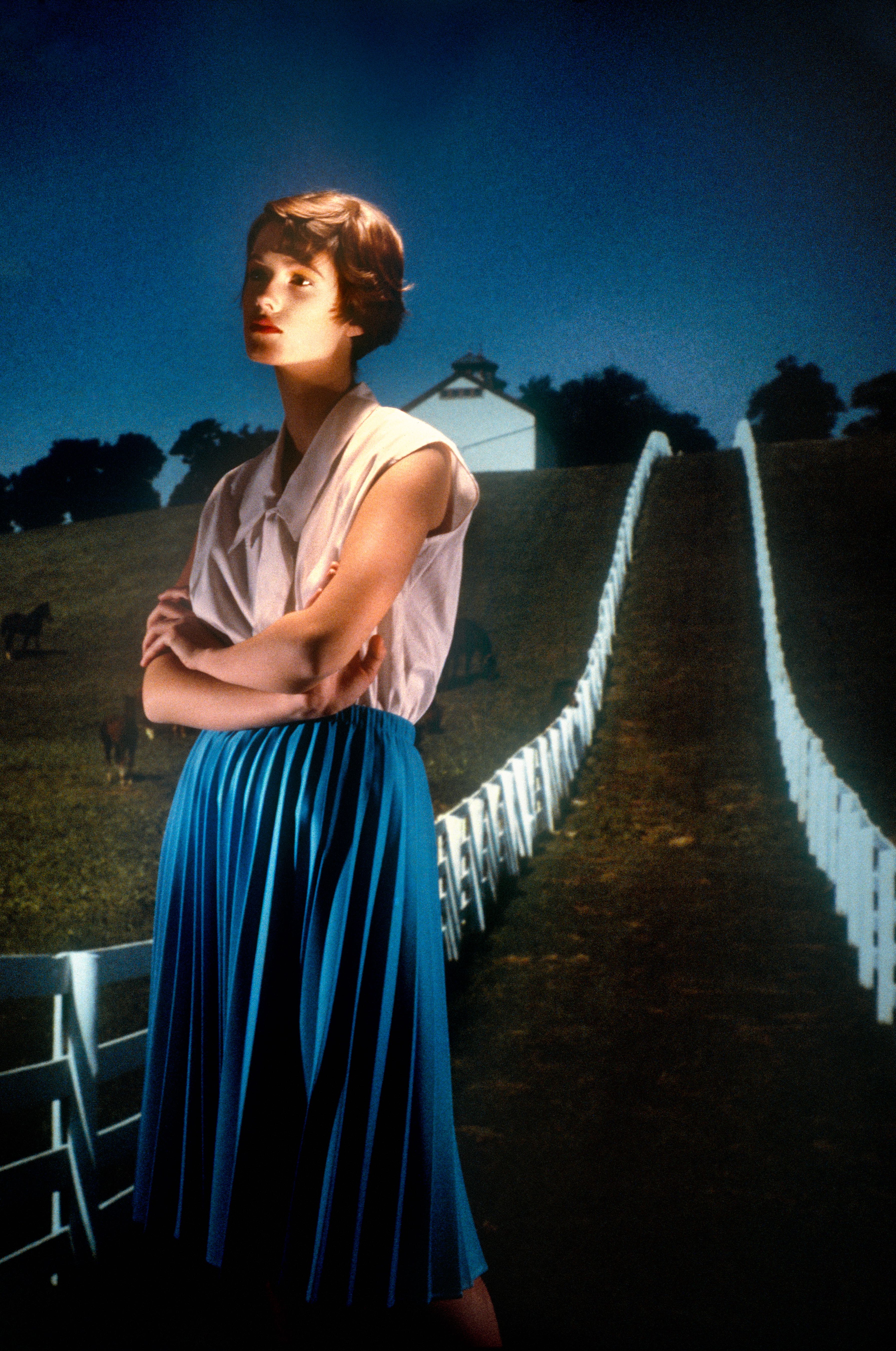 In 2018, Wilkinson says, Fake Fashion has become "newly compelling." The politically minded art world is busy trying to reconcile its reverence for identity with its need to see the world transformed; these are compatible wishes—even if the process is proving messy—because they both force you to care about what other people want to make of themselves. Fashion is way ahead of that game. As fashion historian Anne Hollander put it, "people inwardly model themselves on pictures and on other people," meaning that fashion's identity is transformation itself. It trades on seeing the world and overturning it, making the marginal into the iconic. By attacking the aesthetic status quo, it'll take some unpopular turns—think of John Galliano's chic sans abri—but it can help push new norms as well.

The questions posed by Fake Fashion now are the same as in 1984: who do you imagine these eerie women to be; what situations are they supposed to be in; what are you meant to learn from their poses? Simmons had always been interested in replica people, but in the late 1970s she spent years working with little figurines, alone in their domestic boxes of formica and shadow. By the time of Fake Fashion, she reflected in 2016, she wanted to be "shooting real people rather than dolls and mannequins"; still, she didn't succumb to honesty altogether. Composing shots that didn't quite add up, she made "fashion photos without context, client, merchandise." She called them attempts to "understand the construction of the fashion message." They purify the challenge posed by all fashion shots: you're given a striking aesthetic, and you're left to work out what it wants to convey.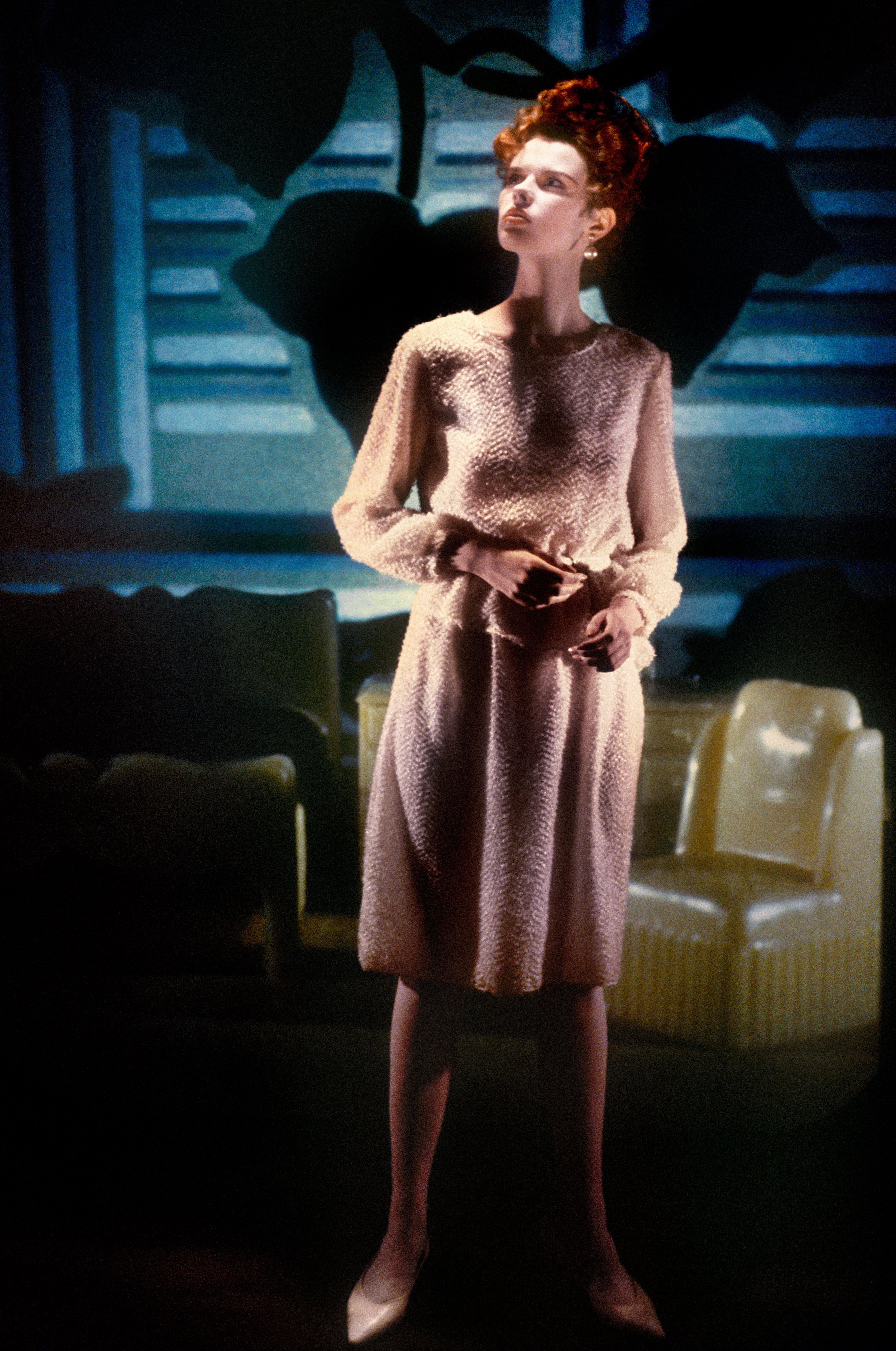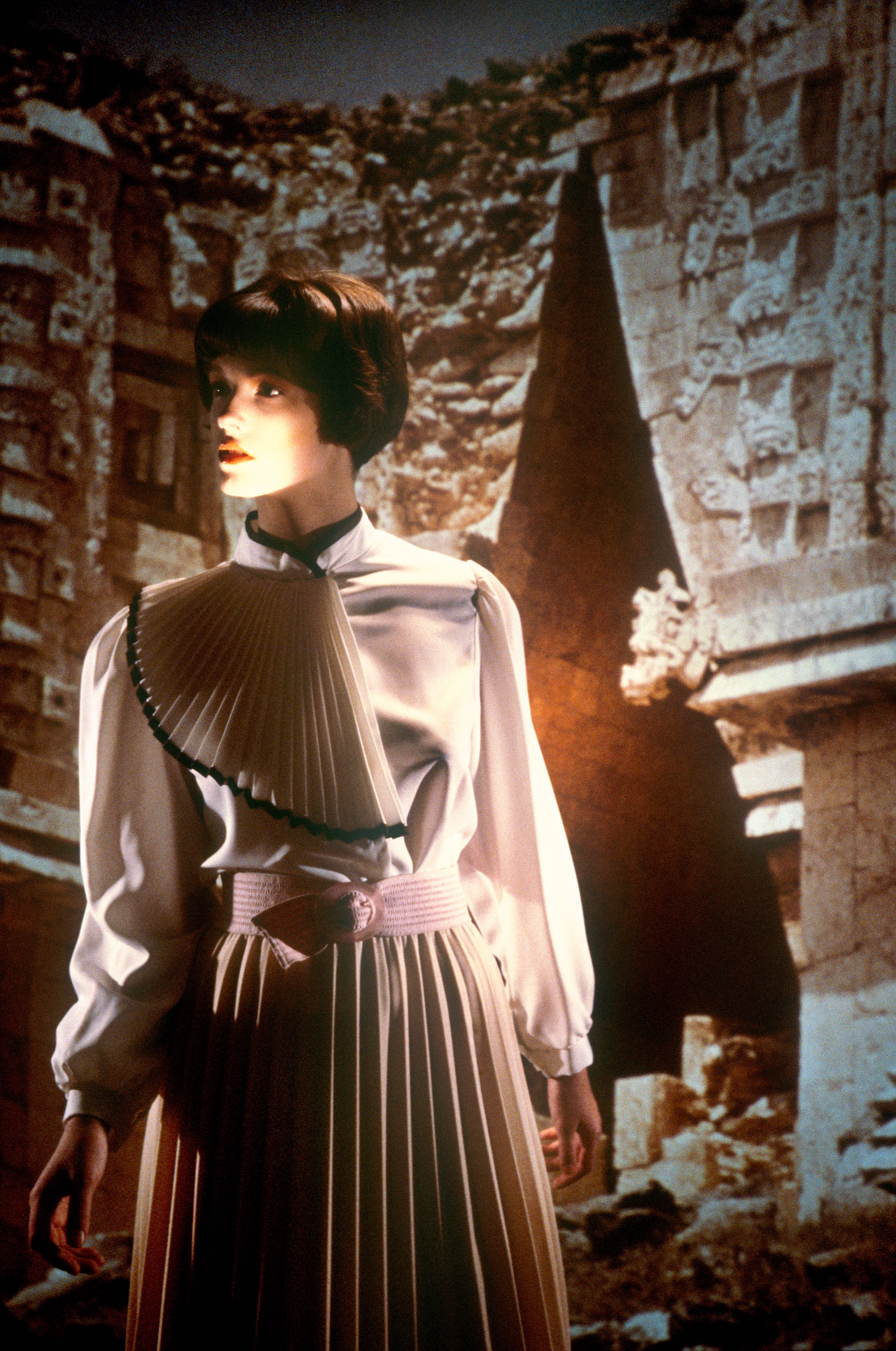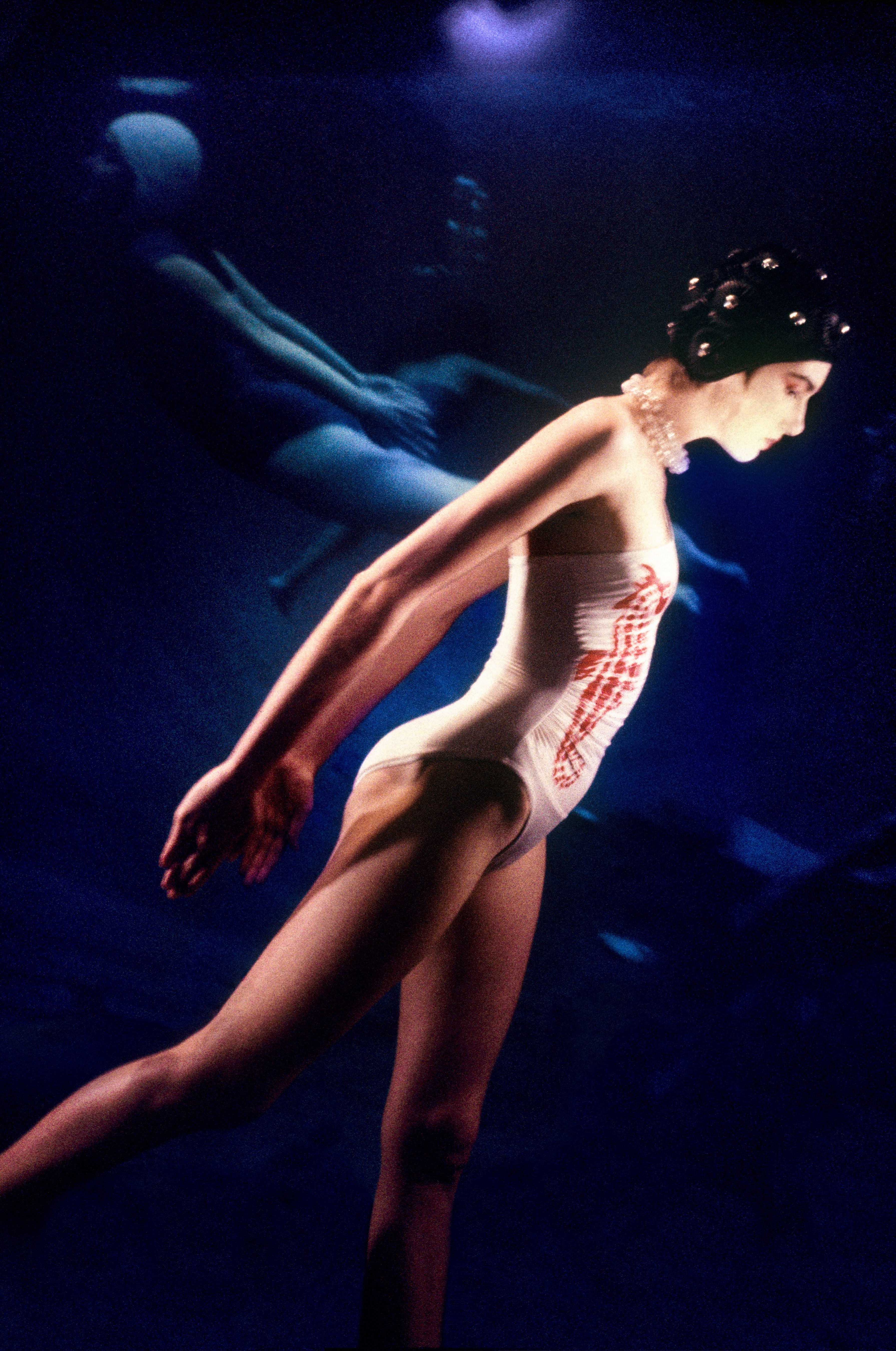 Each Fake Fashion image may be a pastiche, but its model has really modeled for it, so you start by looking for the eyes, the way real people do when they meet. It strikes me that Simmons' work has less to do with Baudrillard than his contemporary Emmanuel Levinas, who said that ethical life began in the gaze that two people share, the rapport de face à face. But in Simmons' seven pictures, only two women look you in the eye, and the others turn their gaze elsewhere. You follow their sightline out of the frame, and hope to imagine what they see, but you know already that it isn't a real gaze and there's nothing really there: it's a set, there isn't a child, or a swimmer, or a watching man. The viewer can tell they're being played for a fool.

Simmons's images are boldly opaque. That's how they represent the grammar of fashion, too, which exults in accusing itself of being fake, in abolishing an obsolete view and inventing something to take its place. These pictures are compositions, nothing more and nothing less. The Fake Fashion women don't owe you a story, though you're free to make one up. Some people can't be crammed into trends, so shut up and watch. We learn about ourselves by looking at others. It takes the radical inauthenticity of the fashion world to remind us of that.

Fake Fashion: Laurie Simmons is on view at Amanda Wilkinson Gallery, London, through March 17.