New York Fashion Week's Hottest Trend: Sprawling Banquets
Why are the runways at Raf Simons, Sandy Liang, and Saks Potts filled with oversized flower arrangements and half-eaten food?
You never know what trends could emerge from the runways of fashion week—rodeo style, granny-style sling backs, or hot felons.
But this week, a trend is emerging from the farthest reaches of left field. New York Fashion Week's Hottest Trend so far is Sprawling Banquets.
On Wednesday night, at Raf Simons's Fall 2018 show, the raised runway was full Sprawling Banquet, worthy of the eeriest Dutch still life or Caravaggio's Bacchus. Lemon rinds curled out of bowls like Medusa wigs. The flower arrangements were bountiful but somehow foreboding (memento mori, baby!). There were piles of waffles and hunks of bread, heaps and heaps of grapes, and half-filled wine glasses and bottles plunked among heads of regal purple cabbage. Electric blue Jell-O jiggled to the bass of electronica spliced with Vivaldi's "Four Seasons" as models walked in a collection that explored fixations—bleak and cool—on drugs.
There was an Absolute Unit of pears.
On Thursday, at Sandy Liang's Fall 2018 presentation, models hung out in the dining room of Mission Chinese. Liang is a young New York designer who makes clothing that is low-key batty and super stylish, like this season's yellow and pistachio furs and prairie dresses. Everyone was clustered around a triangular dining table decorated with a heaving slate blue and teal floral arrangement, botanical leaves fashioned as makeshift salads, and turquoise fish and flower soaps plated like the catch of the day. Like the set at Simons's show, it was at once beautiful and totally unappetizing.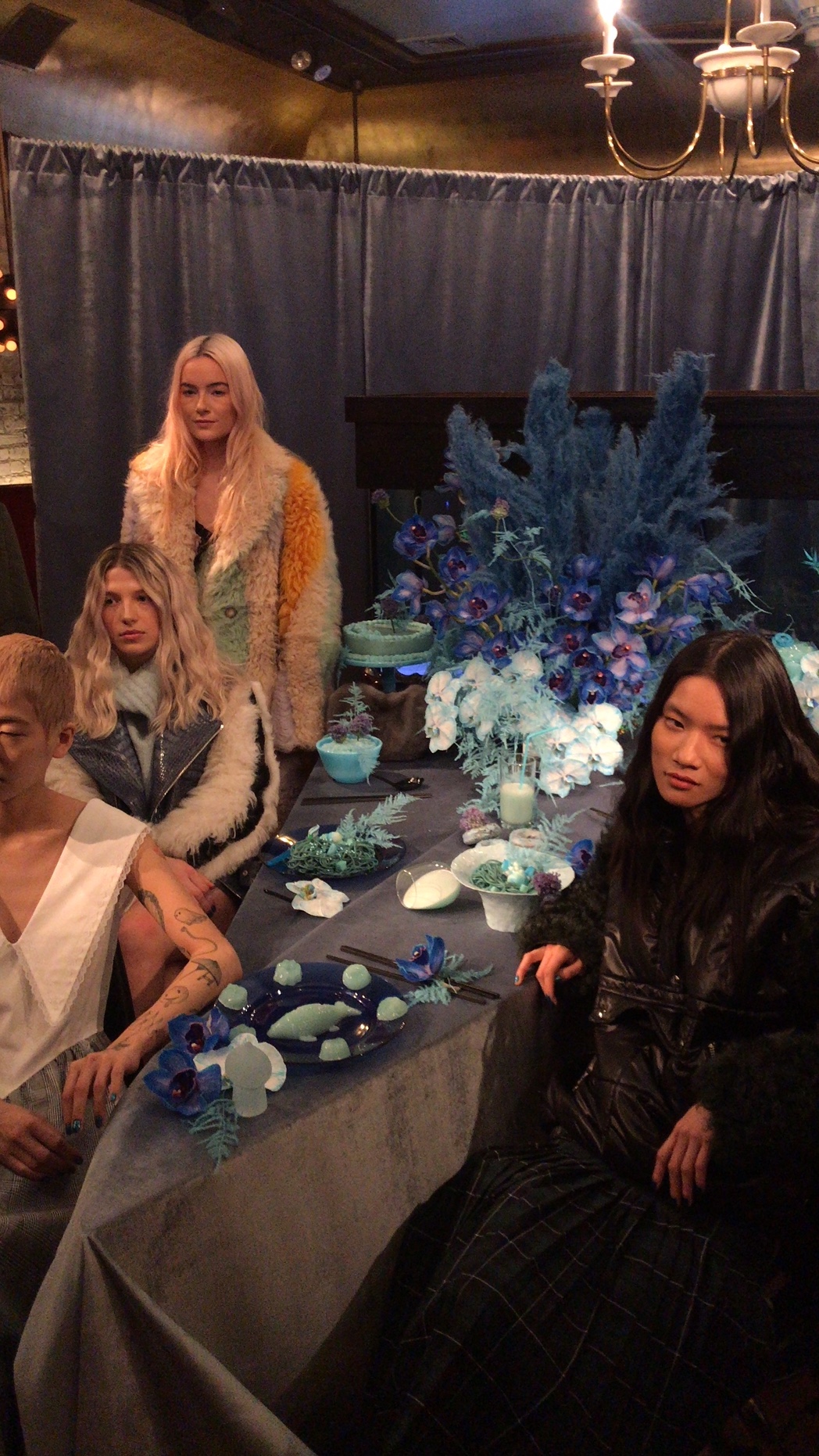 Several blocks uptown, the similarly sweet-and-sour label Saks Potts presented its collection at the National Arts Club, where models sat at card tables set with pastel tapered candles, scones, and bunches of flowers. It was more precious than these other Sprawling Banquets, but that sense of uneasiness, of sinister elegance, still lingered, with candles, piles of food, and a regal, if stifling, atmosphere.
Sprawling Banquets aren't merely a fashion world craze. Just this past fall, the hottest cultural happening in New York was the Metropolitan Opera's production of The Exterminating Angel, a surrealist drama based on the 1962 Luis Buñuel film about a dinner party that no one can leave—a banquet whose sprawl is more temporal than spatial, perhaps.
What do we make of these Sprawling Banquets? They certainly combine a number of particularly New York passions: freakebana; going out to restaurants, which is basically as much a competitive leisure activity here as golf is in Florida; fashion's strange and sycophantic twinship with food, as epitomized in Phantom Thread; psychedelic but regal tones; a perverse desire to consume and indulge against our own better judgment, even as we proselytize boutique fitness classes and the life-changing magic of tweeting about throwing stuff out. As life becomes a wrestling match between how much to be angry with the state of the world and how much to let ourselves enjoy something once in a while, the Sprawling Banquet is not the dinner party we are having after we read a pro hostess's how-to guide in Architectural Digest. It is psychic reflection of our propensity to go to extremes—binge-watching, binge-exercising, binge-eating—as we search in vain for balance.
And the week has barely begun. More Sprawling Banquets are likely to come. After all, no one visits the buffet table just once.