View of Artie Vierkant: Rooms Greet People By Name, Perrotin New York. Courtesy of the artist
This Is Why Post-Internet Art Doesn't Look Hi-Tech
At Perrotin New York, Artie Vierkant tamps down the digital aesthetic, focusing instead on labor and dissemination.
View of Artie Vierkant: Rooms Greet People By Name, Perrotin New York. Courtesy of the artist
Technologically oriented art is an evergreen category, but new variations still pop up all the time. Recently, GARAGE's Alice Bucknell surveyed a new movement that brings together gadgetry and mysticism, while the Wall Street Journal's Kelly Crow observed that the Armory Show might look more like a sci-fi convention than an art fair. And last week, Galerie Perrotin opened Rooms Greet People By Name, a cerebral new show by post-internet artist Artie Vierkant.
Like many artists of his ilk, Vierkant is making work that doesn't immediately suggest digital manipulation. Rather, the exhibition resembles a nondescript showroom under construction. A mirror hung on an aluminum wall partitions the space. A series of five deep blue monochrome prints titled Image Objects are adjacent and fill the gallery's south wall. Each individual work combines two rectangular fields of subtly shifting color, and Vierkant, playing the contrarian, noted to GARAGE that in spite of the endless chromatic potential of digital printing, he did "the opposite of that, and went as monochrome as possible."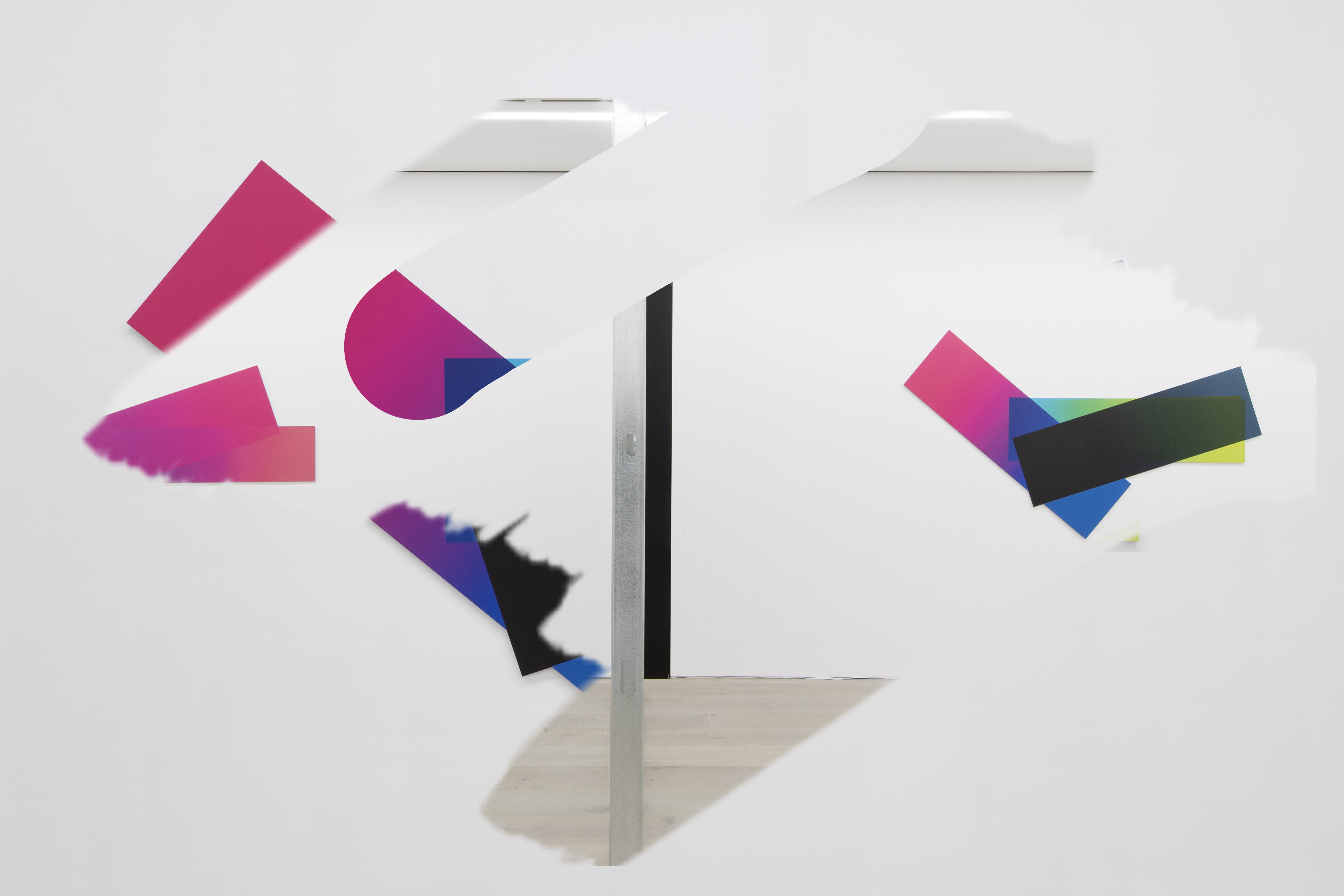 Vierkant embeds quips about his own labor in the work's titles too, which consist of timestamps: Image Object Sunday 31 December 2017 2:42PM–7:01PM, say, or Image Object Tuesday 26 December 2017 10:04AM. "The date the file is saved is the genesis of the work," he explained. "It's a wry take on myself as the artist-laborer—the time of the artist's labor is the same as the time of the saving of the file."
Given the slick appeal of the objects in the show, it's easy to assume Vierkant's commercial success is a done deal. But his work is distinct from that of colleagues such as Petra Cortright, Michael Staniak, and Michael Manning, all of whom take a more intuitive approach. By contrast, Vierkant is the classic conceptualist, fixated on the distinction between the object and its documentation, and theorizing—in classic Baudrillardian fashion—that representation can exist without reference to an original. "The Image Object series is intended to embrace this condition," Vierkant wrote in his 2010 essay The Image Object Post-Internet, "and utilize the venue of dissemination as a platform for work."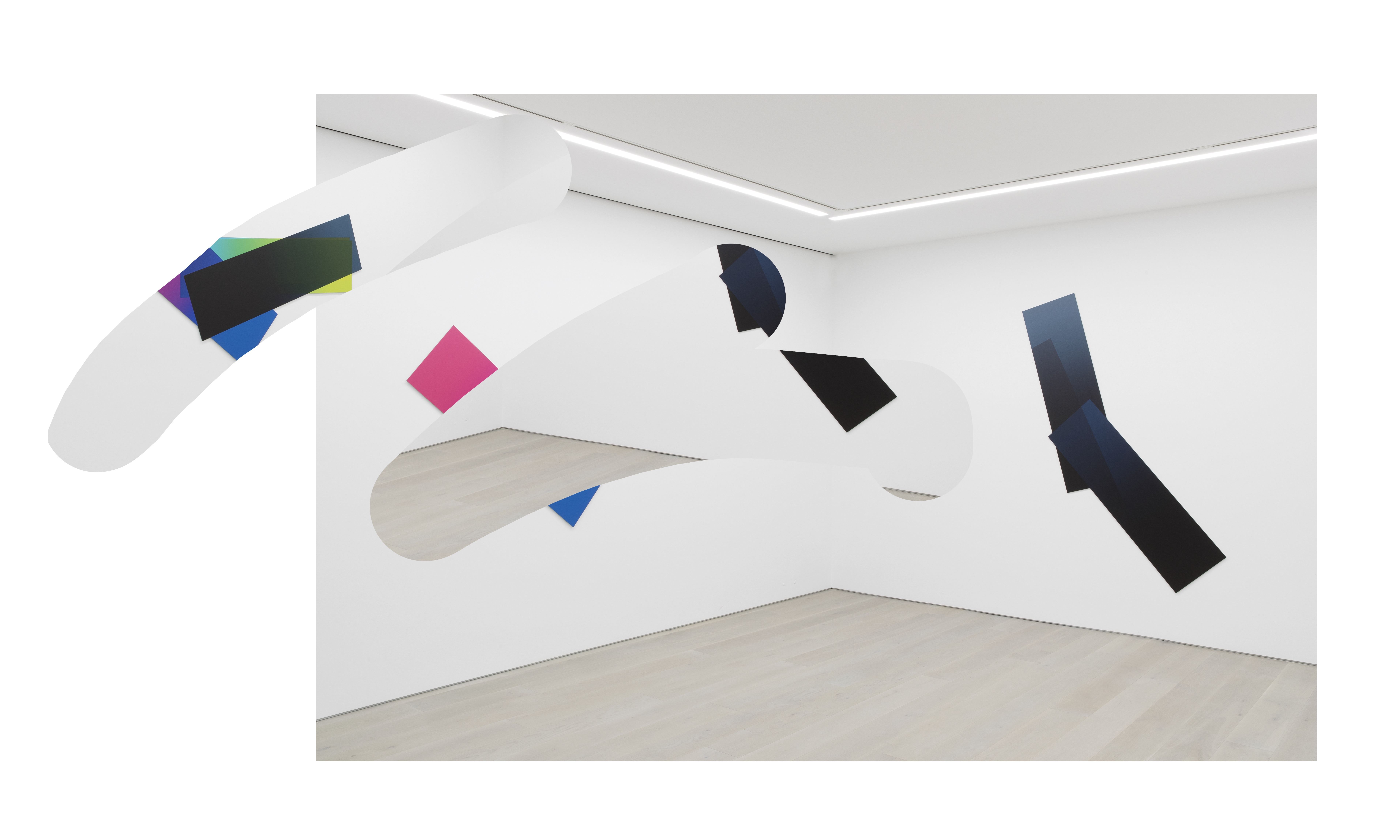 Accompanying the monochromes are a selection of Vierkant's "post-production" prints. Ordinarily, these circulate online only, and while they retain a semblance of the physical installations they document, they've been overlaid with finger-swipe swooshes and rainbow splotches. The artist has also made an Image Object app, available for free download, which allows viewers to look at any space and overlay it with one of his signature marks. A new swirl is available daily, and Vierkant has already made a year's worth.
These works are the cornerstones of Rooms Greet People By Name. But if you want to see where the artist is headed, the two large mirror works the exhibition is named for offer an indication. They're based on objects that sci-fi movies made famous and Silicon Valley made real—smart mirrors. Not only do these creepy products reflect what's in front of them, they also feature surface crawlers that display the news or weather. Vierkant's mirrors are much simpler, a squiggle of light suggesting activity of some sort "without making it seem too much like technological prestige." In other words, it should be the light patterns we're attracted to, not the tech itself—a critique that extends beyond Silicon Valley. In the context of the gallery, the "prestige" of technology is displaced by the social prestige associated with collecting.

The other twist to these mirrors is that, like most smart technology, they're watching you. Form in Light for Body Worn Camera has a police-style body cam attached to it, while Form in Light for Listening Device sports a voice-activated audio recorder. (The intention is that the recorded material stays with the mirror.) Once the objects' memory cards are full, the works are considered complete, and neither the artist, nor the gallery, nor the collector have any responsibility for the material collected.
The Form in Light series has similarities with the Image Object series in that it looks at how technology functions (online and off), and how labor creates value (or in the case of Image Object, offers other kinds of intangibles). But it's no longer enough to simply nod to a digital object's distribution and manipulation, and the reference to police body cams tells us there's much more at stake. We have a responsibility to understand how these markets are driven—and Vierkant's work gets us meaningfully closer to that.
Artie Vierkant: Rooms Greet People by Name is on view at Perrotin, New York, through April 8.