Edgar Askelovic, Rihanna, 2018
Rihanna's Wildest Birthday Gift Is This Nude Sculpture
A life-size figure of the singer by Edgar Askelovic is en route to chez Fenty.
Edgar Askelovic, Rihanna, 2018
As birthday gifts go, works of contemporary art aren't inherently out-of-the-box, especially if you happen to be a pop celebrity, but a sculptural nude of the recipient does feel edgier than most. Today is Rihanna's 30th, and while we strongly doubt the star will lack for celebratory recognition, one present in particular may still stand out from the crowd; Lithuanian-born artist Edgar Askelovic has sent the singer a life-size rendering of herself in silicone, fiberglass, and resin.

Wearing a football helmet inspired by Jean-Michel Basquiat's iconic AARON lid—the original inscription has been switched out for a "RIRI" tag— Rihanna's grey-green body is marked with further invocations of the late painter's instantly recognizable mishmash of abstraction, figuration, and gnomic text. As Askelovic explained to Artnet News, "I included Rihanna's tattoos on the sculpture, but interpreted them in the style of Basquiat." He described the work as a "symbiosis" of the two icons.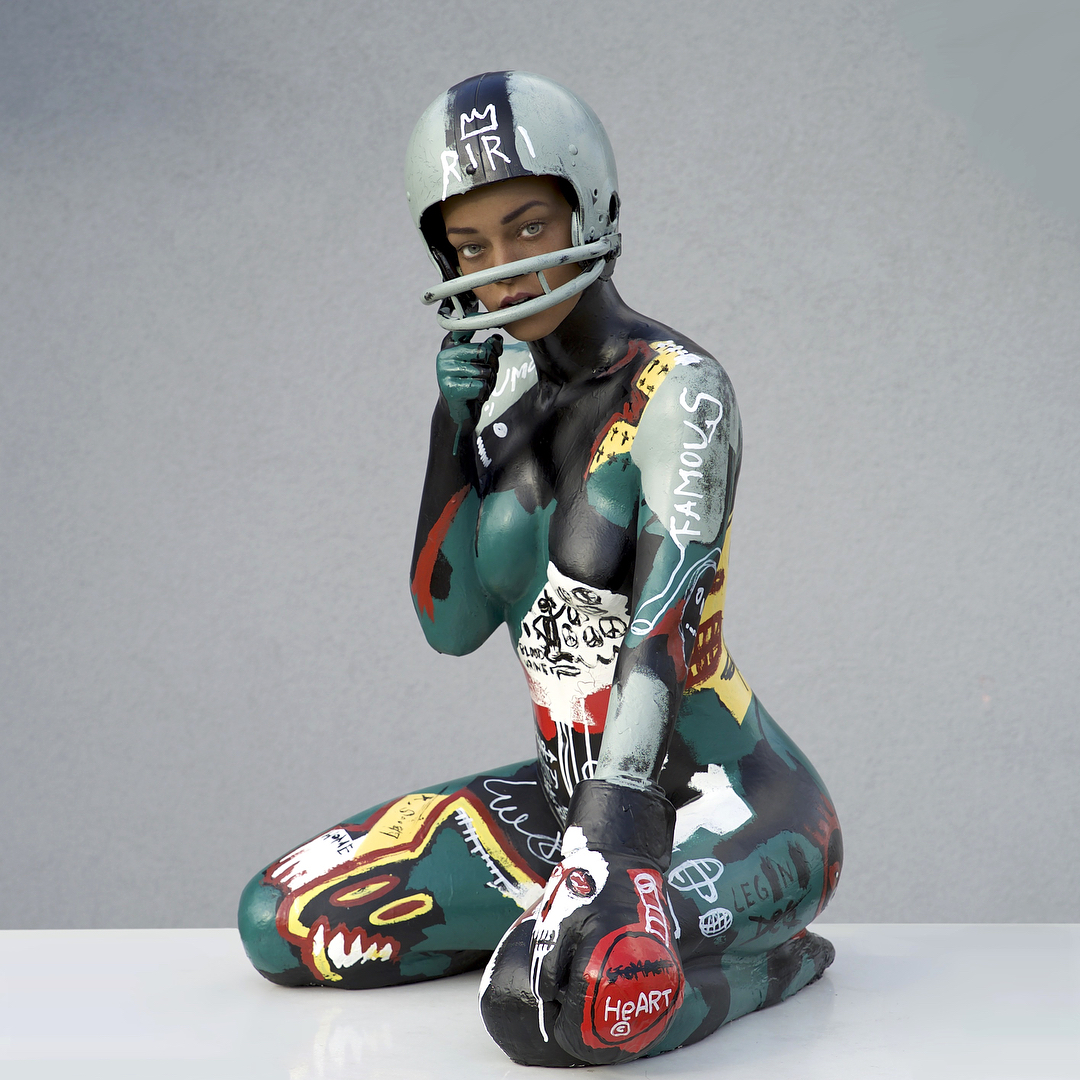 While Rihanna will receive her sculpture gratis—and whether she actually wants it or not—collectors will need to find $45,000 to pick up one of two other identical figures in the edition when Parisian dealer Jean-David Malat puts it on view at his new London gallery in May. Askelovic has already rendered several other popular figures including Kate Moss and Kurt Cobain, making sure to boost his public profile by sending every (living) subject a copy of his or her doppelgänger.

Wherever Askelovic's sculptures end up, chez Fenty and elsewhere, and whatever one thinks of their brash art-pop mash-up, they will take their place alongside other recent remodelings of well-known women. British artist Marc Quinn, for example, produced his own homage to Moss in Sphinx (2005), which shows its subject in a yogic pose more advanced than most could manage (his later Siren [2008] repeats the feat in solid 18-carat gold). Then there's American sculptor Daniel Edwards's Monument to Pro-Life: The Birth of Sean Preston (2006), a startlingly naturalistic treatment of Britney Spears giving birth astride a bearskin rug.

The birthday girl may have gotten off lightly.