Peaches is Letting Sex Toys Speak for Themselves
The Berlin-based musician branches out into art with her first solo show, 'Whose Jizz is This.'
We might know Peaches as the trailblazing electroclash superstar and feminist pioneer with pink eyeshadow that stretches past her sideburns, but now, she's up to a different kind of trouble.
True, the Berlin-based star is known for bringing outlandish costumes onstage long before Lady Gaga, using butt-plug performers in her stage shows, and even blowing up a larger-than-life penis onstage as part of her rock opera Peaches Does Herself, proving her music career has been a middle finger to thesexist music industry.
Now, she's letting sex toys stand up for their rights. That's right. Ahead of the 20-year anniversary of her stage debut, she's having her first solo exhibition at the Kunstverein in Hamburg, opening August 9, titled Whose Jizz Is This.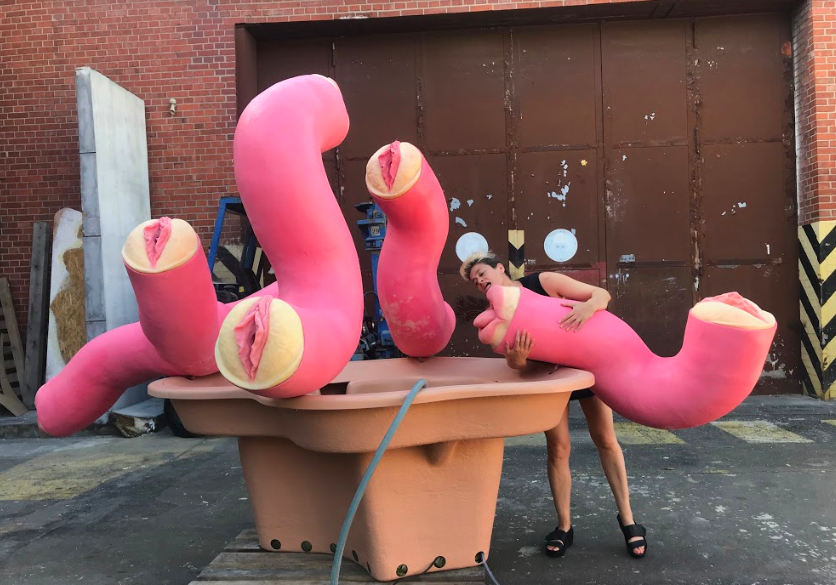 It's also nearing the 20 year anniversary of her groundbreaking album, The Teaches of Peaches, which featured the hit Fuck The Pain Away, a key moment insex-positive pop that inspired sexual prowress across the globe, not to mention in mainstream pop, from Britney Spears to Christina Aguilera.
For her first institutional solo, Peaches is creating a "deconstructed musical" with 14 stage sets shown alongside a multi-channel soundtrack. At the heart of the exhibit are over 100 "Fleshies," or sex toys known as Double Masturbators, who are no longer in a passive state of pleasure—they have their own identities and fight for their rights as individuals (there will also be rubber sculptures and a fountain that squirts liquid).
From August 15 to 17, Peaches is performing a revue stage show at the Kampnagel Hamburg There's Only One Peach With The Hole in The Middle. It's a celebration of her past five albums alongside a 12-piece orchestra and 10 performers, including guest performances from New York drag rapper Christeene and London-based aerial performer Empress Stah; with costumes by hair couture king, Charlie Le Mindu, and technical direction by Black Cracker. While preparing for her exhibition, Peaches spoke to us from Berlin about sex toys, comedy and that time a watermelon became a glory hole.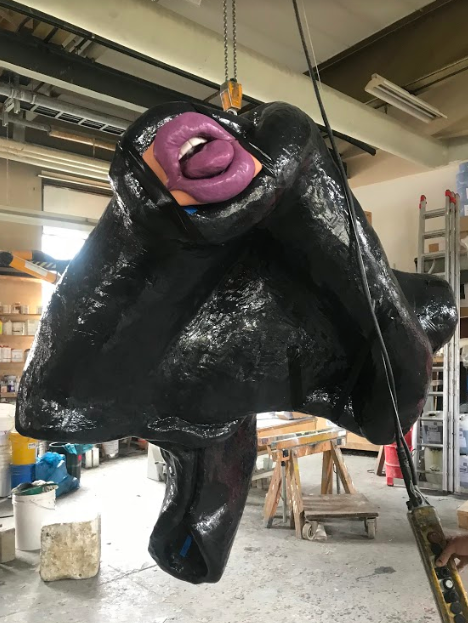 How did this fleshie thing all begin?
Peaches: I found this video of a guy reviewing the double masturbators. I have no idea how I came across it, but he is such—its like he has never had sex in his life. He's like: "Uh, it's got teeth and men, let me tell you, if a woman bites your ear before you have sex, run because she's going to bite cock." One of the things he talks about is his "Shut up and suck my cock bitch fantasy." When you first walk into the space, this video is the first thing you see.
Is that how you found out about fleshies?
I knew about Fleshlights, but it struck me as a 'what if' scenario. What if fleshies had an emancipation? It's allegoric, its storytelling, it's a narrative. That's my practice with stage performance, opening minds through performance. I wanted them to have a performative quality.
What kind of characters and personalities do your fleshies have?
I always like to add some humor, but there's truth to it. I created a film that's on view, "Fake It Till You Make It," which has animated fleshies talking to each other in a setting that's like an Alcoholics Anonymous meeting. Its crazy because they all look alike but that's their complaint, too. Some look sad and pitiful, others look confident. They try to emancipate themselves.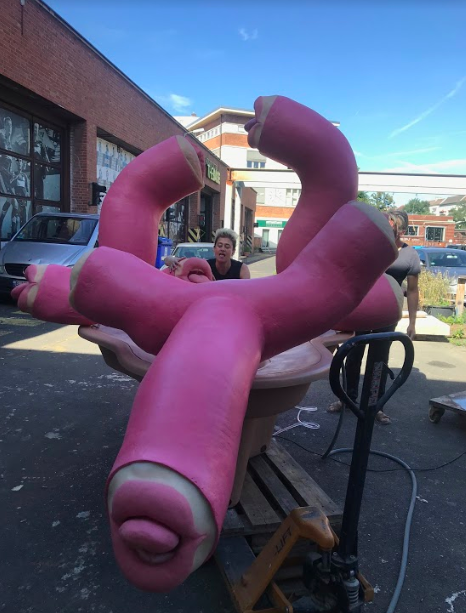 Does the exhibition title "Whose Jizz Is This" come from a line in your 2015 song Dick in the Air?
Yes, that's where it comes from. It's made to use this phrase for these "fleshies," as I call them, because we don't want your jizz. Whose jizz is this? We don't want to be jizzed anymore, we want to be able to jizz.
In the Dick in the Air music video, you and Margaret Cho run around Los Angeles wearing Teletubbies-like bodysuits and both put your dicks in a watermelon?
That is something that truly happened to me onstage in Toronto during a Pride festival at Will Munroe's Vazaleen parties, Andrew Harwood and his friend came up onstage and put their dicks in a watermelon. And yea, I was like, wow. Okay.
You said something in the exhibition essay where you compared sex toys to submission in sex?
Yes, the fleshies are not passive. When I made "Fleshie Island," I got a bunch of sex toys. I can't even—there's one that has boobs, a nose and a mouth with teeth and a tongue, and the other side is just a hole. It's so disembodied, there's no reality to it. It's like, "I don't want to deal with a human or real stuff, I just want these body parts that I can control."
And its always through the male gaze?
It is, but there are sex machines and dildos for women, but the stuff with the holes, it's visually passive. The word "fleshie" is not even a word but it was created by the people who use them. It's about rewriting narratives; the same way gender fluidity is rewriting narratives.
What are some of the larger images on show?
They're photos of me and the larger fleshies, trying to communicate together. If I treat them respect or as equal instead of just as a passive, will it work? They can't take it anymore and you see them puking and bleeding.
What is going to happen in the "Glory Hall?"
It's a take on the glory hole – there's going to be 144 fleshies, they are in their most passive state, their mouths are open and the end of them are open, too, and you just go down this hall. Some are glow in the dark, so there's UV light that passes through them. They don't have any function, in that way, its that seedy glory hole feeling, but they're also banning together side by side. I wanted it to be an allegory you walk through, it's a complete organism, in the end.
There's also a performance you are doing, "Only One Peach With The Hole in The Middle?" How is the performance inspired by the 1970s variety shows of LGBT icons like Bette Midler and Liza Minelli?
Yes, I'm a show girl, I'm from that world. They were all modern in their thinking, they had a lot of LGBT performers, not as an exploitative thing but as their world. I want to give a nod to that. I did a rock electro opera on becoming Peaches and this is more of a revue style celebration. For this show, I'm going to reintroduce the laser light show, show a video of me with Iggy Pop, do certain songs I haven't done in a long time.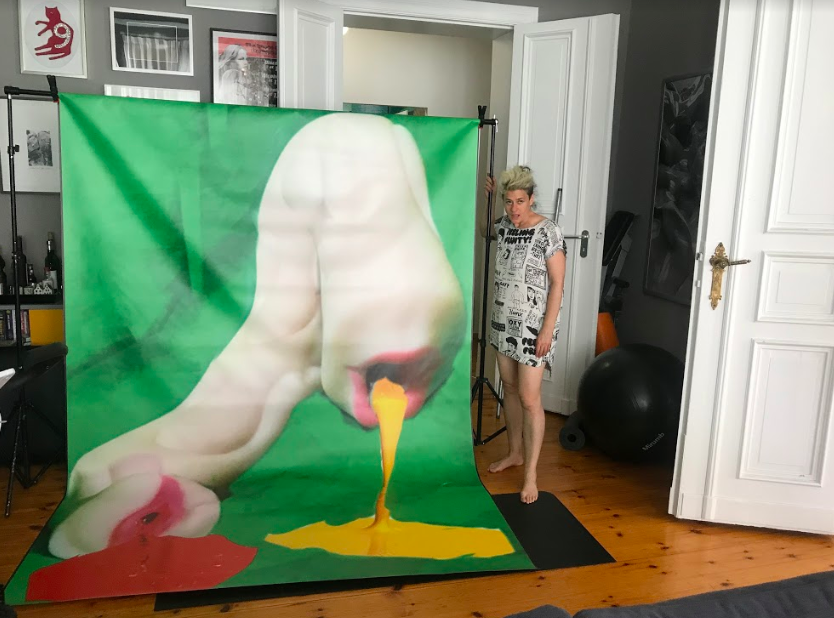 What can you say looking back on your 20-year music career today?
I don't knooooooow. What can you say? I moved into different areas, which inspire me creatively, so now I'm inspired by sculpture and how to bring it into the context of the post-contemporary world.