Artist Simon Freund Questions the Self-Portrait...and Your Outfit
Freund's new photo series plays with the concept of the "signature uniform."
When Simon Freund—a conceptual artist living and working in Berlin—debuted his latest project at Munich-based gallery the Stu this summer, he did so during a moment rife with discussion surrounding fashion, identity, gender, and design. That project, a photo series entitled Selbstportrait, portrays 100 different people wearing Freund's own "signature uniform" and Freund wearing theirs. While Freund initially set out to explore the concept of self-portraiture, the photos of his own clothing ended up playing with some of the most pressing themes in fashion today.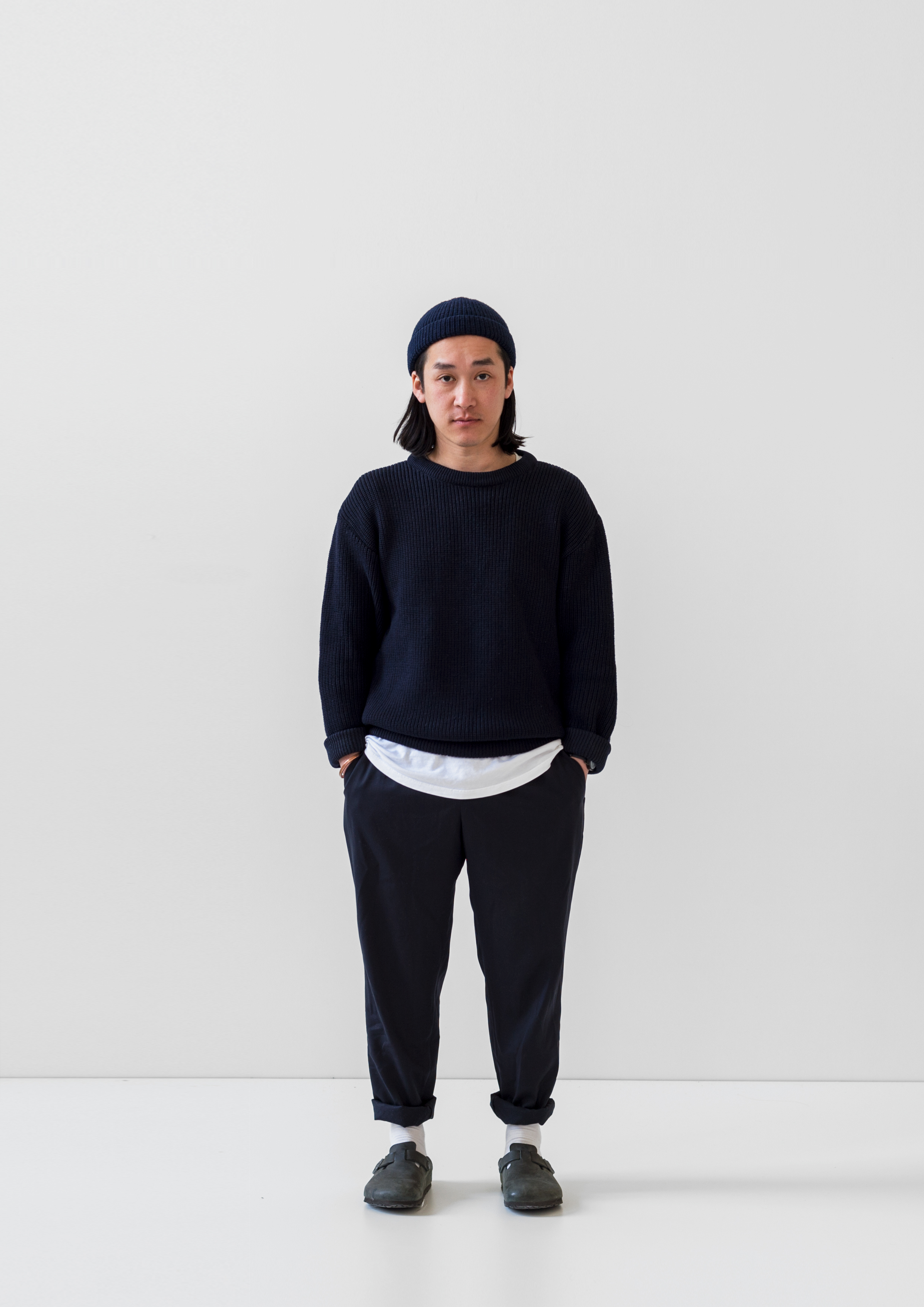 The 28-year-old artist wears the same thing every day, but Freund says he stumbled into the practice of having a uniform—it was never intended as a deliberate statement. "I just narrowed down my wardrobe until there was only one type of clothing left and then it became my uniform," he explains. "I like the idea of not having to think about what to wear in the morning because there's only one outfit. It's also fantastic to wear your favorite outfit every day."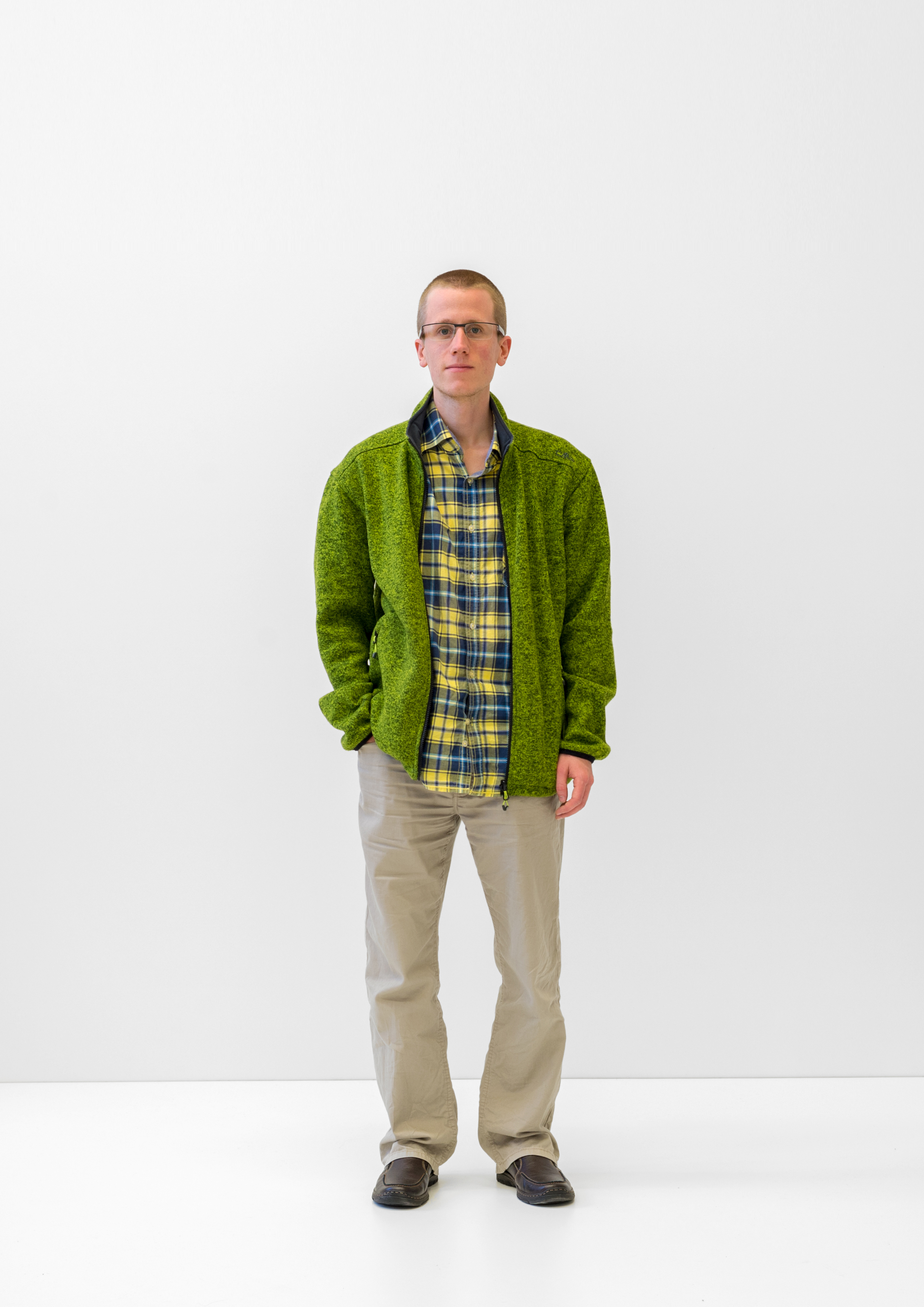 Freund is big on locally produced products. He's a former fashion designer who also ran his own concept store, LOCAL, in Berlin's Bergmannkiez neighborhood before focusing on his work as an artist. "I stopped running my own fashion [line] because there is too much stuff already, and by doing art I still hope to make people aware of the craziness of our consumer culture," he says. His whole outfit, down to his underwear, is German-made. (Well, everything except his watch. "I can't afford the German-engineered watch I like at the moment," he tells me.)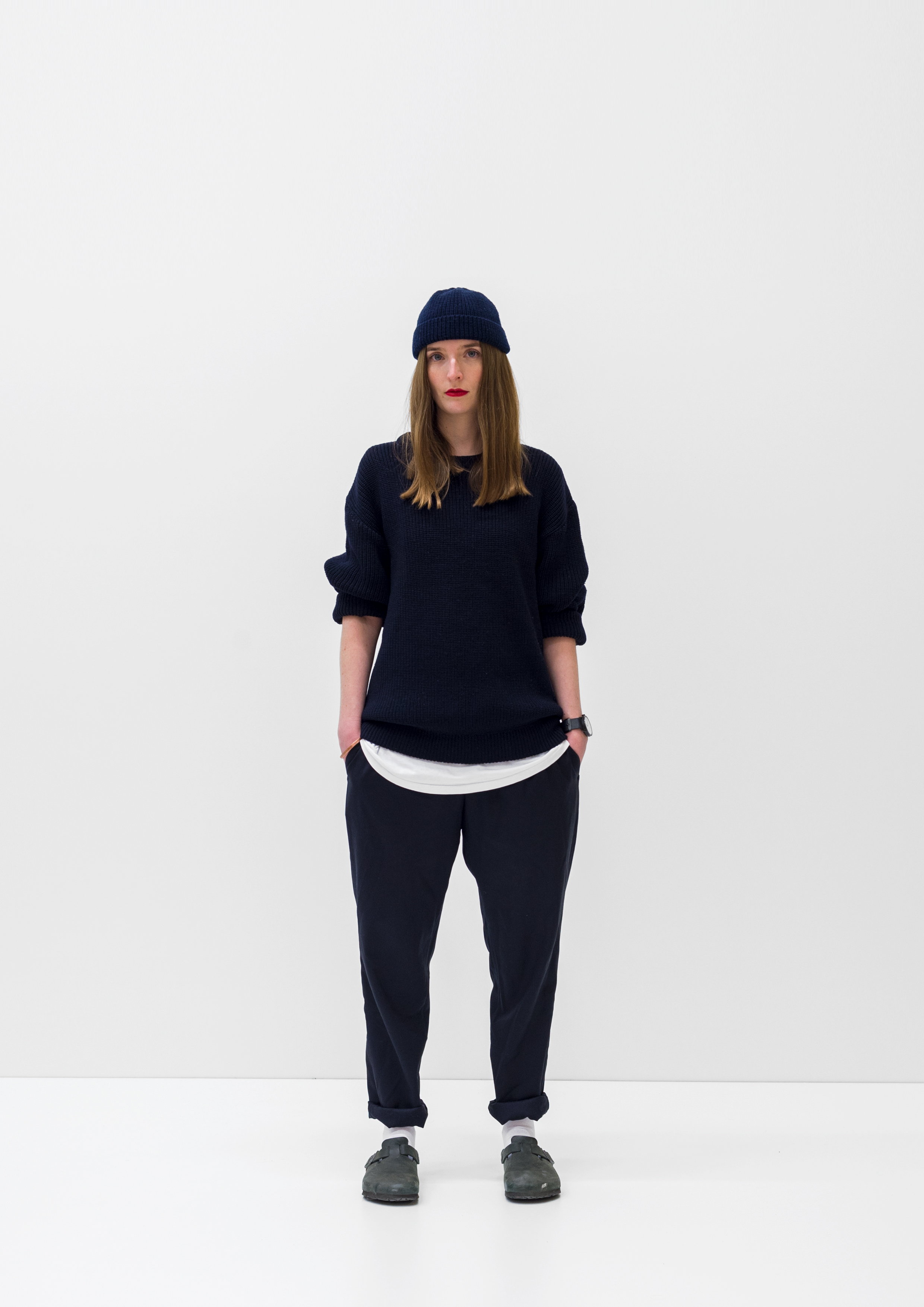 His underwear is made by Bloomboxer, a boutique brand that produces made-to-order boxers; his trousers are from Munich-based A Kind Of Guise, an in-the-know label beloved by taste gods everywhere; his sweater is from Leuchtfeuer Strickwaren, one of the manufacturers he used to use for his own label; and the shoes are one of Germany's best-known fashion exports, Birkenstock. The socks, T-shirt, beanie, and copper bracelet are all pieces Freund produced under his own label. "Uniform" may connote boredom, but Freud's own aesthetic preferences skew modern, minimalist, and effortlessly stylish.
"I was most interested in the idea of making a self-portrait where the person who is portrayed is not even present," Freund says of Selbstportrait, "so basically making a self-portrait of myself by having other people wear my clothes." It sounds a little odd, and maybe even a bit vain, until you spend some time scrolling through the website that houses the digitized version of the series.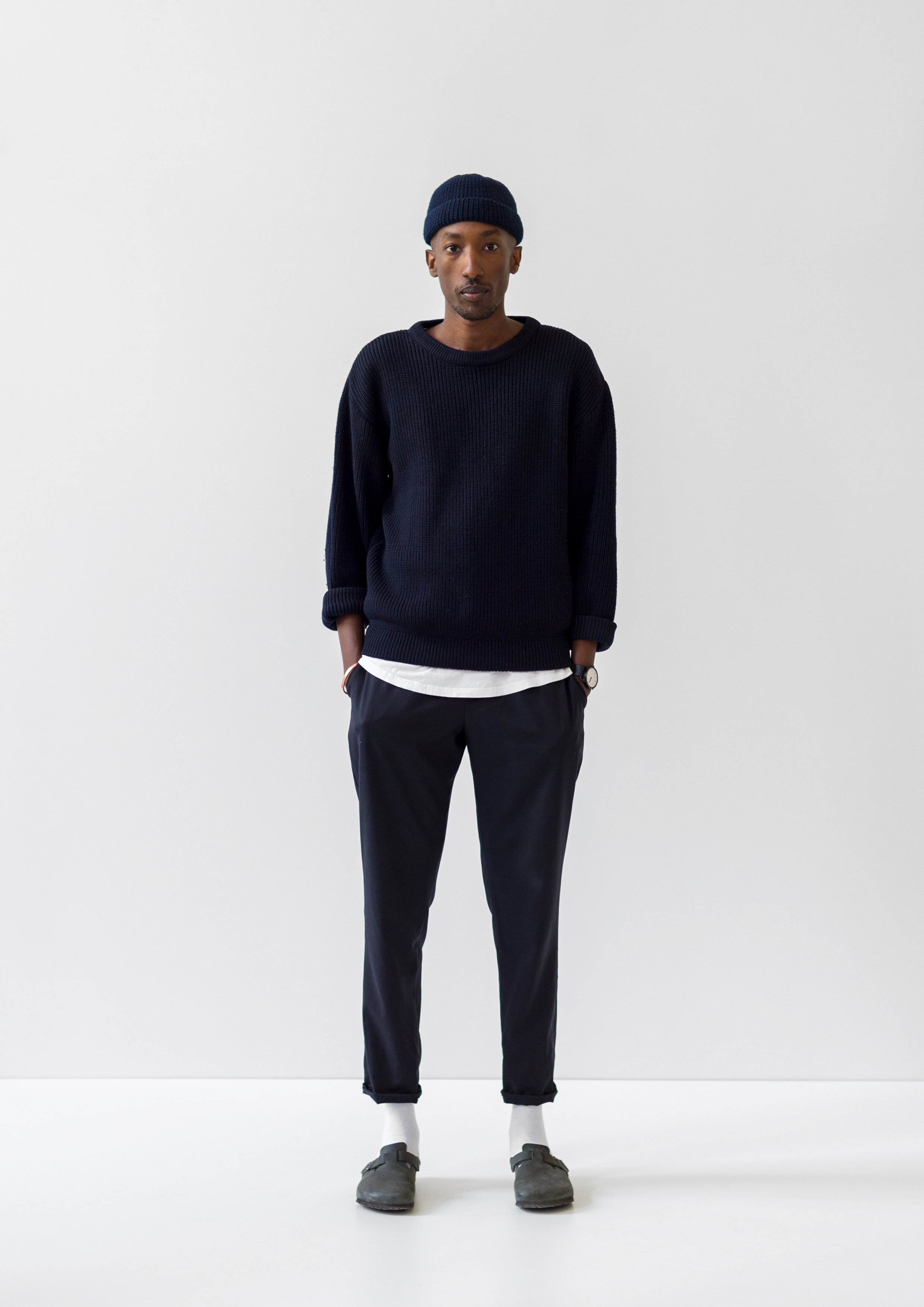 Rows of people, male and female, are outfitted in Freund's garb and look blankly into the camera: their hands are always in their pockets, the trousers all cuffed in the same manner, and the same knit cap adorns everyone's heads. Hover the mouse over an image and it switches over to an image of Freund in each subject's attire: sometimes it's just a T-shirt and jeans, and other times it's a dress and stockings.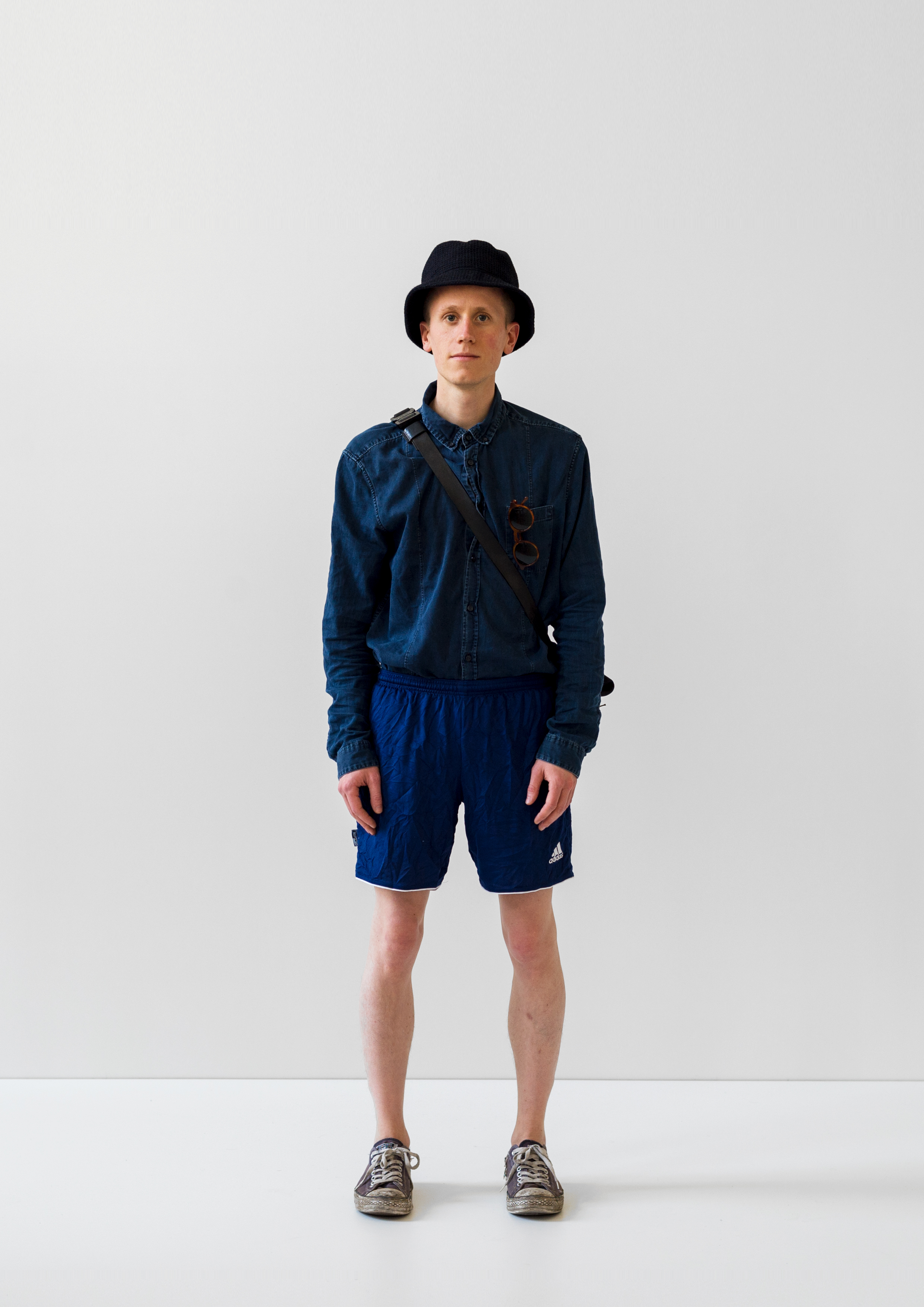 "To feel other people's clothes, which might still be warm or sweaty and too wide or too small on your skin," Freund says. "It's...interesting. Despite what you imagine, I still felt very much like myself—just in a different outfit." As for how it felt to wear women's clothing, Freund says, "I might have felt more feminine in women's clothes, but this femininity is always a part of me. I might just not always show it."
Freund questions our collective desire for individualism through fashion and exploring how clothing has wedged itself within our own personalities. Fashion's recent obsession with maximalism has meant that sometimes the wearer is consumed by the design. At what point does a garment overtake one's personality? Is a still photograph more a portrait of the clothes or the person? Freund's concept may skew facile—simply swapping one outfit for the other—but he's asking us to rethink the power of our own clothing. Whether that means questioning the purpose of your wild Balenciaga sneakers or your simple Gap T-shirt, it's probably a question worth asking.
See a digitized version of Selbstportrait on Simon Freund's website here .