Es Devlin, photographed by Hollie Fernando for It's Nice That.
To Capture Kanye & Beyoncé's Set Designer, Bring Giant Hands and Plenty of Glitter
Photographer Hollie Fernando talks about shooting Es Devlin at her home in London.
Es Devlin, photographed by Hollie Fernando for It's Nice That.
This article has been reproduced courtesy of It's Nice That.
If you were in London in 2016, you might have ended up lost and disoriented in Peckham's Chanel-scented Mirror Maze installation. The following summer you probably caught sight of Bregenz Festival's production of Carmen with its spectacular backdrop of two 82-foot-tall hands, throwing a deck of cards in the air. Fast-forward to this spring, and it's unlikely you missed The Weeknd's Coachella stage layout that featured a cracked, 30-foot-high theatrical mask as its centerpiece.
Es Devlin is the person behind these world-famous, Instagram-happy creations. Over the past fifteen years, the British set designer has worked on theatrical productions, fashion shows, and museum installations, winning a number of impressive awards while accumulating an enviable list of clients including the likes of Beyoncé, Miley Cyrus, Kanye West, Louis Vuitton, Somerset House and the V&A Museum.

Photographer Hollie Fernando recently made her way to Es's London home for a shoot with the award-winning designer for the latest issue of Printed Pages. Hollie is an established name within the creative industry. Having turned her lens on musicians like Animal Collective and Laura Marling, Hollie's warm, romantic portraits are increasingly found in contemporary magazines. "I wanted these portraits to reflect Es, her personality and her portfolio," Hollie tells me. "I know she works with interesting materials and unusual light so I planned a number of setups that would tie my photos to her aesthetic."
In her photographs, Hollie accentuates Es's unconventional use of resources. When creating The Weeknd's scarred mask, for example, the innovative designer performed a 3D scan of Abel Tesfaye's face and used it to produce the giant fiberglass sculpture. The list of components involved in her latest installation, currently on display at Somerset House, includes high-density foam, fiberglass, steel, lead, and acrylic paint, as well as video projections. To reflect Es's eclectic deployment of resources, Hollie took plastic wrap and foil, crystals, glitter, iridescent paper and silver face paint along to the shoot. "I was really nervous to turn up to Es's with my DIY materials. I didn't want her to be offended that I thought her work looked like this. Thankfully she knew what I was trying to achieve straight away. She showed me around her studio beforehand and I managed to incorporate some models into the shots which was perfect: genuine Es materials and not just my cling film," the photographer says. This authenticity is skillfully translated through Hollie's soft and sensitive portraits of the artist-designer as Es plays with her large-scale props.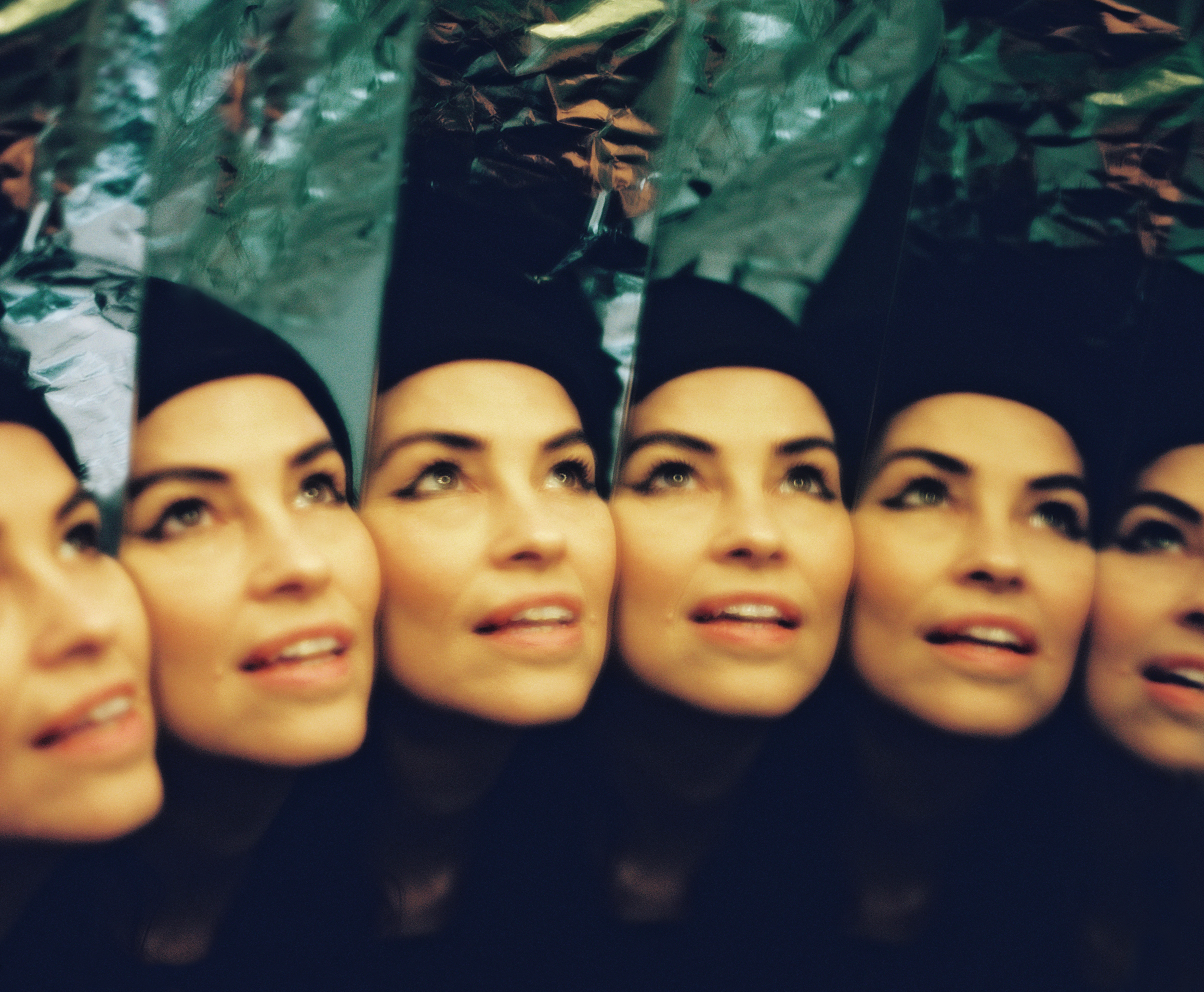 "Es was an absolute dream to shoot. She oozes confidence and class and was super chilled out considering how busy she is. It was incredibly inspiring," Hollie says. Communication, the photographer emphasizes, is the key to a successful portrait shot. Throughout the shoot, Hollie would explain to Es what she was looking to capture in each photograph and ask for the designer's input. "I told Es to make the foil sculpture she is holding in one of the shots. It would have been absolutely absurd if I had done that myself," she continues. It is this modest, intimate approach that renders Hollie's photographs compelling, offering the viewer an insight into one of the world's most exciting creative minds.
The most recent issue of Printed Pages is on sale now.