Photograph courtesy of Def Jam.
Should We Dress Like Kanye West, or Kim Kardashian?
In "Violent Crimes," Kanye says he hopes his daughter dresses more like him than Kim. But what about Kim's Vetements moment at the White House?
Photograph courtesy of Def Jam.
Kanye West loves to rap about clothes, but it's never what you expect—take the first brand namedrop on his new album ye: Abercrombie, the official brand of monstrous frat bros and Dave Matthews Band fans everywhere. (Well, given West's recent political crisis, maybe it's not that surprising.) In "Yikes," West raps, "n----- been tryna test my Gandhi / Just because I'm dressed like Abercrombie"—in other words, people are doubting his intellectual credibility because he's wearing MAGA hats and something we might describe as Sigma Chi Drip.

But West's more extensive fashion philosophizing comes in the album's last song, "Violent Crimes," a treacly groove dedicated to his daughter North (with chorus work from young female rapper extraordinaire Dej Loaf), in which he confesses his hopes that North will refrain from being, well, a basic bitch ("Don't do no yoga, don't do pilates"), and dress like him instead of her mother (West's wife, Kim Kardashian West):
Don't do no yoga, don't do pilates
Just play piano and stick to karate
I pray your body's draped more like mine and not like your mommy's
Just bein' salty, but n----s is nuts
And I am a n---a, I know what they want
I pray that you don't get it all at once
Curves under your dress, I know it's pervs all on the net
All in the comments, you wanna vomit
That's your baby, you love her to death
The wardrobes of West and Kardashian West have certainly formed a more coherent aesthetic over the past few years—streetwear-heavy, with key pieces from all Versace and Balmain and the Margiela acolytes, particularly Vetements and Balenciaga designer Demna Gvasalia. But (God, forgive me) their fits diverge starkly in their fit: West wears layers and layers of draped garments that detract from his physical form—who knows what his body looks like under all those sweatshirts and billowing tees?—while Kardashian West tends to wear form-fitting clothing that shows off her hard-earned bod. Speaking of hard-earned: she's made most of her fortune from her body, with her perfume bottle as just the latest example of Kardashian West's uncanny ability to merchandise her physical appearance. That bod-for-sin-and-business attitude has made her millions, but it's also made her the object of lust, both to the wider public and, as West admits here, to him ("And I am a n----, I know what they want"). Earlier in the song, he says having a daughter has made him "see women as somethin' to nurture / not somethin' to conquer"—a puzzling admission, given the post-baby makeover he notoriously gave Kardashian West in 2013, and the fact that much of the form-fitting clothing she wears is designed by West himself. At Thursday's listening party, for example, Kardashian West essentially wore a tighter version of what West was wearing. Dressing someone is a form of 'conquering,' too.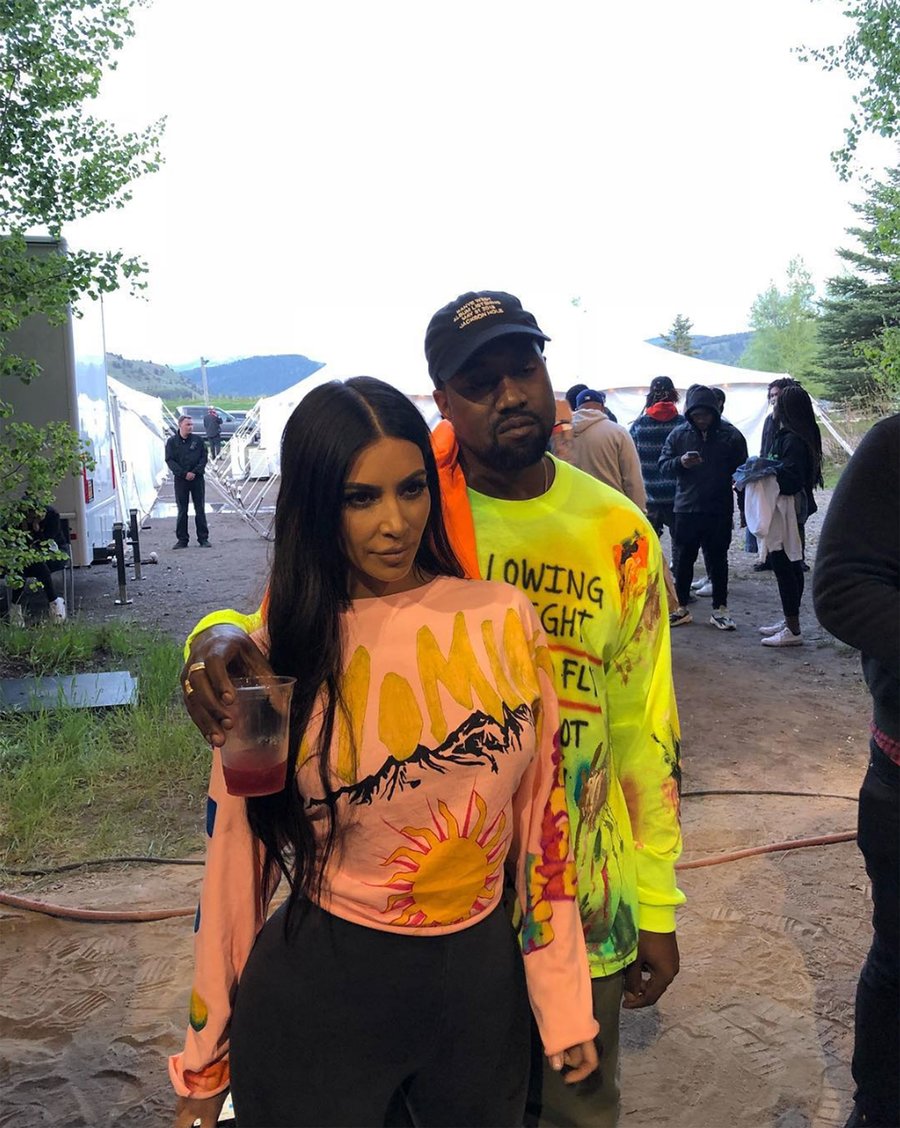 West's wish that North will dress modestly in hopes that that will protect her from a lecherous world is at once familiar and retrograde—but also one he brushes off immediately, in the next line: "Just bein' salty, but n----s is nuts." He knows women will (and can! And should!) dress this way, but to suggest that his and his wife's clothing is just about bodies seems disingenuous. West's look seems much more about hiding, about being misunderstood (he's an onion!), and Kardashian West's is more about celebrating financial and professional achievement, with her body as a monument to hard work.
There are occasional and important exceptions to Kardashian West kling, such as the Vetements suit that Kardashian West wore to meet with President Donald Trump at the White House earlier this week. The big debate around Vetements, which takes down-market staples and renders them in giant proportions and luxurious fabrics, with not much more than price tags to assert they're luxury, is whether its customers are in on the joke. Do they understand it's wild to pay $600 for a DHL shirt?

So was Kardashian West mocking Trump's conviction that anything is fancy if it's giant and outrageously priced? The truth is more likely that Kardashian West, whose closet was gutted by her husband in 2012, has only one 'suit,' and it's one that was rendered in comically huge proportions in order to mock the very purpose of a business suit. ("Me big man! Me need big suit for big decisions!") Most women actually dress as Kardashian West does, vacillating between fitted clothing that shows off our figures and lazily oversized garments. (Case in point: Dej Loaf herself.) Meanwhile, it seems like only a matter of time until West shows up at Erewhon in cargo shorts. If the choice is really to be made between dressing like Kim or Kanye, I choose Kardashian West. Her clothing says as much as it tends to reveal.