The Women Wore Suits, The Men Wore Gowns: Unpacking the 2019 Oscars Fashions
Elsie Fisher wore a Thom Browne suit; Billy Porter opted for a ball gown.
In a deviation from both gender and red carpet norms, Pose star Billy Porter stepped out at last night's 91st Academy Awards in a custom Christian Siriano suit/ball gown hybrid (suit on top; gown down below), and in doing so secured himself a spot on our best dressed list as well as Janelle Monae's.
"Shut this carpet down!" Siriano quipped on Instagram.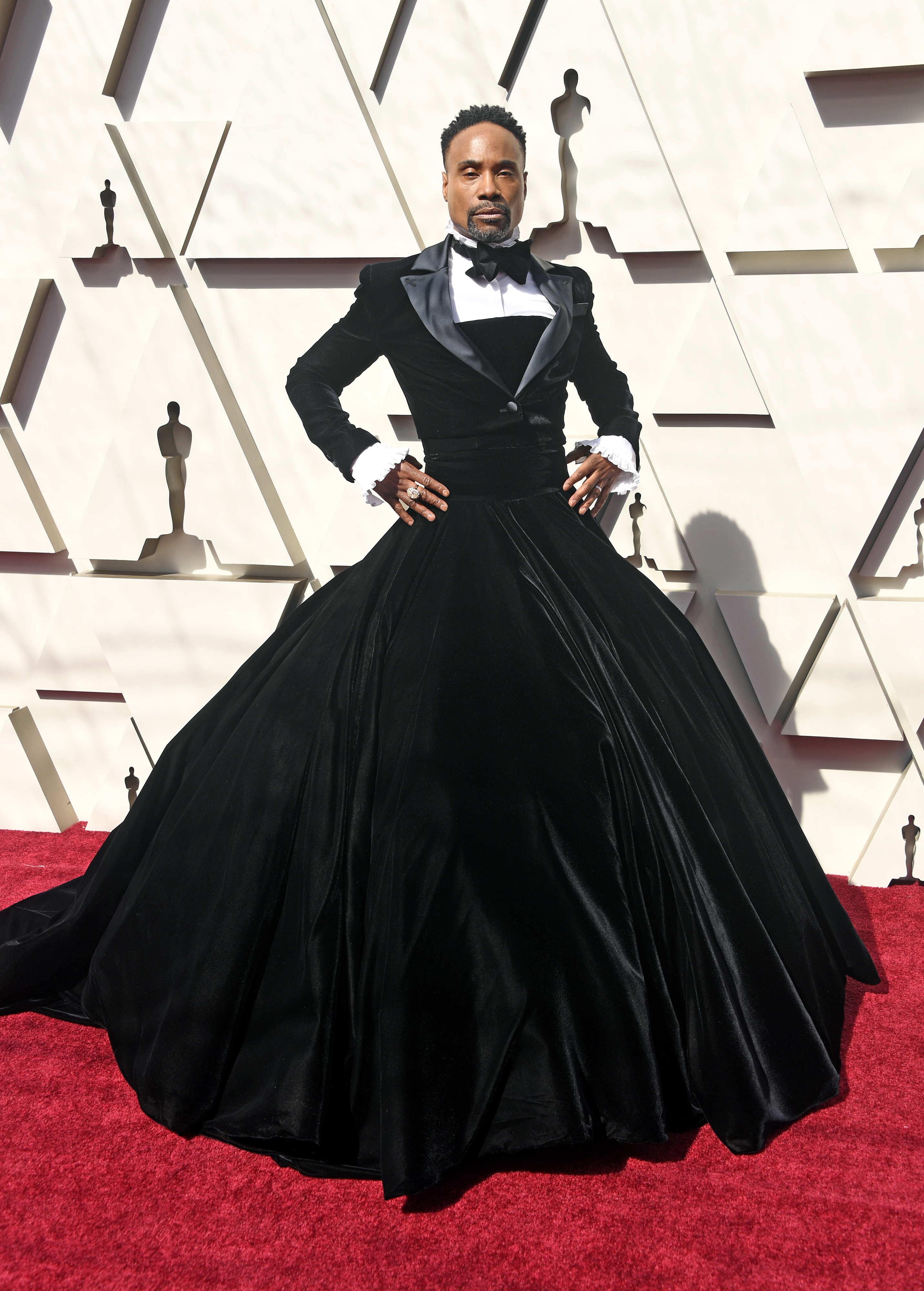 "My goal is to be a walking piece of political art every time I show up," Porter told Vogue about the look. "To challenge expectations. What is masculinity? What does that mean? Women show up every day in pants, but the minute a man wears a dress, the seas part." Porter referenced the chiffon dresses and capes seen on the Palomo Spain runway at New York Fashion Week as inspiration.

The House of Xtravaganza—one of New York City's most prominent and long-running ballroom houses—also claimed ownership over the inspiration, citing Hector Xtravaganza, the ballroom legend who passed in late 2018.
According to Porter's stylist, Sam Ratelle, the pair also sought inspiration from Renoir's 'Madame Georges Charpentier and her Children'.
"Billy has been dying to wear a gown and I've been secretly wanting to put him in one. I asked him if he would consider it, and he said 'Are you crazy? YES YES YES,'" Ratelle said in an interviewer. "If there was anyone to bring the drama for a formal dress, it would be no one other than Christian Siriano. And while we're at it, why not make it a ball gown, it's Christian's specialty."
Ratelle says it was Siriano who had the idea to fashion a tux on top and ball gown on bottom. "That way we could showcase both masculine and feminine energies and the texture of black velvet kept it classic for such a formal evening." He underscores Porter's decision to use fashion as a means of questioning or repositioning gender norms. It's something Porter loyalists may have expected after eyeing his embroidered suit and pink cape at the Golden Globes; and something he'll surely be known for after Sunday night, where even Fox News was dedicated entire articles to the fashion choice. "People really have a problem with gender fluidity—it makes them uncomfortable, and the only way to normalize it, is by visibility," Ratelle said. "Over the past year, Billy and I have made it our mission to remind people that clothes are just clothes and we should all be able to wear whatever we want and express ourselves however we want."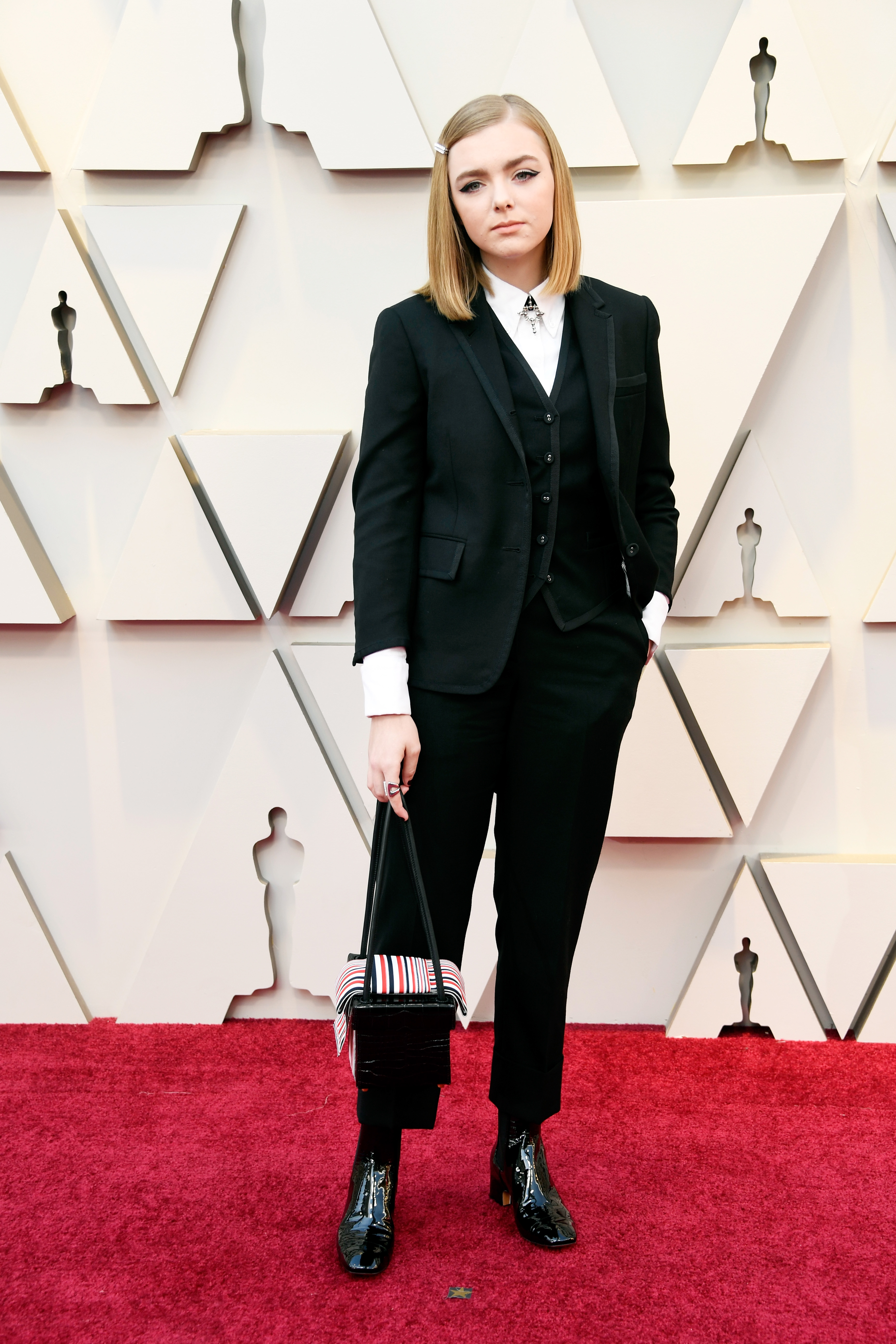 Meanwhile, robbed of her a deserved nomination, 15-year-old Eighth Grade star Elsie Fisher stepped out in a Thom Browne tux that featured a new fit of a blazer that's slightly longer and more elegant, and featured a vest to go beneath the jacket. The Thom Browne team added a patent leather block-heeled boot and an evening handbag to accent the look. They also introduced Fisher's stylist Mary Inacio to jewelry designer Sarah-Jane Wilde, who provided the diamond cross necklace that she wore in lieu of a bowtie, and a diamond ring.
"Elsie just looked right in my tuxedo...she was beautifully individual and unique...so true to herself," Browne told GARAGE.

Like Porter, last night's decision was not an anomaly, with past precedent as recent as the Globes, where Fisher stepped out in a custom maroon velvet Kenzo suit, and the Critics' Choice Awards, where she wore a Thom Browne Pre-Fall 2019 suit.
"Elsie is definitely most comfortable in suits; I think she carries them well and feels herself the most in them," Inacio told GARAGE. "I've been very conscious of her age and her likes and dislikes and how to show off her amazing sense of style within the realm of suiting and panted looks. She is not a girly girl, she is little more edgy and up for doing something different and pushing the envelope."
Asked why she opted for a suit vs. a dress on the carpet, Fisher was succinct, telling Variety "It feels more me."
Was their any subliminal subtext? "To be honest we are not trying to be political," she explained. "Elsie may come off that way, but its really we just prefer the suit aesthetic. I mean in a way it is a big FU to the patriarchal society we live in and it's in the back of our minds for sure, but we are doing it mostly unintentionally."
It's not novel to see women in suits on the red carpet at the Oscars (Amy Poehler and Awkwafina rocked them too last night). And everyone from Dakota Johnson to Cara Delevingne to Celine Dion to Zendaya, and of course, Diane Keaton, are known to fancy the occasional suit. But it's a particularly stylish and self-assured decision for someone as young as Fisher. Then again, her performance in the film already proved her intellect and nerve.
As for Porter, his is a statement less seen until now. Sure, we've seen the occasional man in make-up or a high heeled boot, but a full on ball gown? This might be an Oscars first. Will this signal a change in the traditional mores of red carpet dressing? Perhaps. Perhaps not. But the interest generated (a Google search of "Billy Porter Oscars" currently produces over 79 million results) proves that people are talking. In other words, visibility achieved.